For this post, I have put together a collection of the best bath pillows currently available.
Our Top Picks
Show Today's Top Deals
These are today's top deals and bestsellers for bath pillows.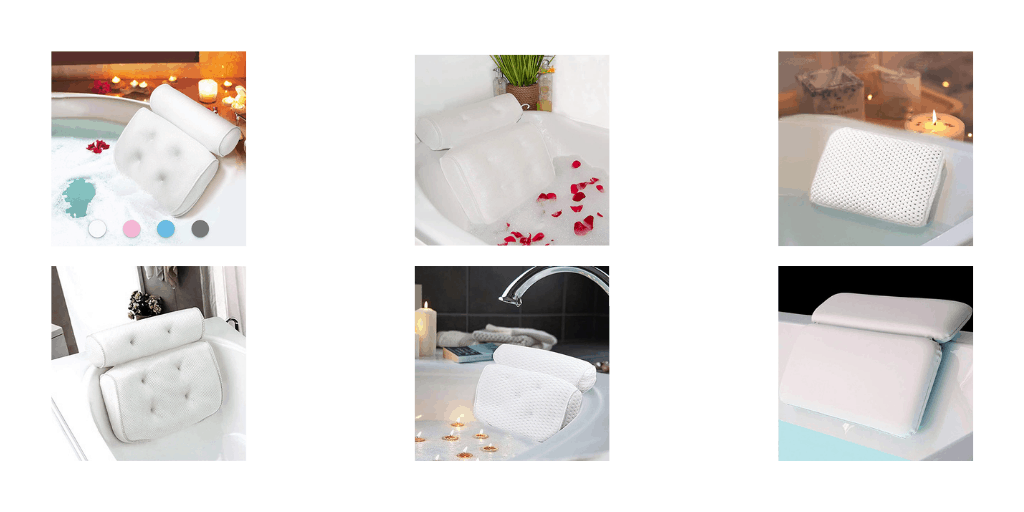 A comfortable bath pillow will make all the difference for cushioning your head and neck whilst you have a soak in the bathtub.
See our top 10 picks of the best bath pillows which make the perfect headrests while relaxing in the bath giving you that spa experience.
To complete the home spa experience have a look at my buyer's guide to the best foot spa.
Related: Treat the kids? See my top picks for the best bath bomb for kids.
Let's get started!
HANKEY Bathtub Pillow
This bath pillow is made of premium quality comfortable and soft mesh which is waterproof foam which provides long lasting comfort.
Its 8 suction cups hold the pillow in place so it doesn't slip.
You can just rinse it and air dry since it's made of quick drying material.
Idle Hippo Bath Pillow
An ergonomic 3D designed pillow made from breathable air mesh materials.
This contoured bath cushion has 6 super strong suction cups so it won't slip.
Comfortable head and neck support.
Spirity Ergonomic Bath Pillow
Ergonomic bath cushion for head, which features neck and back support as well as a 3D mesh air technology.
Features 6 strong, nonslip suction cups for care-free baths.
Machine washable and quick-drying.
TranquilBeauty Store Bath Neck Pillow
Luxury ergonomic neck and back support for maximum bathing comfort.
Pillow comes in a beautiful gift box so would make an ideal gift for a relative.
Easy to wipe clean after use.
Essort Bath Pillow
Luxury bath pillow with 3D Air Mesh Technology for a comforting neck and head rest.
The flexible pillow hinge is adaptable to all hot tubs, Jacuzzi's or Spas.
Dries quickly and prevents mould and mildew from building up.
Easy to wash & maintain.
EJY Bath Pillow Bathtub Spa Pillow
This pillow can fold over the top of a roll top bath or a round bath making it ideal for all tub types.
Waterproof with suction cups on back to keep pillow in place.
Relux Premium Waterproof Bath Pillow
Waterproof premium bath pillow.
With multiple built-in suction cups to the rear to keep it in place.
Outer cover allows for easy cleaning.
AmazeFan Bath Pillow
With 4D air mesh technology, this bath pillow is non-toxic and anti-microbial, easy to clean and air and moisture can flow through, to allow pillow to dry quickly.
With 7 large stitched-in suction cups to attach the pillow to the bathtub surface.
2-panel design seamlessly contours and supports your head, neck and shoulders.
Gorilla Grip Original Spa Bath Pillow
Top rated design which fits any size tub, spa, or jacuzzi.
Easy to wipe down and keep clean with waterproof and non-porous surface.
Comes with a 10 year warranty.
Large 2-panel design that helps support both tired neck and shoulders.
Ultra soft and smooth to the touch with more than 2 inches of luxurious padded foam.
With 7 suctions cups to keep it in place.
Hoboe Washable Bath Pillow
A back support pillow that gives support to neck and shoulders.
With 6 non slip suction cups.
Machine washable.
The 3d mesh technology also allows water to pass through and pillow dries quickly.
Where To Buy Online (Best Retailers)
In our product reviews above I've linked to Amazon because they tend to have good stock levels at competitive process. I do strongly checking these recommended retailers below.
Today's Top Deals & Bestsellers
Bathroom Accessories – Best Buys