For this post, I have put together a collection of the best foot spas currently available. See my other bathroom accessories top picks.
Show Today's Top Deals
These are today's top deals and bestsellers for the best foot spas.

Related: See my best buys for bath pillows and bath bombs for kids.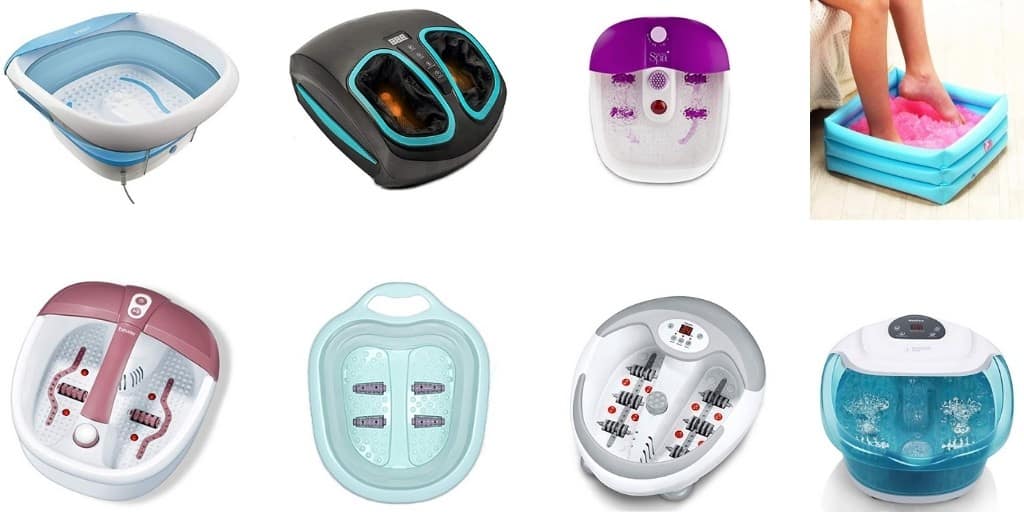 Foot spas are a great way to enjoy a spa experience at home.
Finding a good one is not so straightforward – so many are particularly poor.
In this article I'll guide you through all the different features that you should consider before choosing a foot spa.
I'll recommend 11 of the best foot spas on the market.
Let's get going!
HoMedics MySpa Luxury Foldaway Foot Spa
Discount - Save £10.00
If storage space is a concern this fold down machine is an excellent option from HoMedics.
The floor of this spa contains a bumpy bottom (called acu-nodes) and when used with the vibration mode they massage acupressure points on the soles of your feet.
You have to heat the water up yourself with this one – it also doesn't have bubble jets or infrared.
Beurer FB35 Foot Spa with Aromatherapy
Discount - Save £34.05
This cracker from Beurer is the best all rounder with a ton of excellent features.
We love the integrated vibration and bubble massages.
There's also magnetic and infrared light therapies and reflexology rollers.
It's standout feature is the aroma container, you simply add crystals or essential oil-infused salts.
You can switch out three different accessories to take the experience further – these include a massage attachment, circulation brush and a callus/corn removing tool.
To top it off there's a useful splash guard to stop spills and comes with a three-year guarantee.
It's not the quietest one here but given its feature set, is very competitively priced.
Rio Deluxe Footspa and Massager
Discount - Save £10.00
The best value for money on the list.
There's still plenty of features.
We love the reflexology foot rollers to work on those key pressure points alongside the more gentle vibrations to guarantee a deep massage.
You can toggle between massage only, heat only or both together.
There's also infrared LEDs and aromatherapy diffusion so you can add your own oils to complete the spa experience.
It's one of the sturdier (and heavier) options on this list. but there is a useful carry handle.
InvoSpa Shiatsu Foot Massager
This one looks very different to the rest and that's because it uses infrared technology to treat your feet.
This works alongside air compression and shiatsu to provide an excellent dry foot spa experience.
If you're put off by heating water, filling and emptying this one is a lot cleaner and simpler to operate.
You simply turn it on, you select one of three massage modes and then you get a 15 minute massage.
When you're finished you can pop off the foot cover and throw in the washing machine.
Gelli Inflatable Foot Spa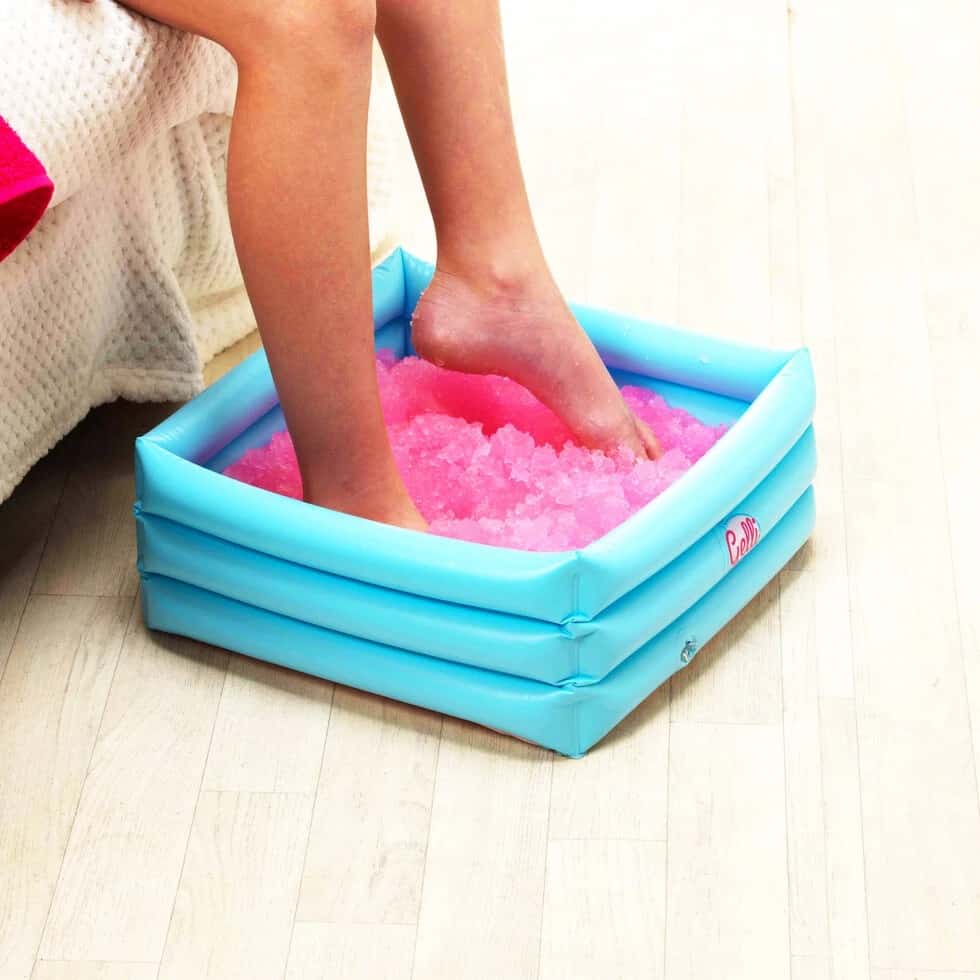 Prefer something simple?
This one from Firebox you simply inflate, throw in the provided sachets of powder, add water to create the gel and place your feet inside.
You then move your feet around to soften hard heels and massage your soles.
Includes an essential oil and pedicure set but bear in mind you'll need buy further sachets.
MaxKare Foot Spa
No products found.
A good all rounder offering 3 in 1 functions – including heating function (between 35℃ and 48℃), calming bubbles and intense vibrations.
Whatever temperature you choose this one heats up quite quickly.
It comes with 4 massage rollers – these are detachable and with manual pressure provide relief to your accupoints.
There's a 'medicine' box where you can add your favourite bath salts or minerals.
Hayan Foot Spa, Foldable Footbath Tub
Discount - Save £1.00
One of the more budget friendly options on the list this one is also good for those short on space – it folds down to only 2 1/2 inches and has a handle so you can hang up out of the way.
Although it's collapsible it's still very sturdy and has good depth.
As expected with the low price you need to add your own water.
There's rollers and massage nodes at the bottom to stimulate those key acupuncture spots.
Beurer FB 50
Looking for luxury?
This one ticks all the boxes with a price tag to match.
Our favourite feature is that upon heating the water up, you can pick from 5 heat settings – and it maintains that temperature perfectly.
The central foot massing facility is excellent with removable massage rollers.
You also get a brush, massager and pumice stone.
The display is nice and clear and it also perfects a dry massage.
This quiet unit is close to the full spa experience, we love it.
Sensio Foot Spa Massager
For the money this is an excellent performer.
Although it might not be packed with features and you have to fill it with warm water it performs the core function of relaxing those tight foot muscles very nicely.
It's not the quietest performer.
A nice addition is the pedicure kit included.
Beurer MP70 Paraffin Wax Bath
Discount - Save £3.21
This is a fantastic alternative to the more traditional foot spas so far.
This paraffin wax bath works the skin a treat and receives strong reviews on it's ability to relieve the pain of arthritis or other injuries.
You can also use this wax bath to treat those aching hands and elbows.
You add orange-scented wax, which then melts and once cooled a little, add your feet which then creates a coating of wax around each foot.
You then add plastic around your tootsies, leave for 15+ minutes.
Peel it off and feet feel soothed and are super soft.
You will need to get more wax over time but this can be picked up quite cheaply.
Revlon Ultimate Indulgence Foot Spa
Simply add some lukewarm water to this one and choose one of three temperature settings and away you go.
Does include a bubble function but be aware this is not a deep tissue message rather a gentle pressure more akin to tickling.
Another benefit is the portability of this one – it's compact in design and folds down thanks to its silicone structure.
The foot basic includes three acunode pads (one hard, two soft) for you to rub your feet against.
It comes with an Essential oils therapy case and a three year warranty
What Features To Consider Before Buying A Foot Spa?
It's recommended you read through this list of features and buying considerations before you purchase a foot spa.
Beyond budget there are a lot of elements to consider.
Budget
We've included foot spas that will suit all budgets from £25 through to £100.
Size
Check the dimensions – some foot spas are pretty small.
You don't want your poor feet to be cramped, entirely the opposite experience you are looking for.
Also how deep would you like your feet to be submerged?
There is great variation across the spas for depth.
Some prefer feet and ankles under the water.
Warranty
With all the moving parts and throw in heating controls some spas do run into issues and stop working.
Choose a good brand and try to get a decent minimum warranty of at least one year.
Some on our list go to a full three years which is excellent!
Portability
Once your spa is full of water it gets quite heavy.
If you like to move about a bit you could look out for one with a handle.
Some of the ones we've reviewed fold down and can be stored away taking up very little space.
Noise
Some are bothered by noise, other less so.
If you fall into the former category then look out for a model that makes as little noise as possible.
Higher price may not always equal quiet operators – more feature full models are likely to have more (noisier) moving parts.
Heating Unit
Foot spas differ greatly here.
Many require you to heat the water up yourself and then add it with the unit maintaining the temperature.
Some units give a number of temperature options – this is useful if you wish to cycle through different temperatures from warm to very hot!
A few foot spa models on this list heat the water up as well.
Base Nodes
These are the little bumps on the floor of the foot spa and act as the acupuncture pressure nodes.
The idea is that you apply pressure yourself and this helps massage the soles of your feet.
Bubbles & Jets
Be aware that the bubbles and vibrations are not going to be as powerful as the ones you'll find in a massager or even a hot tub.
This is more about gentle relaxing to your poor tired feet.
The scale and scope of the bubbles will vary across models.
Massaging Rollers
These are usually detachable and fit to the base of the foot spa.
Some are manual, others spin automatically.
There are anything from one to four rollers per foot.
Splash Guard
If you'd like to keep a splashy mess to a minimum then look out for models that come with a splash guard – it may be removable if you don't always want to use it.
Attachments & Extras
Nail brushes, pedicure sets, oils, roller massages and pumice stones are only a selection of some of the attachments you can get.
It's a good idea to opt for a foot spa that only includes what you'll use.
Finer Settings
The more expensive models give you more granular control.
These include changing the temperature level, vibration speed or the amount of bubbles.
Foot Spa Deals & Today's Bestsellers
Bathroom Accessories – Best Buys