For this post, I have put together a collection of the best Japanese garden ornaments currently available. See my top picks for all kinds of garden ornaments.
Our Top Picks
Show Today's Top Deals
These are today's top deals and bestsellers for Japanese garden ornaments.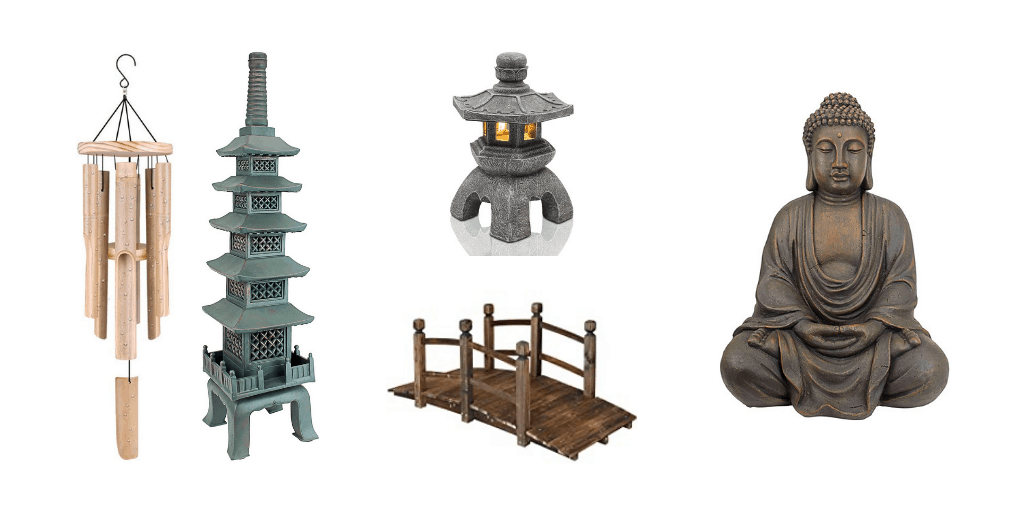 ---
Garden ornaments, large or small can add charm to any garden or patio.
From statues to sculptures or plaques to hanging features, there are a multitude of options to suit all tastes and budgets.
Fancy creating your own zen garden space?
We've searched the market to bring you the best Japanese garden ornaments, all with excellent buyers feedback or 4-5 star ratings.
Want to add more decorative features to your garden? See my top picks for fairy garden ornaments and unusual garden ornaments.
So here is my list of the the best Japanese garden ornaments.
Design Toscano Pagoda Sculpture
2.5ft high impressively sculpted pagoda statue for the garden.
With five tiers of classic Asian design which have been cast in quality designer resin with a Verdigris bronze finish.
You could use this as your Zen focal point which would stand high above flower beds and plantings.
Good reviews. From 305 ratings 77% of buyers gave this 4-5 stars.
Dimensions: 6/12 inch diameter x 28 inch height.
Jolitac Wooden 1.5m Ornamental Garden Bridge
Discount - Save £24.94
A beautiful garden bridge with pillars and railings.
It is also functional, sturdy and durable and can be used over a pond or stream.
With a classic and elegant arched frame design, this would look fantastic in a Japanese inspired garden.
Made of solid wood so it is resistant to moisture and decay.
Assembly required.
Positive reviews. From 23 ratings 73% of buyers gave this 4-5 stars.
Dimensions: 150 x 68 x 53cm.
Design Toscano Meditative Buddha of the Grand Temple Garden Statue
This peaceful Buddha statue will help to create a meditative place in your home or garden.
Hand-cast using real crushed stone bonded with durable designer resin.
Finished in a UV resistant, black stone paint.
Excellent reviews. From 476 ratings 85% of buyers gave this 5/5 stars.
Dimensions: 51 x 38 x 66 cm.
Goodeco Solar Pagoda Lantern
Add some tranquil lighting to your garden with this solar pagoda.
You could use more than one along a path.
Handcrafted from polyresin and hand-painted and finished with a UV resistant coating.
With a rechargeable solar battery.
Good reviews. From 34 ratings 71% of buyers gave this 4-5 stars.
Dimensions:
Wind Chimes Bamboo
Provide a soundtrack to your zen garden with these bamboo wind chimes.
Each piece is individually hand-carved and handcrafted to create a unique melody when blowing in the breeze.
The relaxing sounds will create calm in any garden.
Great reviews. From 941 ratings 75% of buyers gave this 5/5 stars.
Dimensions:
Goodeco Meditating Frog
This sitting yoga frog will add a fun element to your garden display.
Perfect for your patio, garden or porch.
Handcrafted and made from strong, durable resin material that is lightweight.
Take note, it is fairly small in size and fits in your hand.
Very good reviews. From 95 ratings 72% of buyers gave this 4-5 stars.
Dimensions: 12.7cmW x 5.8cmD x 10.5cmH.
Zhirceke Bamboo Feng Shui Water Fountain
A stylish bamboo water fountain with pump to create a water feature in your garden.
100% Handmade.
The trickling water will add a nice touch to any zen garden.
Great reviews so far. From 3 ratings 100% of buyers gave this 5/5 stars.
Dimensions:
GloBrite 6 Pcs Stainless Steel Gazing Ball
These glazing balls made of stainless steel would look great in any corner of a garden or next to a pond.
They will reflect light and objects in your garden creating a truly unique effect.
Made of heavy duty stainless steel with maximum corrosion resistance and durability.
Great reviews. From 404 ratings 84% of buyers gave this 4-5 stars.
Dimensions: From 50-150mm diameter.
---
Today's Top Deals & Bestsellers
FAQ's Garden Ornaments
Where should garden ornaments be placed?
The best place for a large garden ornament is to make it a focal point at the centre of the garden or at the end of a path. Alternatively place it in an area that might otherwise be missed.
How do you organise garden ornaments?
Buy ornaments which suite the style of your garden or create a little space where you can set a theme, for instance buy some Japanese ornaments to create a relaxation corner or fairy ornaments like mushrooms and little houses to make a secret garden.
What are the best materials for garden ornaments to be made out of?
Stone, resin or metal ornaments are durable and fairly weather resistant as they can survive the elements and will look more rustic over time. If you buy plastic ornaments or other less durable materials try to find shaded, roofed areas to place them.
I hope this list of the best Japanese garden ornaments was helpful.
If you think I left any out that should be included or have a suggestion for a future article, let me know in the comments below.
Nicola
Garden Ornaments Guides