For this post, I have put together a collection of the kids electric toothbrushes currently available. See my other bathroom accessories top picks.
Are you struggling to get your child to brush their teeth? Or want them to have the benefits of an electric toothbrush?
Show Today's Top Deals
These are today's top deals and bestsellers for Kids Electric Toothbrushes.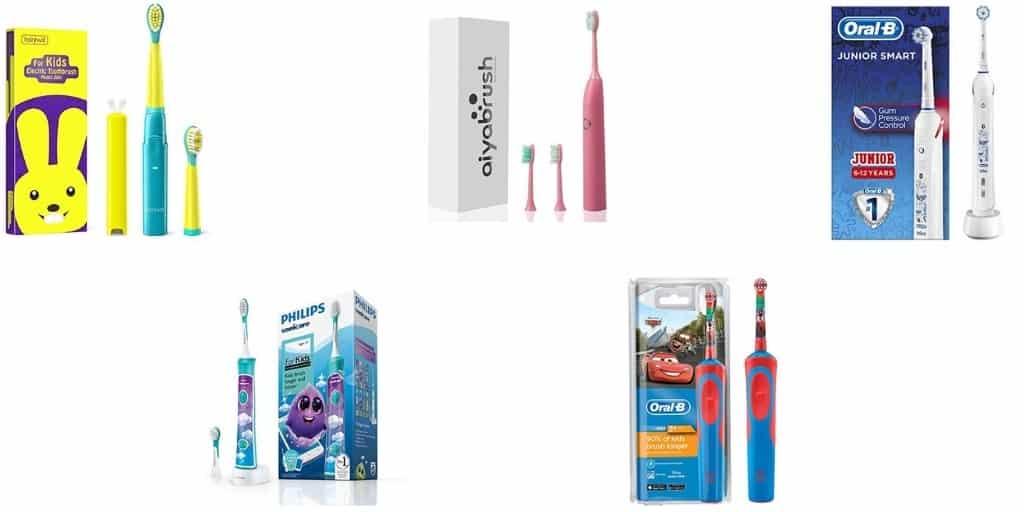 In this article I've put together a review of the best kids electric toothbrushes.
I've also included a buyer's guide and some key questions to ensure you get the best toothbrush for your child, whatever their age.
Let's get started!
Sonicare For Kids Bluetooth HX6322/04
Discount - Save £2.01
Long battery life.
Excellent smartphone app to encourage kids to brush their teeth.
Easy to grip handle for little ones.
Stickers for your child to personalise their toothbrush.
Strong bold colours.
Built-in timer that powers off after two minutes.
Two brush heads included – small and standard.
Small ones for kids aged 3-7 years.
Standard good for children aged 7 and above.
It is pricey but so many benefits this is our top recommendation and ultimately if it really helps them improve their dental hygiene then it's very much worth it.
Oral-B Stages Power
A less costly option than the Sonicare.
Bold and colourful handle is appealing for children.
It's easy to grip.
The brush head supplied is small and softly bristled so this one is best suited to younger children from 3-6 years old.
Timer included to encourage brushing for exactly the right amount of time.
Strong appeal with Disney characters.
No battery status indicator and not a brilliant battery time at 5 days.
Oral-B Junior Smart
More similar to adult brushes this is best suited to older children from from age 6 years and up.
Excellent battery life at 2 weeks or longer.
Handy feature is a pressure sensor – this lights up red if your child is brushing with too much force.
Oral-B provide the choice of two apps.
The child one is good and encourages brushing through rewards.
These come in the form of animations, point scoring system and sounds.
Can even record video clips which the children can enjoy watching back.
Bluetooth real time connection tracks how long they brush for.
So that can be checked by the parent or dentist.
Rubber grip on the handle makes it easy to use, even when wet.
Fairwell Kids Electric Toothbrush Model: 2001
No products found.
Vibrant yellow and and bluey-green colour with bunny ears is appealing for younger children.
Decent battery life of 21 days days.
There is a 2 minute timer included and a quad pacer of 30 seconds.
Three modes with gentle cleaning for kids: low, high and massage.
The bunny ears are on the lid which the children love – also encourages them to put the lid on which is good for hygiene.
Brushes are soft.
Comes with two extra heads.
Aiyabrush Sonic Rechargeable Toothbrush
Completely waterproof so you child can get this totally wet without worrying.
Soft, specially designed DuPont bristles.
Supplied with two toothbrush heads of different hardness.
Strong battery life with six hours of charge lasting up to 100 days.
USB charging option.
Built-in timer includes quad pacer so they can move to a different part of their mouth every 30 seconds.
White and pink colours available.
Electric Toothbrush Features to Consider
As with all technology today there are a vast number of features.
Before you purchase an electric toothbrush for your child then I'd recommend considering the extent to which these features are important.
Battery Life
The battery life of electric toothbrushes can vary greatly.
And this also depend on how it's used.
Generally speaking they run from about five days to three weeks.
In an ideal world you'd want one with as long a battery life as possible.
This will avoid your child going to brush their teeth and finding a flat battery or only a few seconds left of charge.
This can be super annoying if they are all geared up for a good brush.
One way around this is to encourage them to make sure they put it back on charge when they are finished.
Of course this is easier said than done.
Some of the electric toothbrushes will have some form of battery life indicator on it, usually a flashing LED so you can get a heads up when it's running low on juice.
Timer
Dental professionals across the world advise adults and children to brush their teeth twice a day for two minutes.
If there's one key feature and benefit with an electric toothbrush is the use of a timer to ensure your child (or adult!) brush for the desired time.
I strongly recommend you choose an electric toothbrush with one built in.
Some timers start as soon as they start brushing and power off at the two minute mark.
This ensures they don't brush for less or longer and importantly can also extend the battery life.
Another strong feature is a built in quadpacer.
This is a timer that counts in 30 second intervals to guide your child on the time spent in each of the four sections of their mouth.
Size & Design
One of the key ways a kids electric toothbrush differs to an adult one is the design and size/shape.
Unlike the adult ones they tend to be much more bolder, vibrant colours.
The handles tend to be larger and with more rubber grips to make them easier to hold and grip if they get wet when brushing.
Some brushes also are in the design of their favourite TV or film characters.
You can also buy stickers to put on their toothbrushes.
Anything that encourage the little ones to keep their pearly whites clean is great in our view!
Apps with Bluetooth
There's an app for that!
This is very true and the same applies to kids electric toothbrushes.
These work by rewarding your child for brushing – this encourages them to do it more and makes it more enjoyable.
Essentially, they unlock rewards by brushing for long enough and often enough.
The Bluetooth enabled toothbrushes can transfer their data in real time and monitor if the child has turned off their brush before the time is up.
Some may find this a little overbearing but for others, particularly those that may struggle to get their children to brush will find the gamification via apps is worthwhile.
Brush Heads
Brush heads for children can differ from adult ones in two ways – the size of the brush head and sometimes the actual bristles.
A four year old will have a far smaller mouth than a 12 year old so you're going to want to fit a brush head that is the best fit for your child.
Thankfully most kids electric toothbrushes tend to come with a smaller brush head by default.
When they reach the age of 6 and above they can move onto a larger brush head.
The other difference is that kids brush heads are composed of softer bristles than the heads made for adults.
Check what brush heads come with the toothbrush, they will vary from brand to model.
They can all be purchases separately and do look to change the brush head every three months or sooner, if they are looking particularly well worn.
Where to Buy Online (Best Retailers)
In our product reviews above I've recommended Amazon as they tend to have the best prices and stock levels. I do recommend checking other retailers.
Boots
Superdrug
ASDA
Argos
eBay
Kids Electric Toothbrush Deals & Today's Bestsellers
Bathroom Accessories – Best Buys