For this post, I have put together a collection of the best maternity swimsuits currently available. For all my recommended maternity clothing guides, with top picks, see our maternity clothes uk hub.
Our Top Picks
Show Today's Top Deals
These are today's top deals and bestsellers for maternity swimsuits.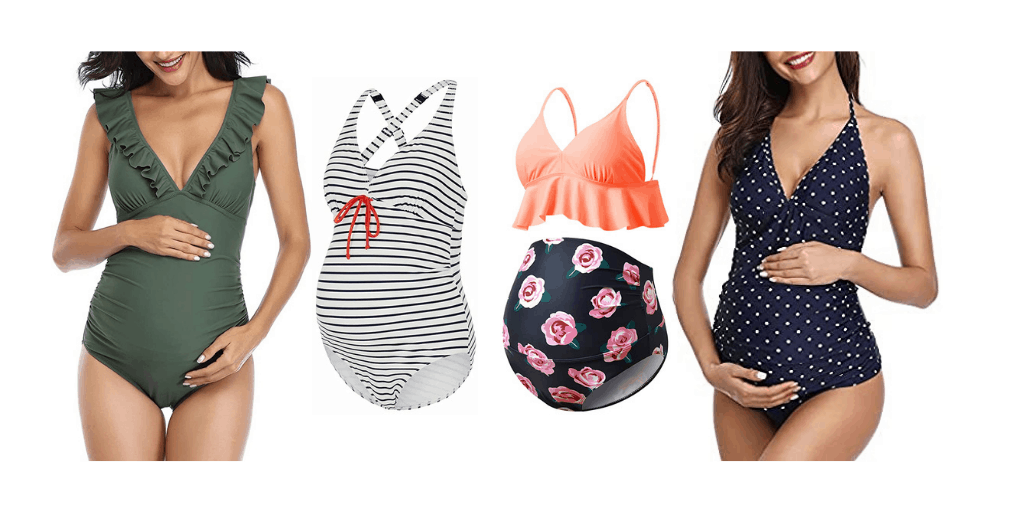 ---
Finding a comfortable but stylish maternity swimsuit can be a bit of a challenge so we've done the hard work for you.
Whether you are looking for a classic swimsuit you can wear regularly at your local pool or one to wear at the beach or poolside, there's something here for all pregnant women.
We've put together our top picks of the best maternity swimsuits on the market, which all have excellent customer reviews.
Also see our buyer's guides on the best maternity knickers and nursing bras.
Mums-to-be or new parents will also find our guide to the Top 100 Baby Products super useful.
So here is my list of the the best maternity swimsuits.
Mamalicious Maternity Stripe Swimsuit
One-piece stripe swimsuit.
Supportive comfortable design.
A pull-tight red tie provides a dash of colour.
With adjustable straps which cross at the back and can easily be converted into a one-size halterneck.
Good bump support.
Available in sizes XL.
Good reviews so far. From 14 ratings 79% of buyers gave this 5/5 stars.
---
Summer Mae Maternity Tankini
Discount - Save £6.00
Two-piece tankini with adjustable triangle halter neck top.
With padded built-in bra.
Bikini briefs sit under the bump.
Available in sizes 8-26.
Available in prints; Dark blue, Purple dot, Blue dot, Dark blue-1.
Great reviews. From 523 ratings 75% of buyers gave this 4-5 stars.
---
Summer Mae Maternity Swimsuit
One-piece swimsuit with v-neck and frill details.
With removable cups.
Ruched sides will flatter your growing baby belly.
Available in sizes S- XL.
Available in colours; Blue printed, Purple, Green, Black, Wine red, Blue green.
Very good reviews. From 155 ratings 74% of buyers gave this 5/5 stars.
---
Bhome Maternity Two Piece Bikini
Two-piece maternity swimsuit/ bikini.
With over-the-bump bikini briefs.
The v-neck and padded cups fully wrap and support your bust.
The frill hemline on bikini top provides extra coverage.
Available in sizes S- XXL.
Available in colours; Black With Green Leaves, Black With Leopard, Green Floral, Orange With Green Leaves, Orange With Pink Floral, Black, USA Flag, Black With Black & White Stripe, Yellow Floral, Red With Navy Blue & white Dot, Black With Black & white Stripe1.
Good reviews. From 543 ratings 65% of buyers gave this 4-5 stars.
---
Peek & Beau Maternity Exclusive Frill Swimsuit (ASOS)
Gingham swimsuit with frill overlay detail.
Scoop neck design.
Adjustable and detachable straps. Can be worn as a bandeau.
Clasp closure.
Brief cut.
Available in sizes 6-18.
---
JoJo Maman Bebe Black Maternity Swimsuit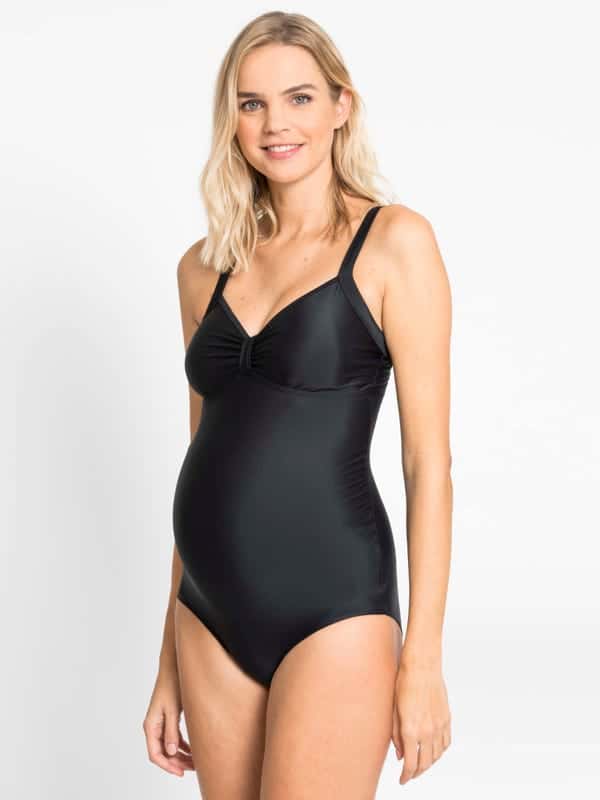 A classic black one-piece swimsuit.
With ultimate support for your bump and bust, with removable padded cups.
Designed to fit throughout pregnancy.
Adjustable straps.
Gathering detail at bust and sides to flatter your growing bump.
Available in sizes Extra Small- Large.
Women rate this product an average 4.6/5 based on 17 reviews.
---
George Maternity Cream Mark Print Swimsuit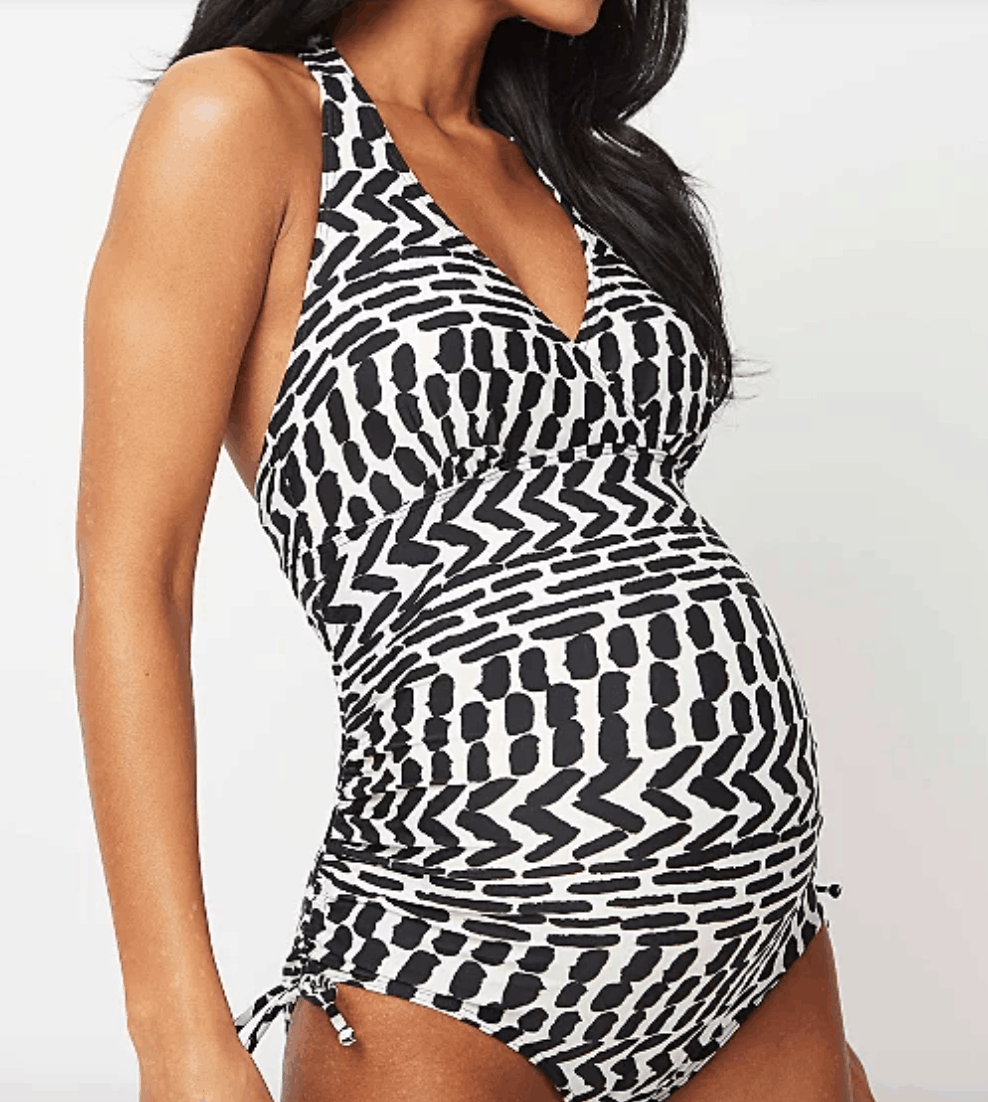 A stylish maternity swimsuit with plunge neck.
The secure clasp fastening and lightly padded cups make it comfortable to wear.
Ruched side detail to flatter growing bump.
The bold black and white print will make a statement by the pool or at the beach.
Available in sizes 8-20.
Women rate this product an average 4.8/5 based on 39 reviews.
---
FAQ's Maternity Swimsuits
Can you wear a regular swimsuit while pregnant?
A growing bump and bust will mean that your regular swimsuit will probably not cut it. Maternity swimwear is made to not only fit over your bump nicely, but it also gives support to your belly, so that you are comfortable when wearing it.
What size maternity swimsuit should I buy?
Most maternity swimwear is sized to your pre-pregnancy size, so if you are a size 10 usually then you will be a size 10 in maternity.
What features should I look out for in maternity swimwear?
Look for extra support with adjustable straps, comfortable material and maternity-friendly designs. There are lots of different styles of maternity swimwear available from one piece costumes, tankinis, monokinis and bikinis.

Today's Top Deals & Bestsellers
---
I hope this list of the best maternity swimsuits was helpful.
If you think I have left any out that should be included or have a suggestion for a future article, let me know in the comments below.
Nicola
Maternity Clothing Buying Guide
---
Baby Products – Buyer Guides
Sleeping & Nursery
Feeding
Toiletries & Nappy Changing
Clothing
Travel
Playtime
Baby Extras