For this post, I have put together a collection of the best metal garden ornaments currently available. See my top picks for all kinds of garden ornaments.
Our Top Picks
Show Today's Top Deals
These are today's top deals and bestsellers for metal garden ornaments.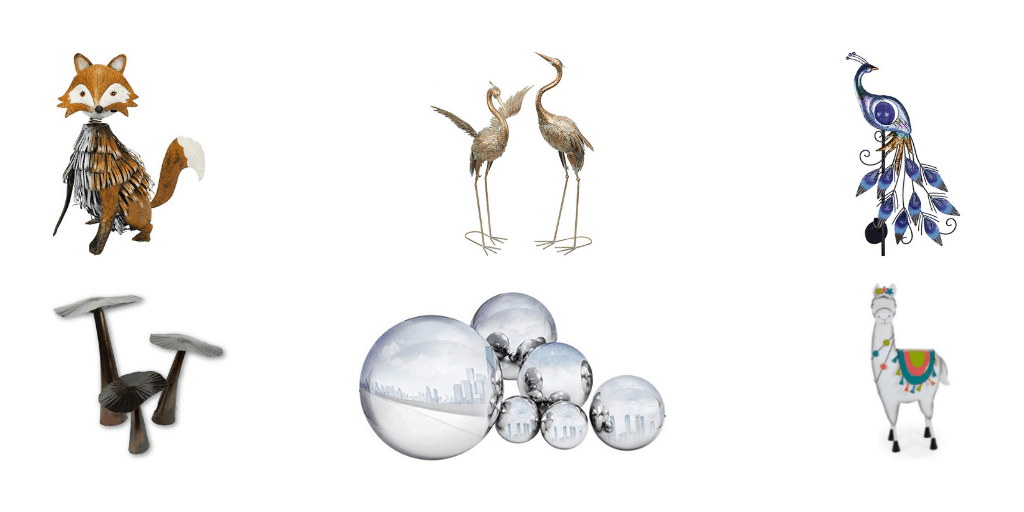 ---
Garden ornaments, large or small can add charm to any garden or patio.
From statues to sculptures or plaques to hanging features, there are a multitude of options to suit all tastes and budgets.
We've searched the market to bring you the best metal garden ornaments, all with excellent buyers feedback or 4-5 star ratings.
Want to add more decorative features to your garden? See my top picks for stone garden ornaments and unusual garden ornaments.
So here is my list of the the best metal garden ornaments.
Teresa's Collections Metal Peacock Solar Stake Light
Discount - Save £5.00
This lovely peacock ornament is also a solar light feature.
The solar powered light is adjustable with manual switch and lasts for around 8 hours depending on suns intensity.
Made of quality iron with crackle glass lampshade.
Brilliant reviews. From 987 ratings 83% of buyers gave this 4-5 stars.
Dimensions: 30 x 2 x 80 centimetres.
HomeZone® Quirky Mega Mouse
Quirky mouse garden ornament to liven up any garden, decking or home.
With a spring loaded head it will add character as well as withstanding the elements.
Also available in fox, giraffe, hippo, lion, elephant, cat, cow and zebra.
Fabulous reviews. From 182 ratings 83% of buyers gave this 5/5 stars.
Dimensions: Height 44cm x width 16cm x depth 17cm.
Teresa's Collections 2 Metal Crane Birds
Discount - Save £15.00
This beautiful pair of metal cranes have been hand painted with delicate details for a feather-like appearance.
High quality handcrafted from durable iron and both different so it gives them a wonderful realistic appearance.
Great reviews. From 118 ratings 76% of buyers gave this 5/5 stars.
Dimensions: 7.5''L X 24.5''W X 33.5″H and 7.5''L X 14.5''W X 39″H.
Primus Metal Fox Contemporary Sculpture
A wonderful painted metal fox sculpture.
Suitable for indoors or outdoors.
With spring neck and tail for nodding movements in the breeze.
Fantastic reviews. From 101 ratings 83% of buyers gave this 5/5 stars.
Dimensions: 40cm Long x 18cm Wide x 42cm High
Thai Gifts Metal Mushroom Garden Ornament – Set of 3
Mushrooms seem to make popular garden ornaments and these metal versions look really striking.
Beautifully handmade in sheet metal and then painted in either antique silver, antique bronze, antique gold and bronze 'vert de gris'.
Very good reviews. From 42 ratings 80% of buyers gave this 5/5 stars.
Dimensions: Large: H40cm x Diameter 20cm/ Medium: H30cm x Diameter 20cm/ Small: H20cm x Diameter 20cm.
GloBrite 6 Pcs Stainless Steel Gazing Ball
These glazing balls made of stainless steel would look great in any corner of a garden or next to a pond.
They will reflect light and objects in your garden creating a truly unique effect.
Made of heavy duty stainless steel with maximum corrosion resistance and durability.
Great reviews. From 404 ratings 84% of buyers gave this 4-5 stars.
Dimensions: From 50-150mm diameter.
Darthome Ltd Wizard Of Oz Tin Man Sculpture
Wizard of Oz fans will love this Tin Man sculpture, with his very own heart.
Freestanding and custom made he is frost-protected and weatherproof so shouldn't require any oiling!
Made from zinc and designed to stand the test of time.
Good reviews. From 89 ratings 89% of buyers gave this 4-5 stars.
Dimensions: W20cm x H41cm x D15cm.
Llama Metal Ornament (Dunelm)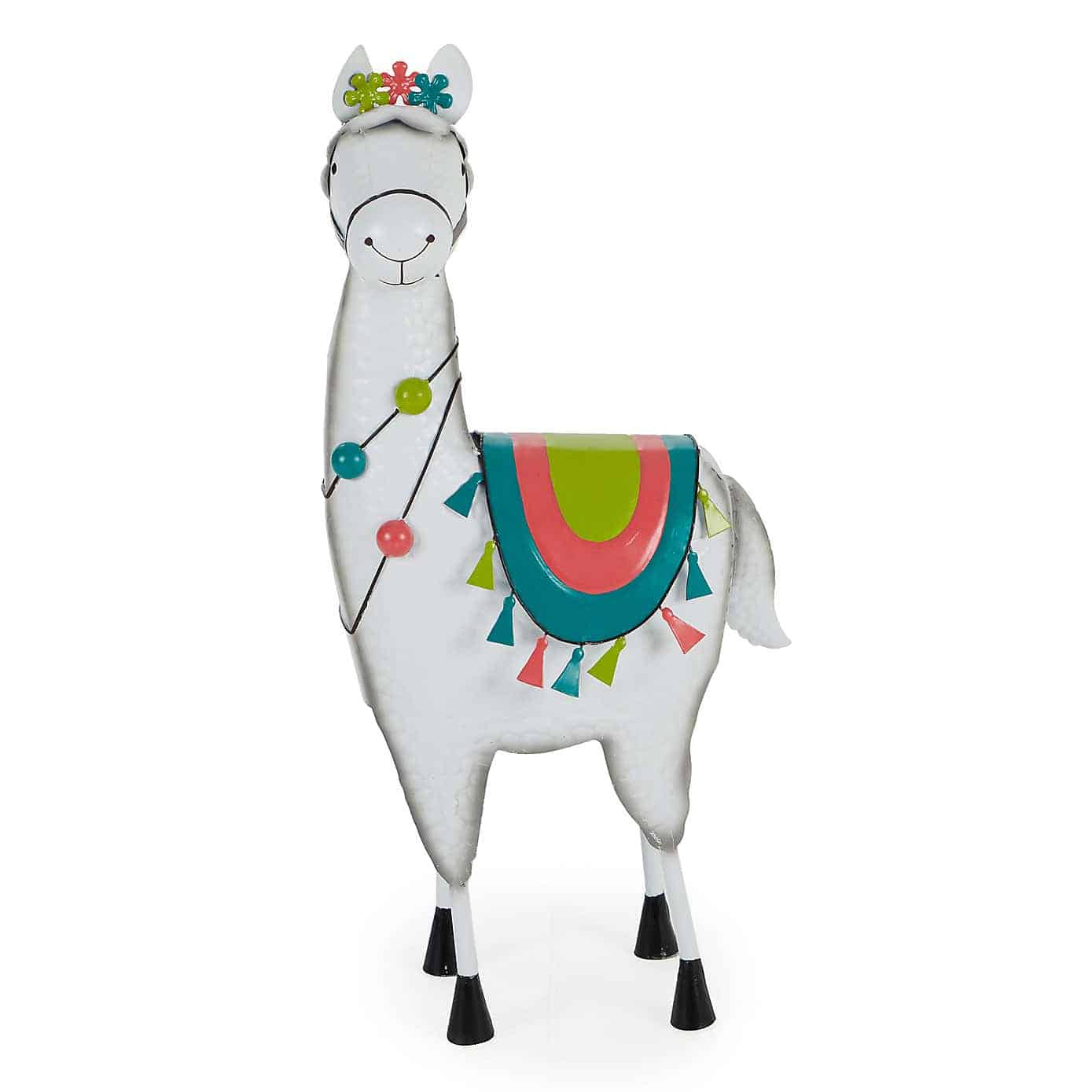 A fun fiesta iron llama ornament which will give your outdoor space a quirky feel.
The bright blue, green, pink and white hues will transport you to warmer climates.
It contains small parts and must be kept out of reach from children.
Dimensions: W 33cm x L 22cm x H 69cm x D 33cm.
Available to buy from Dunelm.
---
Today's Top Deals & Bestsellers
FAQ's Garden Ornaments
Where should garden ornaments be placed?
The best place for a large garden ornament is to make it a focal point at the centre of the garden or at the end of a path. Alternatively place it in an area that might otherwise be missed.
How do you organise garden ornaments?
Buy ornaments which suite the style of your garden or create a little space where you can set a theme, for instance buy some Japanese ornaments to create a relaxation corner or fairy ornaments like mushrooms and little houses to make a secret garden.
What are the best materials for garden ornaments to be made out of?
Stone, resin or metal ornaments are durable and fairly weather resistant as they can survive the elements and will look more rustic over time. If you buy plastic ornaments or other less durable materials try to find shaded, roofed areas to place them.
I hope this list of the best metal garden ornaments was helpful.
If you think I left any out that should be included or have a suggestion for a future article, let me know in the comments below.
Nicola
Garden Ornaments Guides