For this page, I have put together a collection of the best moses baskets currently available. For more essential items for newborns, see my new baby checklist.
Our Top Pick
My top pick is the The Little Green Sheep Natural Knitted Basket and Mattress. It looks stunning and is very well made – most importantly it provides the perfect sleeping environment for your baby.
Parents rave about this moses basket. 86% of parents give it 5 stars.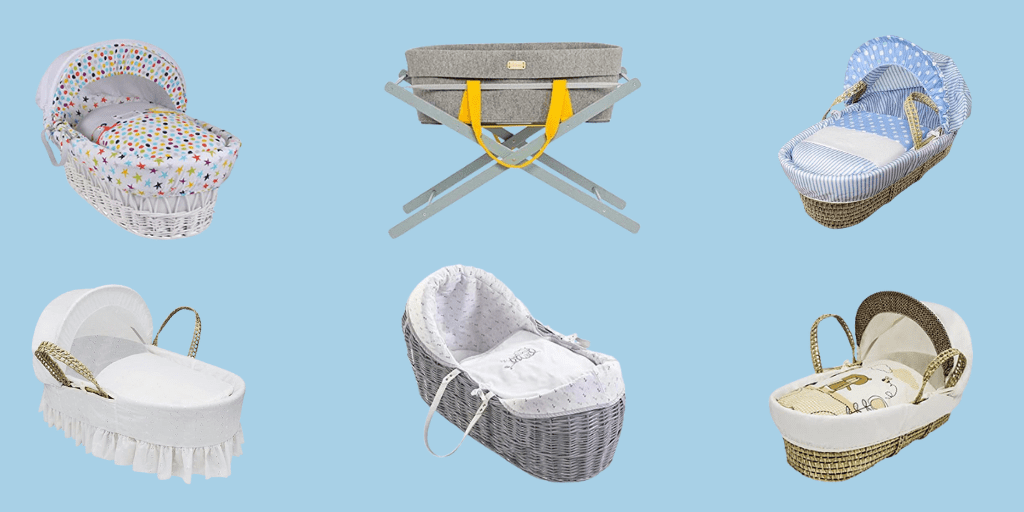 Moses baskets are designed for newborn babies to sleep in for the first few months of their life as they are smaller than a cot and provide a cosy space for a new baby to sleep in.
For more cosiness for your little one, see my guide to baby blankets and baby sleepsuits.
Moses baskets are a popular choice for new parents as they take up a small amount of space, are easily portable and can be moved from room to room.
They are ideal for setting up next to your bed and usually take up less room than a cot or a crib.
The Lullaby Trust recommends that "The safest place for your baby to sleep is a separate cot or Moses basket in the same room as you for the first 6 months, even during the day."
We've researched the market to give you our top picks of the best Moses baskets for babies, including Moses basket stands and mattresses.
Most of our picks are available to buy on Amazon, but we've also listed other recommended suppliers.
Let's get going!
6 of the Best Moses Baskets
The Little Green Sheep Natural Knitted Moses Basket & Mattress
An organic knitted mosses basket, with a strong natural palm leaf basket.
Chemical-free mattress made from coconut fibres.
Includes organic knitted cotton liner which is machine washable liner.
Lullaby Stars White Willow Bassinet, Blush Pink
This willow bassinet comes complete with liner, embroidered coverlet and mattress.
The handwoven wicker basket is both lightweight and sturdy creating a safe sleeping space for your baby.
Finished with two leather-look handles for portability.
Mamas & Papas Moses Basket – Welcome to the World Pink
Moses basket with cotton and linen mix fabrics.
Luxury, supportive wicker basket.
Pretty cover made with 100% cotton.
Kinder Valley Tiny Ted Moses Basket, Cream
This Moses baskets bedding is made from easy care poly-cotton which can be removed from the basket and machine washed.
It has an adjustable hood which can be moved up and down to create either a cosy sleep for your baby or a light and airy space.
The mattress is water resistant and breathable allowing easy air movement and heat dissipation around your baby's body keeping them cosy all night long.
Clair de Lune The Dudes White Wicker Moses Basket
Included this Moses basket for its bright, contemporary bedding.
The Wicker Moses Basket comes complete with a hood, padded liner (for extra comfort) and a mattress.
Kinder Valley Broderie Anglaise Moses Basket (White)
Traditional style Broderie Anglaise Moses Basket which has a modern slant on a classic design.
The bedding can be removed from the basket and machine washed.
It has an adjustable hood which can be moved up and down to create either a cosy sleep for your baby or a light and airy space.
6 of the Best Moses Baskets With Stands
Tommee Tippee Sleepee Moses Basket & Rocking Stand Grey
A safe, modern, stylish and portable Moses basket with strong integrated handles which make it easy to carry.
The breathable airholes help to keep air circulating and help prevent overheating, while materials are soft, easy to clean and gentle on baby's sensitive skin.
The stand can be gently rocked and also has adjustable safety stops giving you the option to move it into the static position.
Shnuggle Dreami Moses Basket and Curve Rocking Stand – Pebble Grey
Modern Moses basket with a clever ventilated base.
Mesh lining is cotton facing to be soft against baby and has a hypoallergenic inner core which wicks away moisture and offers a padded feel.
Can be easily removed from the Curve Stand, and can be used in a high-level fixed position (bed height) or as a low-level rocker.
When not in use the Curve Stand can be easily folded up.
Clair de Lune 6-Piece Waffle Moses Basket & Stand Starter Set (White)
This luxury waffle Moses Basket and drape set will look beautiful in a baby's nursery.
With quilt and padded liner and foam padded mattress.
Rod for drape & rocking stand included.
moKee WoolNest Moses Basket & Stand
Stylish, statement Moses basket made from the softest high quality wool with groovy coloured cotton straps and handles.
Would look great in a modern space.
Comes with static fold away stand.
Sleepy Little Owl Grey Pod with White Rocking Stand and Sleepy Little Owl
Wicker Pod Moses Basket and Rocking Stand with a comfortable fibre mattress, a padded surround and a fleece backed coverlet.
The bedding set is made from soft easy care polycotton and the mattress cover is water resistant and breathable.
Made from solid pine wood, the stand has a smooth rocking functionality which helps to sooth your baby to sleep.
Blue Spots & Stripes Palm Moses Basket & Folding Stand
Beautiful Moses basket for a baby boy
Includes a handmade Palm Basket, folding stand, fibre mattress, padded liner, complete bedding set made from easy care Polycotton.
Features a full body surround, adjustable hood and padded quilt.
5 Best Moses Basket Mattresses
MOTHER NURTURE Classic Foam Moses Basket Mattress
Hypoallergenic, classic foam mattress with an easy to remove luxury hypoallergenic quilted cover that is machine washable at 40'C.
Professionally made in the UK using only nursery grade foam free from harmful chemicals.
74 x 28 x 3.5cm.
Kinder Valley Moses Basket Mattress
This mattress contains a specific nursery grade poly-fibre insert which provides posture, support & comfort and is suitable for newborns.
The mattress is designed to offer protection against dust mites, which can aid the cause of eczema and asthma.
The cover is breathable yet water repellent.
72 x 27.5 x 2.5 cm.
Mamas & Papas Baby Small Mattress for Moses Basket
Ideal for smaller Moses baskets, the supportive fibre core is firm and comfortable, while also promoting better airflow through the mattress to keep your little one cool and comfortable as they sleep.
With a fully washable inner core, as well as a newly improved removable and washable mattress cover, 67 x 30 x 3.5cm,
Casa D'Or Quilted Moses Mattress
Excellent quality rounded end quilted mattress which is perfect for mosses basket or for prams.
Made of hypoallergenic foam and a quilted cover has great benefits including anti bacterial, anti fungal, anti dust mite and air permeable. 75 x 28cm.
BabyPrem Baby Moses Basket Bassinet Round End Quilted Foam Mattress
Breathable round-ended foam mattress, with a standard or quilted cover.
74 x 28 x 3.5cm.
Where To Buy Online (Best Retailers)
In our product reviews above I've linked to Amazon because they tend to have good stock levels at competitive process. I do strongly checking these recommended retailers below.
What To Consider When Buying A Moses Basket
Buying A Moses Basket
Traditional Moses baskets are made from natural materials such as wicker.
They look lovely and are breathable due to the small holes that are present due to the weaving process.
They are also easily portable as they are lightweight and usually have woven handles incorporated into the design.
The cons of having a traditional style Moses basket is that they can be tricky to clean because of the material.
Nowadays there are alternative options made of manmade materials such as plastic with vent holes for breathability and to keep baby cool.
The benefits to opting for these are they are wipeable and easy to clean.
Buying A Moses Basket Stand
A Moses basket stand needs to be sturdy enough for the Moses basket to feel really secure when placed on it.
There are various options for stands including rocking stands so that you can gently rock your baby to sleep or foldaway stands which can be stored away when they are not in use.
Buying A Moses Basket Mattress
Moses baskets usually come with a mattress so you will not always need to buy one separately.
If you are buying or have been given a second hand Moses basket, it is essential that you buy a new mattress for your newborn baby.
The mattress should be firm and flat to keep your baby sleeping safely.
How Long Can A Baby Use A Moses Basket For?
Moses baskets are recommended for babies from age newborn to around four to six months, depending on baby's size and weight.
Most Moses baskets can support babies up to 9kg.
Today's Top Deals & Bestsellers
Baby Products – Buyer Guides
Sleeping & Nursery
Feeding
Toiletries & Nappy Changing
Clothing
Travel
Playtime
Baby Extras