For this page, I have put together a collection of the best night lights currently available. For essential items for newborns see my baby things checklist or more kids bedroom ideas.
Our Top Picks
Show Today's Top Deals
These are today's top deals and bestsellers for night lights or babies and kids.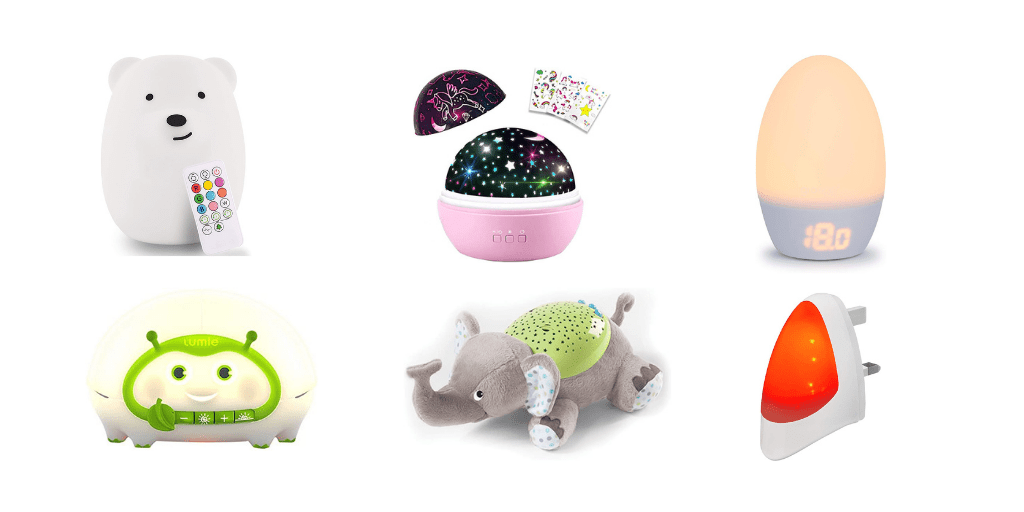 Night lights are ideal for creating a subtle lighting in your kids room, hallway or bathroom at night. There are plenty of night lights on the market which appeal to not just kids, but adults too.
Related: Also see my guide to the best baby monitors and white noise machines.
From LED night lights to projector night lights or motion sensor night lights to moon night lights, there is something for everyone.
We've picked 12 of our favourites which have excellent ratings on Amazon and great customer feedback.
Let's get started!
touugo 3D Print LED Star Moon Night Light
No products found.
LED Moon lamp with touch control to switch colour and brightness of the light.
It looks like the moon at night with a print using NASA satellite real-time data.
This night light would not only work well in a kids bedroom, but would be a great gift for a friend or family member.
See all my top picks for the best moon lamps.
Motion Sensor Night Light Sensky SK126 Plug in Led Light
This motion sensor night lights come with dusk to dawn light sensor and motion sensor.
Wall mounted 1.8w low energy cost, compact magic mouse style body, 15 illumination, natural white colour.
Ideal for kids' room, adults bedroom, hallway, stairs or anywhere that needs lighting to guide your path at night.
RED Automatic LED Night Light Dusk 2 Dawn
Red night light switches on automatically at dusk and switches off automatically at dawn.
It uses Photocell Sensor.
It uses three LEDs which are long life bulbs.
It is suitable for children's rooms, hall, stairs and landings.
You can use it anywhere to give a light at night.
LED technology means it uses very little power and is cool to touch.
It is suitable where low, soft lighting is needed.
It plugs into any standard 13A socket.
The Gro Company Groegg2 Colour Changing Room Thermometer, UK adapter
Discount - Save £6.58
Not only a night light, this is also a digital room thermometer.
It's larger shape and brighter design makes it even easier than before to check your little one is resting at the correct temperature.
With a colour changing system and handy temperature display, there is also three adjustable brightness levels meaning you can use it as a nightlight.
Lumie Bedbug – Low-blue Bedside Light with Sunset and Nightlight for Babies and Children
Discount - Save £17.20
Bedside light for babies and young children that combines sleep-optimised lighting with restful bedtime features.
It incorporates LEDs chosen for their specific circadian effects, ensuring children are ready for sleep and follow a regular sleep pattern and is designed to be used as part of the bedtime routine to promote natural sleep.
With a soothing sunset and gentle night-light, Bedbug provides low-blue sleep-optimised lighting.
Summer Infant Slumber Buddies Eddie the Elephant
Discount - Save £5.01
Includes a multi-colour star and moon display that projects around the room, with the choice of 5 different sounds (from lullabies to nature) that will help to give a child or toddler the perfect night's rest.
The Slumber Buddy is light weight, helping to make it a portable and accessible sleeping aid that can be used in all different environments, such as overnight stays and holidays.
This therefore creates a comforting and familiar bed time routine for the child, whether in their own cot, or away from home.
Skip Hop Moonlight and Melodies Nightlight Projector Soother, Owl
As well as being a night light this offers multiple ways to soothe baby, including music, lights and projection.
Featuring a dimmable nightlight that emits a warm glow, it plays eight gentle melodies and calming nature sounds.
With an adjustable pivot lens which projects a starry night scape onto any surface.
LumiPets Cute Animal Silicone Baby Night Light with Touch Sensor and Remote
A cute bear night light which gives a calming glow in 8 colours.
It's portable and rechargeable so you can take it on your travels.
Made from high quality, non-toxic, washable silicone material making them suitable for holding.
Just tap to choose your favourite color and also remote controlled with sleep timer option and brightness feature.
litecup – The no-Spill Sippy Cup That Lights up – Uber Blue
Unique, spill resistant sippy cup with an integrated nightlight.
The cup edge supports the bottle to cup transition and with the lack of straws or spouts eliminate the potential for comfort sucking.
It has a light sensitive LED light unit that sits in the base of the cup which glows gently at night.
The comforting glow can help children self soothe and ensures your child will always find their drink in the night.
The night light is light sensitive and will only come on in the dark but it can also be manually turned off if required.
The Gro Company Gro-Clock Sleep Trainer
This night light uses fun images of the stars and sun to communicate to kids when to go back to sleep and when it's time to get up.
With a feature which allows parents to choose whether or not to display the digital clock during the usual 'stars to sun' countdown.
Unicorn Night Light & Star Projector Light
Discount - Save £7.00
Project an array of unicorn fairy world or starry night sky on the ceiling and walls of your little ones bedroom.
Younger children who might be afraid of the dark can be comforted by the show that gently illuminates the entire room instead of having a small night-light.
3D Dinosaur Night Light, LED Dinosaur Night Light for Kids
3D visualisation lamp which gives an amazing 3D visual effect of a dinosaur when lighting.
Colour changing with smart touch and remote control.
It can be powered by USB cable or 3 AA batteries.
Great night light for dinosaur fans.
Where To Buy Online (Best Retailers)
In our product reviews above I've linked to Amazon because they tend to have good stock levels at competitive process. I do strongly checking these recommended retailers below.
Baby Night Light Deals & Today's Bestsellers
Baby Products – Buyer Guides
Sleeping & Nursery
Feeding
Toiletries & Nappy Changing
Clothing
Travel
Playtime
Baby Extras