For this post, I have put together a collection of the best Peppa Pig books currently available. Also see my guide to the 100 best children's books.
Peppa Pig has been going since 2004 and it seems it's as popular as ever.
There are plenty of Peppa Pig books for you to buy for your little one, from 'My First' board books to lift-the-flap books and wipe-clean books to magnet books. We've listed 12 of the best Peppa Pig books which pre-schoolers will love.
Show Today's Top Deals
These are today's top deals and bestsellers for camping cutlery sets.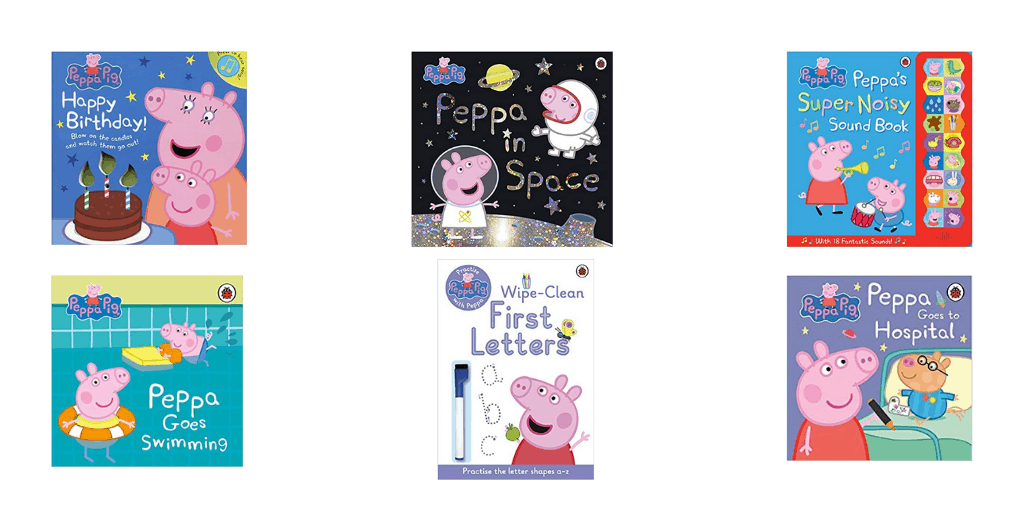 If you know a little Peppa Pig fan you can also check out the best Peppa Pig toys.
Let's get going!
Peppa Pig: Peppa's Super Noisy Sound Book
Discount - Save £3.90
Find out what happens when Peppa and George's very quiet day turns very noisy indeed.
With 18 sound buttons to press as you read the story, this is a super noisy gift for every Peppa fan.
The interactive sound book will help keep little ones engaged.
Peppa Pig: Peppa Goes Swimming
Discount - Save £1.99
It's George's first time swimming and he feels a little nervous but with some help from Mummy and Daddy Pig, soon George is splashing around in the water!
This Peppa Pig story board book is perfect for children learning to swim and for little ones visiting the swimming pool for the first time.
Peppa Pig: Peppa Goes to Hospital: My First Storybook
Discount - Save £0.50
Pedro Pony is poorly, so Peppa Pig and her friends go to visit Pedro in hospital.
Peppa and her friends discover that the hospital isn't so scary after all!
A great board book to introduce children to what hospitals are.
Peppa Pig: Practise with Peppa: Wipe-Clean First Letters
Discount - Save £0.60
Develop and practise first letter shapes with Peppa Pig and friends in this colourful wipe-clean activity book!
Ideal for young readers who are starting school and learning to write first letter shapes, this book helps children form letters in the correct way with extra guidance for left-handers.
The book comes with a free pen which can be wiped clean and used again and again.
Peppa Pig: Happy Birthday!
Discount - Save £1.62
Join Peppa and George as they celebrate Mummy Pig's birthday in this special novelty board book that plays 'Happy Birthday'
Contains magical candles that light up and can be blown out, again and again!
Kids will love the interactive side to this book.
Peppa Pig: Marvellous Magnet Book
Discount - Save £1.44
An interactive magnet book.
Peppa and her little brother George are having fun doing their favourite things.
Choose the right magnets to finish the pictures, so you can be sure Peppa and George have a lovely time.
George's First Day at Playgroup: Sticker Book (Peppa Pig)
Discount - Save £0.40
A fun and engaging sticker story book that's perfect for little one's starting playgroup.
Peppa, Madam Gazelle and the rest of the class are showing George around on his first day.
Kids can use the stickers to fill in the pictures.
Peppa Pig: Peppa at the Museum Board book
Discount - Save £0.50
Meet the museum worker Mr Rabbit and learn all about what makes a museum such a special place in this story board book.
Great for little ones visiting a museum for the first time and especially for dinosaur fans.
Peppa Pig: Peppa Goes on Holiday
Discount - Save £1.25
Peppa goes on holiday to Italy in this board book.
A great book to read to your little one in the build up to a holiday.
Peppa Pig: Peppa's First Pet: My First Storybook
Have you got a pet?
This Peppa Pig board book introduces children to pets and trips to the vet.
Peppa Pig: Peppa in Space
Discount - Save £1.96
This book was published to celebrate the 50th anniversary of Apollo 11 landing on the moon.
Introduces space to your little ones in this sparkly Peppa Pig picture board book.
Peppa Pig: At the Zoo: A Lift-the-Flap Book
Discount - Save £2.99
Kids will love getting involved in lifting the flaps on each page to reveal the animals in this storybook about a trip to the zoo.
Peppa Pig Book Deals & Today's Bestsellers
Children's Books By Age
See our guide to Oxford Reading Tree Levels Guide
Children's Books By Theme