For this post, I have put together a collection of the best pregnancy pillows currently available. For all my recommended maternity and baby product guides, with top picks, see our baby essentials checklist and maternity wear hub.
Our Top Pick
My top pick is the Mamas & Papas Pregnancy Nursing Pillow, which is designed to support your bump, back and knees while you rest. It's super soft and can be used for sleeping, resting, bottle-feeding and breast-feeding. Plus it has a removable, washable cover.
Show Today's Top Deals
These are today's top deals and bestsellers for pregnancy pillows.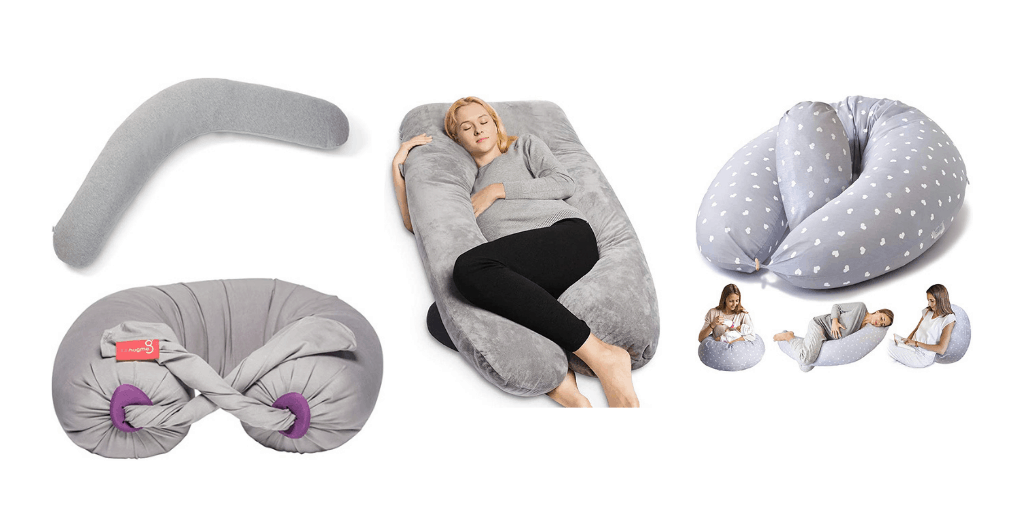 ---
Getting comfortable while pregnant can be a tricky task, especially at night, that's why having a decent pregnancy pillow can be a game changer once your baby bump starts to grow.
We've put together our top picks of the best pregnancy pillows on the market, which support your body whilst pregnant and can also be used for breastfeeding support once baby has arrived.
All of our recommendations have 4-5 star ratings and excellent customer reviews.
Pregnant and looking for comfortable maternity wear? See our buyer's guides on the best maternity pyjamas and maternity leggings.
Mums-to-be or new parents will also find our guide to the Top 100 Baby Products super useful.
So here is my list of the the best pregnancy pillows.
Best Pregnancy Pillow UK
Bamibi® Pregnancy Pillow and Nursing Pillow
No products found.
This pillow provides back support as well as mum's neck, shoulders, arms, side and legs support.
Can be toggled into a loop shape or long for a sleep aid.
Ideal for support when feeding baby.
With cosy cotton nursing pillow cover with high quality polyester filling and a hidden zip.
150 x 30 x 25 centimetres.
Available in prints; Dots/ Animals/ Hearts/ Stars.
Women love these pregnancy pillows –

No products found.

.
---
QUEEN ROSE Pregnancy Pillow with Velvet Cover
High density and extra soft pillow with a unique Bionic Polyethylene filling which retains puffiness for better performance and longer use.
With big "U" shaped maternity support pillow for sleeping and feeding.
The full body contour of this pillow provides a painless and sound sleep.
Ideal for expectant mothers and people suffering from hip or back pain, fibromyalgia, sciatica, poor posture or athletes.
165 x 20 x 78 centimetres. (Available in 4 sizes).
Available in Cotton Blue and Pink/ Cotton Grey/ Jersey Grey/ Velvet Grey.
Women recommend these pregnancy pillows – 88% of 11,031 buyers gave it 4/5 stars or more..
---
Sleepdove® Maternity Pillow
Large U-shaped pillow for maximum comfort and support.
Soft Microfibre Sateen outer with same material removable cover which is machine washable.
Not just for pregnancy, can help you sleep if you suffer from pains and arthritis when sleeping.
60.6 x 59 x 23.4 centimetres.
Available in white and either 9ft or 12ft length.
Women recommend these pregnancy pillows – 85% of 1,206 buyers gave it 4/5 stars or more..
---
Dreamgenii Pregnancy Support and Feeding Pillow
Discount - Save £7.00
Unique pregnancy support and feeding pillow which helps you to lie on your left side – the best position for you and your baby, according to the NHS.
Supports bump, back and knees.
Prevents you rolling onto your back during sleep.
Encourages maximum blood flow between mother and baby.
Doubles as a feeding pillow.
Available in Floral Cotton Grey & White/ Geo Cotton Grey & Aqua/ Nature Cotton Grey & Coral/ Nature Cotton Grey & Green/ White Cotton Jersey.
Women recommend these pregnancy pillows – 83% of 1,075 buyers gave it 4/5 stars or more..
---
bbhugme® Pregnancy pillow ™
Award-winning pregnancy and breastfeeding pillow.
Shapes to your body throughout all stages of pregnancy and beyond. With a unique 5-point support and comfort where you need it the most: belly, pelvis, lower back, knees and ankles.
Inner pillows are filled with TOXPROOF certified and food grade expanded polystyrene (EPS) beads.
Soft and breathable outer cover in 95% cotton and 5% spandex jersey fabric Standard,
Pillow cover machine washable.
Most stylish looking pillow we have seen.
Available in muted colours with contrasting toggles; Dusty Blue & Orange/ Dusty Olive & Black/ Dusty Pink & Vanilla/ Eucalyptus & Coral/ Stone & Plum.
Women recommend these pregnancy pillows – 90% of 162 buyers gave it 4/5 stars or more..
---
Silentnight Body Support Pillow with Pillowcase
Discount - Save £4.10
Another award-winning pillow with supportive padding and in an extra-long length.
Made of super-soft completely hypoallergenic material.
Simply machine wash at 40°C.
Offers support to your hips when lying down to ease pressure and joint pain and when propped up the pillow provides comfort to any aches or pains in your neck and back.
Also great for aiding sleep during pregnancy and can double up as a nursing pillow.
147 x 48 x 4 centimetres.
Available in white.
Women recommend these pregnancy pillows – 93% of 49 buyers gave it 4/5 stars or more..
---
Mamas & Papas Pregnancy Nursing Pillow
Soft pillow to support your bump, back and knees.
Moulds to your shape with a narrow design which is ideal for side sleepers.
The removable, washable cover means it's easy to keep clean.
H: 19 x W: 19 x D: 143cm.
Available in Grey Marl/ Sand Star.
Women recommend these pregnancy pillows – 88% of 186 buyers gave it 4/5 stars or more..
---
Today's Top Deals & Bestsellers
---
What to consider when buying a pregnancy pillow
Size and Shape
Pregnancy pillows come in a variety of shapes and sizes. Some take up more space than others. Here are the most popular types of pregnancy or maternity pillows:–
U-shaped pregnancy pillow is ideal for women who sleep on their back as you can wrap the pillow around your body and comfortably move around.
Body pillow which is long like a sausage and great if you sleep on your side as you can hug it and support the full length of your body.
Wedge pillow which is smaller and you can use as a support between your legs, under your bump if you lay on your side or as a breastfeeding pillow.
Pregnancy pillow with hole which is ideal if you are someone who sleeps on your front as the hole will accommodate your bump.
What Support Does It Give?
You may want support for your back, knees, bump or other. A good pregnancy pillow should be firm enough to support you.
Before you buy, check what you can use the pillow for. A lot of pregnancy pillows can also be used as nursing/ breastfeeding pillows once your baby is born.
What Material Is It Made Of?
You also want something which feels soft and cosy to touch and is made of non-allergenic material. Look for hypoallergenic pillows which can be machine washed (or the covers can be).
---
I hope this list of the best pregnancy pillows was helpful.
If you think I have left any out that should be included or have a suggestion for a future article, let me know in the comments below.
Nicola
Maternity Clothing Buying Guide
---
Baby Products – Buyer Guides
Sleeping & Nursery
Feeding
Toiletries & Nappy Changing
Clothing
Travel
Playtime
Baby Extras