For this post, I have put together a collection of the best white noise machines for babies currently available. For all my recommended baby product guides, with top picks, see my list of newborn essentials.
Our Top Picks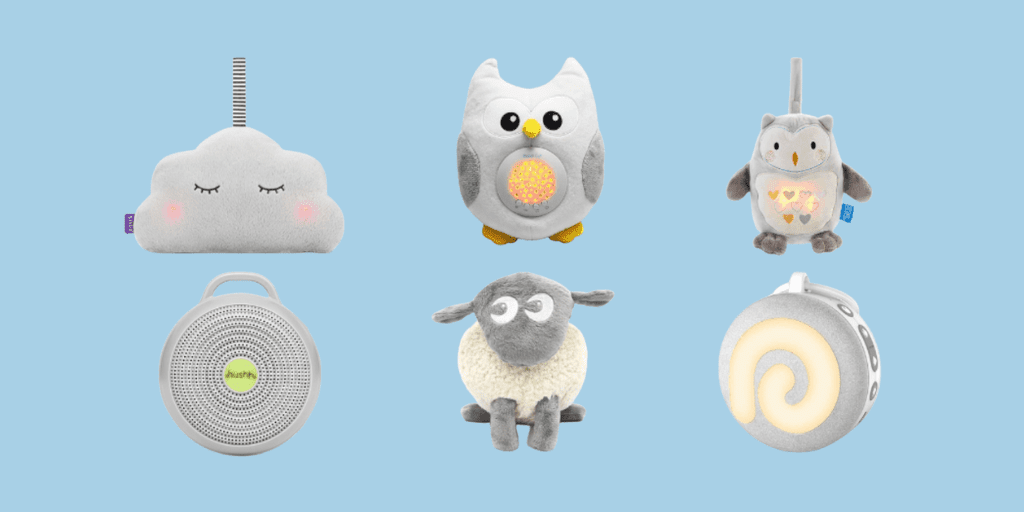 Getting a baby to sleep quickly and easily can sometimes be tricky. A white noise machine (also known as a baby sleep aid) can help, as it works to eliminate ambient noise allowing baby to feel soothed, relaxed and able to sleep.
How We Selected
From asking parents to searching the internet, we have put together our top picks of the best white noise machines for babies on the market.
All of our recommendations have excellent customer reviews with a majority of 5/5 star ratings.
You may also be interested to see my best buys and buying guide for baby monitors and night lights.
Mums-to-be or new parents will also find our guide to the Top 100 Baby Products super useful.
Get some tips on helping your baby to sleep over at the NHS website.
So here is my list of the the best white noise machines for babies.
Tommee Tippee Ollie the Owl Light and Sound Sleep Aid
This sleep aid plays four soothing sounds including heartbeat, rainfall, white noise static and beautiful Brahms lullaby.
CrySensor technology means that Ollie automatically activates when baby cries, so that he can soothe little ones back to sleep in an instant, without parents having to get up.
The sounds play for 20 minutes and then Ollie switches to standby mode for three hours.
It offers a gentle glowing light that can act as a soft light to check on baby or offer comfort if little ones wake in the night.
Made from soft tactile plush velvet for babies to touch.
It has a secure velcro fastening which allows Ollie to be attached directly onto a cot or Moses basket.
Available as Ollie The Owl (battery or rechargeable) / Bennie The Bear/ Pip The Panda.
Pros: Soft night light, portable.
Cons: No continuous white noise setting, only four sounds to choose from.
Consumer Score: Parents love this sleep aid – 78% of buyers gave it 5 stars.
Sweet Dreamers, Ewan the Dream Sheep, White Noise Machine
Cute and cuddly Ewan the Dream Sheep plays soothing white and pink noise sounds including Rainfall, Harp Melody and Vacuum Cleaner all combined with Mum's resting heartbeat, to provide an effective tool for settling restless babies.
Its sounds are volume adjustable, helping you tailor specifically to your child's needs and sleeping.
It features a soft pink night light glow which mimics the uterus to help comfort and soothe your little one into a peaceful sleep.
The night light and his sounds have a 20-minute timer with automatic shut off.
Hook and loop tail is deal for soothing on-the-go!
Battery operated.
Pros: The night light which mimics uterus for soothing baby, cuddly and soft.
Cons: No continuous white noise setting, only four sounds.
Consumer Score: Parents love this sleep aid – 78% of buyers gave it 5 stars..
Dreamegg White Noise Machine
Choose from 11 soothing sounds and 32 volume levels to create the ideal sleep environment for baby or adults.
There are sounds which babies will enjoy such as lullaby, music box, shushing sound, vacuum cleaner and fetal tone, while adults can choose the sound of a fan, ocean, crickets or more.
Adjustable night light enables you to choose the most suitable light intensity for you and your baby. Making midnight feeding easier.
Internal rechargeable battery makes it a perfect travel white noise machine.
Set the desired sound, volume and night light with the child lock, so that baby can't mess with the volume while he/she is playing with it.
Pros: Small and portable, includes a night light, nice design.
Cons: Not mains operated so needs charging regularly.
Consumer Score: Parents absolutely love this sleep aid – 92% of buyers gave it 5 stars..
SnuzCloud Sleep Aid
Discount - Save £7.00
Soft and cosy cloud sleep aid that helps comfort and settle your baby when you need it most.
Lightweight so you can easily attach to a crib, cot, pram or car seat with velcro strap.
With 4 soothing sounds including; pink noise, lullaby, waterfall and a real heartbeat to mimic that of pregnant mum's womb.
Two light options; a calming pink glow and soft white light that doubles as a night light as they get older.
Two volumes, low and high.
The sounds and lights play for 20 minutes before the Cloud automatically turns off to conserve battery.
Pros: Soft nightlight, cute and lightweight.
Cons: Only four sounds, no continuous white noise.
Consumer Score: Parents love this sleep aid – 77% of buyers gave it 5 stars..
Bubzi Co White Noise Machine
Cute owl which can calm and soothe your baby with a choice of ten classic lullabies, a heartbeat or natural bird song sounds.
Or press the button down for 3 seconds and play all the different songs on loop. The music turns off automatically after 30 minutes to save you from having to get up.
Comforting night lights are projected onto the wall. Simply press the light bulb button to turn the star projection on and off.
Enjoy a starry night sky constellation to help sleepy eyes fall asleep faster.
Use it as a soft nightlight for baby's nursery, or simply as a plush, music player to soothe baby.
Choose from 5 different volume settings to adjust the sound in any environment – from newborn to toddler.
With handy adjustable strap, it can secure to cot or elsewhere in the nursery.
Pros: Starry night constellation light.
Cons: No continuous white noise.
Consumer Score: Parents love this sleep aid – 84% of buyers gave it 5 stars..
Otium White Noise Machine
White noise machine suitable for the whole family.
26 soothing sounds including 8 white noise sound settings, 8 city noise sound settings and 10 nature sound settings (water drops, waves, wind noise, forest, fetal heartbeat, train, campfire).
For babies, kids, adults and insomnia patients.
This sound machine has an optional nightlight that emits enough brightness to feed babies at night.
Can be played 30Mins, 60Mins, 90 Mins according to your needs, or you can play through the night.
It can easily fit into a handbag or suitcase making it perfect for home, office, car and travel use.
Pros: Lots of sounds available, suitable for kids and adults too.
Cons: It needs to plug in during use.
Consumer Score: Parents love this sleep aid – 77% of buyers gave it 5 stars..
Marpac Hushh Noise Cancelling Machine
3 sound options including bright white noise, deep white noise, or gentle surf.
The machine comes with a clip so it can be clipped onto something or it can be placed on a flat surface.
Comes with a child lock so you can set it to the volume of your choosing.
A soft amber light adds a soothing night light.
Effectively buffers outside noise disruption from noisy neighbours, barking dogs, loud siblings, and city sounds.
With USB cable for charging.
Pros: Portable so can be taken anywhere, the soft nightlight.
Cons: Will need charging, only three sounds.
Consumer Score: Parents love this sleep aid – 77% of buyers gave it 5 stars..
Retailers:
White Noise Machine Deals & Today's Bestsellers
Listen To White Noise For Babies Here!
Why Use White Noise As A Baby Sleep Aid?
Babies seem to like white noise as they are used to it from being in the womb and hearing the constant beat of mums heartbeat and muffled sounds from outside the womb.
White noise machines create a constant sound that can help to soothe and calm anxious babies, encouraging them to stop crying and fall asleep more quickly.
White noise machines can also help babies to stay asleep longer by drowning out other potential noise disturbances such as older siblings or city traffic.
They generally provide a source of comfort and can encourage your sleepy baby to drift off or sink back into a deep sleep.
FAQ's White Noise Machines For Babies
Why does white noise calm babies?
White noise helps turn on your baby's calming reflex which will calm crying and lead to sleep.
What's the best white noise for helping babies to sleep?
Only monotonous and continuous low-pitched sounds will work to settle babies to sleep. Similar to the rumbling sounds they heard while in the womb, which creates a sense of security.
Can you use white noise all day for babies?
White noise isn't meant to be used all day as you want your baby to learn the normal sounds of your home and your voice. Save white noise for calming your baby and at sleep time.
When should white noise stop for babies?
There is no reason to stop white noise if it soothes your child to sleep. Some adults find it relaxing too.
Final Thoughts
My top pick is the Marpac Hushh Noise Cancelling Machine as it offers three soothing sounds to help settle baby.
It also comes with a clip so you can clip it to whatever you like, plus it has an integrated soothing night light. Fantastic customer reviews.
I hope this list of the best white noise machines for babies was helpful.
If you think I left any out that should be included or have a suggestion for a future article, let me know in the comments below.
Nicola
Last Updated: February 2022
Added Top Picks.
Updated Image.
Added 'How We Selected.'
Added link to NHS website.
Added Pros/Cons on all products.
Added FAQ's.
Added Alternative Retailers.
Added Final Thought.
Baby Products – Buyer Guides
Sleeping & Nursery
Feeding
Toiletries & Nappy Changing
Clothing
Travel
Playtime
Baby Extras
Roffie Sleep Sound Machine (currently unavailable)
No products found.
30 adjustable HIFI sounds at 40-75dB volume to choose from. It's ideal to drown out the sound of noisy neighbours, snoring and traffic.
Includes sounds such as fan, rain, thunderstorm, forest, cricket, waves, streams, heartbeat.
Suitable for the whole family.
With three timer modes of 30, 60 mins, and loop.
Simple and sleek in both design and appearance, making the little machine ideal for your bedside table.
Parents love this sleep aid –

No products found.

.