For this post, I have put together a collection of the best wooden playhouses currently available. Also see my top picks for all types of outdoor toys.
Top Picks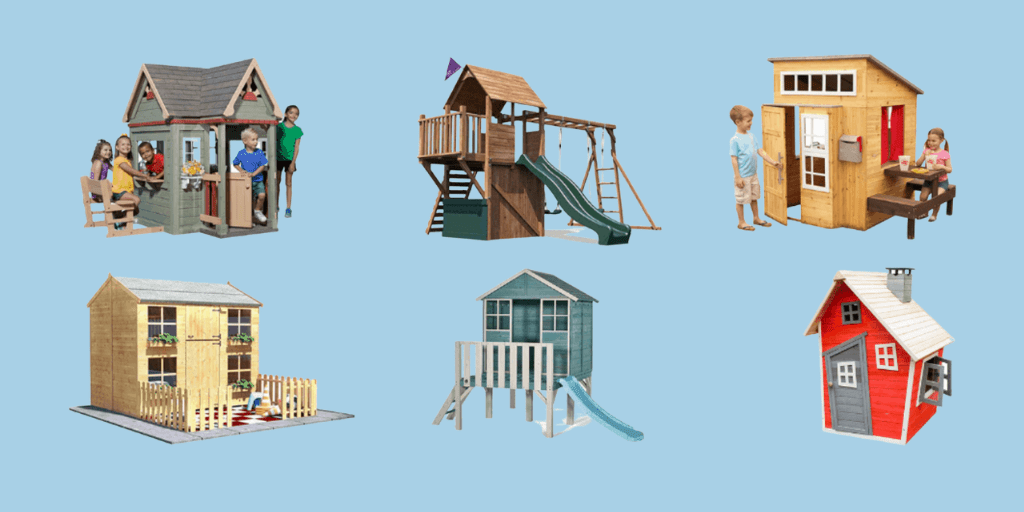 If you're looking for a children's wooden playhouse for the garden, which will keep the little ones entertained for hours, then look no further.
How We Selected
We have picked 10 of the best wooden playhouses from big to small, from two-storey to playhouse with swings and slide, there's something here to suit all budgets.
All of my recommendations have excellent buyers feedback.
See my top picks for the best wooden swings and climbing frames and mud kitchens.
Let's get started!
KidKraft 182 Wooden Outdoor Garden Playhouse
This playhouse comes complete with a built-in kitchenette and picnic table with two benches.
Other imaginative features include a working mailbox and a chalkboard for the kids to write on.
Pros: Pre-assembled components help reduce assembly time, comes with play accessories and a picnic table.
Cons: Assembly required, instructions could be improved.
Consumer Score: Good reviews with 64% of buyers giving it 5 stars out of 5.
Backyard Discovery Victorian Inn Wooden Playhouse
Victorian-style wooden playhouse with front porch, serving station and bench.
Includes accessories including telephone, plastic cutting board, mounted sink, burner, fruit and vegetable basket with velcro food.
Pros: Playhouse constructed of cedar wood which is durable and weather resistant, pretty finishing touches include white plastic flower pot holders and bay window.
Cons: Assembly required.
Consumer Score: Great reviews with 100% of buyers giving it 5 stars out of 5.
Plum Boat House Wooden Playhouse
This playhouse has a 1.2m turquoise slide and three step ladder with veranda.
The pre-painted teal wood wash will add a splash of colour to any garden.
Pros: In addition to the traditional apex style roof, air holes have been included to allow free flowing ventilation, has a slide and veranda.
Cons: Not suitable for children under 3 years. The veranda, steps, slide will add to the need for adult supervision, assembly required.
Looking for a kids slide? See our guide to Kids Slides.
Wooden Playhouse Climbing Frame
Durable wooden playhouse with slide and swing set suitable for ages 3 – 14 Years.
There is a tower, balcony platform, monkey bars and ladder with professional grade climbing stones all included.
Pros: Made of pressure treated timber which is low maintenance and long lasting (includes 10yr guarantee), lots of features to keep kids entertained for years to come.
Cons: Expensive, assembly required.
Consumer Score: Very good reviews with 74% of buyers giving it 5 stars out of 5.
BillyOh Gingerbread Max Playhouse
This cottage style two storey playhouse offers a tall and spacious interior area for kids.
The playhouse resembles a cottage from a children's fairytale, and will add a traditional feel to any garden.
With a stable door and windows.
Pros: Available with bunk, a picket fence is also included, creating an enclosed area.
Cons: Expensive, assembly required.
Big Game Hunters Evermeadow House Wooden Playhouse
Made with beautiful, thick Fir wood and glazed with two child-safe windows which let in lots of light for a bright and welcoming play space.
Best value playhouse.
The beautiful natural wood provides the perfect opportunity to decorate your little one's new home in their favourite colours, or just use a transparent preserver to keep the grain visible.
Pros: Affordable.
Cons: No added extras or features, assembly required.
Consumer Score: Very good reviews with 69% of buyers giving it 5 stars out of 5.
The Playhouse Company – Children's Play Castle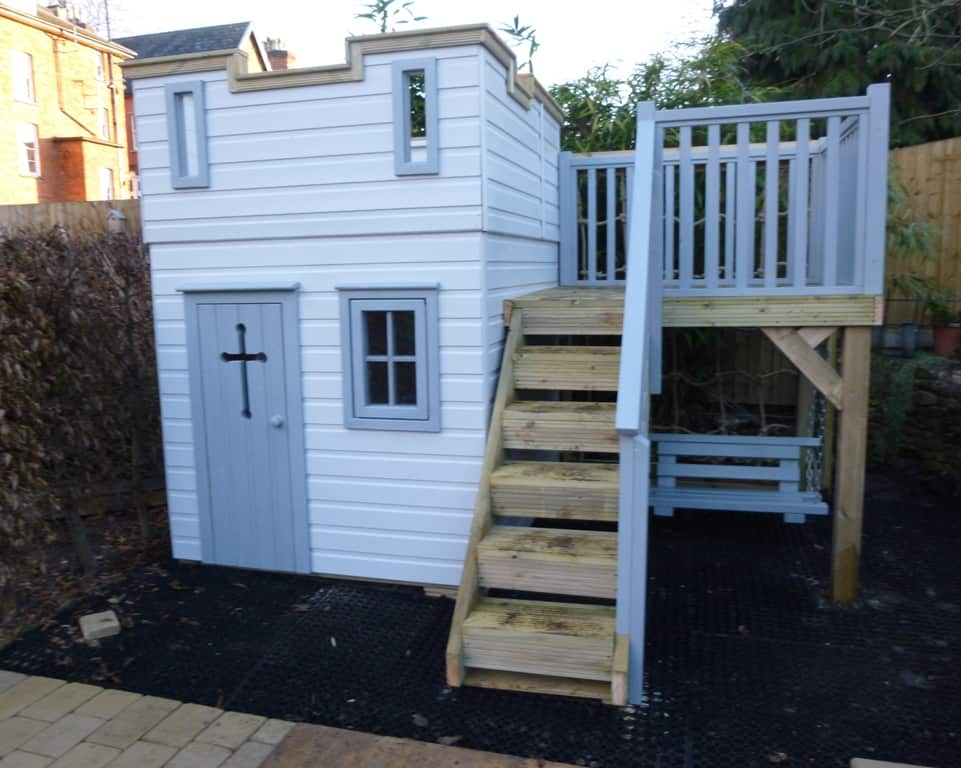 A bespoke play castle with a standard door with cross cut out to the left hand side at the front of the playhouse and a rectangular opening window to the right hand side.
An internal height of 5ft means that adults can easily get in to the castle too.
There is also a non-opening window in the centre of left hand side of the castle so plenty of natural light can shine.
Two "castle-style" slit windows in the tower feature above the door enhance the castle theme.
Pros: Unique castle features, bright, raised platform, hanging swing seat and climbing net included.
Cons: Very pricey.
B&Q – Shire 7×8 Crib Wooden Playhouse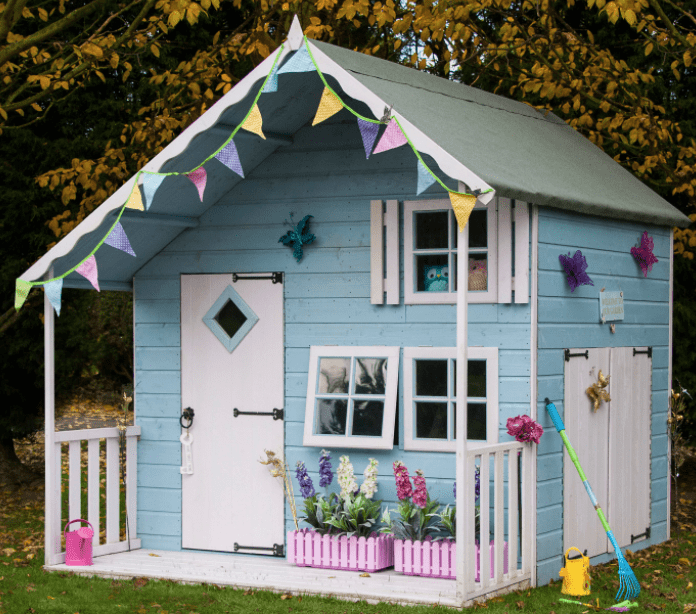 This playhouse is supplied unpainted so you can finish it in your child's favourite colour.
It has an opening window with attractive shutters and a veranda ensures that the playhouse remains light and airy during the summer months.
Suitable for ages 3-15 years.
Pros: Opening window, shutters, two doors and veranda make decorative features.
Cons: Expensive, assembly required, doesn't come painted.
Consumer Score: Great 5 stars out of 5 review.
Where To Buy Online (Best Retailers)
In our product reviews above I've mainly linked to Amazon because they tend to have good stock levels at competitive process. I do recommend checking these retailers below.
What To Consider When Buying A Wooden Playhouse
Budget
There are wooden playhouses to suit all tastes and budgets, from basic shed style houses to full-on castles with viewing platforms.
Opt for a playhouse which isn't going to break the bank. Your child will love whichever playhouse they are given.
Size
Choose a playhouse which is suitable for the size of your garden. You don't want something which is going to take over too much of your garden space.
Age Of Children
If you have children of different ages, it may be worth getting a playhouse which will appeal to both younger and older children.
Some playhouses, especially those with features such as swings and slides, will appeal to teenage kids too.
Durability
You get what you pay for, so when it comes to purchasing a wooden playhouse it may seem expensive, but it will be a worthwhile investment which will last for years to come.
FAQ's Wooden Playhouses
Why buy a playhouse?
It will encourage your kids to get outside and play.

Even a basic playhouse will let your children role play and use their imaginations.

A playhouse will provide hours of fun in the garden.
Is wood or plastic better for a children's playhouse?
A wooden playhouse will be more permanent than a plastic one.

Wooden playhouses last for years and are durable and weather resistant.

Wooden playhouses are also more appealing to a broader age range.

Plastic playhouses are suitable for little children or if you are on a limited budget and don't want to invest in a wooden one.
Where should you put your wooden playhouse?
It is important to keep it in view of your house so you can keep an eye on the kids.

You will need level ground to build on, making sure to avoid any sharp edges or dangerous plants.
Wooden Playhouse Deals & Today's Bestsellers
Final Thoughts
My overall top pick is the KidKraft 182 Wooden Outdoor Garden Playhouse as it comes with play accessories, outdoor picnic table and built-in kitchenette for role play.
It is also mid-priced and has mostly 5/5 star buyers ratings.
I hope this guide on wooden playhouses was helpful.
If you think I left any out that should be included or have a suggestion for a future article, let me know in the comments below.
Nicola
Last Updated: April 2022
Added 'How We Selected.'
Added Top Picks.
Updated Image.
Added internal links.
Added Pros/Cons on all products.
Added Consumer Scores.
Added FAQs.
Added Things To Consider.
Added Final Thought.
Moved OOS to bottom of page.
Outdoors Toys Guides
Eco-friendly Playhouse (currently unavailable)
This wooden playhouse has an asymmetrical roof, lopsided door and cute windows to give it that fairytale look.
Painted in a colourful combination of red, grey and white it is welcoming for kids to play in.
Made from environmentally friendly spruce wood.
WALTONS EST. 1878 Wooden Garden Playhouse (currently unavailable)
This playhouse features two storeys.
The playhouse is EN71 Safety Tested, meaning that the Georgian windows are 100% shatterproof, the timbers are planed and rounded to prevent splinters and it features a child safe door with a 12mm gap to prevent trapped fingers.
Window boxes and shutters add a cottage feel to it.