Coca-Cola Christmas Truck Is Back!
The holidays are coming and so is the Coca-Cola Christmas Truck!
Starting on the 11th November 2017 the star of the legendary 'Holidays are coming' advert will be touring the nation, stopping along the way and surprising consumers with a selection of festive freebies!
This gets increasingly popular so we'd highly recommend getting there as early as possible!
Like this? Sign up to get FREE and cheap days out!
Dates and locations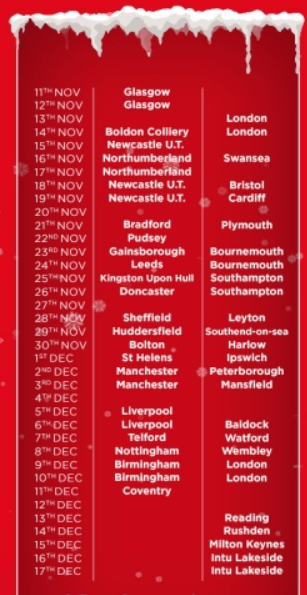 Did you know?
They've made 397 stops since 2011
The Coca-Cola Christmas Truck is 4.1 metres high and weighs 13 tonnes
It's lit by 372 bulbs and 8,772 fairy lights to give it that Christmas sparkle
The truck has travelled more than 730,000 miles – the equivalent to 29 times around the world!
The Holidays Are Coming advert is 22 years old this year! #HolidaysAreComing
For more details, take a browse here >>


Discover more about the history of the Coca-Cola Christmas Truck