Looking for a cheap all inclusive family getaway and lucky enough not to be tied to the school holidays like me – the advantages of having an under 5!
Using our Package Holiday finder we found this great family deal for seven nights in popular Fuerteventura, Canaries.
Spend an all inclusive week enjoying the sunshine in the 3-star Caleta Garden rated 3/5 on Trip Advisor and perfect for families!
This "cheap and cheerful" complex is situated in the central part of the island paradise of Fuerteventura, in the tranquil and prestigious tourist zone of Caleta de Fuste. The area as a whole offers relaxation, as well as a variety of sports, restaurants, shopping centres, areas for strolls and night time entertainment.
This OnTheBeach deal is from London Stansted but there's lots of other departure airports available, see below >>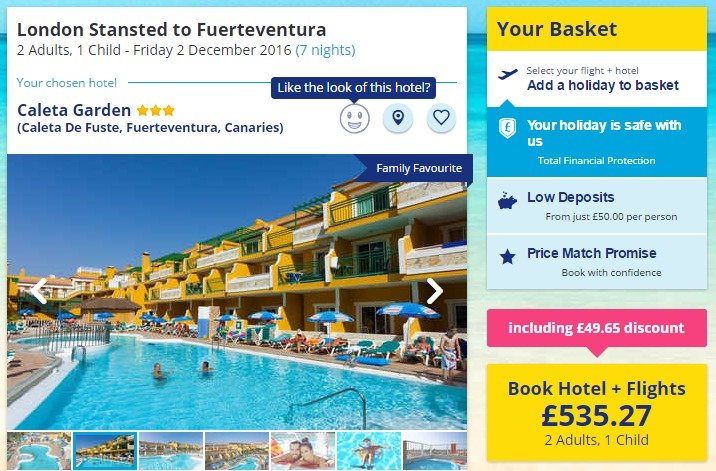 Package summary:
Travel Duration: 7 nights
Example date: 2nd – 9th December
Departure from London Stansted to Fuerteventura – Round Trip
Other dates and airports possible – adjust search tools according to preference
3* hotel rated 3/5 on Trip Advisor
Board basis – All Inclusive
ATOL Protected Package
Based on 2 Adults x 1 Infant (under 2)
Price breakdown for 2 adults x 1 infant sharing:
OnTheBeach holiday package – £535.27/ 4 = £133 per person
Want to fly from a different airport or on a different day?
This deal departs from London Stansted, but there are other options to choose from. Be aware that the price may increase slightly depending on which airport or day you choose >>
19.11.16 from £327 pp
Choose from the following airports:
Plus stacks more dates / airports if you tweak your search results!
More about your hotel:
Situated in the bustling resort of Caleta de Fuste on the sunny island of Fuerteventura, the Caleta Gardens Apartments are the ideal place for a family holiday. Whether you're looking to sit back and relax at the hotel, explore the local area or try some of the many activities and facilities on offer, you're sure to find something perfect for you and your family.
Why not head to one of Caleta de Fuste's gorgeous beaches on your holiday at the Caleta Gardens Hotel. The beautiful beach is located just 350m away so you don't have to worry about dragging yourself too far!
About Fuerteventura
Fuerteventura is the island closest to the coast of North Africa, being just 100 kilometres from Morocco. It's the second largest island and is renowned for its long, golden sand beaches and sand dunes. The island is a paradise for sun worshippers and water sports enthusiasts.
It is also believed to be the oldest of all of the islands in the Archipelago. Think long stretches of white sandy beaches, sand dunes and crystal clear turquoise waters, this is Fuerteventura. The island, which is designated a Biosphere Reserve, is a beautiful destination, where you can combine beautifully natural surroundings and a relaxed laid-back way of life, with excellent facilities and attractions.
Looking for cheap car hire?
If you are looking for car hire you should check out our car hire comparison tool! It cross compares all the cheapest vendors for any booking, and sometimes the same product can be offered by a third party for a fraction of the cost.
Plus, as this deal doesn't include transfers, it's cheaper than paying for a private shuttle back and forth from the airport, what's more, you'll then have a car all week to explore the island, win win!
2nd – 9th Dec, 2016 > £72

BOOK CAR HIRE
Photo gallery