Fancy something a little different… then how about this boat rental we found using FamilyBreakFinder's new Rentals Finder search tool. The tool compares millions of rental properties across the world, bringing you the best from dozens of different sites, including Booking.com, TripAdvisor and HomeAway.
Cool Narrowboat in Bath, Available For Short Breaks, Sleeps 6 – Home From Home!

BOAT RENTALS
Topsy is available for a 3 night weekend break starting on a Friday and ending on a Monday, a 4 night midweek break, starting Monday and ending Friday and a full week break starting on a Friday and ending on a Friday.
You can either opt to take her cruising or simply stay on her at her mooring at Bath Marina. Topsy is our spacious and luxurious 55ft wide beam canal boat. She's wider than a narrow boat, which makes your stay more like a home from home.
The spacious salon houses a comfortable sofa which turns into a double bed. There's a fold down table and chairs so that you can have your dinner in style. A multi-fuel stove heats the boat so it's nice and toasty. It also heats the central heating – radiators throughout the boat.
The main living area is bright and airy with hatches on both sides that you can leave open and let the sun pour into the boat. There is a large flat screen tv in the salon and a smart box with wi-fi, so when there's a signal you have every channel you could wish for.
Each of the cabins have a double bed with luxurious pocket sprung mattress. The bedding is crisp cotton and the pillows and duvets, hypo allergenic luxurious silk. Each bedroom has ample storage with a good range of wardrobes and drawers. In the stylish bathroom you'll find a full-size bath with jacuzzi bath and an overhead shower.
In the kitchen you'll find everything you need, to do as much or as little as you want. There's an under counter fridge, state of the art washing machine and full size gas cooker. If you want fresh coffee there's a coffee machine – you can even make your own cappuccino!
It's available throughout most of 2017 from £131 per night – that's just £21 each per night (if 6 of you stay).
(most prices for 2017 haven't been provided up by the owner yet so you'll need to contact them with the 'Make Enquiry' button for your specific dates).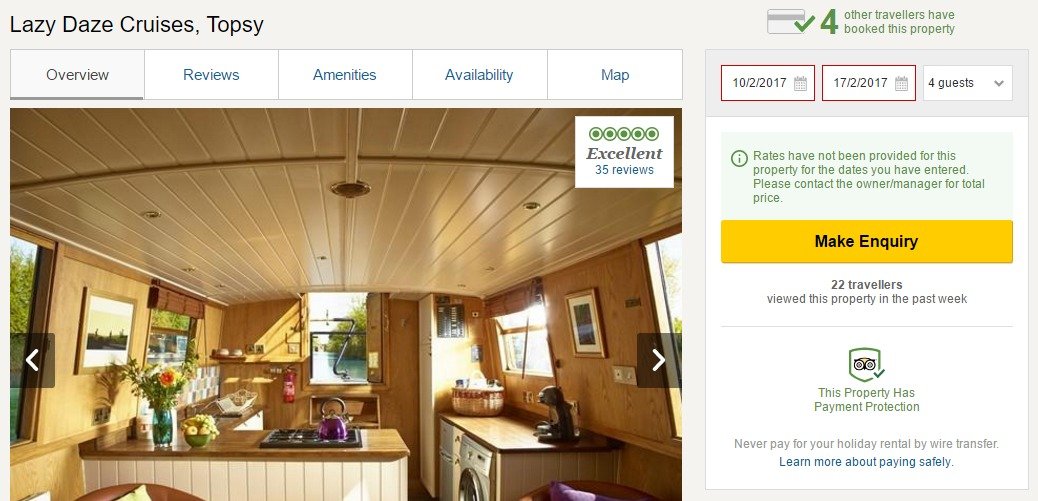 BOAT RENTALS
Photo gallery