Check out this All Inclusive Majorca deal for April, 2017 over at OnTheBeach includes 7 nights in Palma Nova, Majorca staying at the 3-star Fergus Tobago – rated 3/5 on Trip Advisor.
This deal is based on 2 adults and 2 children (can be tweaked to suit your family size) departing during the popular Easter school holidays.
**Plus, kids stay FREE!!!**
As well as ATOL protection, this deal with OnTheBeach allows you to pay a small deposit up-front and hold your booking.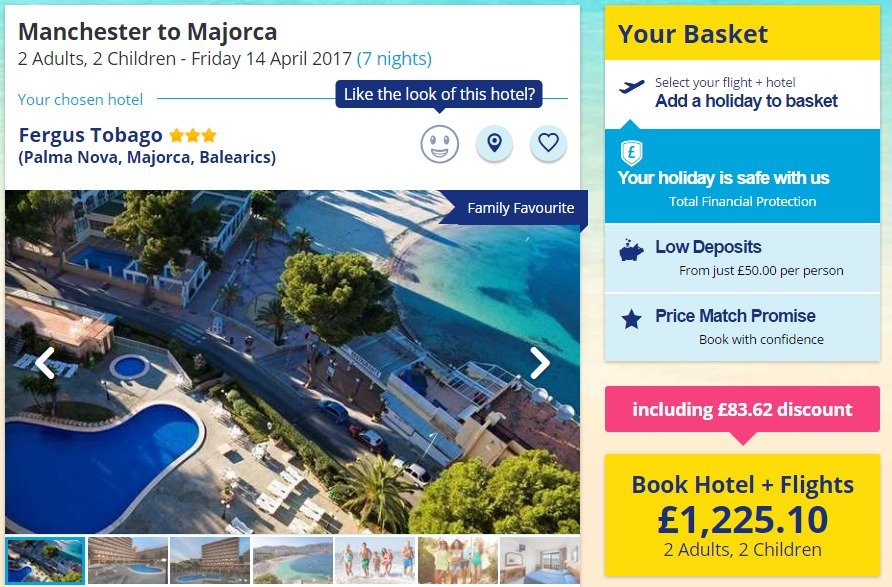 BOOK HOLIDAY
MORE HOLIDAYS
Package summary:
Travel Duration: 7 nights
Example date: 14th April, 2017 (Easter school holidays)
Departure from Manchester
Other dates and airports possible – adjust search according to preference
Hotel rated 3/5 on Trip Advisor
Board basis – All Inclusive
ATOL Protected Package
Example based on 2 adults & 2 children
Price breakdown for 2 adults & 2 children:
Hotel = x2 adults (£450.40 pp) + Kids stay FREE
Flights = x2 adults (£105.98 pp) + x2 children (£92.98 pp)
OnTheBeach holiday package total = £1225.10
Want to fly from a different airport?
This deal departs from Manchester airport, but there are other options to choose from.
If you click through to the deal and change the departure airport in search, you'll find similar prices from other airports.
SEARCH OTHER AIRPORTS
More about your hotel
The Fergus Tobago hotel is in a prime location, situated on a hill in the popular tourist resort of Palma Nova, overlooking the beautiful fine sandy beach. The hotel is close to numerous shops, restaurants and bars. This hotel overlooks the sandy beach.
About Majorca
The Balearic island of Majorca is the ideal destination for a family holiday in the sun. Majorca offers a warm climate and a huge number of gorgeous beaches and sandy coves with safe swimming. An incredible 41 beaches on the island have the coveted Blue Flag status. For family holidays, Majorca also offers plenty of attractions other than the beach.
At Palma Aquarium, you can see the deepest shark tank in Europe. You can get close to the dolphins at Marineland, spend a day on the water slides at Aqualand Water Park or visit the Can Planes Toy Museum. You can even travel on a hundred-year-old train, through spectacular mountains, from Palma to the pretty town of Soller. And above all, don't miss the spectacular Caves of Drach where you can enjoy a boat ride on one of the largest subterranean lakes in the world.
Looking for cheap car hire?
This deal does not include transfers to and from the airport, and in some cases, it's actually cheaper to hire a car than add transfers to the cost of your package holiday! Plus, you then have the car to explore during your stay!
If you are looking for car hire you should check out our car hire comparison tool! It cross compares all the cheapest vendors for any booking, and sometimes the same product can be offered by a third party for a fraction of the cost.
Same dates as package holiday above (14th – 21st April, 2017)
7 days rental
Suitable for 4 passengers
Works out to just over £17 per day

BOOK CAR HIRE
Photo gallery