Check out this last minute, all inclusive Morocco deal for Dec, 2016 over at First Choice – you will be spending 7 nights in a fantastic SplashWorld resort in Marrakech with it's very own brand new waterpark! The 3-star Aqua Mirage Club has been rated 4/5 on Trip Advisor and has a Certificate of Excellence.
There is a massive discount of over £960! That's more than the total cost of the holiday itself – bargain!
This deal is based on 2 adults and 2 children (but can be tweaked to suit your family size) departing soon on the 13th December, but gets you back in time for a traditional family Christmas at home 🙂
As well as ATOL protection, this deal with First Choice allows you to pay a small deposit up-front and hold your booking.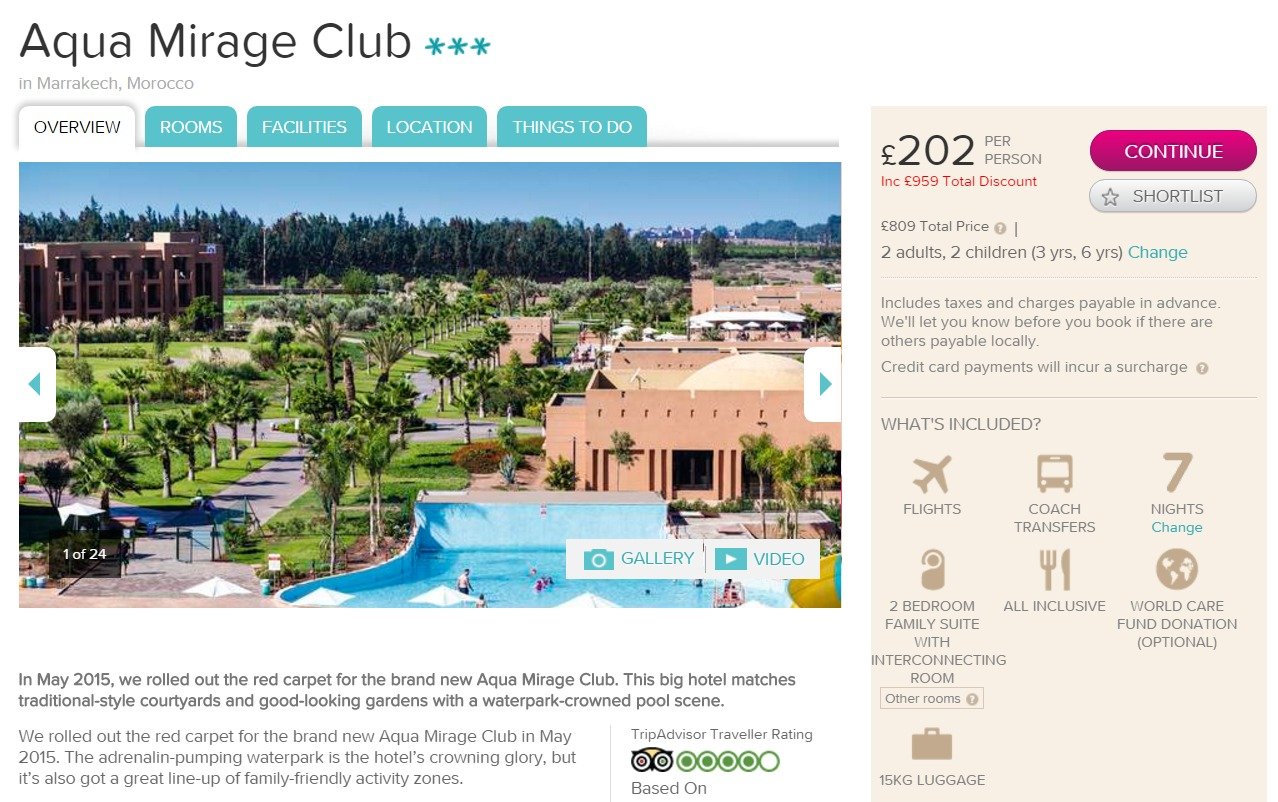 BOOK HOLIDAY
Or, search for similar holidays using our Package Holiday Finder, click 'More Holidays' below >>
MORE HOLIDAYS
Package summary:
Travel Duration: 7 nights
Example date: 13th December, 2016
Departure from Manchester airport
Return airport transfers
Luggage allowance (15kgs per person)
Other dates and airports possible – adjust search according to preference
Hotel rated 4/5 on Trip Advisor
Board basis – All Inclusive
Family suite with interconnecting room
ATOL Protected Package
Example based on 2 adults & 2 children
Price breakdown for 2 adults & 2 children:
£807.83 / 4 = £201.96 per person
Want to fly from a different airport?
This deal departs from Manchester airport, but there are other options to choose from.
If you click through to the deal and change the departure airport in search, you'll find similar prices from other airports.
SEARCH OTHER AIRPORTS
More about your hotel
Last year, this hotel rolled out the red carpet for its brand new Aqua Mirage Club. This big hotel matches traditional-style courtyards and good-looking gardens with a waterpark-crowned pool scene which the kids will love! The adrenalin-pumping waterpark is the hotel's crowning glory, but it's also got a great line-up of family-friendly activity zones. This place is on the outskirts of Marrakech, so the Red City's souks and mosques are just a 20-minute shuttle bus ride away.
About the Morocco
If you're looking for a family break with a twist, then a trip to Morocco should certainly be on the cards! From modern beach resorts to captivating cities packed with fabulous cultural draws, there's something for everyone! For a family holiday bathed in culture, head to Marrakech. The whole gang will be wide-eyed with wonder as you see the snake charmers work their magic in Djemma El Fna square, while you can browse the endless array of traditional souks as you look for quirky trinkets to bring home.
Photo gallery