Save A Massive £2,650 On A Family Holiday To Lapland To Meet Father Christmas! Family Of 4, Christmas Holidays, B&B, 3 Nts, 4-Star Hotel + Flights– Only £418pp!
Here at FamilyBreakFinder we like to make your wishes come true… think of us as your holiday fairy-godmother! How many of you have been daydreaming about a family holiday to Lapland to meet Father Christmas but thought it was out of reach!?
We've been determined to put together an affordable 'Do It Yourself' package holiday to Lapland for you, saving you time and money! We have found the cheapest flights departing during the Christmas school holidays allowing you to spend 3 nights doing as much or as little as YOU wish!
The return Finn Air flights will set you back approximately £225 per person and include 1 stop over outbound and direct return. Direct Flights start at £446pp
We've teamed these return flights with a superb 4-star Lapland Hotel Riekonlinna based in the stunning village of Saariselka for a total holiday package price (flights + hotel) of £418 per person.
BOOK FLIGHTS

Flight details:
Departs Sunday 17th December, 2017
Returns Thursday 21st December, 2017
Fly from – London Heathrow
Based on 2 adults and 2 children
Accommodation Details:
This property is 6 minutes walk from the beach. The peaceful Lapland Hotel Riekonlinna is 550 yards from Saariselkä village, right next to Urho Kekkonen National Park. Guests can enjoy free sauna admission and access to excellent skiing.
Hotel Riekonlinna's guest rooms have a balcony, satellite TV and a tea and coffee facilties. Apartments include a kitchen and a private sauna. Wi-Fi is available in all rooms.
A daily bus brings guests to the Kaunispää and Iisakkipää ski slopes at an extra cost. Snowmobile safaris and sledding can be arranged by the hotel.
Restaurant Linnansali offers both Lappish game delicacies and international cuisine. Drinks are available in the bar.
Supermarket Kuukkeli is 900 yards away. Ivalo Airport is a 30-minute drive from the hotel.
We speak your language!
17th December – 21st December 2017 (same dates as cheap flights above)
Bed and Breakfast
Based on a family of 4
3 night duration
BOOK ACCOMMODATION

If you were to book a similar holiday with Santaslapland.com as a package(same destination/dates (give or take a day)/4-star accommodation/board basis etc) then you'd be looking to pay a whopping £1080 per person – that's £663 per person EXTRA than our great-value DIY deal
Santaslapland holiday – £4320
Our great-value DIY deal – £1672
**That's a huge saving of £2648 per booking for a family of 4 staying.
Look below to see how much the Santaslapland.com Package costs! Also this deal is out of the school holiday!– we save you money >>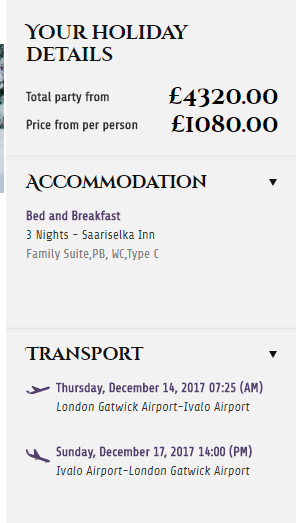 SEE HOW SANTASLAPLAND.COM IS MORE EXPENSIVE
Wondering how you get from the airport to your hotel?
Optional Transfers: Airport Bus from and to Ivalo Airport
It is a 30 minute bus ride so after the flight you can easily travel from Ivalo Airport to Saariselkä using the Airport Bus. There is a bus connection to and from every Finnair and Norwegian flight. The buses leave after luggage check-in. The buses for departing flights leave Saariselkä 2 hour before the scheduled flight departure time. Taxis are also available.
Download Airport Bus timetable Airport Bus timetable
More about private Airport transfers private Airport transfers

BOOK TRANSFERS
Other Activities:
There are so many activities to choose from – so depending on your budget with this DIY you can do as much or as little as you wish!
Have a look at a couple of sample activities available in the area you are staying in

BOOK SNOWMOBILE SAFARI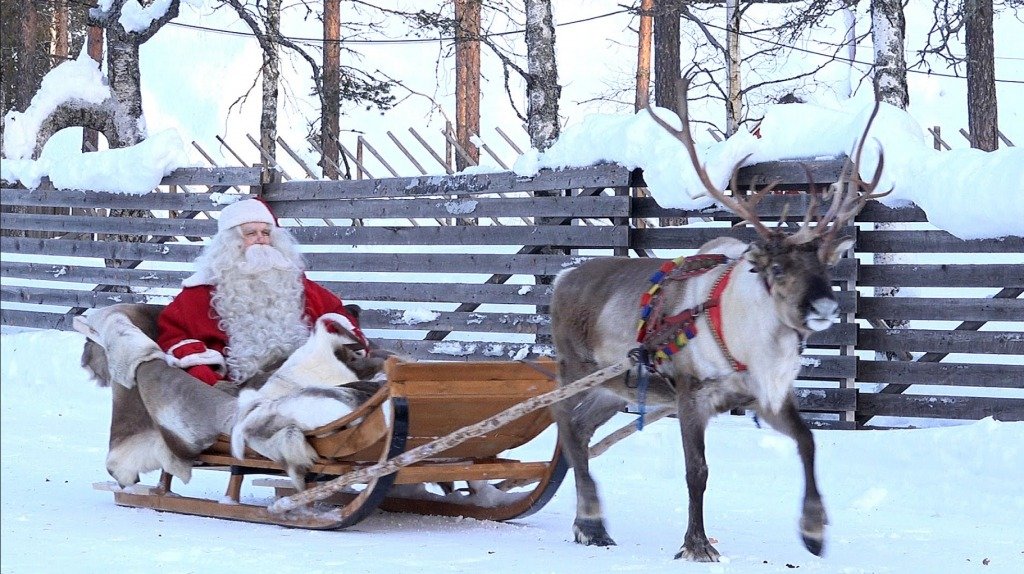 BOOK SANTAS RESORT
DIY package price breakdown:
Based on a family of 4 travelling (can be tweaked to suit your family size)
Flights – £897 (family of 4)
Hotel – £722
£897 + £722 = £1619 / 4 = £418 per person
Optional Extras are all completely up to you, your family and your budget!