Want to treat the kids to a magical trip of a lifetime this Christmas… well check out these festive breaks to Santa's very own Lapland!
Meet Father Christmas in his log-cabin deep in the snowladen forest, plus all the very best snow-adventures, from reindeer sleighs and husky-sleds to riding behind a snowmobile and mini-skidoos for children, are all included. You can also check out the Igloo Fantasia where you can have a drink at an ice bar and see the Elves at work – it all sounds so magical doesn't it!
So how much is all this going to cost me I hear you ask…?
All these trips are at extremely affordable, with thousands of FREE places for children, to make this trip of a lifetime possible…
So much included in the price!
Flights (direct to Saariselkä's own local airport of Ivalo – choose from 19 regional airports, see below)
Accommodation
Airport transfers
Private meeting with Santa
Snowmobile Santa search
Elves and Igloo Fantasia
Arctic Igloo
Reindeer sleigh ride
Husky sled-ride
Snowmobile sleigh-ride
Snow and ice fun activites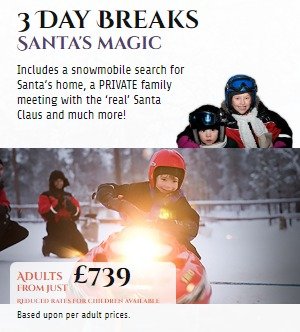 BOOK 3 DAY BREAK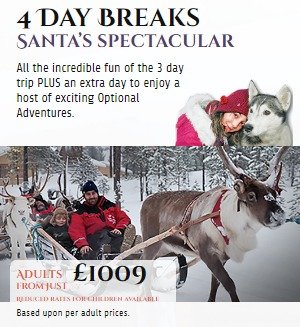 BOOK 4 DAY BREAK
Airport options:
London Gatwick (LGW)
London Luton (LTN)
London Stansted (STN)
Southampton (SOU)
Bournemouth (BOH)
Exeter (EXT)
Bristol (BRS)
Cardiff (CWL)
Birmingham (BHX)
East Midlands (EMA)
Manchester (MAN)
Leeds Bradford (LBA)
Norwich (NWI)
Liverpool (LPL)
Newcastle (NCL)
Belfast (BFS)
Glasgow (GLA)
Aberdeen (ABZ)
Edinburgh (EDI)
Current special offers:
FREE kids places
Save up to £375 per family
Savings on optional excursions
Extra £50 off per couple adult prices
FREE room upgrades
ALL SPECIAL OFFERS
Extras!
Your little one can even write a letter to Santa detailing what presents they might like before their trip to meet Santa in Lapland! Kids will be sent their very own special Santa writing paper (inc with your flight info pack once booked) to use. Just don't forget to post the letter before you leave for your trip 🙂
So what are you waiting for…!? Make this Christmas one to remember!