Feeling lucky this summer? Check out this Las Vegas resort during the school holidays over at Thomas Cook… It's 7 nights, room only staying at the 4-star Desert Rose Resort – rated an impressive 4.5/5 on Trip Advisor.
This deal is based on 2 adults and 2 children (can be tweaked to suit your family size) and includes: flights, accommodation, ATOL protection, a massive 23kg baggage and can be secured today with a deposit of only £75.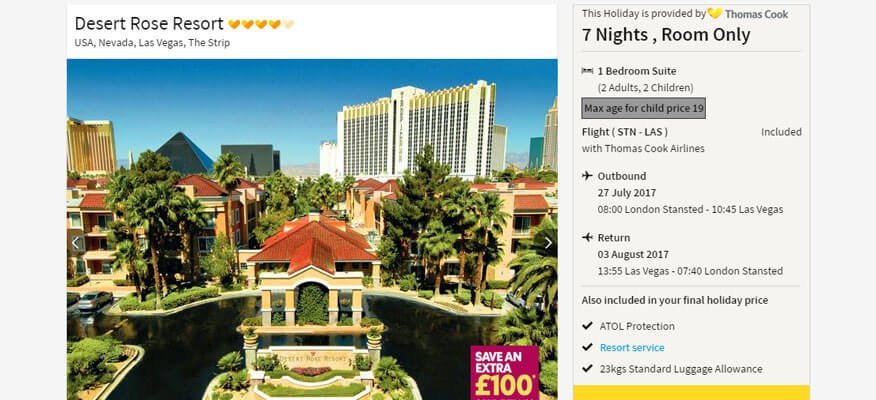 Package Summary:
Travel Duration: 7 nights
Date: 27 July, 2017
Departure from London Stanstead
Other dates and airports possible – adjust search
Board basis – Room Only
4 Star Hotel
4.5/5 rating on Trip Advisor
ATOL Protected Package
Example based on 2 adults and 2 children
23kg hand luggage per person
More about your hotel
Located one block away from the Sunset Strip you are a hop, skip and a jump away from all the fun! The Desert Rose Resort is a hidden gem that provides a surprisingly relaxing atmosphere in the city that never sleeps. The resort is home to its own mini market, swimming pool and whirlpool and the bedroom suites all have air conditioning, TV, fully-equipped kitchenette and balcony or terrace. This really is a once in a lifetime holiday for all the family, this resort will give both parents and children that well earned break before the return to school.
Price Breakdown
Total Price £3312 this is based on 2 adults and 2 children.