Ever wondered which Star Wars character is most like you… Well now you can find out at the brand new Star Wars Identities Exhibition at the O2 in London!
With tickets from just £10 each or a family of 4 from only £60, it's a great day out during the school holidays for the whole family – what's more, if you're in no rush to get home, why not make a stay of it with our great mini break offer below >>
This London mini break we've put together includes tickets to the exhibition plus an overnight stay at a nearby Travelodge.
Booking runs up until 3rd Sept, 2017 but we're predicting this is going to be super popular so act fast if you're interested!
About the exhibition:
Explore the characters of Star Wars in this unique interactive exhibition. See your favourite characters like you've never seen them before, explore what makes you who you are and discover the Star Wars hero hiding inside you! The stunning collection of some 200 props, models, costumes and artwork from the original Star Wars films, an interactive identity quest and insightful scientific content, all work together in STAR WARS Identities to follow the dramatic journeys of the characters and help you create your very own Star Wars identity. Visitors will develop a better understanding of what makes the characters of Star Wars who they are, and at the same time explore their own identity with one question: What forces shape you?
More about this offer:
To bag this offer from just £24.75 per person (inc tickets + hotel) you'll need to book your exhibition tickets and Travelodge stay on two separate websites. Use the orange buttons below to make your booking 🙂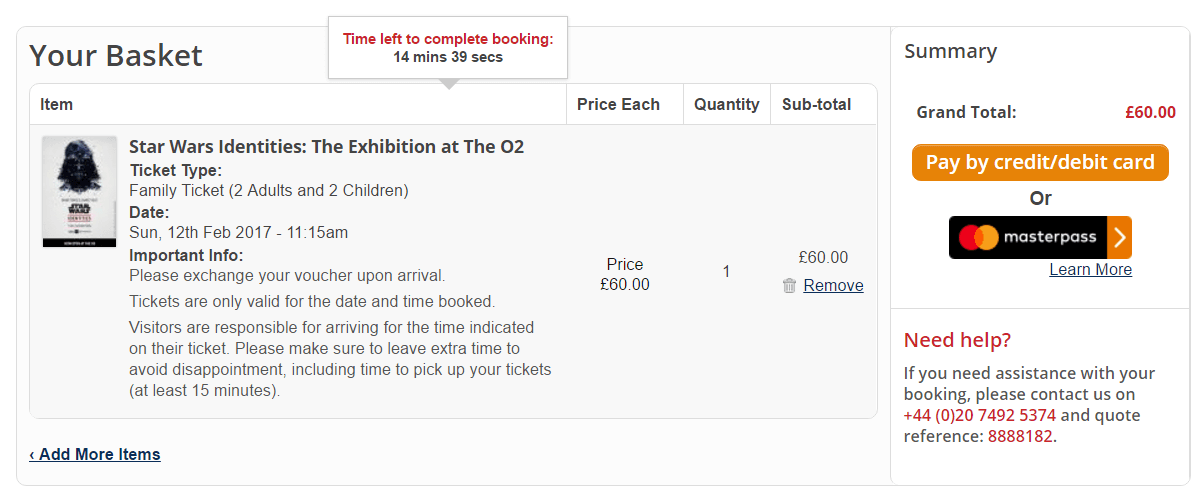 BOOK TICKETS
About your accommodation:
For just £39 for a family room, you and your family can stay overnight at the Travelodge – London Docklands after the exhibition. This Travelodge is just under 1 mile from the O2!
12th Feb, 2017 (half term & same date as exhibition tickets above)
Family room – from £39
Travelodge – London Docklands (just 0.8 miles from the theatre)

BOOK HOTEL
Offer details:
Star Wars Identities exhibition tickets + overnight hotel stay
Tickets – £60 (family of 4 – can be tweaked)
Travelodge – London Docklands (£39 for a family room)
Duration is 1 Night – longer durations possible
Shows on selected dates up until 3rd Sept, 2017
Venue: O2 London
Runs Mon – Sun, 10am – 6pm
Various Price Ranges
Board Basis is Room Only – upgrade to B&B at time of booking
Based on 4 people – Can Alter Party Size
Price breakdown:
Exhibition tickets – £60/ 4 = £15pp
Travelodge – £39
Total – £99/ 4 = £24.75 per person