For this post, I have put together a collection of the best baby bottles currently available. For all my recommended baby product guides, with top picks, see my new baby checklist.
Our Top Pick
My top pick is the Tommee Tippee Closer to Nature Clear Bottles as they are inspired by nature and the teats flex like mum for a comfortable feed. They also have an anti-colic valve to make feeding easier for everyone.
Show Today's Top Deals
These are today's top deals and bestsellers for baby bottles.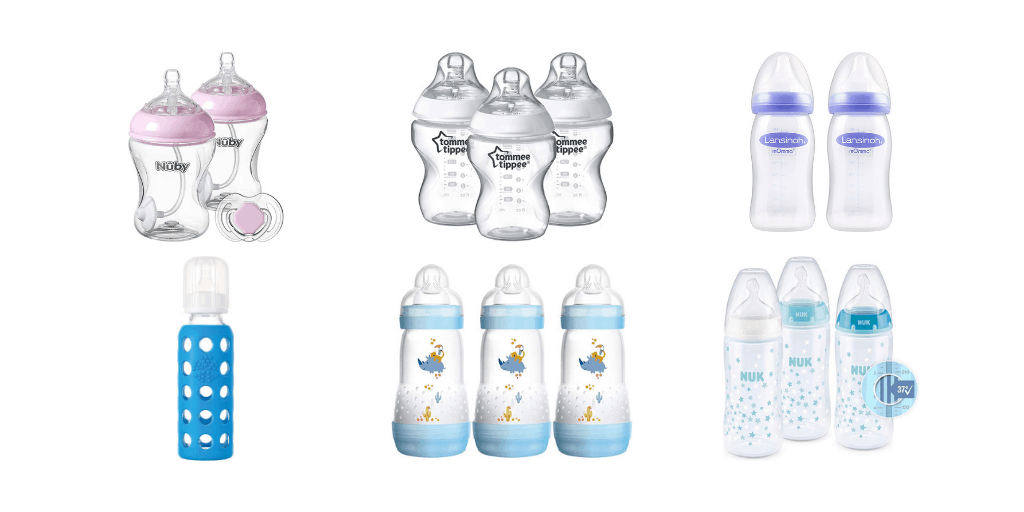 ---
A good baby bottle is an essential item for feeding your baby. Whether you are formula feeding, expressing breast milk or a mix of both, you will need a supply of reliable baby bottles.
There are plenty to choose from, from anti-colic to glass which can be used to feed babies from birth and up.
We've put together our top picks of the best baby bottles on the market, which all have excellent customer reviews.
Looking for the best breast pump or bottle warmer? See our buyer's guides to these products.
Mums-to-be or new parents will also find our guide to the Top 100 Baby Products super useful.
So here is my list of the the best baby bottles.
Best Baby Bottles
Tommee Tippee Closer to Nature Clear Bottles
Discount - Save £10.49
These popular bottles are inspired by the natural shape of breast to make feeding baby feel more natural for them.
The teat flexes like mum for a comfortable feed and to make latch-on easy.
Always BPA and phthalate free for ultimate reassurance.
There is an anti-colic closer valve which eliminates excessive air flow and prevents symptoms of colic in baby.
Available in various pack sizes from 1-6 bottles.
Parents love this baby bottle – 95% of 11,071 buyers gave it 4/5 stars or more..
---
Best Bottle For Breastfed Babies
Lansinoh Laboratories Baby Bottles
Discount - Save £0.50
These bottles have a soft and flexible teat for quick and easy latch on.
The unique teat encourages baby's 'wave-like' tongue movement.
The AVS air ventilation system reduces potential cause of colic.
Super soft and flexible 100% silicone teat.
BPA & BPS free.
This baby bottle has excellent reviews – 94% of 647 buyers gave it 4/5 stars or more..
---
Best Anti-Colic Baby Bottles
MAM Easy Start Self Sterilising Anti-Colic Baby Bottles
These bottles have a vented base which prevents the formation of air bubbles and foaming liquid, allowing for a smooth drinking flow and therefore helping to reduce colic.
Apparently they reduce colic in 80% of cases.
The bottle is self-sterilising, making it suitable for feeding your baby whether you're at home or on the go.
The bottle can be taken apart and sterilised in the microwave in just 3 minutes, with no extra equipment required.
Parents love this baby bottle – 96% of 11,161 buyers gave it 4/5 stars or more..
---
Philips Avent Anti-Colic Feeding Bottle
Discount - Save £22.28
These bottles have a unique venting system designed for less air intake.
The teat stays full of milk when the bottle is horizontal, so your baby can drink in a more natural, upright position.
Can help reduce reflux, aid digestion, and make feeding time more comfortable your little one.
This baby bottle has superb reviews – 100% of 42 buyers gave it 4/5 stars or more..
---
Nuby Reduce Reflux Baby Bottles with Anti Colic Teats
These bottles have a slow flow silicone teat which flexes and stretches like a breast.
Bottles are 100% BPA free, dishwasher and microwave safe.
There is a weighted straw which allows your baby to latch and feed in the upright position until the last drops of their feed have gone so there's no milk going to waste.
Includes a small straw cleaning brush to help remove any milk residue from inside the straw.
This baby bottle is well liked by customers – 77% of 107 buyers gave it 4/5 stars or more..
---
Best Temperature Control Baby Bottle
NUK First Choice Baby Bottles
This bottle comes with orthodontic teat which adapts to baby's mouth.
The special thermometer design on the side of the bottle changes from blue to white if its contents are too hot, so you can always be sure of the ideal temperature.
The anti-colic air system minimises infant colic.
BPA-free bottles which are durable.
Parents love this baby bottle – 92% of 4,103 buyers gave it 4/5 stars or more..
---
Best Glass Baby Bottles
NUK First Choice Glass Baby Bottle
The anti-colic air system reduces the risk of infant colic.
Orthodontic shaped teat with a special, super soft zone adapts ideally to baby's palate.
Eco-glass is durable and long-lasting and can be recycled at the end of its usable life.
The latex teats are biodegradable and can also be recycled.
Parents recommend this glass bottle – 89% of 921 buyers gave it 4/5 stars or more..
---
Lifefactory Glass Baby Bottle
No products found.
Eco-friendly glass bottle, which looks stylish with its protective silicone sleeve.
Durable and won't break when thrown by baby.
Thermal shock resistant borosilicate glass body can easily transition from freezer to boiling water.
Comes with a cap, ring and stop and stage 2 silicone nipple (3-6 months).
Silicone sleeve comes in 14 vibrant colours including cantaloupe/ mint/ grape and ocean.
Parents recommend this glass bottle –

No products found.

.
---
Today's Top Deals & Bestsellers
What To Consider When Buying A Baby Bottle

Start off with a couple of different bottle types to see which one you baby prefers. You can then stock up on your baby's favourite.
Material
Most baby bottles are made of BPA-free plastic, but you can also get them in silicone, glass, or stainless steel.
Plastic bottles are lightweight but they can discolour and deteriorate over time, so make sure you replace if needed.
Silicone bottles made from food-grade silicone are BPA-free, flexible, and lightweight.
Eco-friendly baby bottle options include stainless steel or glass bottles which are BPA-free and won't contribute to land-fill.
Bottle Size
Baby bottles come in standard shape which is tall and slim, angled shape to prevent baby from swallowing too much air or wide to mimic breast shape.
Some brands also come in small or large. Small are usually for newborn babies, but you can always just opt for large straightaway so you don't need to buy too many.
Teat Flow
Bottles aimed at newborns come with slow flowing teats.
It's always a good idea to have a range of teat sizes so that you can increase the milk flow as your baby grows.
Anti-Colic Bottles
New babies can experience colic so some bottles are specifically designed to help reduce this. The features are aimed to prevent your baby swallowing too much air as they feed, which can cause wind, colic and reflux.
---
I hope this list of the best baby bottles was helpful.
If you think I left any out that should be included or have a suggestion for a future article, let me know in the comments below.
Nicola
Baby Products – Buyer Guides
Sleeping & Nursery
Feeding
Toiletries & Nappy Changing
Clothing
Travel
Playtime
Baby Extras