For this post, I have put together a collection of the best baby food blenders. For all my recommended newborn product guides, with top picks, see my list of baby essentials.
Our Top Picks
Show Today's Top Deals
These are today's top deals and bestsellers for baby food blenders.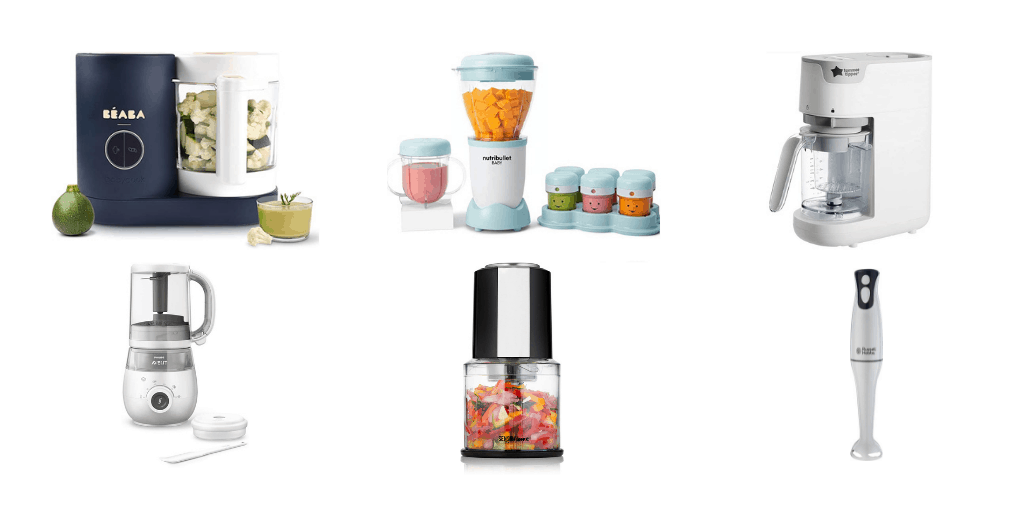 ---
When you're feeding a baby regularly, anything which makes the routine a bit easier will be helpful to you.
There are plenty of baby food blenders on the market, whether you're looking for a budget buy or a two in one blender which will puree and then cook your baby's meal.
We've put together our top picks of the best food blenders for babies, all of which have excellent customer reviews with a majority of 4-5 star ratings.
Mums-to-be or new parents will also find our guide to the Top 100 Baby Products super useful.
So here is my list of the the best baby food blenders.
Philips 4-In-1 Healthy Baby Food Maker
A

4-in-1 blender which will steam, blend, defrost and reheat your homemade meals

.
You can cook up to four meals at a time with the all-in-one 1000 ml jar.
Comes with healthy weaning advice and easy-to-prepare recipes included in a step by step cooking guide.
Easy to clean and dishwasher safe to make things simple.
Excellent reviews. From 180 ratings 80% of buyers gave this food blender 4-5 stars.
---
Kowth Store Mini Food Chopper
Discount - Save £5.70
This mini baby food blender is perfect for small food preparation and great if you don't have much space to store it.
Cute koala inspired lid in either blue or pink.
It is portable and perfect for putting in a backpack. Can be used indoors or outdoors.
Dishwasher friendly.
Good reviews. From 160 ratings 66% of buyers gave this food blender 4-5 stars.
---
Tommee Tippee Quick Cook Baby Food Steamer and Blender
Discount - Save £39.29
This baby food maker means you can serve healthy home-cooked meals with less mess.
Steam and blend fruit, vegetables, meat and fish.
From simples purees to chunkier textures you can use the steam or blend functions or a mixture of both.
Includes a handy weaning recipe guide.
Great reviews. From 387 ratings 70% of buyers gave this food blender 5/5 stars.
---
Russell Hobbs Food Collection Hand Blender
Discount - Save £7.99
This hand blender is not specifically for baby food but is a good choice for easy blending and also a cost effective option.
With a choice of two speed settings give you increased control when blending differing consistencies.
Stainless steel blades make it durable.
Fabulous reviews. From 14,918 ratings 73% of buyers gave this food blender 5/5 stars.
---
NutriBullet Baby Food Blender
This baby food blender purees fresh ingredients into the right consistency for every stage of your child's development.
It comes with cute and convenient storage for the fridge or freezer.
The 6 storage cups have twist and seal lids with date dial so you can have your very own "made on" date.
The BPA free cups are dishwasher safe.
The flat milling blade finely blends oats and other grains.
Excellent reviews. From 260 ratings 79% of buyers gave this food blender 5/5 stars.
---
Sensio Home Mini Food Processor
Not just for baby food, this multifunctional kitchen chopper can be used to chop or cut vegetables, nuts, cheese, meats and fruits in seconds.
With a removable 600ml capacity bowl with lid.
Dishwasher friendly parts.
Small compact design if you're limited for space.
Brilliant reviews. From 976 ratings 76% of buyers gave this food blender 5/5 stars.
---
Béaba Babycook Neo Baby Food Maker
This high-quality gentle steam cooking system takes care of food and preserves all its benefits and taste quality.
Eco-designed, consuming half the water and energy of a classic baby cooker.
Steam cooks, blends, defrosts and reheats.
The large capacity stainless steel basket allows 600 grams of food to be prepared and incorporates an ergonomic handle to easily transfer food at the end of the cooking cycle.
Great if you want high quality, eco-friendly blending and cooking in one. It comes with a higher price tag than some of our other recommended items.
Good reviews. From 133 ratings 82% of buyers gave this food blender 4-5 stars.
---
Today's Top Deals & Bestsellers
---
FAQ's Baby Food Blenders
Can you use a normal blender for baby food?
Yes you can use a blender or food processor you already have at home to blend baby food although many baby food blenders are designed specifically to blend baby food and then steam/ cook it or come with baby accessories like storage jars.
Do I need a blender for weaning?
A baby food blender is really useful but not essential. You will be moving on from purees within a couple of months so buying a blender which you can continue to use when you have stopped weaning may be a better option for the long run.
Is homemade baby food healthier?
Homemade baby food is usually more nutritious and tastier than shop bought processed food. When cooked in bulk, it is cheaper than shop bought versions plus you know exactly what's going into it.
I hope this list of the best baby food blenders was helpful.
If you think I left any out that should be included or have a suggestion for a future article, let me know in the comments below.
Nicola
Baby Products – Buyer Guides
Sleeping & Nursery
Feeding
Toiletries & Nappy Changing
Clothing
Travel
Playtime
Baby Extras