For this post, I have put together a collection of the best baby laundry baskets currently available. See my top picks and essentials for new baby checklist.
Our Top Picks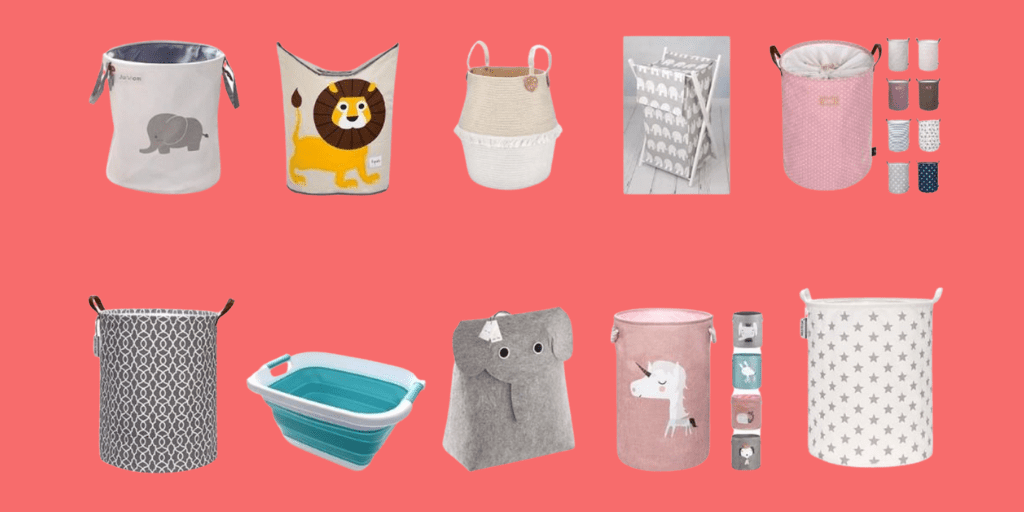 There are so many beautiful laundry baskets to choose from.
In addition to storing laundry and helping to prevent mess and odours many can have other uses such as storing toys.
How We Selected
There are so many options available online, so to save you the time, we have scoured the market, looking for the best baby laundry baskets, all of which have excellent buyers feedback and 4-5/5 star reviews.
We've chosen a range of baskets from waterproof to versatile options which could be used for storage.
Get our guides to the Best Nursery Furniture, Nursery Curtains and Toy Storage.
Here is my list of the the best baby laundry baskets.
Collapsible Elephant Baby Laundry Basket (Junnom)
This cute grey collapsible laundry basket features an elephant design on the front.
Made from polyester with EVC lining.
Large handles and weighs only 14oz so it's light to carry around.
Parents love this bestselling laundry hamper saying it's good quality and well made, very popular design with their little ones.
Pros: Affordable, lightweight, large handles so easy to carry.
Cons: Some buyers mention the basket creases.
Consumer Score: This laundry basket scores on average 4.7 out of 5. 78% of buyers gave it 5 stars.
3 Sprouts Laundry Hamper
Adorable, small soft baby laundry basket available in a number of fun designs.
Made of polyester and polypropylene so it's soft and super easy to wipe clean.
Two large handles fold down when not in use and this prevents dust or or whatever else getting in.
Pros: Great quirky designs, large handles, easy to carry, easy to keep clean.
Cons: A little expensive.
Consumer Score: This is one of the best reviewed baskets available. It scores an average of 4.5. 84% of parents gave this 5 out of 5.
Waterproof Baby Laundry Basket (Sea Team)
This popular hamper is waterproof and available in a number of designs.
Made from natural material – 100% Ramie Cotton Fabric.
Only the inside is waterproof.
Collapsible design.
Large design, 19.7″H by 15.7″Dia. – with approximately 62.8L ample capacity.
Pros: Natural material, collapsible for storage, waterproof inside, lots of designs.
Cons: It may crease in transit but can be steamed/ ironed out.
Consumer Score: From plenty of reviews this laundry basket scores an average of 4.6 out of 5.
Woven Laundry Basket (La Jolíe Muse)
This rope storage basket is made from 100% cotton rope.
Macrame tassels combine neutral white and beige color.
2 comfortable handles, the woven basket doubles as home decoration and organiser for bathroom, bedroom and living room.
Skin-friendly softness.
40 x 38 x 38 cm in size.
Pros: Stylish, versatile, can be used in any room not just for kids.
Cons: A little expensive, not collapsible.
Consumer Score: Very popular basket with an average of 4.5 out of 5. 73% of buyers give this 5 stars.
Large Nursery Basket With White Wooden Frame
100% cotton linen basket in a natural wood frame is available in many different designs.
Basket is foldable for space saving purposes.
Linen basket is machine washable.
Very simple to assemble.
Parents comment that this basket is a great size, looks good, lightweight and practical.
Pros: Foldable, looks stylish, machine washable.
Cons: No carry handles.
Consumer Score: This laundry basket scores an average of 4.6 out of 5. 74% of buyers give this 5 stars.
Extra Large Collapsible Nursery Basket (Dokehom)
Discount - Save £12.55
This is a very large, waterproof basket made with thickened cotton available in a range of colours and designs.
This XL model stands at 22″ tall and 16″ wide. It's also available in smaller sizes – medium and large.
Made from extra thickened 100% Cotton with waterproof coating, the basket can stand its own very well.
Large strong leather handles.
Drawstring closure with locking to keep dust out.
Available in pink, blue strips, purple, blue star, navy blue and grey star.
Great reviews from this bestseller.
Pros: Lots of designs, waterproof coating, strong carry handles, drawstring lid.
Cons: Some buyers say its not that sturdy.
Consumer Score: This laundry basket scores an average of 4.6 out of 5. excellent reviews.
Large Collapsible Laundry Basket (Sea Team)
This #1 bestseller is good value for money and available in 39 different designs.
Laundry Hamper measures approximately 17.7 by 13.8 inches.
Holds 43 litres.
Outside canvas is durable plain-woven fabric.
Inside is Waterproof/breathable fabric.
Available in a larger size holding 63 litres.
Pros: Foldable, portable, thickened and waterproof.
Cons: Not as sturdy as some would like.
Consumer Score: From thousands of ratings it scores 4.6 out of 5.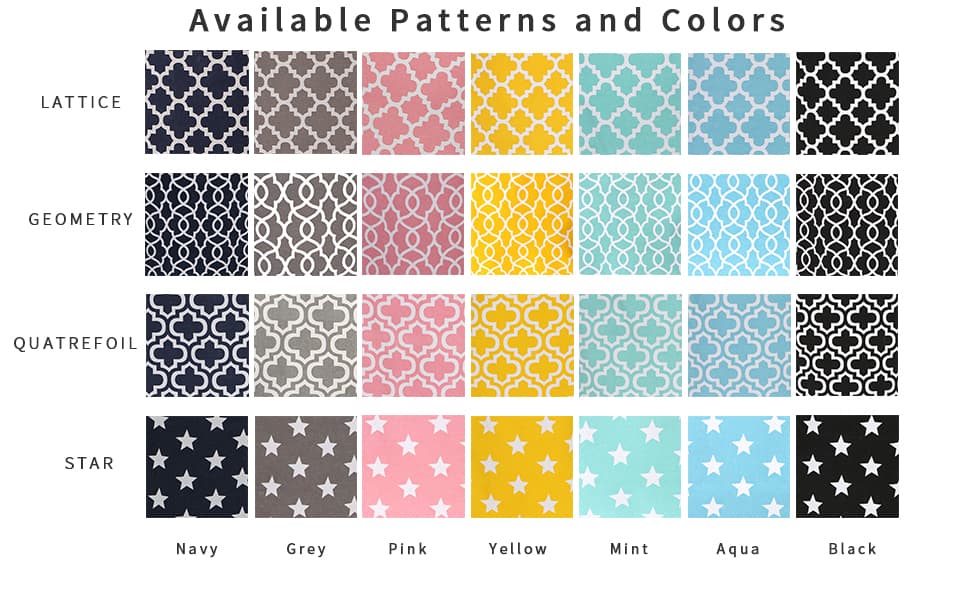 Plastic Collapsible Laundry Basket (SAMMART)
Discount - Save £1.03
Flexible basket has many other uses including portable bathtub, storage container and a nursery basket.
Available in bright blue, grey, sky blue, pink and light purple.
Pops up when using and collapses flat to save space.
Comfort grip handles for easy carry.
Holds up to 24 litres.
Pros: Collapsible, wipe clean, easy to carry, can be stored flat.
Cons: Not aesthetic.
Consumer Score: Excellent reviews With an average of 4.6 out of 5 stars.
Felt Washing Laundry Basket Elephant (Znvmi)
Very cute, eco-friendly collapsible laundry basket.
Available in grey or black.
100% Felt; soft, durable, sturdy, lightweight, wear-resistant and safe for children.
Good large size: 17.7"x9.1"x21"
Kids love this design – can also be used to store toys.
Pros: Collapsible with handle on the back for easy moving and hanging, eco-friendly.
Cons: No negative reviews.
Consumer Score: Lots of very good reviews with mostly 5/5 star ratings.
Large Collapsible Laundry Basket (AXHOP)
Adorable, cotton, dustproof laundry baskets available in 6 beautiful designs.
Good sized – 13.8″(D) x 22″(H) / 35x35x55cm
Also perfect for story toys.
100% Cotton and linen + EVA lining
Comes with a drawstring closure complete with locking to prevent dust and dirt from entering.
Buyers rate this basket highly. From 421 ratings it scores an average of 4.5 out of 5.
Pros: Cute designs, versatile, drawstring closure to hide what's inside.
Cons: Not that sturdy when empty.
Consumer Score: 73% of buyers give it 5 stars.
Available as Beige Hedgehog, Brown Koala, Grey Elephant, Pink Elephant, Pink Unicorn (pictured above) and pink whale.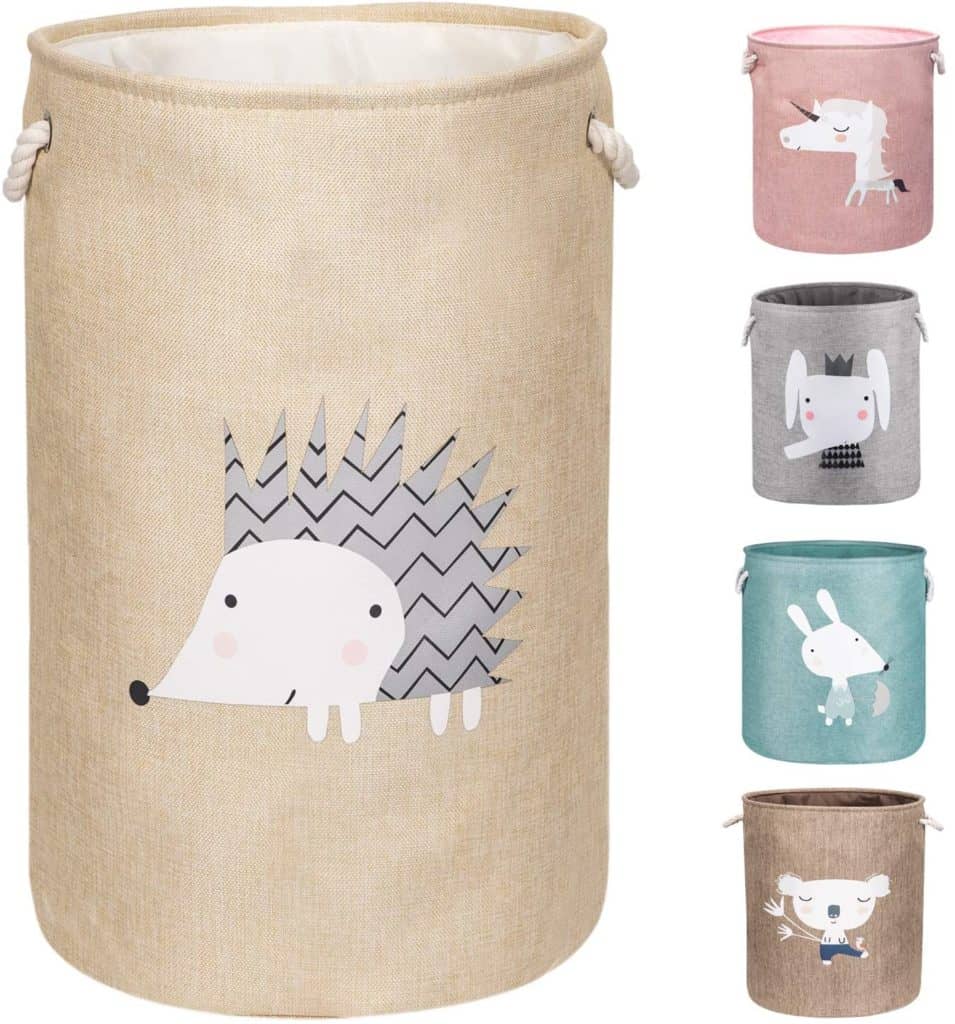 Top Tips When Buying A Laundry Basket For Your Children
Basket Size
Have a think about the most suitable size for your requirements.
How much space is there in the room it is going in?
You'll also want to get one that is not too big or too small for the amount of laundry you'll be using it for.
Simple To Clean
If you'll be putting dirty clothes that may have food or drink on it then you may wish to get a waterproof one that is wipe clean. Or even one that is attached to a wooden frame that be thrown in the washing machine.
You don't want a basket which has lots of detail that will make it tricky to get in and clean.
Some baskets are waterproof only on the outside and so you may want one that is waterproof inside too.
Portability
Depending how far the machine is away from their bedroom you may be lugging this basket around quite a bit.
Look for one that is lightweight and includes strong, comfortable handles.
Collapsing Baskets
If you're short on space there are many baskets that will fold down to almost nothing and you can store them away when not in use.
Safety
Look out for baskets that are made from safe materials.
If you're going for a large one, make sure it's sturdy, you don't want it falling over!
FAQ's Baby Laundry Baskets
How do you clean a foldable laundry basket?
Use warm soapy water to clean them but don't place in the washing machine as this can affect the waterproof coating on fabric baskets.

To get rid of odours use baking soda to neutralise them.
What is a collapsible laundry basket?
A collapsible laundry basket can be stored flat when it's empty, taking up less space than a standard laundry basket.

Ideal for small spaces!
Where should I put a laundry basket?
There are lots of places in a home that you can keep a laundry basket, but the most popular places tend to be a bedroom, a large cupboard, a bathroom or a utilities room.
Cheap Baby Laundry Baskets & Today's Bestsellers
Final Thoughts
My personal preference are the animal hampers from 3 Sprouts because they are adorable, soft, easy to wipe clean, have two large good handles that fold down.
They are excellent value and receive fantastic reviews from parents and children.
I hope this list of the best baby laundry basket was helpful.
If you think I left any out that should be included or have a suggestion for a future article, let me know in the comments below.
Nicola
Last Updated: February 2022
Added Top Picks.
Added 'How We Selected.'
Updated Image.
Added internal links.
Added Pros/Cons on all products.
Added Consumer Scores.
Added FAQ's.
Added Alternative Retailer.
Added Final Thought.
Kids Beds Guides
---
Children's Bedroom Furniture