For this page, I have put together a collection of the best baby nests currently available. For more great baby products see my list of baby essentials.
Our Top Pick
Best baby nest: Purflo Sleep Tight Breathable Baby Bed
Plenty of great choices, but this one comes out on top, as it offers superb breathability and comes in a pretty botanical print.
Show Today's Top Deals
These are today's top deals and bestsellers for baby nests.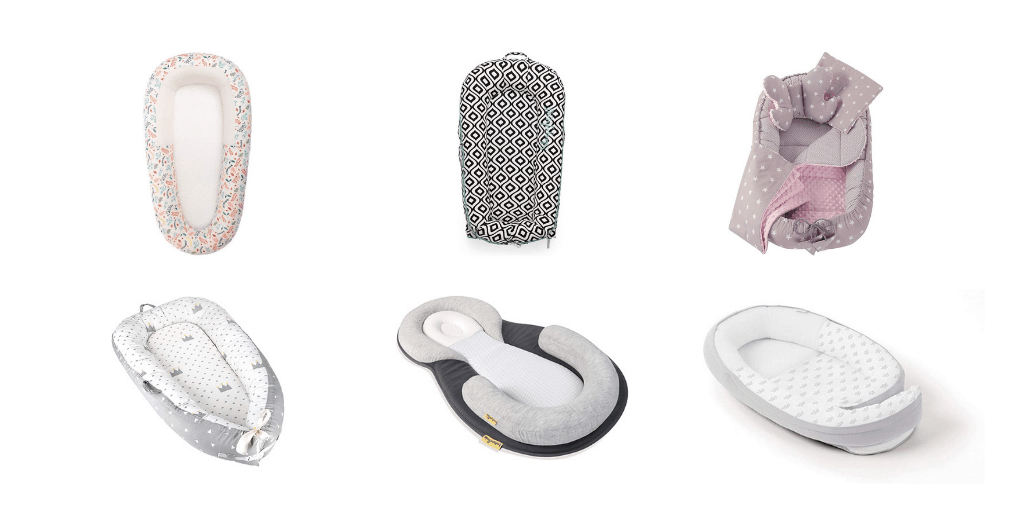 ---
Newborn babies spend most of their time sleeping, so a comfortable baby nest (or baby pod) is the perfect space for your little one to nap in during the daytime. The nest is essentially a mattress with bumper sides which creates a pod around your baby, to make them feel safe and secure.
Most baby nests are not certified for overnight sleeping and should only be used to settle or comfort your little one in. Refer to manufacturers instructions.
We've picked 7 of the best baby nests for newborns to toddlers.
Also, don't forget to check out our buyer's guides on the best baby monitors and baby sleeping bags.
Let's get going!
7 Best Baby Nests
Best Baby Nest Pod
Babymoov Cosydream Original Newborn Reducer
Discount - Save £10.00
This baby nest adapts to the morphology of the infant in the back position.
Its integrated cushion is ideal for baby to keep a round head.
Its modular positioning leg support roll also ensures ideal back support and raises baby's legs for better digestion.
This 'semi-foetal' position makes baby feel more secure (like being in the womb).
Soft and micro-breathable fabric.
Intended to be used from birth to 3 months.
Must NOT be used in a moses basket or the carrier part of a pram.
Plenty of very good reviews from parents. From 3,303 ratings 76% of buyers gave this 5/5 stars.
---
Purflo Sleep Tight Breathable Baby Bed
Discount - Save £15.00
The sleep tight baby bed is the first of its kind and is certified safe for unsupervised, overnight sleeping.
The sides are strong enough to keep baby safe inside, whilst still being soft to touch.
The nest includes a firm flat base for sleeping.
Every part can be fully washed, including the easily removable base that can be wiped clean.
Easily portable with luxury travel bag.
Features a fully breathable mesh base and sides allowing air to safely circulate and to help keep baby at a safe temperature.
Designed for use from birth to 8 months old.
Excellent reviews so far. From 11 ratings 91% of buyers gave this 5/5 stars.
---
Babymoov Doomoo Cocoon Organic Cotton Baby Nest
Discount - Save £30.99
This baby nest creates a comfortable, made-to-measure space for your baby as you can adjust the size as baby grows.
Made from 3D micro-breathable fabric.
It has a removable and machine-washable cover.
Made from organic jersey cotton, it is soft and hypo-allergenic for sensitive newborn skin.
Intended for use from birth up until 8 months.
Great reviews from parents. From 132 ratings 82% of buyers gave this 5/5 stars.
---
Sleepyhead DELUXEB
Bold print unisex baby nest.
A multifunctional pod that can be used for resting, nappy changing and supervised daytime sleeping.
Really lightweight, so ideal for travel.
Intended for babies aged 0-9 months.
Very good reviews. From 71 ratings 86% of buyers gave this 5/5 stars.
---
5-Piece Medi Partners Cuddly Nest Set
No products found.
This cute nest set provides softness and comfort during nap time.
Set includes 100% cotton double-sided cocoon/ Removable insert/ Flat pillow/ Play rug/ Anti-shock butterfly pillow.
The sides of the nest are filled with hypoallergenic silicone balls.
Raised edges ensure safety while the child is sleeping.
Recommended from newborn – 9 months.
Lightweight and handy for transportation.
Comes with a reusable case.
Available in 13 different prints, colours and designs.

No products found.

. From 1,813 ratings 80% of buyers gave this 5/5 stars.
---
Luchild Baby Nest
Hypoallergenic, breathable baby nest which is made of cotton fabric.
Portable and lightweight.
Use as a bassinet, baby lounger pillow, travel bed, newborn pillow, changing station or move it around the house for lounging or tummy time.
Adjustable with two straps for size regulation and reversible so you get two designs.
Suitable for use from birth to 3 years.
Available in Crown Grey/ Round Dot Grey/ Star Grey.
Great reviews. From 2,673 ratings 72% of buyers gave this 5/5 stars.
---
BabyDan Cuddle Nest
Discount - Save £6.70
Use as a reducer in the crib, pram or cot in the first months to keep baby cosy.
Includes a removable mattress.
The base is made from waterproof breathable fabric.
Softer than a blanket or a moses basket, you can use it when your child is awake or sleeping in the daytime or as a play pod.
Can be used from 0-6 months.
Plenty of good reviews. From 119 ratings 74% of buyers gave this 5/5 stars.
---
Are baby sleeping nests and pods safe?
While many parents love and use baby nests/ pods, The Lullaby Trust has warned against using them as they strongly recommend babies should sleep on a firm, completely flat, waterproof surface.
The most important thing that parents can do is to place baby on their back to sleep at night and also during day time naps.
Never use a nest or pod for overnight sleep.
This advice also comes from The Lullaby Trust;-
Check whether items comply with British Standards and follow safer sleep guidelines.
Avoid soft heavy bedding such as pillows and duvets.
Check that anything you buy for your baby to sleep on is firm, waterproof and entirely flat with no raised or cushioned areas.
---
Baby Products – Buyer Guides
Sleeping & Nursery
Feeding
Toiletries & Nappy Changing
Clothing
Travel
Playtime
Baby Extras