For this page, I have put together a collection of the best baby play mats currently available. For more great baby products see my list of newborn essentials.
Our Top Picks
Plenty of great choices but these stand out for me.
Show Today's Top Deals
These are today's top deals and bestsellers for baby play mats.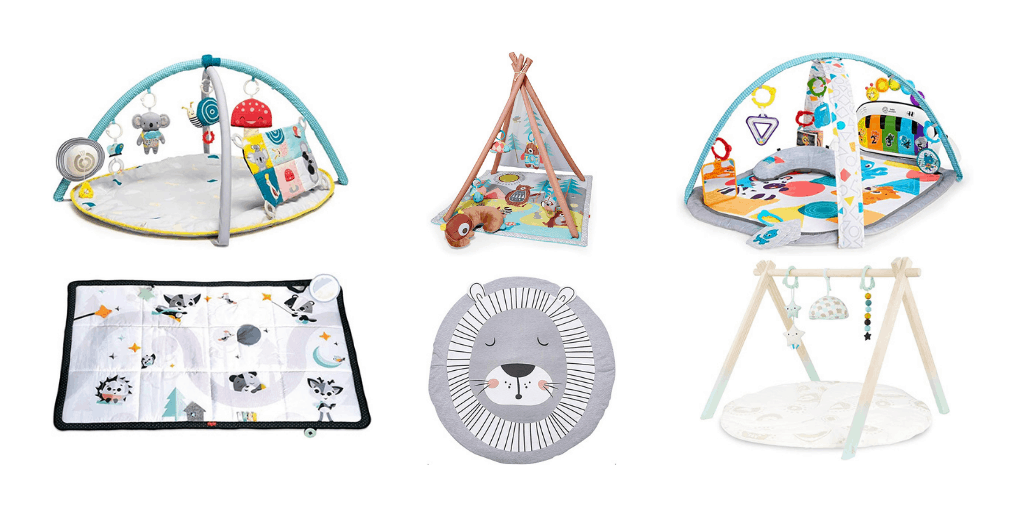 ---
A play mat, activity centre or baby gym (pretty much all the same thing!) is an ideal place to put your baby when they are awake and you don't want to put them in a crib or on a hard floor. It's perfect for small baby entertainment as they can lie down and kick about freely.
Play mats or play gyms can feature dangly toys, various textures, mirrors and patterns and there are plenty of different ones to choose from.
We've picked 10 of the best baby play mats, from simple, soft mats for baby to lie on and have some tummy time to baby activity play gyms.
Let's get going!
10 Best Baby Play Mats
Best Baby Play Mats
Bammax Baby Play Mat
A high density foam play mat for little ones.
With double-sided prints including animal pattern one side with a height measurement scale and an activity pattern on the reverse.
The play mat is waterproof and can be easily wiped clean.
With a 1.5 cm thickness, which is perfect for transforming any hard floor into a comfortable area for baby to crawl, sit and play.
Easy to fold and store away.
Available in designs; Giraffe/ Labyrinth/ Panda/ Lion.
Large size of 177 x 197 cm.
Brilliant reviews from parents. From 3,532 ratings 81% of buyers gave this 5/5 stars.
Best for size.
---
B. Wooden Baby Play Gym & Mat
Discount - Save £1.28
Starry sky wooden baby gym with a thick and quilted cotton mat which is perfect for baby.
With squishable stars, a cloud-shaped mirror, and textured beads.
This play mat can be easily moved from one room to the next or take it to friends.
Made with smooth natural wood and comes with an organic cotton mat.
This play mat can be used separately from the play gym and the overall product looks stylish and would work well with home decor.
Very good reviews. From 942 ratings 80% of buyers gave this 5/5 stars.
Best for style.
---
Queta Baby Playmat
A soft cotton play mat which feels like a soft blanket.
Perfect for playing, sleeping and keeping warm in winter.
Stylish grey design which would look nice as a mat in your child's nursery.
95 cm diameter.
Good reviews from parents. From 809 ratings 71% of buyers gave this 5/5 stars.
Best for using as a play mat or blanket.
---
Tiny Love magical tales super mat
Monochrome style mat with plenty of space for babies to kick around.
With a peek-a-boo game, easy-grip star teether and tummy time mirror.
Softly padded and easily portable too.
Easy to fold and carry, using the incorporated carry handle.
Large size 150 x 100cm.
There are also other styles available in the range including; Meadow Days/ Tiny Princess Tales and Gymini play gyms.
Excellent reviews. From 2,979 ratings 88% of buyers gave this 5/5 stars.
Best for comfort.
---
Foam Play Mat Tiles
Discount - Save £2.04
These versatile puzzle mat pieces work great as a ball pit, playpen, a toddler exercise mat and as floor cushions.
Can help to teach toddlers colours and numbers.
13 mm thick foam protects kids from landing on hard floors while playing.
Babies recognise colours as young as three months old, these colourful jigsaw piece mats will stimulate their mind.
They come with a carry handle storage bag.
25pc set.
Good reviews. From 110 ratings 74% of buyers gave this 4-5 stars.
Best for kids of all ages.
---
Best Baby Play Gyms
Baby Einstein, 4-in-1 Kickin' Tunes Music and Language Discovery Play Gym
Discount - Save £12.50
4-in-1 musical play gym.
Baby can play the piano with just a press of a finger or the kick of a foot!
The included prop pillow helps make tummy time a more comfortable and enjoyable.
Baby can explore 7 interesting toys and 70+ melodies & sounds.
Includes a crinkle medallion, triangle rattle, textured music note, flash cards and self-discovery mirror.
Made to grow with your baby's development. from tummy time to sit and play.
Newborn +.
Size 86.36 x 68.58 x 45.72 cm.
Great reviews. From 461 ratings 85% of buyers gave this 4-5 stars.
Best for adapting with your baby.
---
Tiny Love Gymini Kick & Play
An interactive play mat includes kick and play music, and lights that start up at the touch of a foot or hand.
The electronic light and music toy is activated by touch.
With stimulating dangly toys and mirrors.
Available in styles; Black & White/ Boho Chic/ Into The Forest/ Meadow Days/ Sunny Days/ Tiny Princess Tales.
Large size 106 x 45 x 115 centimetres.
Suitable from birth to 12 months
Plenty of good reviews. From 2,979 ratings 88% of buyers gave this 5/5 stars.
Best for music and lights.
---
Taf Toys All Around Me Gym
Award winning multi-sensory baby gym.
Soft and padded pastel-coloured design.
With music, lights and developmental activities – music, hanging toys and lights.
Has a mobile that can attach to your baby's cot, a mirror, a teether, and a rotating pinwheel.
With removable music and lights toys.
With a unique double-sided crinkling 'Sensi centre', with a high contrast side for children 0-3 months and a colourful side for 3 months+, to help your child to explore colour.
90cm in diameter.
Very good reviews. From 105 ratings 80% of buyers gave this 5/5 stars.
Best for encouraging your little one to practice a variety of body positions.
---
Skip Hop Activity Gym (Camping Cubs)
A cute teepee-style play gym which comes with 4 hanging toys, including a light-up firefly, a mirror, a rattle and a musical raccoon with teether.
With a sleeping-bear tummy-time pillow and a felt flap on the mat for playing peek-a-boo.
Wooden teether that plays 'Twinkle, Twinkle Little Star'.
Scenic mesh backdrop with unique, soft supports with woodgrain pattern and rope ties.
Ages 0+
Size (cm): 91l x 91w x 97h.
Makes a cute den once your child outgrows the gym.
Loads of fabulous reviews. From 5,157 ratings 82% of buyers gave this 5/5 stars.
Best for cute design.
---
LAMAZE Freddie The Firefly Baby Activity Play Mat
Discount - Save £4.34
3-in-1 baby play gym with 3 dangling removable sensory toys for baby to reach for and focus on.
Cushion included to support tummy-time.
Classic sensory patterns: black and white contrast and multiple coloured patterns.
Great budget buy!
Machine washable.
Good reviews. From 1,072 ratings 72% of buyers gave this 5/5 stars.
Best for value for money.
---
Today's Top Deals & Bestsellers
---
Why use a baby play mat?
They offer a great space for your baby to explore their surroundings in a safe, soft and engaging environment. They can also provide a great place for tummy time to help strengthen babies neck and provide visual and sensory stimulation for baby.
A play mat or play gym is also great for improving babies hand-eye coordination and motor skills.
When can I start using a baby play mat?
From around six weeks old. Some play mats are only suitable until about 6 months of age and some last a bit longer and can be used until your child is around 2 years old.
Baby Products – Buyer Guides
Sleeping & Nursery
Feeding
Toiletries & Nappy Changing
Clothing
Travel
Playtime
Baby Extras