For this post, I have put together a collection of the best baby playpens currently available. For more newborn best buys, see my list of baby essentials.
Our Top Picks
My top pick is the Venture All Stays Joy Baby Playpen because it's an exceptional all rounder. It's really easy to put up and fold down in seconds, portable (comes with handy bag/strap), it's sturdy and a very good size. Parents love it! 87% of parents give it 5 stars.
Show Today's Top Deals
These are today's top deals and bestsellers for baby playpen.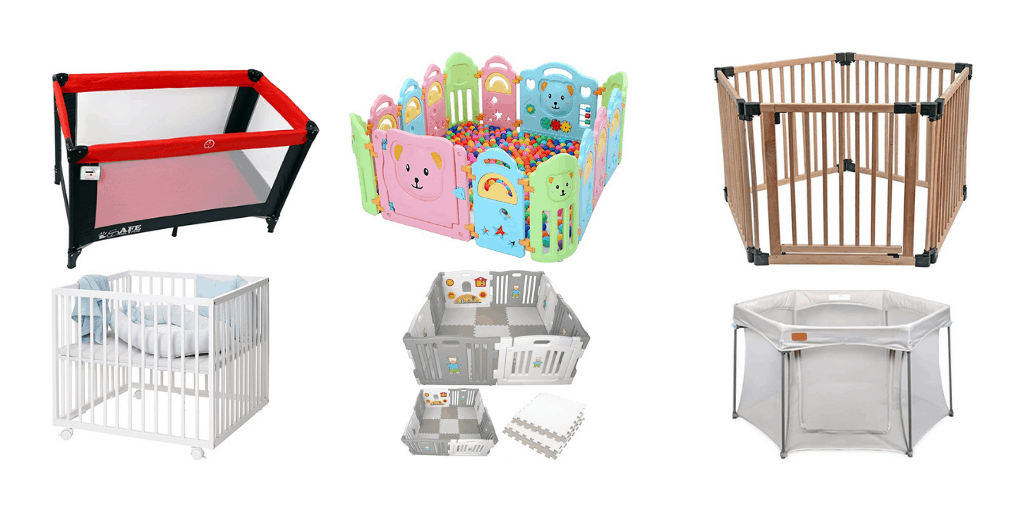 ---
Are you looking for a playpen to keep your baby safely in one place?
In this comprehensive buyer's guide I'll show you 10 of the best baby playpens which will keep them safe and entertained whilst encouraging some independent play time.
Let's get going! Here's 10 of the Best Baby Playpens.
Hadwin Baby Playpen
Made of visual mesh wall and strong all-steel frame.
Spacious and ventilated and foldable and portable, so ideal for travel.
Large enough to hold 3-4 babies.
Suitable for use indoors or outdoors.
Surreal Playpen for Baby and Toddlers
Made up of 14 plastic panels which include 8 colourful side panels, 4 corner panels a door and interactive play panel.
A fun and interactive space for a child to play.
Venture All Stars Joy Baby playpen
This mesh playpen with steel frames sets up and folds down in seconds.
Comes with a padded nylon canvas weather resistant floor mat for use indoors and outdoors.
Ideal for travel as comes in a handy bag with strap.
BabyDan Deluxe PlayPen
Chic looking playpen.
The gate section can be placed anywhere within the BabyDen making it more suitable for use as a room divider.
Comes complete with machine washable playmat.
Millhouse Plastic Baby Playpen with Activity Panel with Play Mats Included
Plastic panelled playpen with interactive panel and door.
Playpen also has interlocking mats which are secured with the gate when formed in the square shape layout
Easy to move.
Summer Infant Pop 'N Play Playpen
Great playpen for outdoor use.
With mesh sides for easy visibility and weather resistant canvas floor for use indoors and outdoors
Comes in compact fold and travel bag with strap for easy portability.
Safetots Play Den Wooden All Sizes
Made from premium grade wood designed to compliment all home interiors.
Can be made bigger with additional extensions.
Hadwin Baby Playpen
Freestanding and portable playpen with a PVC frame and breathable mesh cloth.
With an ultra thick waterproof floor mat for use indoors and outdoors which is easy to clean.
A zip-opening panel is used for the door.
iSafe Rest & Play Luxury Travel Cot/Playpen
A great dual use playpen and cot which is ideal for travel or at home.
Comes with mattress and folds up into a carry bag for portability.
BabyDan Medium Wooden Playpen, White
This playpen has 3 adjustable base positions.
It can be used from birth to approximately 2 years of age.
Unlike standard playpens it has 4 wheels enabling you to move your baby with you around the house with 2 lockable wheels to keep it safely in position.
What is a baby playpen?
A playpen is an enclosed play area that gives your baby or small child a safe place to play.
You can put some of their favourite toys in there so you create a small play space for them.
A playpen is usually made from wood, plastic or metal.
Most playpens are lightweight so they can be moved around easily from room to room.
It is a safe place where your child can play whilst you have a break or get on with things you need to do (whilst still keeping an eye on the child of course!)
Do you really need a baby playpen?
A playpen will make your life easier if you have a child who is sitting up or on-the-go and it will also give your baby some independence so they learn to play on their own.
How much does a baby playpen cost?
Anywhere from @ £20 – £100.
There's a wide range of playpens on the market, depending on your own style and budget.
How long can I use a baby playpen for?
You can start using a playpen from when your baby is four months old and you may find it useful until your child is about two years of age.
What to look for in a baby playpen
You will need to think about how much floorspace you have and get one of a suitable size for your room.
There are many different styles and shapes so you will find one suited to you.
You can opt for a wooden framed playpen which can be spacious and match with room decor.
Then there are the plastic playpens which are usually bright and colourful and lastly metal and fabric options which are durable and can sometimes double up as a travel cot.
Today's Top Deals & Bestsellers
Baby Products – Buyer Guides
Sleeping & Nursery
Feeding
Toiletries & Nappy Changing
Clothing
Travel
Playtime
Baby Extras