For this post, I have put together a collection of the best baby weighing scales currently available. For more newborn essentials see my baby checklist buying guide.
Our Top Picks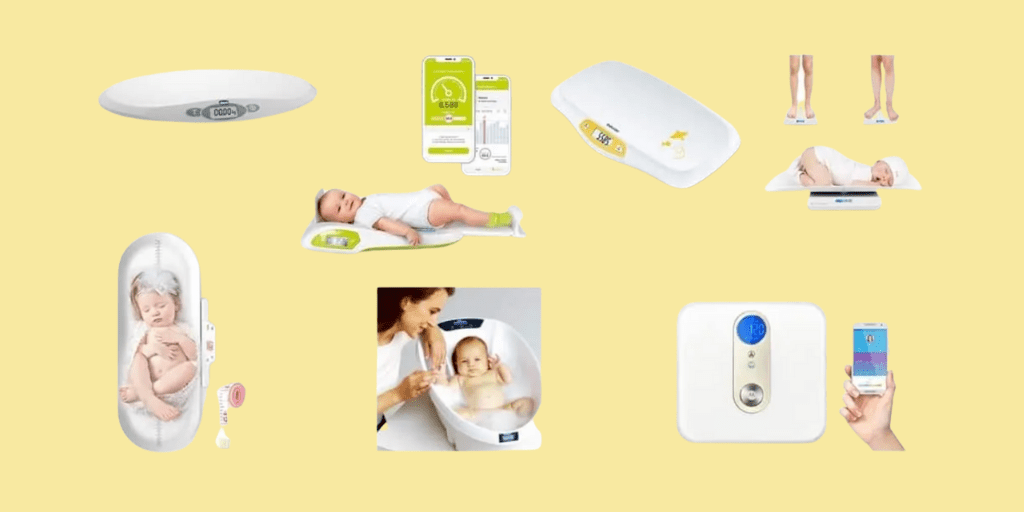 ---
Tracking your baby's weight can show that your little one is progressing at the right pace. It can also be a good indication of potential health issues.
With a baby scale at home, you can check your baby's weight whenever you like.
How We Selected
We have selected 5 of the best digital baby scales on the market which give accurate weight of your baby, but are also comfortable and easy to use.
We've opted for affordable to more expensive options with added features.
All of our choices have excellent 4-5/5 star buyers reviews.
Also get our guides to the best baby baths, baby blankets and baby bath towels.
Get some advice on weighing your baby at the NHS website.
So here is my list of the the best baby scales
Chicco Baby Comfort Digital Electronic Scale
Discount - Save £8.33
#1 Bestselling baby scales with outstanding reviews.
Parents love these easy to use, accurate scales.
Weighs from 30g to 20kg.
Large LCD Display.
Excellent shape for baby.
Item weight: 1.5kg.
Pros: Practical memorisation of the last weighing and tare function that allows the use of a towel during the measurement.
Cons: Only displays in g/kg.
Consumer Score: 77% of parents give this 5 stars outstanding reviews
Beurer BY80 Baby Scale
Discount - Save £18.04
20kg load capacity.
Large LCD display.
Useful hold function for wriggling babies.
Curved weighing surface and rubber feet to keep baby secure.
Item Weight: 1.8kg.
Pros: Tare function which means your baby can be weighed in a blanket or towel accurately, weight can be measured in kg, lb or oz.
Cons: No memory function.
Consumer Score: 70% of parents give this 5 stars Very good parent reviews.
MOM MED Baby Scale
Discount - Save £8.97
Very sensitive with 4 detection points.
Multi-function scale can be used not just for baby but for infants, children, adults and even pets!
Can also be used for baby's height.
Parent feedback includes good quality, high accuracy and easy to use.
Pros: Can be used to weigh adults, children and pets too! Comes with batteries.
Cons: The scales need to be on a hard surface, no carpet for an accurate reading.
Consumer Score: 73% of parents give this 5 stars Very positive parent reviews.
Aqua Scale V3 Next Generation Digital Baby Bath
Discount - Save £2.50
3-in-1 digital baby bath. ergonomic tub, thermometer and scales.
Digital scales calculate baby's weight – with or without water.
Continuously measures water temperature and display on led screen.
Two bathing positions for newborns and toddlers.
Pros: Displays weight on LCD screen, built-in thermometer, bath.
Cons: Expensive.
Consumer Score: 75% of parents give this 5 stars Excellent feedback.
See my guide to the best baby bath tubs.
Best Smart Baby Scales
Motorola Smart Nursery Baby and Me Digital Scale
Measure the weight of mother and baby up to 330lbs.
Stores data to track daily, weekly or monthly trends.
Helps track baby development.
Bluetooth connectivity to be used in conjunction Hubble App.
Pros: Can measure weight of adults and babies, data tracking, affordable.
Cons: Not great for those who aren't into using phone apps etc.
Consumer Score: Excellent reviews. 82% of parents gave this 5 stars.
Cheap Baby Scales & Today's Bestsellers
Things To Consider When Buying Baby Scales
Rubber Grips
Wherever you place your baby scales, be it on a counter top, table or on the floor, you should choose a set of scales that has a good grip mechanism.
This is usually in the form of rubber gripping pads on the base.
Even if you are on the floor these help stop the scales moving around with a squirming little one.
Easy To Clean
Accidents happen.
Try and go for a scale that his little intricate parts that will make wiping down with a wet cloth difficult to access.
Battery Operated
All the digital scales we have covered are battery operated. And for good reason.
You don't want to be messing around with cords, particularly if you find yourself weighing your baby in different locations. It's also something that the baby is likely to reach for!
Tare Function
This is a key function. This enables you to set the scales to ignore the weight of certain objects like a baby toy, nappy or even clothes.
The tare button helps enable you to get a truly accurate measurement of your baby's weight.
Size of Display
Always look out for baby scales with large, bright LCD displays.
After getting your baby on the scales and stable enough to get an accurate reading. the last thing you want is a hard to read display.
Smart Functionality
By no means essential to the core function of weighing your baby, some of the features that a smart set of scales may be appealing.
These come with apps that can automatically keep track of your baby weights over time. Some parents like this more in-depth tracking of baby development.
Multipurpose
You can find very accurate scales that can also measure the weight of toddlers, older children, adults and your pets!
These usually come with an add on than converts more regular scales into one that will comfortably hold your baby.
You can also choose a baby scale that will measure height as well.
Another type of baby scales is one that is also a baby bath tub.
Unit Weight
If you're going to be moving your baby scales around the house do make sure you check the unit weight.
FAQ's Baby Scales
How Often Should You Weigh Your Baby?
Steady weight gain is one of the key signs that your baby is feeding well and is healthy.

The NHS advise that after the first two weeks your baby should be weighed:

– no more than once a month up to 6 months of age.
– no more than once every 2 months from 6 to 12 months of age.
– no more than once every 3 months over the age of 1.
When Should I Weigh My Baby?
If you are weighing your baby at home you should take into account feeding times.

Ideally you should try and weigh your baby at the same time each day – either before or just after a feed.

This consistency of timing will help you build a more accurate picture of their growth,
If you are weighing your baby on your own, a good time is often around bath time – this also means you'll be weighing them without a nappy (full or otherwise) affecting the accuracy of the measurements.
Final Thought
My overall top pick is the Chico Baby Comfort digital electronic scale because they are easy to use, very accurate, feature a large LCD display, an excellent shape for a baby and they receive outstanding reviews. 77% of parents give these 5 stars.
I hope this list of the best baby scales was helpful.
Did you use a baby scale?
Would you recommend a particular make and model?
We'd love to hear about your experiences.
If you think I left any out that should be included or have a suggestion for a future article, let me know in the comments below.
Nicola
Last Updated: February 2022
Added Top Picks.
Updated image.
Added Intro and 'How We Selected.'
Added link to external website and internal links.
Added Pros/Cons on all products.
Added Consumer scores.
Added 'Things To Consider'.
Added FAQ's.
Added Final Thought.
Baby Products – Buyer Guides
Sleeping & Nursery
Feeding
Toiletries & Nappy Changing
Clothing
Travel
Playtime
Baby Extras
AGU Wally Smart Baby Weight Scale (Currently unavailable)
No products found.
Measures both the baby's weight and height.

No products found.

– 82% give this 5 stars.
Bluetooth and App allows you to build the graph of your baby's weight and height change and compare it to the WHO recommendation.
Keep a colorful diary with photos to remind you about the happy moments of the growth.
Swiss quality design.
Meilen Baby Scale (Currently unavailable)
70% award this 5 stars, average 4.3 out of 5.
Very high accuracy.
Can also be used for adults and pets.
Measures weight and growth.
Parents love its accuracy, simplicity to use and also how it looks.
Large LCD display.