For this post, I have put together a collection of the best baby slings currently available. For all my recommended baby product guides, with top picks, see my list of newborn essentials.
Our Top Pick
My top pick is the Boba Wrap Baby Carrier as it comfortably wraps babies from birth to 35 pounds, is made of 95% cotton and 5% spandex to give it just the right amount of stretch and comes in a variety of colours. Plus it has excellent reviews with 85% of customers rating it 4-5 stars.
Show Today's Top Deals
These are today's top deals and bestsellers for best baby slings.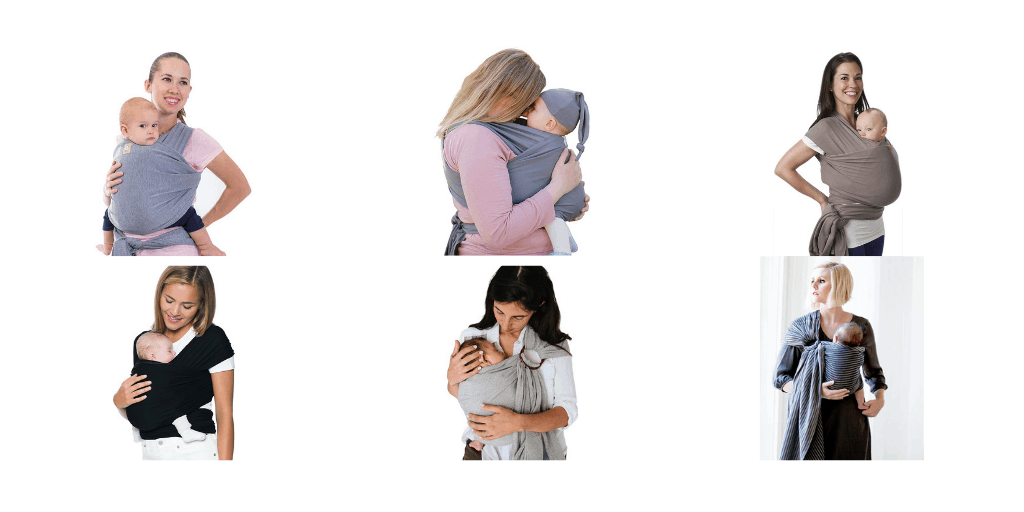 ---
Baby slings are the perfect solution for parents of babies to get some hands-free time.
Baby will feel warm and secure against you and the rocking sensation will help to keep baby calm or even expel wind naturally without any extra effort at all!
Slings are ideal for when you want to get on with chores but prefer to keep your baby near you, when you are dealing with another young sibling or even when you go for a walk outdoors.
We've put together our top 7 picks of the best baby slings on the market, which all have excellent customer reviews.
If you are looking for a more structured carrier for your baby, check out our buyer's guide on the best baby carriers.
Mums-to-be or new parents will also find our guide to the Top 100 Baby Products super useful.
So here is my list of the the best baby slings.
Best Wrap Baby Sling
Boba Wrap Baby Carrier
This sling comfortably wraps babies from birth to 35 pounds.
It is made of 95% cotton with a touch of spandex to retain its shape.
One size fits all.
Tie to your body and the intelligent fabric will cling perfectly to the contours of your baby.
Easy to tie and mums can breastfeed in it, plus it can act as a privacy shield.
Available in 13 various colours and prints.
Parents love this baby sling – 85% of 12,632 buyers gave it 5 stars.
---
Joy And Joe Baby Wrap Sling
Discount - Save £3.01
The nature of this sling allows the weight of the baby to be evenly distributed across the mother's back eliminating the back/shoulder pain issues associated with other overly structured baby carriers.
The baby sling comes with a cute matching baby hat, matching bag and full colour user manual.
Eco-friendly, breathable and cool.
Award winning stretchy wrap slings which are suitable right from birth to 16kg.
Available in 6 colours; Black/ Grey/ Blue/ Maroon/ Fuchsia/ Rainbow.
This sling has excellent reviews – 82% of 2,075 buyers gave it 5 stars..
---
Baby Wrap Carrier by KeaBabies
Can be used as a forward facing carrier and sling carrier depending on baby's age.
Can be worn to breastfeed discreetly in public places.
Made of premium quality breathable cotton spandex blend.
Available in colours; Classic Grey/ Mystic Grey/ Trendy Black.
Parents love this baby sling – 86% of 10,161 buyers gave it 4/5 stars or more..
---
Best Baby Sling For A Newborn
Ergobaby Aura Baby Carrier Wrap
This sling is made from a soft and lightweight fabric and is designed to make wrapping easier for beginners.
Supports babies up to 25lbs.
It has a built in carrying pouch which folds into an intergrated pocket for on the go.
100% Viscose made from eucalyptus and acacia.
Available in; Blush Pink/ Grey Stripe/ Pure Black.
Parents love this baby sling – 79% of 309 buyers gave it 4/5 stars..
---
Baby K'tan Cotton Black Baby Carrier
Individually sized for the parent or caregiver (not the baby), it slips on like a t-shirt and the double-loop design provides the security you want and the versatility you need to be on the go and hands-free.
100% natural cotton.
Buckle-free for ease of use and comfort.
Five different ways to wear baby carrier
Available in sizes XXS to XL
Light-weight soft cotton fabric
Available in Black and Houndstooth.
This sling has excellent ratings – 76% of 4,192 buyers gave it 4/5 stars or more..
---
Best Ring Baby Sling
MOBY Ring Sling Carrier
An elegant and intuitive design.
Made from a high-quality, woven cotton fabric.
It also offers both front and hip-carrying options, allowing the wearer to change positions and maintain comfort as baby grows.
Available in styles; Ribbons or Silver Streaks.
For babies 8lbs- 45lbs.
Parents love this baby sling – 73% of 328 buyers gave it 4/5 stars or more..
Nalakai Baby Sling Carrier
A soft bamboo & breathable linen material ring sling.
Long and luxurious tail fabric means the ring sling will fit everyone, from petite to plus size.
Easy and comfortable to wear inside and outdoors.
Available in 16 colours.
Safest carry position for correct hip development.
Regulates temperature better than a wrap.
Parents love this baby sling – 81% of 1,281 buyers gave it 5 stars..
Today's Top Deals & Bestsellers
Is It Safe To Use A Baby Sling?
According to the Lullaby Trust Slings and baby-carriers are useful for holding a baby hands-free, however they are not always used safely.
When wearing a sling or baby carrier, keep in mind the TICKS guidelines:
Tight
In view at all times (Baby's face)
Close enough to kiss
Keep chin off the chest
Supported back
AVOID bag-style slings for safety reasons.
---
I hope this list of the best baby slings was helpful.
If you think I left any out that should be included or have a suggestion for a future article, let me know in the comments below.
Nicola
Baby Products – Buyer Guides
Sleeping & Nursery
Feeding
Toiletries & Nappy Changing
Clothing
Travel
Playtime
Baby Extras