For this post, I have put together a collection of the best bath bombs for kids currently available.
Our Top Pick
My preferred pick for best bath bomb for kids is the Intergalactic Bath Bomb from Lush as its full of uplifting scents and essential oils. It creates a galaxy of colours in the bath which kids will love.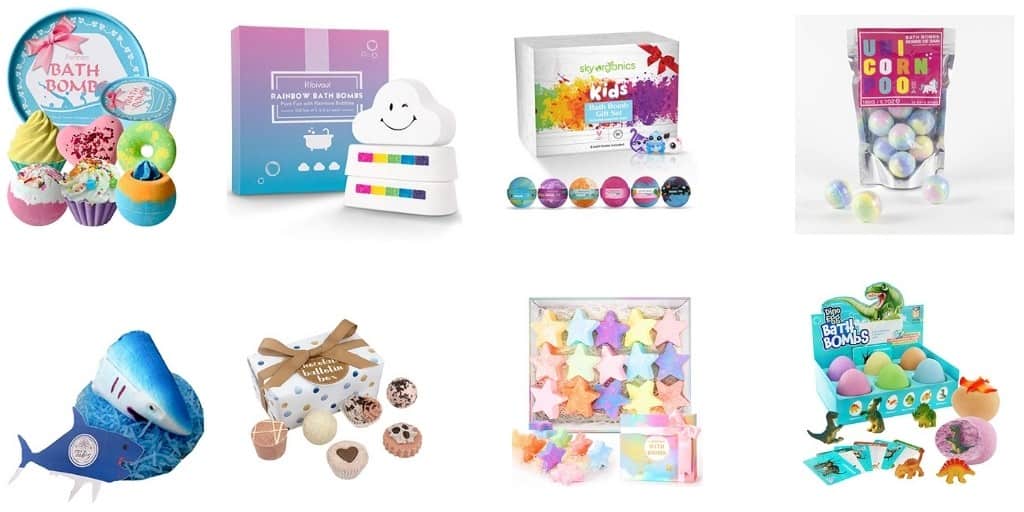 ---
Bath bombs are palm-sized blocks usually containing fragrance and essential oils, that fizzle and dissolve in bath water. Not only do they add a fun element to bath time as they fizz around and change the colour of the bath water, but they also add ingredients to the bath which are soothing and relaxing. Kids love them and they make a great treat or gift for them. We've picked 15 of the best bath bombs for kids, which all have excellent customer feedback.
Alternatively, kids can even make their own bath bombs! Check out out article on the best science kits for kids, which includes a bath bomb making set.
So here is my list of the the best bath bombs for kids.
Aofmee Bath Bombs Gift Set
Bath bomb set which includes 6 cruelty-free and Vegan-friendly bath bombs.
Bath bombs rich in vitamins A, E and F. They are moisturising and nourishing.
6 handcrafted bath bombs included in the set. From cupcake shaped to donut shaped and one which includes cake sprinkles in it, there is something in there that kids and adults alike will love.
Customers love these bath bombs – 80% of 3,541 buyers gave it 5 stars.
Rainbow Bath Bombs Gift Set
Cloud shaped bath bombs x3 which dissolve in all the colours of the rainbow.
Handmade with natural & organic ingredients hydrogenated jojoba oil, hydrogenated grapeseed oil, butyrospermum parkii (shea butter) oil, natural essential oil.
3 Extra-Large 185g bath bombs included in set.
Kids will love watching these dissolve in the bath.
Customers love these bath bombs – 85% of 1,023 buyers gave it 5 stars.
Unicorn Poo Bath Bombs
Pack of 10 mini multi-coloured 'Unicorn Poo' bath bombs.
10 bath bombs in each package. Kids will love the name of them! Get their imaginations going.
Raspberry scented for a fragrant bath.
They starts fizzing when you put them in the bath.
Turns the bath a magical unicorn colour.
Customers love these bath bombs – 64% of 1,652 buyers gave it 5 stars.
Sky Organics Kids Bath Bombs Set
No products found.
Set of 6 bath bombs with hidden toy inside each one.
Organic fizzing bath bombs made especially for kids.
Mix of colours.
Each bath bomb includes a cute toy figurine.
Customers love these bath bombs –

No products found.

.
Shark Attack Bath Bomb!
This Fizzer creates a shark bite 'blood bath' like Jaws in your tub.
Shark Attack bath bomb, handmade in the UK
Shaped like a sharks head.
When it's added to the water it creates a 'blood bath' just like being bitten by a shark.
Comes in clear bag with blue shredded paper so perfect as a gift.
Bring some fun to bath time for kids of all ages.
Scented with baby powder for a fresh feeling.
Bomb Cosmetics Chocolate Handmade Bath Melts
Chocolate scented bath melt gift pack of 6 chocolate bath melts.
Who wouldn't love to bath in chocolate? These are perfect for kids and adults.
Contains 6 x Cocoa and Shea Butter based Bath Melts.
Small in size, instead of fizzing violently like a bath bomb, they slowly and luxuriously melt (just like chocolate!), releasing butters and pure essential oils into your bath. 
Customers love these bath bombs – 73% of 12,392 buyers gave it 5 stars.
Liberex Bath Bombs Kit
No products found.
16PCS Organic star shaped bath bombs.
Kids will love these brightly coloured star shaped bath bombs.
The aroma of pure natural herbs and essential natural oils
Free of harsh chemicals and additives as well as artificial colouring and dye; infused with essential oils for relaxing, fresh and clean fragrances.
Lavender, rosemary, chamomile, cinnamon, lemongrass and rose scents.
Poopsie Slime Surprise Bath Bombs
Bag of 10 funny unicorn poop bath bombs for kids.
A must have for any Poopsie fan!
Includes 10 scented bath bomb fizzers in pink, blue, purple, yellow and green.
Will add fizz and fun to any bath time with the 'unicorn poop' shaped bath bombs.
Customers love these bath bombs – 75% of 737 buyers gave it 5 stars.
Dino Egg Bath Bombs with Surprise Inside for Kids
Pack of 6 Dinosaur Egg bath bombs. Each one includes a dinosaur figurine and learning cards included.
Turn bath time into a fun and educational experience.
Drop the egg-shaped bath bombs into the tub and watch them dissolve to reveal a unique dinosaur toy into the water.
Each card describes the history of each different dinosaur in set.
After revealing a dino, try to match up the appropriate card to your dinosaur and learn more about it.
Customers love these bath bombs – 78% of 2,117 buyers gave it 5 stars
Baff Bombz from Zimpli Kids
Set of children's bath bombs that are biodegradable and Vegan friendly.
4 bath bombs made for kids in bright colours. Gift set.
Fun fruity scents including Apple, Grape, Strawberry and Tutti Frutti.
Watch as the water fizzes and changes to a vibrant colour.
100% safe! Baff Bombz are skin safe, stain free, easy clean & drain safe.
Customers love these bath bombs – 76% of 1,127 buyers gave it 5 stars
KreativeKraft Bath Bombs For Kids, Creative Bath Bomb Making Kit
Bath bomb making kit for kids.
Why not make your own bath bombs? Kids will love to get creative with this set.
Bath bomb making kit for children which includes press, coloured powders, soap moulds and bath confetti.
It's a great kids bath bombs activity set with enough powder to experiment.
Suitable for boys and girls from age 6.
Customers love these bath bombs – 67% of 389 buyers gave it 5 stars
Intergalactic Bath Bomb (Lush)
Bath bomb which creates all the colours of the galaxy in the bath.
Unleash a galaxy of refreshing peppermint oil, cobalt blue clouds and shimmering stardust in your bath.
Kids will love the minty scent and fizzing colours.
Leaves skin feeling really soft and leaves a slight glittery tint to it.
Bestseller in Lush store.
VBeauty Cosmetics Controller Bath Bomb (Etsy)
Bath bombs that any little gamer will love.
Bath bombs shaped like games console controllers.
Kids will love the shape and colours of these.
Handmade from Etsy.
Vegan, Cruelty Free.
Ickle Baby Bot Bath Bomb (Lush)
Gentle lavender bath bomb to relax children before bedtime.
This is a bath bomb designed to look after young children's delicate skin.
So gentle it's suitable for babies over six months.
Shaped like a little robot.
Its aromatherapy oils also work to soothe irritable little ones before bedtime.
VBeauty Cosmetics Unicorn Bath Bomb Gift Set (Etsy)
Unicorn Bath Bomb Gift Set.
Handmade bath bombs in the shape of unicorns, unicorn horns and rainbows.
Brightly coloured and eye-catching bath bombs that kids will love.
Packaged in a gift set.
Handmade. Buy from Etsy.
Today's Top Deals & Bestsellers
I hope this list of the best bath bombs for kids was helpful.
If you think I left any out that should be included or have a suggestion for a future article, let me know in the comments below.
Nicola
Bathroom Accessories – Best Buys