For this post, I have put together a collection of the best BBQ shelters currently available. Also see my guide to the best BBQS and BBQ tools.
Our Top Picks
Show Today's Top Deals
These are today's top deals and bestsellers for BBQ shelters.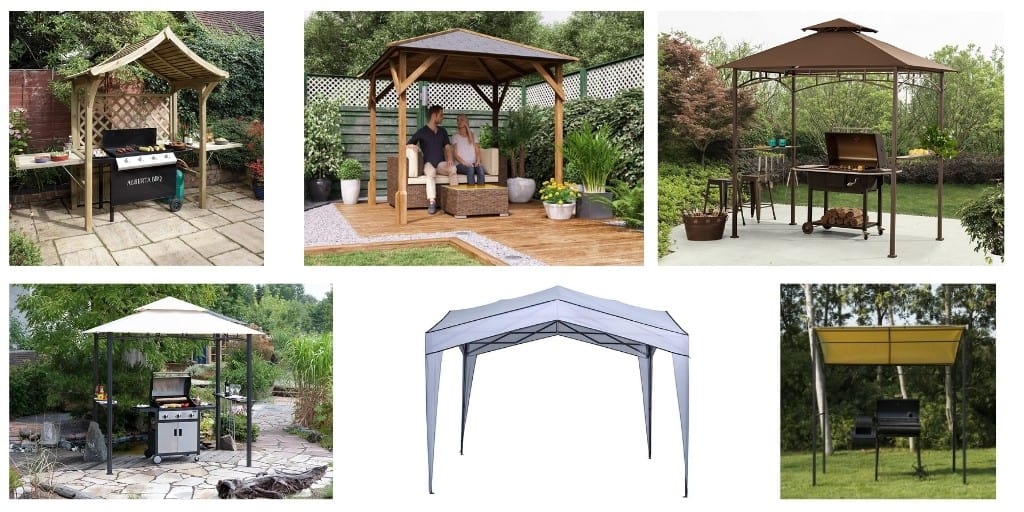 ---
Finding your perfect BBQ shelter will mean many years of fun BBQs with friends and family that won't be spoiled by the unpredictable British weather. They'll also protect you from any sun with solid UV protetion.
In my guide I'll show you everything you should consider before you buy a BBQ shelter – covering size, materials, assembly and features.
I'll review only the best metal and wooden gazebos that receive the most positive and enthusiastic reviews from hundreds of happy buyers.
Related: Looking for a guide on the best barbecues? See my top picks for the best charcoal BBQ, portable BBQ or camping fire pit.
Going camping? See my recommendations for the best camping gazebos.
So here is my list of the the best shelters and gazebos for BBQs and entertaining.
Best Wooden BBQ Shelters
Rowlinson Party Arbour & Wooden BBQ Shelter
Stylish, versatile offering 2 in 1 functionality as a BBQ shelter and covered bench area.
Material: Pressure treated timber
Height: 2.4 M
Maximum BBQ Width: 1.5 M
Treated softwood against fungal rot and fire-retardation.
Handy waist high side walls that are hinged and perfect for food & bbq accessories.
Simply fold up the bench when you want to barbecue.
As it's not solid all the way around it won't protect a BBQ from high winds / horizontal rain.
Excellent reviews. 82% of buyers gave this 4 stars or more out of 5.
Common comments are excellent value for money, looks fab, simple/quick to assemble. Some DIY experience would help!
Dunster House Utopia 200 Wooden BBQ Shelter
Discount - Save £205.00
Stunning, stylish large wooden gazebo. Has high price tag.
You can choose to have an open gazebo, add a side panel or two, as well as the option to add in glass panels to keep the light. 
Material: Pressure treated timber
Ridge Height: 2.40 M 
Size: 1.98 M x 1.98 M
No Planning Permission Required
Available in three other sizes: 3.00m x 3.00m, 3.20m x 3.20m and 6.04m x 3.20m
Exceptional reviews. 78% of buyers give this 5 stars out of 5.
Best Metal BBQ Shelter
Sunjoy Soft Top BBQ Gazebo With LED
Modern, sleek design, great price and excellent all rounder.
Vented, two-tiered, soft-top brown canopy provides stability in windy conditions.
Two handy shelves for grill accessories, beverages or food.
Lots of hanging hooks for utensils.
Sturdy steel construction and a rust resistant finish.
Stylish LED lights included – keep the party going!
Material: Steel
Height: 2.44 M
Width: 1.51 M
Length: 2.44
Fantastic buyer reviews! From 429 ratings 76% give this 5 stars out of 5.
Common buyer comments include: Quality, Ease of Assembly, Value for money.
Tepro 3109 Barbecue Shelter
Modern, smart looking square BBQ and party shelter gazebo.
Fabric two tiered roof is fire-resistant and water-repellent and provides plenty of ventilation.
Powder coated steel legs.
Includes guy ropes and pegs for permanent placement in the the garden.
Or simply pack away at the end of the season.
Two granite glass side shelves perfect for keeping any items and bbq accessories.
Square shapped gazebo (approx 246 x 154cm).
Material: Steel
Walk through Height: 1.83 M
Good reviews. From 20 purchases this scored an average of 4.3 out of 5.
Common buyer comments includes: Sturdy, looks nice, fits well over bbq, easy to assemble.
Clas Ohlson Garden Pop Up BBQ Gazebo
If you're looking for a more temporary pop up type shelter for your BBQ then this is an excellent choice.
Size: Length: 3m Width: 3m
Height 1.85 m at the sides and 2.65 m at the centre of the roof
Optional pack of 4 gazebo wall panels.
Really excellent reviews. From 73 ratings, 76% of buyers give it 5 stars out of 5.
Common buyer feedback includes: So easy to use, brilliant for entertaining, best gazebo so far!
Outsunny Steel BBQ Gazebo
Good, sturdy steel gazebo at a decent price.
With hooks hung on side beams for placing BBQ tools.
Reinforced top and 8 pegs to make the canopy more stable.
Size: Length: 2.15 m Width: 1.5 m
Height: 2.2 M
Made from Black grey powder coated steel.
Decent reviews. Scores an average of 4.1 out of 5 from 37 purchases.
Sorara Milano Wall BBQ Metal Gazebo
Minimalist, modern grey is a simple but effective BBQ shelter with great reviews.
The frame is made of powder-coated and weatherproof steel, and the roof is of PVC-based water-resistant and fire-retardant canvas that is UV safe.
Length: 3 M
Width: 2.85 M
The highest point is 282 cm and the low side is 220 cm
Available in a number of other sizes.
The circular bases of the posts have three holes so that the shelter can be bolted to the ground.
Fab reviews. 81% of buyers gave this 5 stars out of 5.
Today's Top Deals & Bestsellers
What To Consider When Buying A BBQ Shelter
The purpose of a BBQ shelter is to protect you and your BBQ from the elements, be it sunshine, rain or winds.
Some BBQ shelters also include shelves and other accessories to help in the cooking process.
Choosing the perfect BBQ gazebo for you will depend on your needs, garden size and style preferences.
Size
This will depend on the size of your garden. The idea is the BBQ gazebo will provide you, any family/friends and the food/bbq shelter.
Small ones can also be picked up with dual use – for example, when not being used for a BBQ they may include a hinged bench.
For larger gardens, you have more choice and there is usually lots of room for a table and chairs to dine away from the elements.
Materials
The two most common materials for a garden BBQ shelter are wooden ones and metal structures.
Metal BBQ shelters can provide benefits in terms of a sturdiness and weather resistance. Many are supplied with a canopy roof that can do an excellent job of totally shielding you from the sun and rain. These can easily be removed when you're not using then.
Wooden structures are also very popular and are often preferred for their aesthetic and traditional appeal over their metal counterparts.
If you go wooden, ensure you choose an outdoor BBQ shelter that is made from pressure treated wood.
This chemical process will reduce any chance of fungal rot or weathering effects.
Assembly
There is a great deal of variation in both the level of difficulty required to assemble BBQ shelters and the time / manpower / experience required.
These can be organised in three main types:
Pop Up BBQ Gazebos – these are aimed mainly at protecting you from the sun and light rain, They are super easy and quick to assemble.
Metal BBQ gazebos – these can be left up a little longer (though dependent if any storms coming!) and with good ventilation this allows through flow of air and avoiding any gusts that can cause problems.
Wooden Gazebos and heavy set metal Gazebos – These will take a lot longer to set up and may require significant DIY know how.
Ventilation
Good ventilation is important for a number of reasons.
Firstly, if there are high winds then the air needs to travel through to escape, otherwise there is a danger of the gust taking the shelter off the ground.
Secondly, when you are barbecuing, smoke will be released (more so with a charcoal bbq) and so proper ventilation is required to help it pass through.
Features
These usually apply to wooden bbq gazebos and can include things like:
Fold Out Benches – when not in use with a BBQ, a hinged bench can fold down.
Folding side tables.
Bought separately there are some very reasonable led light you can buy for your gazebo. This means you can enjoy the shelter long into the evening.
FAQs For BBQ Shelters & Gazebos
Can I safely have a barbecue under a normal gazebo?
This depends. Many standard gazebos are made from a flammable material.

In this guide we've reviewed gazebo shelters specifically designed for using with barbecues.
How long can I leave my BBQ shelter up?
This will entirely depend on the design and materials used. Some gazebos are pop up ones that should be taken down after use. Some may last the full season. But this can also be dependent on any incoming heavy storms! Metal gazebos with excellent ventilation and ones that can be screwed down can be left up permanently. The same goes for many wooden BBQ shelters.
I hope this list of the best BBQ shelters was helpful.
If you think I left any out that should be included or have a suggestion for a future article, let me know in the comments below.
Dominic
Barbecue Buyer's Guides