For this post, I have put together a collection of the best bedside cribs. For all my recommended newborn product guides, with top picks, see my newborn checklist.
Our Top Pick
My top pick is the Tutti Bambini CoZee® Bedside Crib as it has an innovative 30 second open and fold mechanism which also allows you to use the crib on the move.
It also has a co-sleeping function so you and your baby can get the best nights sleep right next to each other.
Show Today's Top Deals
These are today's top deals and bestsellers for bedside cribs.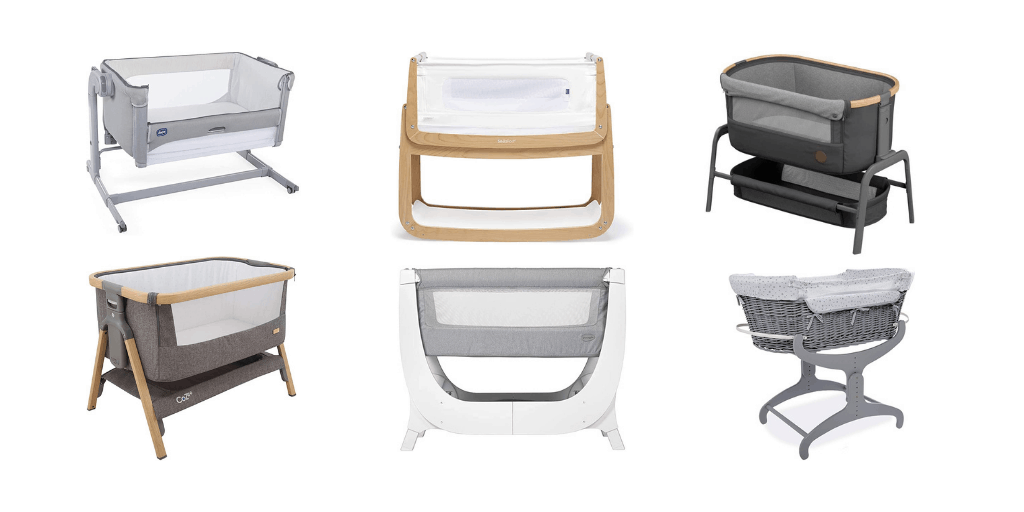 ---
The safest place for your new baby to sleep in the first six months, is on their own sleep surface, in the same room as you.
Having a bedside crib means your baby can sleep right next to you at night, but still in the safety of their own crib.
Bedside cribs usually have a dropside function which enables you to lean over and easily pick your baby up when feeding at night. You can also easily comfort your baby if you need to and get a good view of them while they sleep.
We've put together our top picks of the best bedside cribs, all of which have excellent customer reviews with a majority of 4-5 star ratings.
Looking for the perfect choice of clothing for baby at bedtime? Check out our buyer's guide on the best baby sleepsuits and baby blankets.
Mums-to-be or new parents will also find our guide to the Top 100 Baby Products super useful.
So here is my list of the the best bedside cribs.
Best Bedside Cribs
Chicco Next2me Magic Bedside Crib
---
Maxi-Cosi Iora Co-Sleeper
Discount - Save £28.50
---
Tutti Bambini CoZee® Bedside Crib
Discount - Save £24.17
---
Snüz SnuzPod 4 Bedside Crib
Discount - Save £40.00
---
Shnuggle Air Bedside Crib
Discount - Save £70.95
---
Clair de Lune Grey Bedside Crib
---
Today's Top Deals & Bestsellers
What To Consider When Buying A Bedside Crib
How Long Will My Baby Use A Bedside Crib?
You will only need to use a bedside crib for the first six months of your baby's life.
Type Of Bed You Have
If you have a divan bed, you won't be able to use a bedside crib with legs that tuck under your bed, so you may have to opt for a model which has legs which are foldable.
You also need to consider the height of your bed and whether the bedside crib will sit alongside your bed at the right height. Most bedside cribs have adjustable heights so this shouldn't be too much of a problem in most cases.
Always check there is room for the crib alongside your bed too.
What Type Of Crib Mattress?
It is always important to have a flat and firm mattress for your newborn baby. This is for a matter of safety. Most bedside cribs come with a suitable mattress already, but if you are getting a second hand crib, always purchase a new mattress to go with it.
Is It Portable?
Will you be moving the crib from room to room or do you travel a lot and will you want something you can take with you? There are some bedside cribs which are easy to transport and others which stay in one place, so make sure you check first.
Are Bedside Cribs Safe?
Make sure you are buying a bedside crib which complies with UK safety requirements. Always check manufacturers guidelines.
When using a bedside crib you need to make sure there is no gap between adult's and baby's mattresses. Baby's mattress should be breathable, firm and flat and sit snugly in the crib.
Since the Back To Sleep campaign was launched in the UK 30 years ago, SIDS [Sudden Infant Death Syndrome] has fallen by 80%. It is recommended you always put your baby to sleep on their back.
It's always important to use a new mattress for your baby. Most bedside cribs come with a mattress as standard, but if you are using a second hand crib, you should buy a mattress to go in it which is the correct size for the crib.
Always put your baby in the feet-to-foot position, which will reduce the risk of them wriggling down under their blanket.
---
I hope this list of the best bedside cribs was helpful.
If you think I left any out that should be included or have a suggestion for a future article, let me know in the comments below.
Nicola
Baby Products – Buyer Guides
Sleeping & Nursery
Feeding
Toiletries & Nappy Changing
Clothing
Travel
Playtime
Baby Extras