For this post, I have put together a collection of the best biodegradable nappies. Wondering what to buy for your newborn baby? Get Our Ultimate Newborn Baby Checklist.
Our Top Picks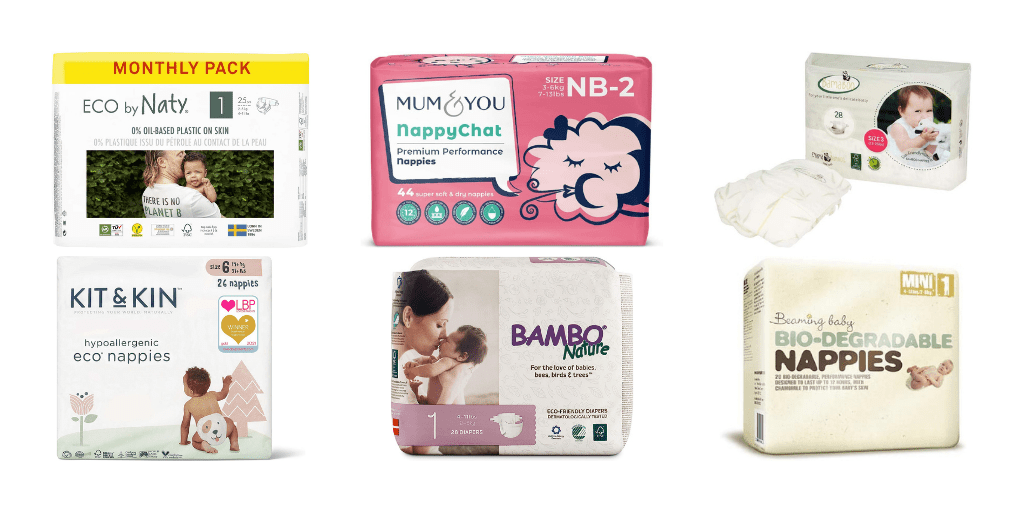 ---
If you're looking for eco-friendly nappies which are kinder to the environment and biodegradable, there are a range of options out there.
See our picks of the best biodegradable nappies. All of our recommendations have excellent buyers reviews and 4-5/5 star ratings.
Also check out our buyers guides to the best baby changing mats and nappy bins.
So here is my list of the best biodegradable nappies.
Eco by Naty Baby Nappies
These nappies have no oil-based plastic and are super soft to the touch.
The plant-based fibres make the nappies breathable and provide a comfortable fit.
They consist of mainly wood pulp that is highly absorbent so it keeps baby's skin dry and protected.
Hypoallergenic and dermatologically tested, they are also free from fragrances, chlorine, bleaching, latex and lotions so much kinder to the environment.
Another added bonus is they are also Vegan friendly.
Good reviews. From 622 ratings 68% of buyers gave this 4-5/5 stars.
Kit & Kin Eco Nappies
Co-founded by Spice Girl Emma Bunton these disposable nappies top layer, outer lining, leg cuffs and packaging are all made from sustainable materials and the factory they are made in is also carbon neutral.
Every nappy purchased gives back through the Kit & Kin Foundation by helping to protect acres of threatened rainforest around the world and support women and children living in these areas, through education and healthcare.
They are also hypoallergenic so kind to baby's skin.
Excellent reviews. From 34 ratings 84% of buyers gave this 4-5/5 stars.
MUM & YOU Premium Performance Nappychat Eco-Nappies
These disposables are made from certified sustainable forestry, chlorine-free wood pulp and are free from dyes, lotions and latex so they are kind to baby's skin.
The packaging is made from renewable sugarcane so everything about them is biodegradable.
They featuring a wetness indicator to help judge when a fresh nappy is needed.
Very good reviews. From 891 ratings 73% of buyers gave this 5/5 stars.
Bambo Nature Eco Friendly Premium Nappies
Free from harmful chemicals and allergens these nappies can be used during day and overnight.
The fully breathable back sheet will stay dry and comfortable for baby and there is a wetness indicator to show when a change is needed.
The latex free leg cuffs help nappies to stay in place and stop any leaks.
Great reviews. From 2,377 ratings 77% of buyers gave this 4-5/5 stars.
Mama Bamboo Eco-Friendly Natural Bamboo Nappies
These super soft and breathable nappies are made from bamboo layers.
They are antibacterial so reduce nappy rash and irritation.
Great for both day and night as they are super absorbent.
Sustainably harvested and free from alcohol, PVC, Latex, and Phosphates.
Wrapped in cornstarch PLA film for kinder packaging.
Very good reviews. From 24 ratings 77% of buyers gave this 5/5 stars.
Beaming Baby Biodegradable Nappies
Chemical free and gently infused with chamomile, these nappies are ideal for sensitive baby skin or those with nappy rash, eczema or asthma.
Environmentally friendly and compostable, they can break down within four years.
Excellent reviews. From 75 ratings 71% of buyers gave this 5/5 stars.
---
FAQs Biodegradable Nappies
Are biodegradable nappies any good?
Biodegradable nappies contain no/ less chemicals than regular disposable nappies. Plus they are usually free from perfumes, dyes, and bleaching agents so they are ideal for babies with sensitive skin.
Can disposable nappies be eco-friendly?
Biodegradable nappies still take many years to break down in landfill, so what is the benefit, considering their higher price point? Well, firstly is they are made with far fewer harsh chemicals compared to other nappies, so this is kinder for the environment and for your baby's skin. They also made from more renewable resources and also tend to be made more ethically.
Cheap Biodegradable Nappies & Today's Bestsellers
I hope this list of the best biodegradable nappies was helpful.
If you think I left any out that should be included or have a suggestion for a future article, let me know in the comments below.
Nicola
Baby Products – Buyer Guides
Sleeping & Nursery
Feeding
Toiletries & Nappy Changing
Clothing
Travel
Playtime
Baby Extras