For this post, I have put together a collection of the best cots and cot beds for babies currently available. For all my recommended baby product guides, with top picks, see my list of newborn checklist.
Our Top Pick
My top pick is the Boori Eton Convertible Plus Cot Bed, Wood as it converts into a toddler bed and then even transforms into a full adult-sized double bed & cosy sofa!
Show Today's Top Deals
These are today's top deals and bestsellers for cot beds.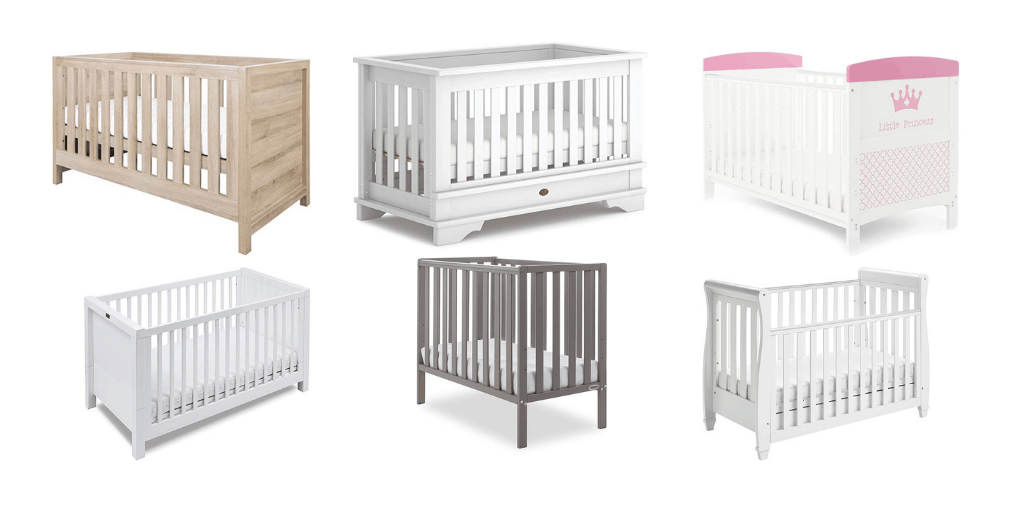 ---
When it comes to finding something for your baby to sleep, the choice you make really will depend on what works best for you and the space you have at home.
Related: Also see my guide to the best moses baskets and baby blankets.
We've put together our top 10 picks of the best cots and cot beds on the market, most of which have excellent customer reviews with a majority of 5/5 star ratings.
Mums-to-be or new parents will also find our guide to the Top 100 Baby Products super useful.
So here is my list of the the best cot beds and cots.
Best Cot Beds For Babies
Boori Eton Convertible Plus Cot Bed, Wood
Cot bed crafted from chunky solid wood with minimal detailing.
It converts to a toddler bed suitable from birth to 5 years. (Toddler Guard Panel available separately).
Also transforms into a full adult-sized double bed & cosy sofa. (Conversion kit available separately).
Makes it the cot bed with the most longevity from our list.
It has 2 base heights. High base for newborns and low base for when baby is able to pull themselves up.
Mattress required must be 132cm x 70cm (sold separately).
---
Tutti Bambini Modena Nursery Cot Bed
Beautiful contemporary cot bed combining classic wood finishes with modern white detailing.
The cot bed turns into a toddler bed and sofa bed making it the perfect choice to grow with your little one.
Suitable from birth up to approximately 6 years.
Three-position mattress height with fixed side rails.
Requires 70x140cm mattress (sold separately).
Parents love this cot bed – 83% of 255 buyers gave it 5 stars..
---
Jacob Wooden Baby Cot Bed
Cot bed made from the sturdy natural pine wood.
Converts to the toddler bed by using the included wooden barrier so no separate purchases necessary.
Large covered drawer on runners for extra storage space in the nursery.
There are three mattress base positions which provide easier and safer access to baby as he/she grows.
Includes deluxe 6cm foam mattress with antibacterial and hypoallergenic Aloe Vera cover.
Available in colours; white, grey and mint.
Parents absolutely love this cot bed – 76% of 1,278 buyers gave it 5 stars..
---
Silver Cross Notting Hill Cot Bed
Sleek and stylish cot bed with a classic glossy white finish.
This cot converts quickly and easily into a toddler bed that is suitable up to approximately 4 years.
With three base heights; New-born, intermediate, and the bottom setting for older babies.
Compatible with a size 400 mattress and all Silver Cross True Fit mattresses. Mattress size: 140cm x 70cm.
---
Babymore Eva Sleigh Cot Bed
Discount - Save £40.00
Traditional looking sleigh cot bed.
Easily converts to junior bed, sofa and day bed.
Suitable from birth to approximately four years old.
The single handed drop side mechanism allows easy access to your baby.
Three different base heights to suit your baby as they grow.
Available in colours; dark brown or white.
Require UK standard cot mattress size – 120 x 60 cm (not included).
Parents love this cot bed – 84% of 117 buyers gave it 4-5 stars..
---
Steens Cot Bed with Whitewash
Solid pine whitewash cot with shaped backboard detail.
Its compact design is ideal for smaller rooms or for simply freeing up some floor space. H 98.4cm x W 156cm x D 76.4cm.
The open slatted ends and sides are perfect for watching over your little one.
Three different height settings.
Converts to toddler bed.
Parents love this cot – 80% of 61 buyers gave it 4-5 stars..
---
Obaby Grace Inspire Cot Bed
Discount - Save £18.00
Cot bed with cute illustrations on the bed end which will add character to any nursery.
Turns into a cute toddler bed.
Adjustable 3 position base height.
Available in four different designs including; Little Princess, Little Prince, Little Sailor and Unicorn.
Requires mattress measuring 140 x 70cm, available separately.
Parents love this security monitor – 86% of 114 buyers gave it 5 stars..
---
Baby Elegance Travis Baby Cot Bed with Mattress (Argos)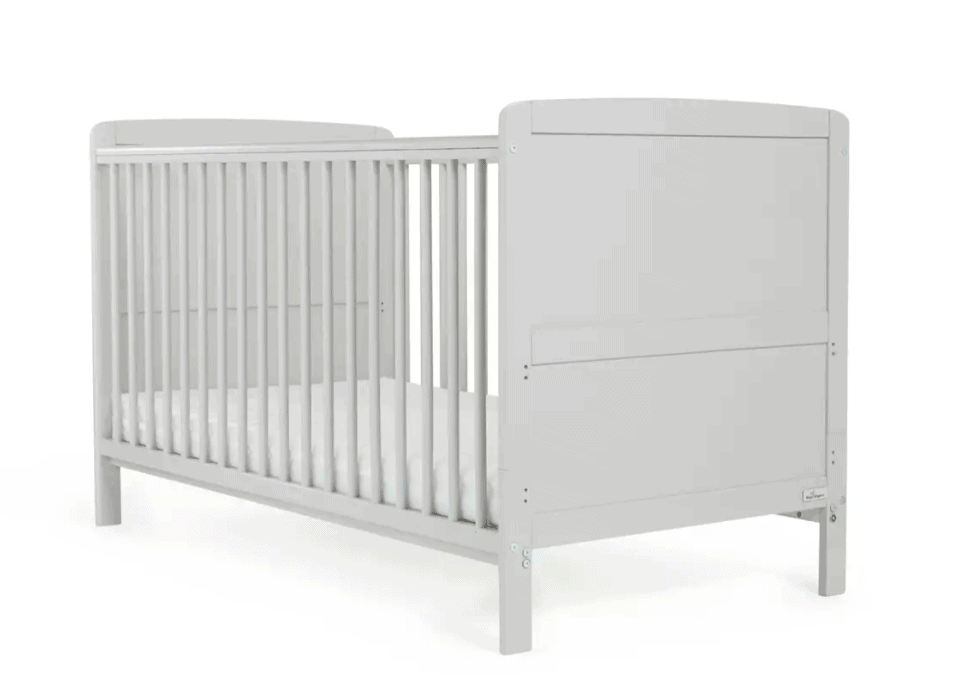 Traditionally styled cot bed with a solid pine grey finish.
Suitable from birth until 4 years.
Cot bed has fixed sides and three mattress base heights; when your baby is small, the higher level allows you to easily lift them in and out.
Excellent customer reviews with average 4.7/5 star ratings.
---
Best Cots For Babies
Obaby Bantam Space Saver Cot
Space saving cot for rooms with limited space.
Requires mattress measuring 100 x 50cm, available separately.
Available in grey, taupe grey and white.
Three position adjustable base to ensure your little one is safe and secure from birth to approximately 18 months.
Parents love this cot – 82% of 97 buyers gave it 5 stars..
---
Vox Vintage Baby Cot (Cuckooland)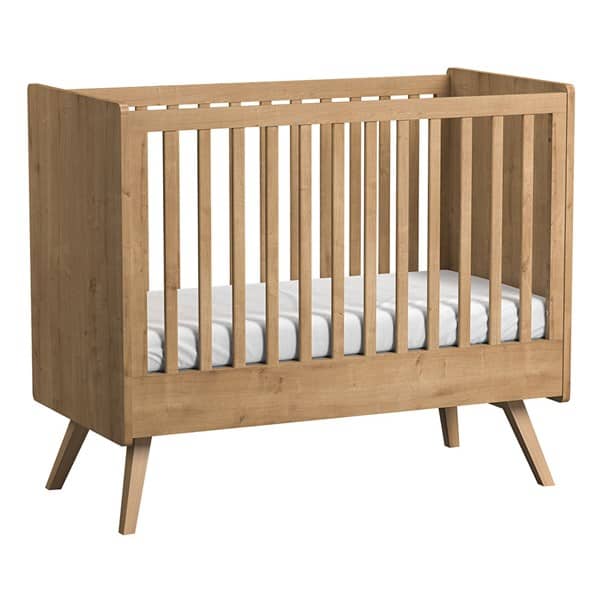 Gorgeous retro style cot.
Made or high quality laminated board with solid oak legs.
Base can be adjusted to three different heights.
Would team well with other Vintage (style) pieces.
Cot Mattress size 60 x 120 Cm (sold separately).
Cuckooland furniture has average 4.7/5 star ratings on Feefo.
Today's Top Deals & Bestsellers
Should I choose a cot or cot bed?
Most cots on the market tend to be cot beds these days as they are more versatile and last for longer that a standard cot.
A cot bed will grow with your baby into their toddler years. Some cot beds even convert to adult sized beds so you really do have all the options available to you.
A cot is probably a better choice if you're limited for space, as they can be smaller.
Which mattress should I buy?
The mattress you opt for will all depend on what size cot you buy. Some cots and cot beds come with mattresses but others are sold separately. It is extremely important that you buy the correct size mattress for your cot. You do not want gaps around the sides.
Should I get a Moses basket or bedside crib before I put my baby in a cot?
The Lullaby Trust recommends babies sleep in a traditional cot, crib, co-sleeper cot, Moses basket, a baby box or a sleep pod in the same room as parents for the first 6 months.
Usually due to space in the parents room a smaller crib or Moses basket is a more suitable option for baby's first few months.
Bed sharing with your baby is not recommended.
---
I hope this list of the best cots and cot beds for babies was helpful.
If you think I left any out that should be included or have a suggestion for a future article, let me know in the comments below.
Nicola
Baby Products – Buyer Guides
Sleeping & Nursery
Feeding
Toiletries & Nappy Changing
Clothing
Travel
Playtime
Baby Extras