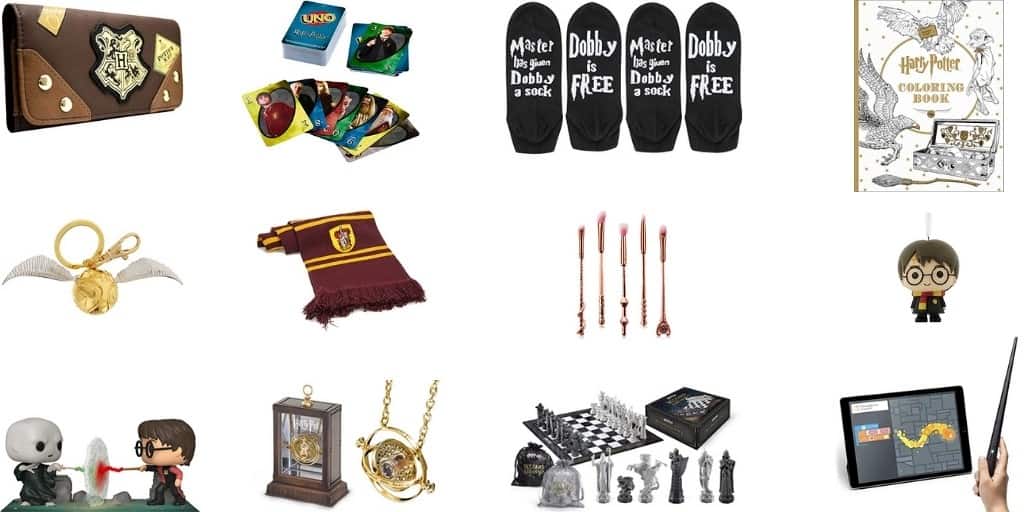 Looking for that perfect gift for a Harry Potter fan?
Fear not! We have 29 of the best harry potter gifts you can buy for a Potterhead fan, old or now.
From invisibility cloaks to onesies, these are the perfect presents for any magic-loving adult or child.
Let's get going!
The Unofficial Harry Potter Cookbook
No products found.
No magic required to make these delicious treats featured in the movies and books.
Over 150 recipes explained in great detail and what book and chapter they are from.
Includes a how to for the tasty butterbeer.
Harry Potter Coding Kit
Fantastic fun and educational gift for those interested in science and technology.
It's an excellent way for children to learn how to code.
They'll build a wand that lets them learn magic spells on their tablet.
It's a lovely present that is also a great introduction to coding for adults.
Harry Potter Ornament
Harry Potter Invisibility Cloak Deluxe Version
Designed just like the invisibility cloak from the movies and this deluxe version feels like it too!
Prepare to be amazed and it's certainly magical to see their faces as they see themselves become instantly visible.
All you require is your phone placed on the tripod included along with the free app to start your disappearing act.
Starry Night Castle Print
Beautiful interpretation of Van Gogh's 'Starry Night' with the Hogwarts Castle in the background.
This print poster is 8 x 10 inches and does not come with a frame.
Browse more Harry Potter Wallpapers
Leaky Cauldron Purse
No products found.
Striking unique design on this purse with lots of room for cash and cards.
Includes 12 card slots and two slip pockets.
Uno Harry Potter Card Game
Like a game of Uno and a Harry Potter fan?
Great, affordable gift with cards featuring all your favourite Harry Potter characters and symbols.
Handy game to take with you on the next car or train journey.
Funko POP Harry Potter VS Voldemort
Lovely collectible for Funko POP and Potter fans.
The figures stand 10cm tall and come in a window display box.
Lots of other Harry Potter characters to choose from.
Hermione's Time Turner Necklace
Channel your inner Hermione who uses a time turner to double book her timetable and cram in extra classes.
Has excellent attention to detail and comes with a display box so you can still enjoy this timepiece when it's not being worn.
Dobby Socks
Good quality, cute and cosy socks with Dobby quotes on the bottom.
Two pairs included.
Quotes 'Master has given Dobby a sock' and 'Dobby is FREE'
See my guide to the best socks.
Gryffindor Fleece Hooded Bathrobe
Harry Potter Makeup Brushes
Lots of companies selling these brushes but these come very well reviewed.
These are heavy in weight and look great.
Perfect for any beauty lover who understands that makeup wands are as important as regular wands.
Harry Potter House Crests Pint Glass
This souvenir pint glass is the perfect vessel for your favourite brew, Butterbeer or Muggle beer.
Features a description of each Harry Potter house.
Well made sturdy glass nicely boxed.
Harry Potter Colouring Book
Excellent fan colouring book that reflects the key events and characters from all seven movies.
Lots of details and so best for ages 8 and up.
Books 1-7 Special Edition Boxed Set
Gorgeous special edition to mark the 20th anniversary in 2018 of the publication of Harry Potter and the Sorcerer's Stone.
Brilliantly redesigned by Caldecott Medalist Brian Selznick.
Out of this world reviews! From 6,232 ratings, 92% gave it 5 stars.
Marauder's Map Throw Blanket
Potter throw with bright graphic and colourful frayed edges.
Size: 48″ x 60″
Outstanding reviews. From 16 ratings, 86% gave it 5 stars.
Harry Potter fans love it's quality for the money.
Hogwarts House Grip
Perfect Pop Socket for Harry Potter fans.
You use them as a phone grip or stand. Can also be used for tablets.
Available in Gryffindor, Hogwarts or Ravenclaw.
Excellent reviews. From 2,464 ratings, 70% give it 5 stars!
Golden Snitch Keyring
Locket keyring featuring the golden snitch from quidditch
It is bigger than people thought so although it does get mixed reviews, the big size is one of the main concerns.
Harry Potter Hogwarts Great Hall Castle LEGO Set
A monster LEGO set with a suitably big price this the set to end all sets.
This measures in at a huge 69x43x58cm when fully built and aims to recreate the film version of the castle.
There's 27 microfigures included.
Other highlights include Dumbledore's Office, Room of Requirement, the Great Hall, Chamber of Secrets as well as separate Hagrid's Hut and Whomping Willow areas.
It is pricey but receives fantastic reviews. From 7,590 ratings, a whopping 91% gave it 5 stars.
Browse more Harry Potter LEGO sets
Wizard Chess Set
Excellent gift for Potter fans and encourage them to learn strategy.
Outstanding reviews. From 557 ratings, 78% gave this 5 stars.
Some buyers are disappointed the pieces are plastic.
Harry Potter Ankle Socks
A five pack of colourful low cut ankle socks.
Shoe Size 4-10
Super popular with great reviews. From over 1,000 buys, 84% give them 5 stars.
Browse my top picks for the best socks.
Harry Potter The Illustrated Collection (Books 1-3)
First three books beautifully illustrated in full colour by Jim Kay.
Amazing reviews. From 6,410 ratings, 95% of buyers gave it 5 stars.
A full-color slipcase featuring red foiled lettering and Kay's brilliant depiction of Diagon Alley completes the package
Harry Potter Wizards Welcome Door Mat
Made from 15mm thick Coir with a durable backing.
Doormat size 40 x 60 cm
Very good reviews. From 89 ratings, 71% gave this 5 stars.
Buyers love the quality for the price.
Harry Potter Scarf
Lots of different types available; bright red &yellow featured, multicolour, red and yellow, yellow and black, blue and grey, green & grey, grey and yellow.
Excellent reviews. From 6,384 ratings, 80% gave it 5 stars.
Harry Potter Golden Snitch Light
Snitch floating inside a tall illuminated bell jar.
Watch the Snitch glisten while brightening up your desk, bedside table, or shelves.
USB Powered.
Measures approx. 20cm tall.
From 3,082 ratings, this scores an average 4.4 out of 5.
Harry Potter Lenticular Movement Notebook
Replicates the infamous Ministry of Magic Wanted Poster from Harry Potter and the Prisoner of Azkaban.
Using high definition, patented video motion lenticular, the image of Sirius Black will appear to come to life when tilted up and down.
Really good reviews. 85% gave it 5 stars.
Harry Potter Gifts (Buyer's Guides)
Looking for the perfect Harry Potter gift? Browse a collection of the best Harry Potter gifts. These cover everything from clothes to toys and everything in between.
If you're thinking about a trip to Warner Bros. Studios check our guide to the best hotels near Harry Potter World. Hogwarts in the Snow is coming back!
Harry Potter Clothes (Where To Buy)
If you're on the look out for Harry Potter clothes for any member of the family – try these sites, the links will take you to any Potter themed clothes they stock. You might even pick up a bargain!