Looking to buy a Sirius-ly good LEGO set?
There are so many to choose from and in this article I cover some of the best Harry Potter LEGO sets and what's good about each. They make excellent gifts for Harry Potter fans.
You'll also be able to browse what Potter LEGO sets are on sale.
Let's get started!
Show Today's Top Deals
These are today's top deals and bestsellers for LEGO Harry Potter.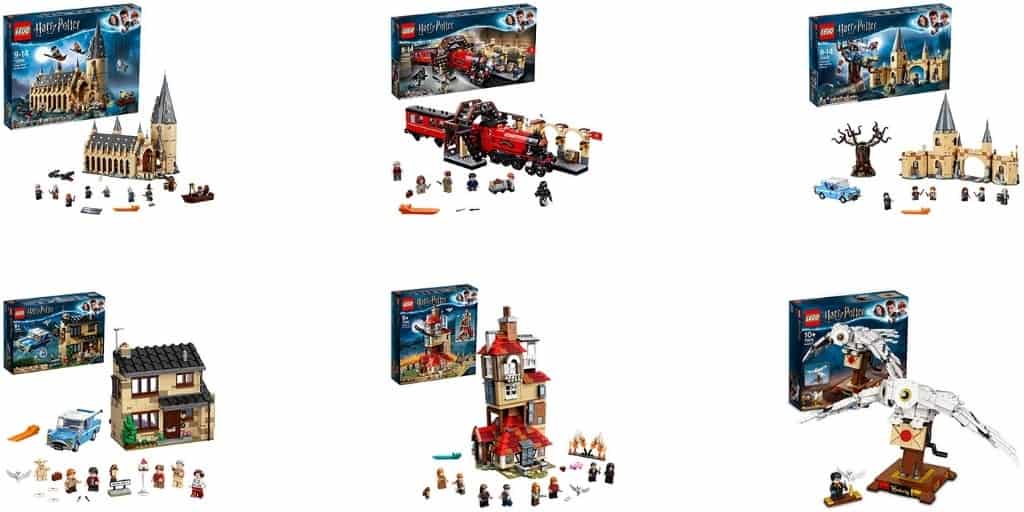 LEGO HOGWARTS GREAT HALL
A monster LEGO set with a suitably big price this the set to end all sets.
This measures in at a huge 69x43x58cm when fully built and aims to recreate the film version of the castle.
There's 27 microfigures included.
Other highlights include Dumbledore's Office, Room of Requirement, the Great Hall, Chamber of Secrets as well as separate Hagrid's Hut and Whomping Willow areas.
LEGO HOGWARTS EXPRESS
Discount - Save £8.00
Fantastic recreation of King's Cross Platform 9 3/4 and the Hogwarts Express.
Good playset for the kids as you can detach the side and roof of the carriage to create a nice little Express train set.
Number of pieces: 801
LEGO QUIDDITCH MATCH
One of the few Harry Potter LEGO sets that is both a lovely display but also provides loads of fun to play with.
Your player characters can fire Quaffle pieces whilst the keeper is moved to protect them scoring in one of the three goal mouths.
Contains lots of iconic pieces and a lovely Golden Snitch.
Number of pieces: 500
LEGO NEWT'S CASE OF MAGICAL CREATURES
Loads of recognisable figures in this Fantastic Beasts set where you build Newt's case that folds into a playset with areas for taking care of the animals within.
Included are five creatures and four film figures allowing kids lots of mileage for recreating their favourite movie moments.
Number of pieces: 694
LEGO HOGWARTS WHOMPING WILLOW
Discount - Save £5.00
Lovely little set that features a three-storey castle section with gate and three turrets.
Inside of this squeezes a Potions classroom, Snape's office and a student dormitory.
There's Harry and Ron in the Flying Ford Anglia and the great Whomping Willow where you can launch the car out of.
Number of pieces: 753
LEGO HARRY POTTER AND HEDWIG BRICKHEADZ
Another great small set where you build large-headed characters for Harry and Hedwig.
Look fab as a display piece and Harry's head is about two inches tall once built.
Little pricey (like most LEGO!) and lots of other characters to collect.
Number of pieces: 180
LEGO ROOM OF REQUIREMENT
A smaller and more budget friendly set, this depicts the Room of Requirement, from Harry Potter and the Order of the Phoenix.
Includes the minifigures Harry, Hermione and Luna Lovegood, along with detailed portraits of the Order of the Phoenix and Cedric Diggory, as well as a sliding secret door.
Number of pieces: 193
LEGO HOGWARTS ASTRONOMY TOWER
Discount - Save £20.04
Depicts the Astronomy Tower from from Harry Potter and the Half-Blood Prince, the location of Dumbledore's death in the movie.
This tower set contains Master Horace Slughorn's office and classroom, a greenhouse with mandrake, as well as the Ravenclaw dorm – an interesting inclusion not seen in the movies.
Number of pieces: 971
LEGO 4 PRIVET DRIVE
Discount - Save £13.00
Get the chance to build the family home in all its glory and characters including Dudley Dursley, Vernon Dursley, Petunia Dursley and Dobby.
There some cool owl figures and Weasley family's flying Ford Anglia.
Number of pieces: 797
LEGO ATTACK ON THE BURROW
Depicts a scene from Harry Potter and the Half-Blood Prince, this features the Wesley clan attacked by the Death Eaters.
The eight minifigures include Arthur, Ginny, Molly Weasley, Fenrir Greyback, Bellatrix Lestrange, Nymphadora Tonks and a pig.
Number of pieces: 1047
LEGO HEDWIG
Discount - Save £5.00
Something a little different!
This is a moving LEGO replication of Hedwig, Harry's owl.
You can animate it by turning a crank on the side which moves her wings (impressive wingspan of 34cm) that hold a letter from Hogwarts.
Together with a Harry Potter and Hedwig minifigure this also makes a great display set.
Number of pieces: 630
Harry Potter LEGO Deals & Today's Bestsellers
Harry Potter Gifts (Buyer's Guides)
Looking for the perfect Harry Potter gift? Browse a collection of the best Harry Potter gifts. These cover everything from clothes to toys and everything in between.
If you're thinking about a trip to Warner Bros. Studios check our guide to the best hotels near Harry Potter World. Hogwarts in the Snow is coming back!
Harry Potter Clothes (Where To Buy)
If you're on the look out for Harry Potter clothes for any member of the family – try these sites, the links will take you to any Potter themed clothes they stock. You might even pick up a bargain!