You really can eat, sleep and breathe Harry Potter if you are a fan! From Harry Potter Christmas decorations and baby clothes to Hogwarts LEGO, there is so much choice out there for Potter heads!
One of our top picks is Harry Potter pyjamas. They're ideal for lounging around at home in or snuggling up in bed and they come in all shapes and sizes for kids and grown-ups alike.
Let's get going!
Best Womens Harry Potter Pyjamas
Harry Potter Women's Pyjamas 2pcs
"Short sleeve top with Hogwarts crest and crew neck.
Long PJ bottoms with Hogwarts lettering and elastic waistband.
Harry Potter Gryffindor PJ's Pyjama's Set
Plush fleece hooded PJ set with Gryffindor logo on front.
Ideal for lounging around at home.
Harry Potter Short Womens Hogwarts Pyjamas
Universal Studios Harry Potter Harry Potter Ladies Pyjamas.
School Of Witchcraft and wizardry design.
100% cotton.
Harry Potter Womens Dressing Gown
This dressing gown comes in the classic Gryffindor burgundy.
Showcases a gold foil motif of all things that a Potterhead will love!
Best Mens Harry Potter Pyjamas
Harry Potter Mens Hogwarts Pyjamas, M, Multicoloured
Mens PJs with Hogwarts logo on T-shirt and checked bottons.
100% Cotton Pyjamas Lounge Pants
Harry Potter PJ bottoms with drawstring waist and cuffed bottoms in a Hogwarts logo print.
Ideal for wearing as loungewear.
INTIMO Harry Potter Adult Men's Raglan Shirt and Plaid Pants Pyjama Set
High-quality set which comes in all 4 house colours and designs, including Gryffindor, Ravenclaw, Slytherin and Hufflepuff.
Official Harry Potter Mens Sizes Pyjamas Grey
Gryffindor Captain PJs set with T-shirt top and long leg pants.
Made from 100% Cotton.
Best Girls Harry Potter Pyjamas
Harry Potter Girls Pyjamas Ages 5 to 13 Years
Girls pyjamas with the Gryffindor Quidditch emblem on top and one of the legs.
Comfy pyjama bottoms with an elasticated waist and cuffs complete this look.
Harry Potter Girls Hogwarts Pyjamas 2 Pack
A magical two pack of PJs.
Long sleeved pair in cream features the iconic Hogwarts logo on the top and short sleeved pair in blue with Harry Potter logo and pretty glittery details on the top.
Harry Potter Girls Gryffindor Nightdress
Cute Harry Potter nightie with a Hogwarts uniform design.
Short Sleeved and 100% Polyester.
Harry Potter Girls Gryffindor Nightdress
Harry Potter nightdress with Gryffindor emblem on the front and Harry's quidditch jersey number on the back.
Long sleeved and 100% Polyester.
Best Boys Harry Potter Pyjamas
Harry Potter Boys Hogwarts Pyjamas 2 Pack
2 pairs of boys PJs.
The navy pjs have the iconic Hogwarts crest on the chest alongside the words "Hogwarts Gryffindor and the grey ones feature a print of the Gryffindor Quidditch team crest on the chest and the words "Quidditch Champion.
Harry Potter 'Hogwarts' Pyjamas Boys Pjs – Sizes 5-12 Years
Hogwarts school bold printed PJs with long sleeves and black bottoms.
Harry Potter Kids Onesie Glow in The Dark
Super soft fleece onesie with zip up front.
Features Harry Potter logos that will glow in the dark.
Place them under sunlight or direct light to recharge and, when in a dark room, see the magic before your eyes.
Full Length Pjs Set Gryffidor Charms Chibi Character Nightwear
Bright, colourful PJs featuring all the main characters.
Harry, Hermione, Ron, Dumbledore, Hagrid, Professor McGonagall and Hedwig all in front of Hogwarts.
Symphony Baby Boys Girls Snuggle This Muggle Bodysuit and Striped Pants Outfit with Hat
Harry Potter inspired baby PJs with Snuggle This Muggle slogan on bodysuit with striped bottoms and a cute matching hat.
Perfect for a little baby boy.
Harry Potter Pyjama Deals & Today's Bestsellers
Where To Buy
Etsy
Selection of Harry Potter pyjamas including personalised options.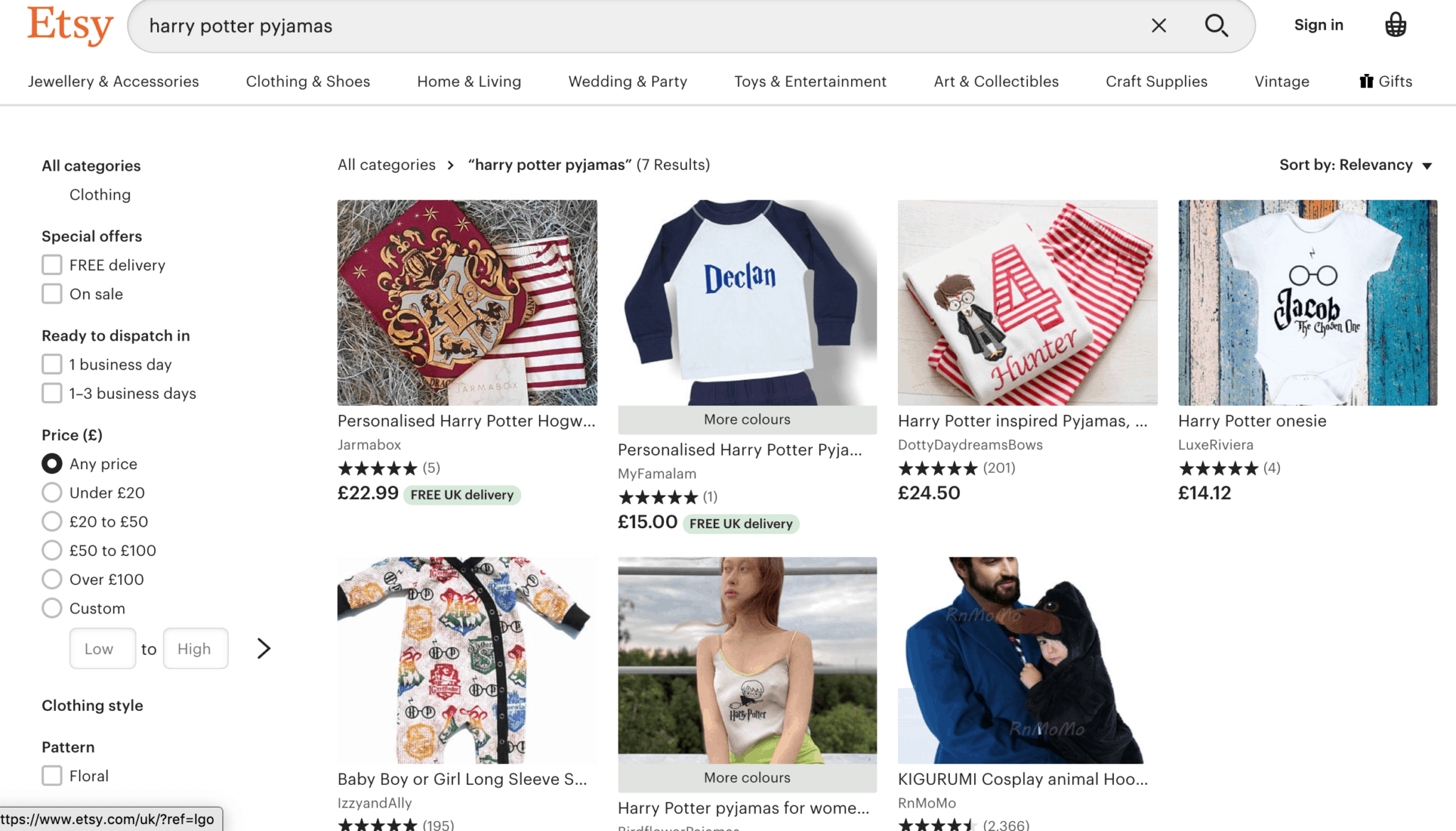 eBay
Good selection of Harry Potter pyjamas available on eBay.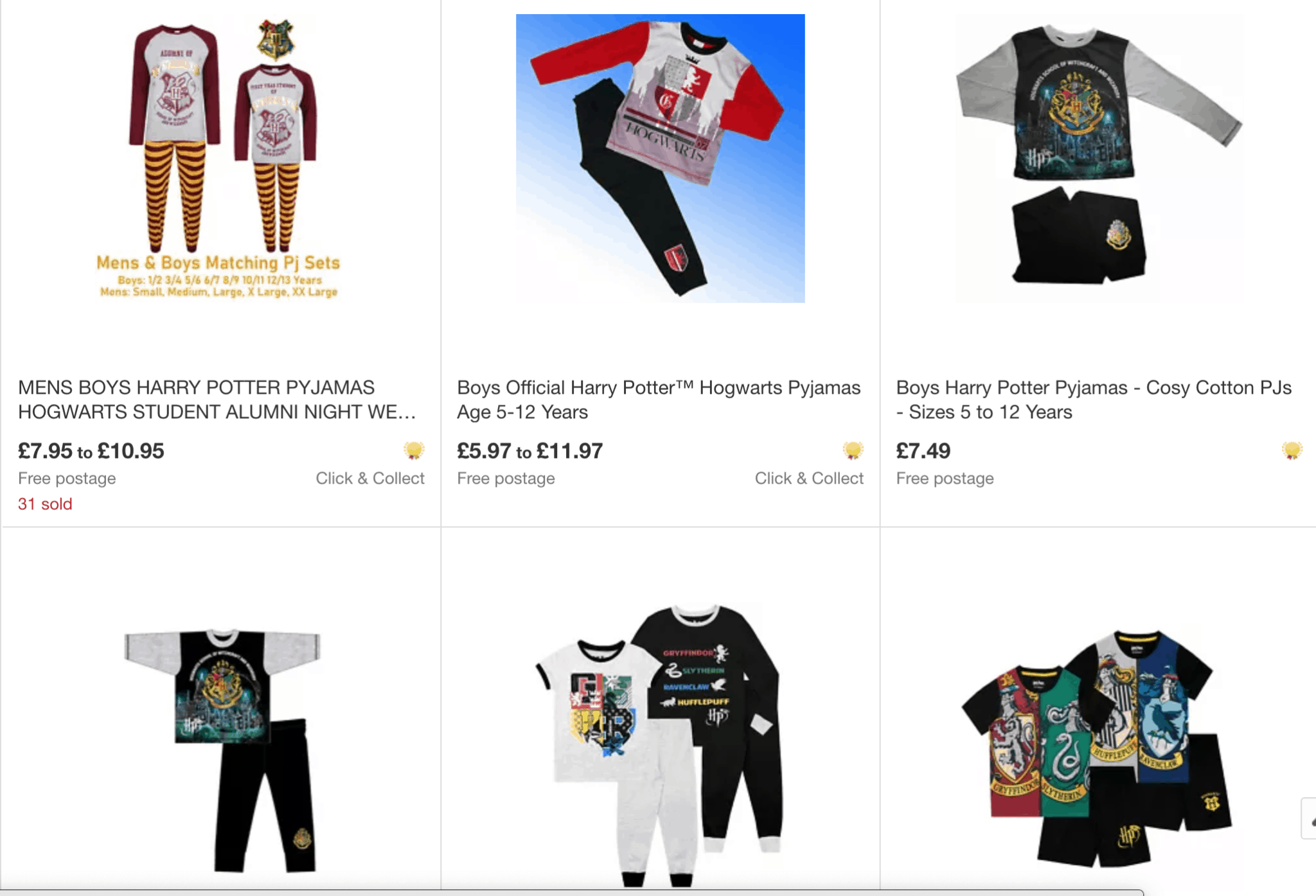 Other Retailers
Harry Potter Gifts (Buyer's Guides)
Looking for the perfect Harry Potter gift? Browse a collection of the best Harry Potter gifts. These cover everything from clothes to toys and everything in between.
If you're thinking about a trip to Warner Bros. Studios check our guide to the best hotels near Harry Potter World. Hogwarts in the Snow is coming back!
Harry Potter Clothes (Where To Buy)
If you're on the look out for Harry Potter clothes for any member of the family – try these sites, the links will take you to any Potter themed clothes they stock. You might even pick up a bargain!