For this post, I have put together a collection of the best kids slides currently available. See my top picks for the best outdoor toys.
Our Top Pick
My top pick is the Mamoi Climbing Frame Triangle & Wooden Slide as it is made of 100% ECO wood, so it is environmentally friendly and also really durable.
It would work well as an indoor slide but it can also be used outdoors as long as it's stored away in a dry and clean place.
Show Today's Top Deals
These are today's top deals and bestsellers for best kids slides.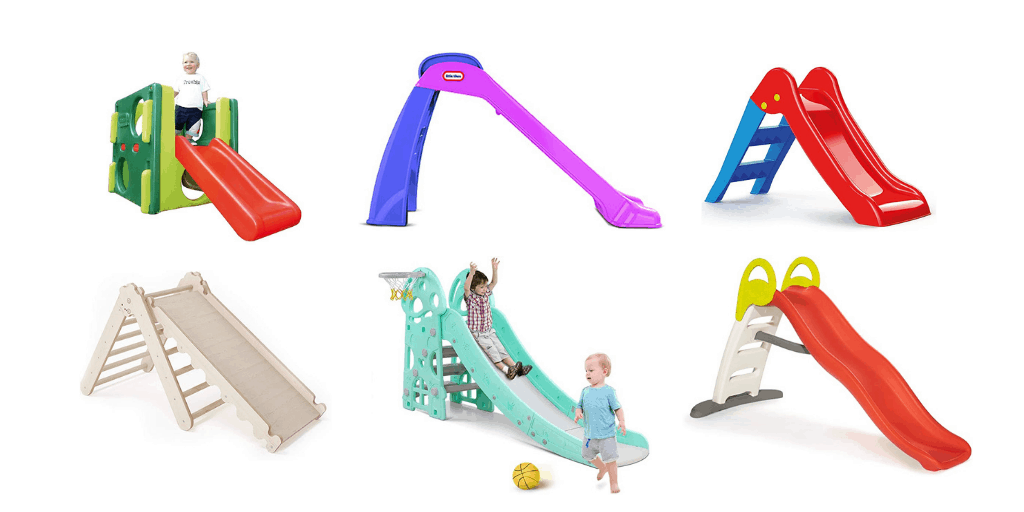 ---
Having a slide in the garden for your little one to play on is a great idea and something they will love.
Whether you're looking for your toddlers first slide or a slide for bigger kids we've put together our top picks of the best kids slides currently available.
All of our recommendations have 4-5 star ratings and excellent customer reviews.
Looking for more garden entertainment for your kids? See our buyer's guides on the best sand and water tables and best wooden playhouses.
So here is my list of the best kids slides.
Best Kids Slides
Little Tikes First Slide
This is a good first slide for your little one. It can be used indoors or outdoors to help promote fitness, balance, and coordination.
Suitable from ages: 18 months – 5 years +.
It has excellent stability for young children with easy to climb stairs and gentle slope.
Nice and easy to assemble with handrails which snap into place.
Steps can be removed without tools for compact storage and moving.
Available in pink and purple/ blue and green/ all pink/ sunshine.
Dimensions; Weight (kg): 5; Height (cm): 69.85, Width (cm): 121.92, Depth (cm): 49.53; Slide Length (cm): 110
Customers recommend this kids slide – 91% of 4,471 buyers gave it 4/5 stars or more..
---
Bamny Kids Slide Outdoor Garden Children Toys for Toddlers
No products found.
Ideal first slide which is suitable for indoor and outdoor use.
With wide steps and a handy handrail plus the high sidewalls provide good support.
The extended tail buffer ensures that the children land softly and protects their butt and spine.
The slide has a basketball hoop to the side of it for extra garden fun.
Easy to install and disassemble.
Available in green and dinosaur.
Not suitable for babies under 10 months.
Size: 103 * 75.5 * 195 cm.
This kids slide has great reviews –

No products found.

.
---
Smoby Large Kids Garden Slide
This 2-in-1 maxi-slide can be enjoyed by your child for years to come.
It is easy to assemble and when your little one is too big for the 1.5m slide, you can easily add the second module to transform it into a 3.75m slide suitable for older children.
It is suitable from age 2+ with a maximum weight of up to 50kg!
Use this slide inside or outside, with or without water for added fun.
Dimensions of toddler slide: 100cm(H) x 112cm(W) with slide length of 150cm. Dimensions of larger slide: 186cm x 112cm(W) with slide length of 375cm.
Easy to assemble.
Not suitable for kids under 2 years of age.
Customers love this kids slide – 90% of 217 buyers gave it 4/5 stars or more..
---
Costway 4-in-1 Toddler Climber and Swing Set
This is a 4-in-1 playing set which includes a smooth slide, safe swing, basketball hoop and climbing ladder.
Ideal as a first swing and slide.
Made from environmentally friendly PE material, the butterfly base can be weighted down with sand or water to increase stability.
The extended buffer zone helps little ones to land softly.
Includes a small size basketball hoop.
There are letter patterns on the ladder to prevent kids from slipping.
Easy to assemble.
Available in pink/grey and green/grey.
Customers recommend this slide – 89% of 34 buyers gave it 4/5 stars or more..
---
Little Tikes Junior Activity Gym With Slide
This first slide features climbing frame too
Suitable from ages 18 months to 4 years.
Helps your child's physical development as they climb, crawl and slide.
Use outdoors or indoors.
The climbing frame features a number of crawl holes , great for scrambling and playing hide and seek.
Easy to assemble without the need for tools; Dimensions: Weight(kg): 14.68, Height(cm): 77, Width(cm): 130, Depth(cm): 76
This slide has excellent reviews – 93% of 449 buyers gave it 4/5 stars or more..
---
Intex Rainbow Ring Play Centre
Not technically a kids slide but this cute paddling pool has a slide within it and its ideal for summer weather.
When the paddling pool has water in it kids can play on the slippery water slide, play the ring toss game as well as ball games.
Water sprayer attaches to garden hose to keep kids cool in summer.
Suitable for ages 2+ years.
Customers really like this paddling pool with slide – 72% of 8,611 buyers gave it 4/5 stars or more..
---
Dolu My First Slide
Discount - Save £0.99
Great value for money, first slide for a toddler.
Made of sturdy plastic. If it is not needed, it can be folded up to save space.
Ideal for the garden, sandpit and children's room.
Dimensions cm: approx. 108x47x70.
Suitable for children from 2+ years-6 years.
Dimensions; 70 x 111 x 70 cm; 4.9 Kilograms.
This slide has good reviews – 85% of 238 buyers gave it 4/5 stars or more..
---
Best Wooden Slide
Mamoi Climbing Triangle & Wooden Slide
A wooden climbing triangle with slide for children which is durable and stable.
The natural eco wood is thoroughly polished and completely free of splinters or burrs.
The product can bear up to 50 kg of weight and is intended for children above 36th months.
Also available with a fabric slide or just the triangle climber on its own.
Pricey but environmentally friendly option.
Customers recommend this wooden slide – 87% of 244 buyers gave it 4/5 stars or more..
---
Today's Top Deals & Bestsellers
---
I hope this list of the best kids slides was helpful.
If you think I have left any out that should be included or have a suggestion for a future article, let me know in the comments below.
Nicola
Outdoors Toys Guides