For this post, I have put together a collection of the best mud kitchens currently available. See all my top picks for outdoor toys.
Our Top Picks
Show Today's Top Deals
These are today's top deals and bestsellers for mud kitchens.


Mud kitchens are the perfect way for kids to get outdoors and get stuck into some messy play.
Mud kitchens can encourage creativity and give the kids a chance to get close to nature and have some fun without the worry of making a mess indoors.
We've put together a list of some of the best mud kitchens out there, as well as some great mud kitchen accessories, so kids can enjoy hours of muddy fun.
Mud kitchens are recommended for children from about 3 years of age.
Related: See my top picks for the best wooden playhouse and wooden play kitchen.
Let's get started!
8 Best Wooden Mud Kitchens
TP Toys TP612 Wooden Deluxe Mud Kitchen
Discount - Save £30.99
This mud kitchen features an oven with door and removable splash tub, a starter set of stainless steel pans and mixing whisk.
Supplied with a refillable water butt and tap, perfect for mud mixing and sand.
The slide over wood cover creates extra cooking zone when extended and a generous black painted hob area with room for up to 4 hobs.
Big blackboard space to record favourite recipes and a roomy under shelf to store pots, pans and mud pies.
Plum 27621 Discovery Mud Pie Kitchen
Discount - Save £6.90
This attractive mud kitchen comes with three tinker pots for paint and plant storage.
There is a built in planter with trellis, outdoor sink bowl and a range or stylish kitchen accessories.
It has an easy clean painting screen for water-based paints and bamboo wind chimes for added sensory play.
Includes colourful paintbrush pens made from sustainably sourced FSC certified timber.
Big Game Hunters Triple Mud Kitchen with Working Tap – Children's Wooden Outdoor Play Kitchen
A large triple Mud Kitchen to maximise creative water and mud play.
The Mud Kitchen includes a working tap which easily attaches to any standard garden hose.
There's also a separate water dispenser which simply lifts off to refill, so adding water to the muddy mixture is easy.
TP Toys TP608 Wooden Early Fun Mud Kitchen
Discount - Save £2.04
This mud kitchen packs lots of activity into a very compact space, so is ideal for smaller gardens.
It features a painted hob area, a serving station, an easy to remove splash tub and a handy storage shelf for the stainless-steel pots and pans set included with the kitchen.
Children's All Weather Mud Kitchen With Pitched Roof – Etsy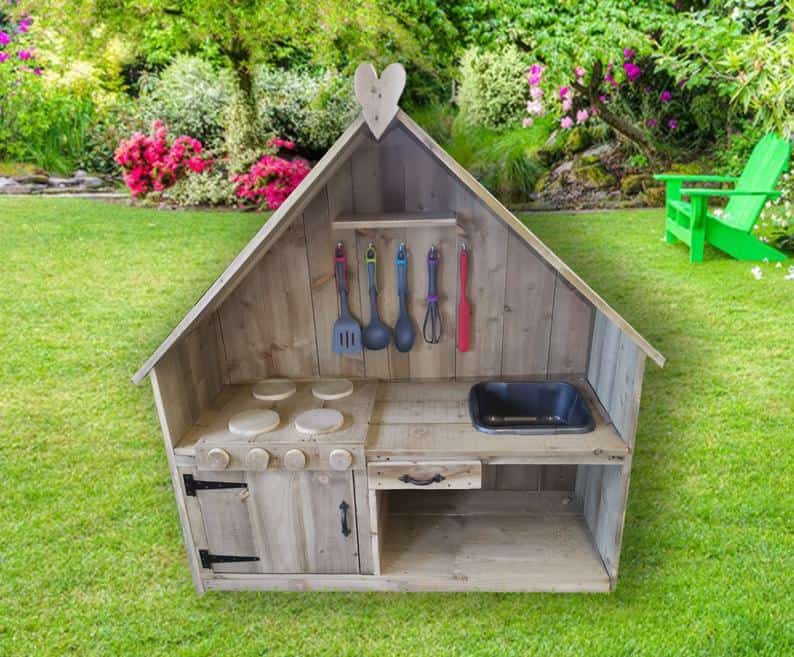 Beautifully made mud kitchen with pitched roof.
Made from durable pressure treated Canadian Red Wood.
With 4 burner play oven and sink and utensils draw.
Pebble Two Bowl Mud Kitchen – Mud Kitchens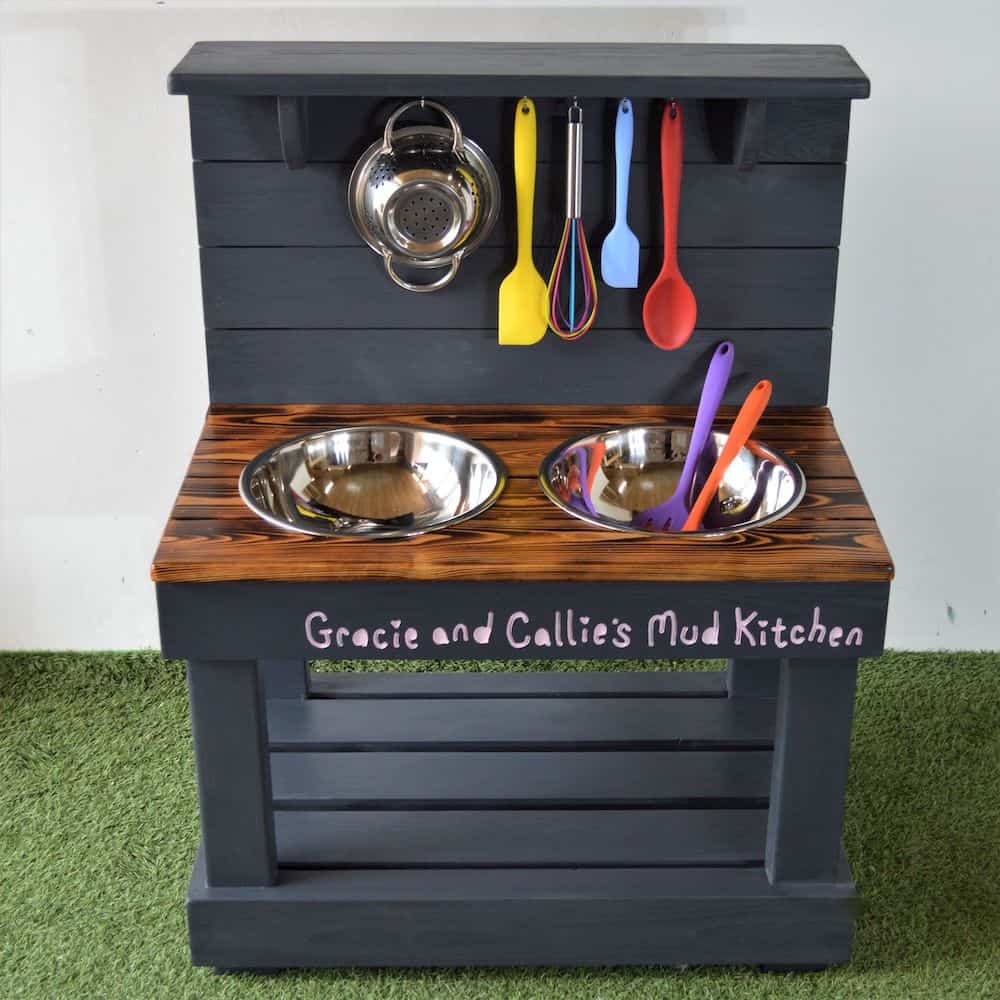 This Mud Kitchen is perfect for younger kids as it's small.
Hand built using responsibly sourced, pressure treated timber, the work surface area is made from high quality birch ply suitable for exterior use.
The mixing bowls and a selection of kitchen utensils are included.
Can be personalised.
Chad Valley Wooden Mud Kitchen – Argos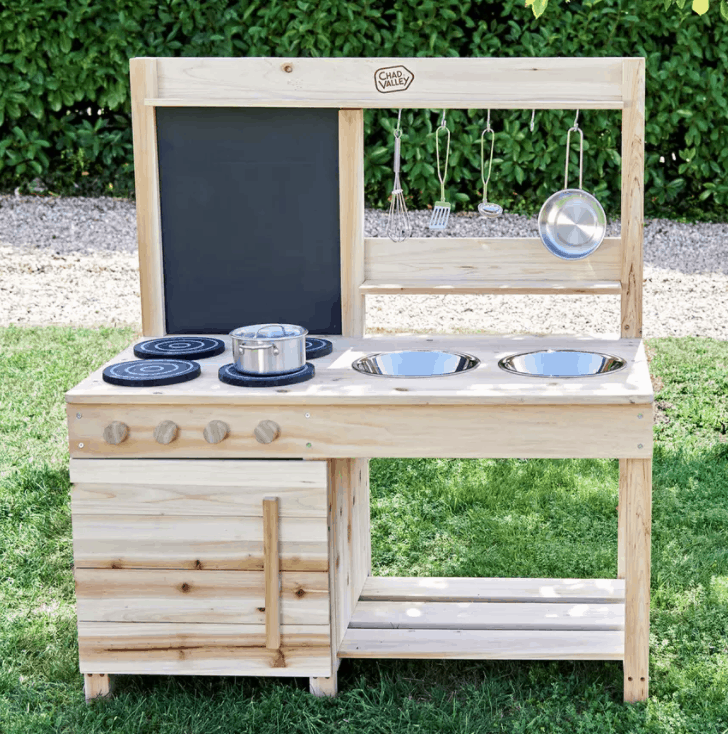 This set comes with a hob, two sinks, an oven and play utensils.
Winner at the 2019 Outdoor Toy Awards.
Great value.
Personalised Mud Kitchen with Water Function – Studio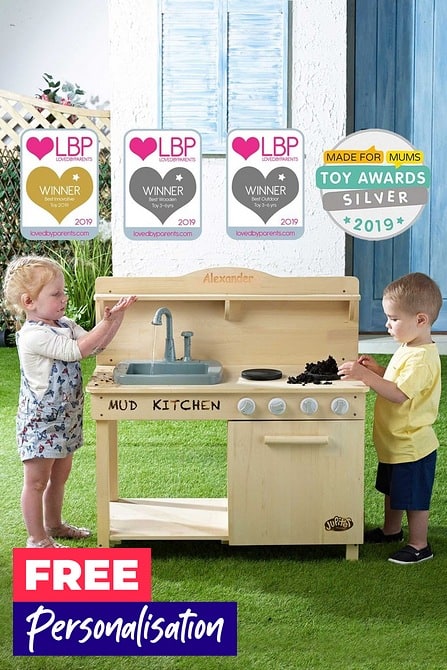 Set includes 2 hobs, 1 sink with running water, 4 clicking dials.
Can be personalised with child's name.
Best Mud Kitchen Accessories
FUQUN 17 Pcs Pretend Play Kitchen Cookware Set
Kid Chef Role Play Set which includes 1 x chef's hat, 1 x apron, 1 x oven mitt, 1 x heat resistant mat, 1 x wooden spoon, 5 x pots and pans with 2 x covers, 5 x cooking utensils.
Plenty to keep the kids occupied at their mud kitchen.
RED OCEAN Personalised Mud Kitchen Sign
High Grade PVC personalised mud kitchen sign for a nice addition to any mud kitchen.
What is a mud kitchen?
A mud kitchen is an outdoor play kitchen for children.
Kids can use it to spend ages playing with mud and water in pots, pans and bowls and making lots of mess.
Most mud kitchens are made of wood so will withstand the elements and can be left outdoors.
How to make your own mud kitchen out of pallets
Today's Top Deals & Bestsellers
I hope this list of the best mud kitchens was helpful.
If you think I left any out or have a suggestion for a future article, let me know in the comments below.
Nicola
Outdoors Toys Guides