For this post, I have put together a collection of the best oversized hoodies currently available.
Our Top Pick
For an oversized blanket style hoodie I recommend this Sienna Hoodie.
It has a soft sherpa lining, giant pockets, multiple colour options and exceptional buyer reviews. 82% give this 5 stars!
Show Today's Top Deals
These are today's top deals and bestsellers for oversized hoodie.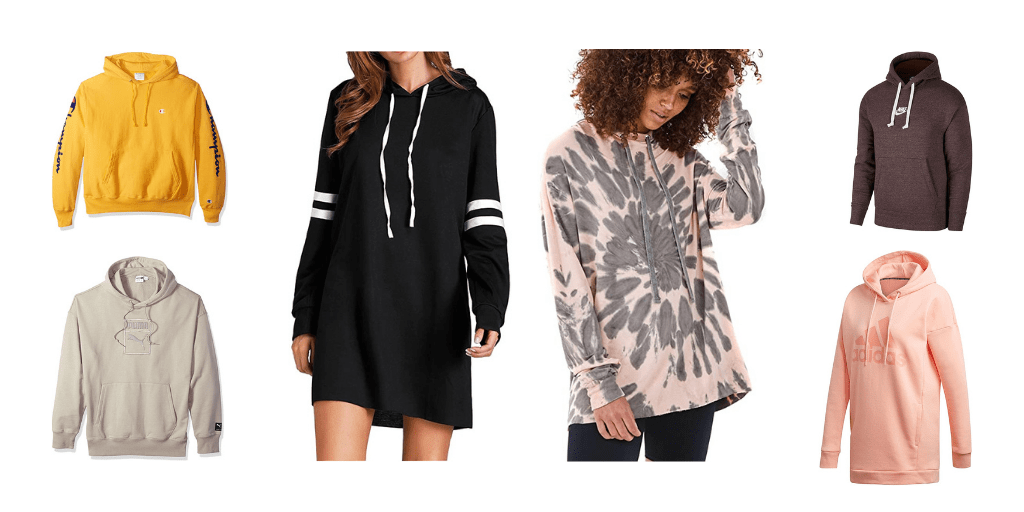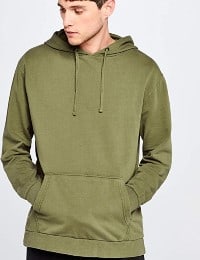 Amazon sell a well reviewed men's cotton oversized hoodie.
It's available in green khaki and navy blue with 84% of buyers giving this 4 stars or more.
---
The oversized hoodie should be a staple garment in everyones wardrobe.
Not only is it functional, it's also stylish and cosy and perfect for throwing on in all seasons.
As well as being a versatile (think lounging on sofa, wearing after a gym session, walking around town or keeping the wind chill off at the beach) there's plenty of occasions where an oversized hoodie will be the perfect garment choice…plus it's bang on trend at the moment too!
We've picked 10 of the best oversized hoodies for men and women.
Let's get started!
Oversized Hoodie Womens – 5 of the best
Sundae Tee Stella Peach Tie Dye Print Hoodie
Cut from their classic soft viscose.
Stella peach tie dye print hoodie is on right trend.
Perfect luxe oversized hoodie for lounging at home or for looking stylish when out and about.
adidas Women's W Mh Bos Oh Hd Sweatshirt
Soft, cotton-blend fabric hoodie with regular cut with Ribbed Cuffs.
Iconic Adidas oversized logo on the front; hood with lanyard.
Regular fit but buy a size up for an oversized look.
Perfect for pairing with sportswear.
MISS SELFRIDGE Women's Loose Fit Yellow Oversized Hoodie
Bright, loose fit hoodie with front pocket.
Crew neck and long sleeved this hoodie would be perfect for summer evenings or festivals.
Flying Rabbit Women's Hoodies Sweatshirt
This is more of an oversized hoodie dress, which can be worn on its own or with trousers or leggings.
Reviews suggest it's comfortable and good value for money.
Ideal for all seasons.
Sienna Hoodie Blanket
These oversized blanket hoodies are becoming more and more popular.
This soft sherpa lined hoodie blanket with elastic cuffs.
Easily accessible two-sided giant pocket.
Perfect for lazy days on the sofa.
Oversized Hoodie Mens – 5 of the best
adidas Men's Trefoil Oversize Hoodie
This timeless Adidas hoodie is made of soft cotton that offers comfort and keeps you dry and warm.
It has a regular fit that offers the right balance of freedom of movement.
It has a hood that offers full coverage and also the hem and cuffs are ribbed for a snug and secure fit.
It is equipped with kangaroo pocket that provides extra storage when needed.
The trefoil Adidas logo is in large on chest for an authentic style.
Champion Men's Reverse Weave Po Hood-Oversized Flock Script Sweatshirt
Champion reverse weave uses a durable rigid material that will last for ages.
The fit itself is bigger than usual but size up if you want it to be even more roomy.
Classic style with brushed fleece lining and ribbed knit trim.
Ideal streetwear.
Amazon Brand – find. Men's Cotton Oversized Hoodie
This affordable 100% cotton oversized sweater comes in a choice of colours.
Team with jeans and trainers for a casual look.
Nike Men's M Nsw Heritage Hoodie Po Jumper
Authentic hoodie for men which revives the classic comfort of the French Terry fabric.
Oversized style, with elongated shoulders and exaggerated cuffs and hem.
Wide fit for a comfortable feeling all over the body.
Kangaroo pocket for convenient storage.
Oversized cuffs and hem for a unique feel.
Comfortable hoodie for relaxing in.
PUMA Men's Downtown Oversize Hoody Hooded Sweatshirt
Neutral coloured oversized hoodie by Puma with front embossed logo and an oversized fit for added coolness.
100% Cotton.
Great for after gym sessions.
Where To Buy Online (Best Retailers)
In our product reviews above I've recommended Amazon as they tend to have the best price and stock levels.
I do recommend checking other retailers such as the following, which cater for both men and women;-
Today's Top Deals & Bestsellers
Family Fun Buyer's Guides