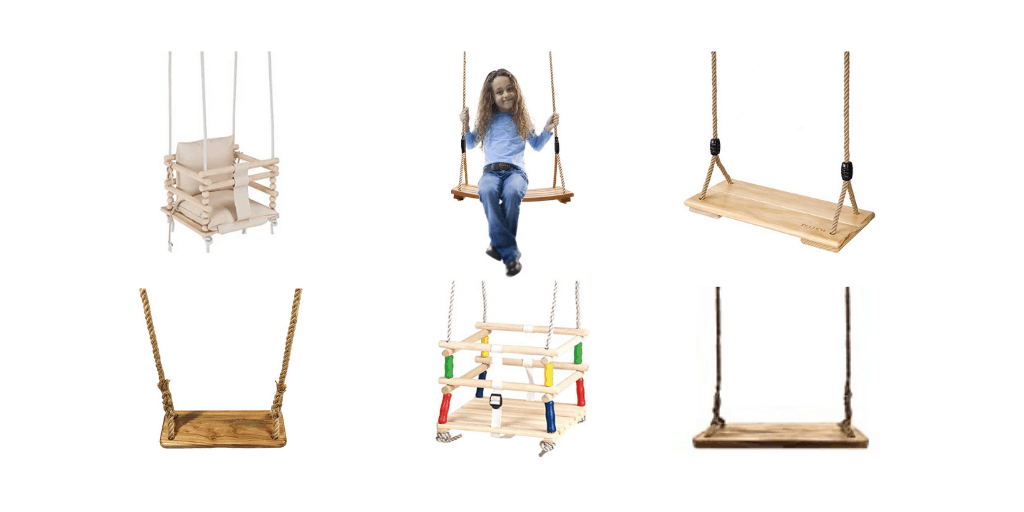 For this post, I have put together a collection of the best wooden swings currently available. See more of my recommended outdoor toys.
Show Today's Top Deals
These are today's top deals and bestsellers for wooden swings.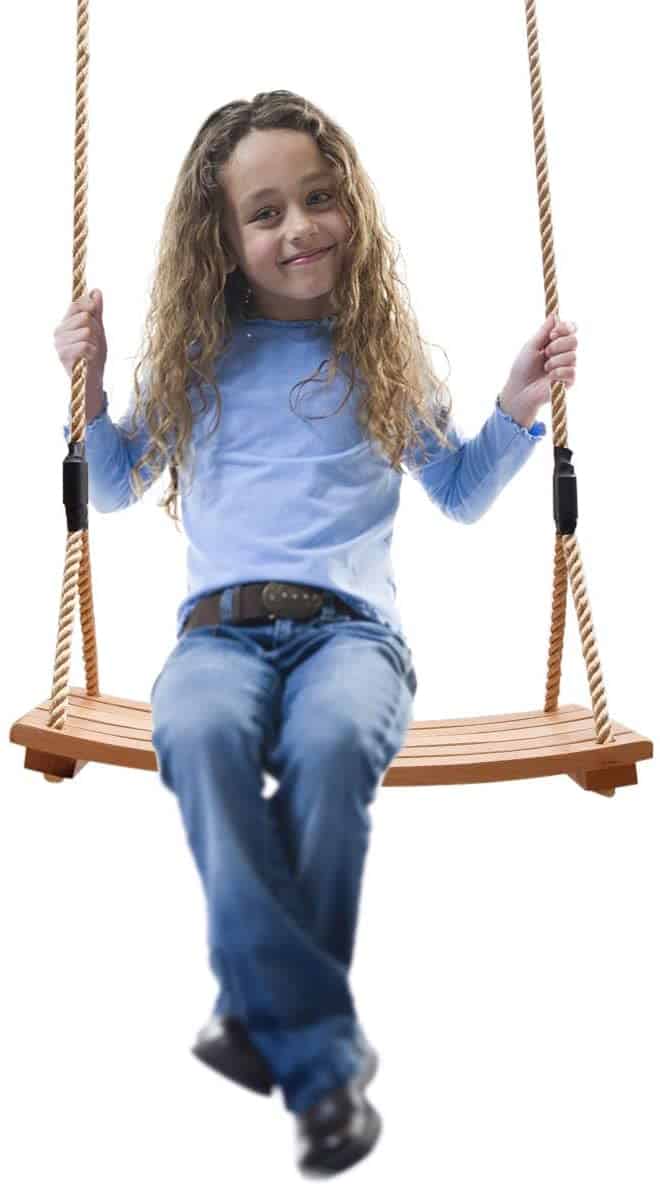 MY TOP PICK:
My top pick is the TALEEKEU Wooden Swing as it is extra wide and has a curved design. It's perfect for kids and adults and can be used in houses, gardens and courtyards.
---
Kids and adults love passing the time on a swing! They add a great fun feature to a tree branch in a garden or they can even be hung indoors, if you have the space.
We've put together our top picks of the best wooden swings.
All of our recommendations have 4-5 star ratings and excellent customer reviews.
Looking for more garden entertainment for your kids? See our buyer's guides on the best kids slides and best climbing frames.
So here is my list of the the best wooden swings.
Best Wooden Swings
Aoneky Garden Tree Swing Seat
Wooden swing for kids and adults.
Adopt wood material providing added security and comfort.
Rustic look, perfect for sitting on it and taking photos.
It can be hung from a tree branch or a beam.
Great for a studio, home or children's bedroom, park or garden.
Great reviews. From 122 ratings 78% of buyers gave this 4-5 stars.
---
Pellor Wooden Swing Seat
Discount - Save £6.00
Swing seat with adjustable rope.
Made of beech and pine wood.
Wood tree swing with 180cm adjustable rope and galvanised metal ring and accessories can easily be hung on the branch or beam.
Big swing chair seat fit for children and adults.
Can hold up to 220lbs.
Positive reviews. From 27 ratings 74% of buyers gave this 5/5 stars.
---
TALEEKEU Wooden Swing
Discount - Save £20.00
Large curved swing.
It can be hung on beams or branches.
Made of high-quality and durable beech wood.
Seat size: 50CMx25CM.
The rope diameter is 1.3CM, the buckle design is flexible, and it can be adjusted up and down 150CM–250CM.
Great for the whole family.
---
ValueHall Wooden Tree Swing seat
Made of high and eco-friendly solid wood and comes with metal rings, expansion screw and thick jute rope.
Perfect for indoor and outdoor play.
Perfect for both average adults and kids, and the maximum load weight of this wooden swing up to 150kg.
Very good reviews. From 58 ratings 77% of buyers gave this 5/5 stars.
---
HIKS Wooden Baby / Toddler / Childs Garden Outdoor Swing Seat
Wooden baby swing seat suitable for ages 9 – 36 months
The ropes are 'welded' together using black polypropylene.
Height adjustable from 1.9 m to 2.5 m from ground.
Ideal for use with swing a frames, wooden climbing frames or tree mounted swings ropes.
30cm x 30cm.
Very good reviews. From 65 ratings 82% of buyers gave this 4-5 stars.
---
MAMOI Baby Swing Set
This swing adapts to the child's height and weight.
You can hang inside or outside, from the ceiling, door frame or use it as a tree swing.
High quality of workmanship ensures comfort and pleasure while using the product.
The seats are made of a soft, cotton material filled with silicone balls.
Very good reviews. From 106 ratings 74% of buyers gave this 5/5 stars.
---
Best Wooden Swing Frame
Wooden Swing Frame (Forest Acorn)
Discount - Save £13.13
This wooden swing frame is easy to assemble.
Recommended for ages 6 months-8 years.
Supplied without a seat.
15 x 153 x 27 centimetres.
Excellent reviews. From 180 ratings 86% of buyers gave this 5/5 stars.
---
Plum Wooden Garden Double Swing Set
Discount - Save £20.00
Wooden double swing is just the right size for two people.
Includes two durable swing seats, which have soft-feel ropes and can be adjusted in height to suit children as they grow.
Wooden frame made from premium FSC certified pine, which has been pressure treated for additional strength.
Supplied with ground anchors to concrete the swing into the ground for additional stability.
Suitable for children aged three years and over.
Very good reviews. From 30 ratings 72% of buyers gave this 4-5 stars.
---
Today's Top Deals & Bestsellers
---
I hope this list of the best wooden swings was helpful.
If you think I have left any out that should be included or have a suggestion for a future article, let me know in the comments below.
Nicola
Outdoors Toys Guides