Keeping the kids busy during a long summer is challenge for any parent, sibling or babysitter.
We're all about holidays and days out but you can't always be going to a theme park, cinema or beach. It gets expensive!
That's why we've pulled together 41 cheap but brilliant ideas from some very creative parents. You might like them too…
Freezy Paints
What you'll need:
shaving cream (or whipped cream if worried about ingesting!)
food colouring of your choice
Do your kids love doodling and expressing their artistic side? A great summer activity, that will keep your kids cool and entertained, is this great freezy paint recipe, made from just two ingredients.
Shaving cream and food colouring are two things that most of us have at home.
If you don't have white shaving cream, any of the pound stores should supply it very cheaply. Let your kids choose the colours they to create, and let them assist you in the process!
Another great tip, if your child is young, and still loves tasting their crafts, you can substitute the shaving cream for whipped cream!
After mixing the different colours and your creams, pop them in the freezer for a couple of hours and voila!
Also, if using on a particularly hot day, keep the paints on ice, to make the cold sensation last longer!
Tape Motorway
What you'll need:
tape (preferably thin and brightly coloured)
carpeted area
toy cars
Toy cars can get lonely without a motorway, so why not make one?
Using tape of your choice, and a carpeted (or even wooden area, though the tape may leave a residue of stickiness) create a system of "roads" for your kids to play on with their cars!
Benefits include the children keeping away from anything that's stored on counters, shelves, etc. and an easy clean up (just remove the tape!).
You can brainstorm a "blueprint" of the motorway with your kids, and include them in the setting up process, to ensure they're happy with the outcome!
Source: Play at Home Mom LLC
Water Marbles
What you'll need:
containers (such as jars)
water
Great activities are ones you can do indoors and out!
These "marbles" are not only a cool way to keep the kids busy, but also a great sensory experience.
You can use the clear marbles, or the other colours available, including glow in the dark, for those warm evenings outdoors!
Source: Just Another Day in Paradise
Edible Water Beads
What you'll need:
containers (such as jars)
water
food colouring
If your children are younger and they tend to "taste" what they play with, a safer alternative to the water marbles are these tapioca pearls.
They come in a variety of colours, are inexpensive and provide your kids with sensory exercise that's super fun!
Source: Blog Me Mom
Sandpaper Printing T Shirts
What you'll need:
sandpaper
crayon colours of your child's choice
plain coloured T Shirt (preferably white or other light colours)
iron
paper towels
Making custom made clothing can be so much fun! The drawing of the design can happen indoors or out, and even on a car journey.
Then the setting of the design can happen later in the day.
Encourage your kids to get creative with their designs!
Source: Alpha Mom
Mickey Mouse Tie Dye Shirts
What you'll need:
100% cotton T Shirt(s) (cotton takes colours the best)
rubber bands
dental floss (not menthol variety!)
clothing dye colours of your choice OR a tie dye kit (which will include a squirt bottle, gloves, etc…)
soda ash (helps the colours set and be more vibrant)
plastic wrap
surface protecting materials (such as old newspapers and black bin bags)
For the Disney lovers out there, creating this T Shirt design will be a blast!
This activity would be great for older children, since you will be using clothing dyes.
If you want to make Minnie, you can improvise the instructions, to add a bow or just pick Minnie-like colours!
Source: Kids Activities Blog
Jelly Play Dough
What you'll need:
Preferably American Jell-O jelly (can be purchased on Amazon) Otherwise jelly of your choice
white flour
warm water
salt
cream of tartar
cooking oil
This is a safe and great recipe for home made play dough! Most of the items can be found in your kitchen cupboard.
Your kids can spend a few weeks playing with this creation!
Store in air tight containers in the fridge. Also, the dough will smell good and is a great sensory learning activity for the young.
Source: Modern Parents Messy Kids
Aqua Sand
What you'll need:
sand (finer sand is best)
coloured sand
fabric protector spray
baking paper
glass vase
water
This easy, prepare ahead of time activity that looks simply magical! The fabric protector spray causes the sand to repel the water, so when your child adds it to water, it looks really cool!
Source: Paging Fun Mums
Retractable Chalks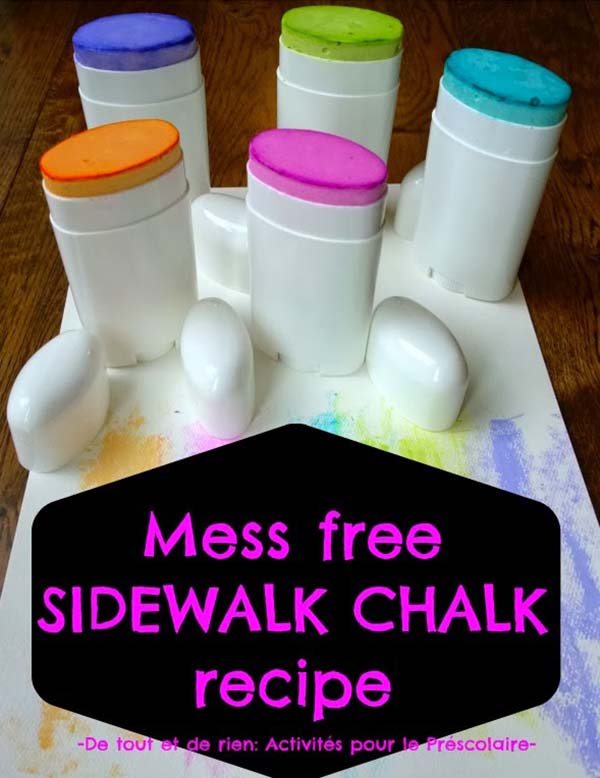 What you'll need:
Plaster of Paris
cold water
liquid watercolour or food colouring
deodorant containers (or molds of choice)
Chalk can be loads of fun, but it can also get messy. This recipe for your very own, home made chalk is not only simple to make, but also mess free!
Kids can use the chalk outdoors, or on paper indoors.
If you choose to use the deodorant containers, they are perfect to bring with you wherever you go, without worrying about it getting all over your things.
Source: De tout et de rien: Activités pour le Préscolaire
Cardboard Box House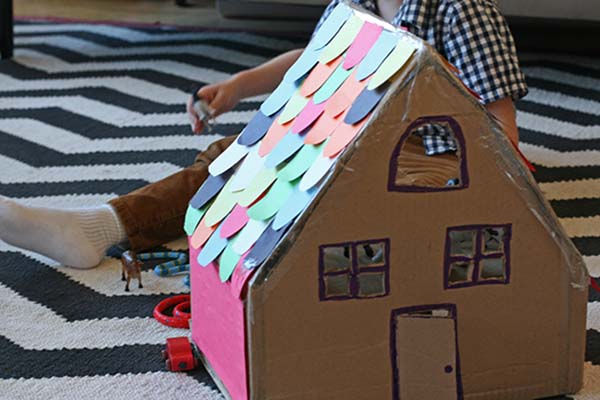 What you'll need:
cardboard boxes
scissors
knife
marker
colorful paper
glue
Any other crafts items your child chooses (glitter, sequins, stickers, etc)
Recycling is not only good for the environment, but also a great way to create activities for your kids.
Once you use the knife and glue to put the house together, let your child decorate it however they like.
This example includes shingles made of colourful construction paper, but they can use their imagination to create a new place to store their toys, a doll hotel, a car park, a doll hospital and more!
Source: Say Yes
Salt Dough Jewellery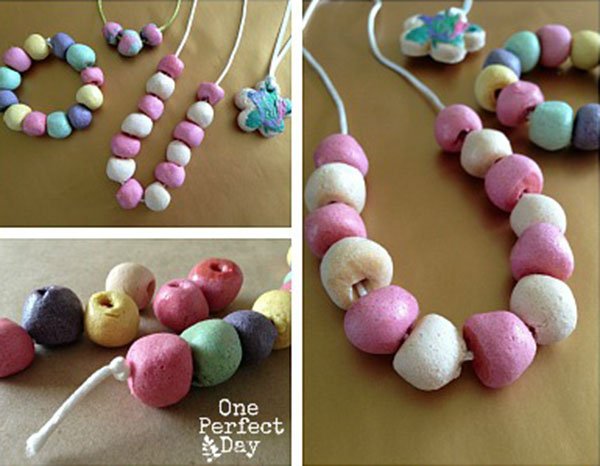 What you'll need:
flour
salt
string or ribbon
plastic knives or cookie cutters
bamboo kitchen skewers and/or toothpicks
paints, glitter, etc
Salt dough is extremely easy to make and versatile. In this case you can use it to make jewellery, either to keep or for your little ones to gift to friends, family or teachers.
The first part of this DIY happens indoors, let's say in the evening, and the decorating and putting the beads on the strings can happen outdoors.
A variation of this can be using cookie cutters that are shaped like bugs, leaves, birds or dinosaurs, and decorating the tree in your garden.
If you do not have a garden, you can turn this into a front door decorative hanging.
It's letting your kids use their imagination, with a bit of your help, to create their masterpiece!
Source: One Perfect Day
Small Ocean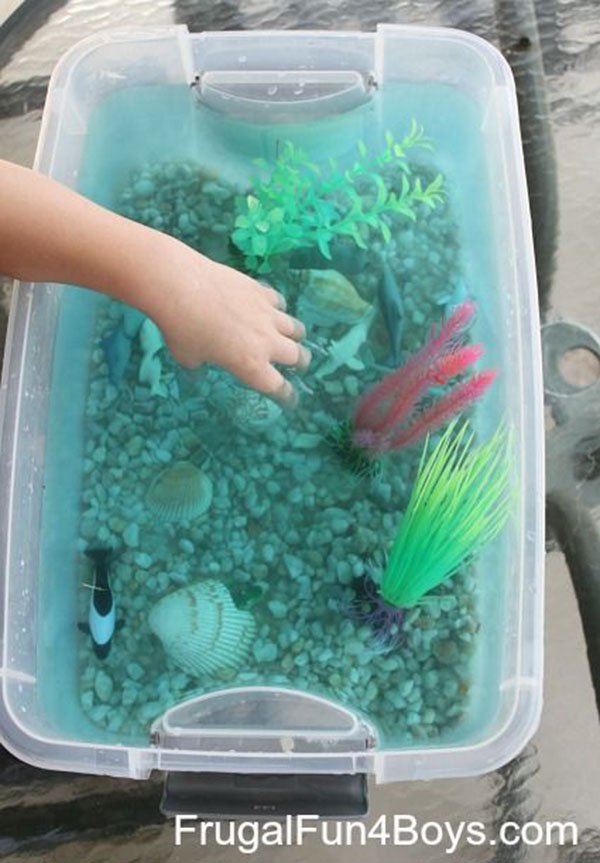 What you'll need:
large clear plastic container
blue food colouring
plastic underwater toys
aquarium plastic plants
small stones for the "bottom of the ocean"
This is a super easy activity to do outside in the garden or for little ones if you're going to the beach, just bring along their favourite toys, container to add water to (you can even use the sea water, no food colouring needed), this would especially be good for the small children who can't swim yet.
They will be able to enjoy the water, safely.
Source: Frugal Fun 4 Boys
Bird Feeder Mobile

What you'll need:
bird food
cardboard tubes (toilet roll ones or others)
small branch/twig (sturdy type, it will hold all the bird food!)
Cheerios or other bird safe variety of cereal
light corn syrup
paintbrush
string
wax paper
hole punch
scissors
Birds need love too. Though it is summer, there are many varieties of birds, and they get hungry!
This simple craft can be done with older children, and then they can try to capture photos of the birds enjoying this edible mobile.
Source: Babble Dabble Do
Sponge Bombs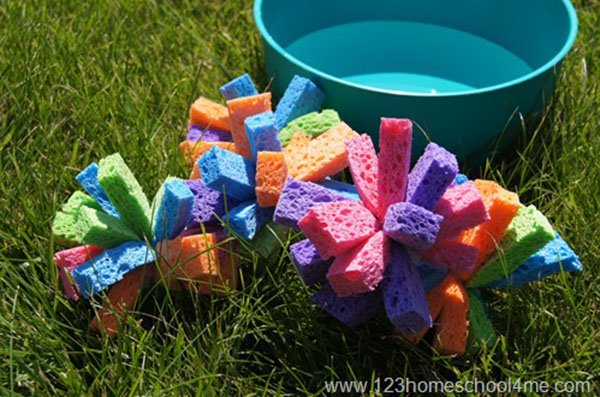 What you'll need:
colourful sponges
cable ties
water
These sponge creations can be enjoyed by kids of various ages, especially on hotter days. Such an easy creation and very cheap fun!
Source: 123 Home school 4 Me
Water Blob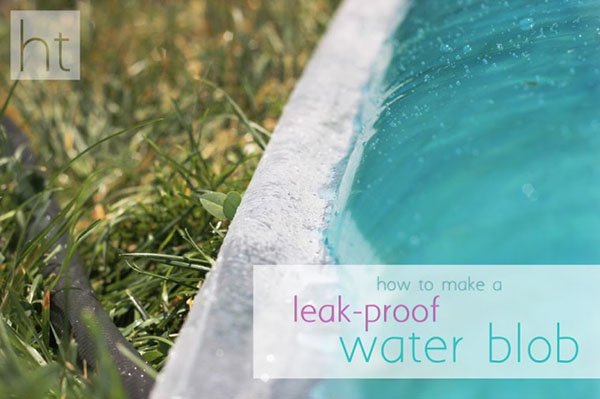 What you'll need:
plastic sheeting (the type used to protect surfaces from paint)
ironing board
ion
parchment paper
duct tape
garden hose
Keeping with outdoor activities, this "water blob" looks loads of fun! Though as a parent, you'll be making this on your own, it seems once it is created, the kids will enjoy it, while you have a little break.
Just in case you think your kids will be devastated if the blob bursts, we would recommend you make two of them, as a backup.
Source: Homemade Toast
Sticky Slime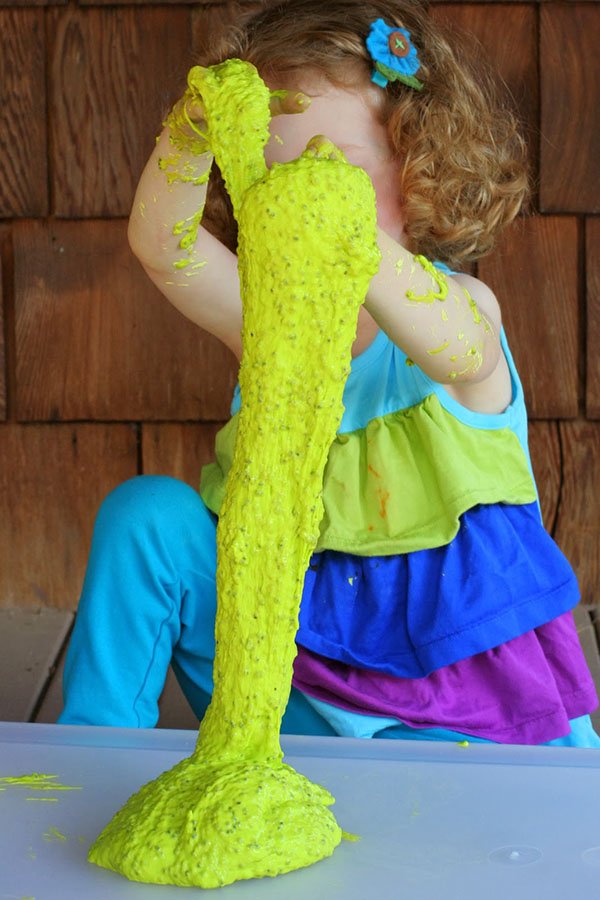 What you'll need:
cornflour
tukmaria (basil seeds)
food colouring
water
This slime is not only really neat looking, but also safe if ingested! You can make a few smaller batches with different colours and let your kids have a go at playing with it.
Source: Fun at Home with Kids
Borax Free Slime-Gak Dough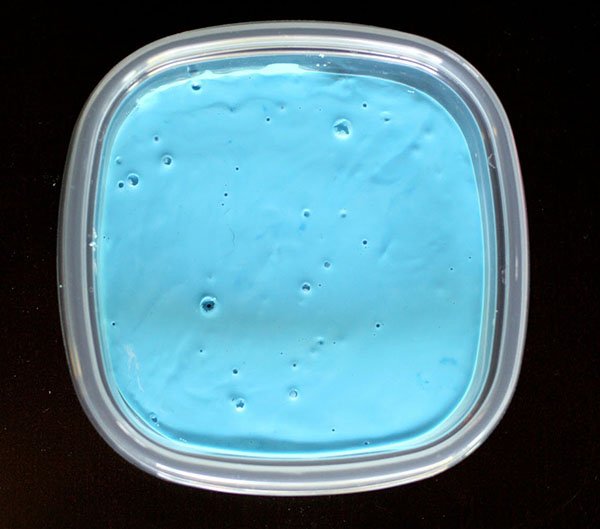 What you'll need:
cornflour
shampoo (or

Almat Laundry Gel Bio or other Bio type detergents)

water
liquid water colours (or food colouring)
Tupperware container
Optional: glitter
This variation of slime is not edible, but looks loads of fun. You can make it any colour your child wants, even add glitter to it! You can store it with a lid until next time.
Source: Fun at Home with Kids
Cardboard Race Cars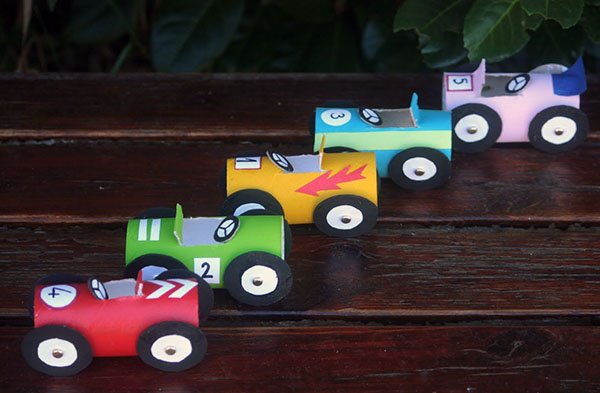 What you'll need:
cardboard toilet roll
paper fasteners
paints of child's choice
markers
sharp scissors
glue
Aside from the cutting and using paper fasteners, your kids can have a part in the decorating of their race cars and then seeing who has the fastest car!
Also, since there's a seat, they can place their Lego toy in there or any other small toy that will fit, to be the driver.
Source: Croissant and Lavender
Cardboard Toilet Roll Planes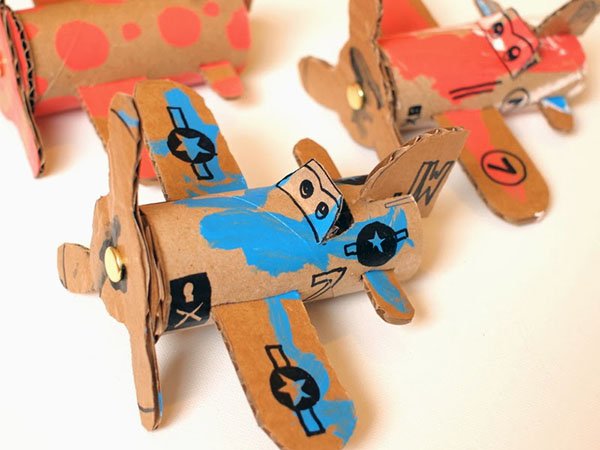 What you'll need:
cardboard toilet rolls
corrugated cardboard
scissors
exacto knife or another sharp variety of cutting tool
round head fasteners
paint/marker/crayons/etc… (for decorating)
paint brushes
hot glue gun or very strong bonding glue
scrap paper
If your kids fancy making planes instead of cards, voila! Here's a fun craft for this as well. After finishing up, and all the decorating dries, these planes can go anywhere with your little one, and will keep them entertained on the go!
Once you've done all the cutting and gluing, your kids can decorate the planes to their liking.
Source: Pink Stripey Socks
Neighborhood Treasure Hunt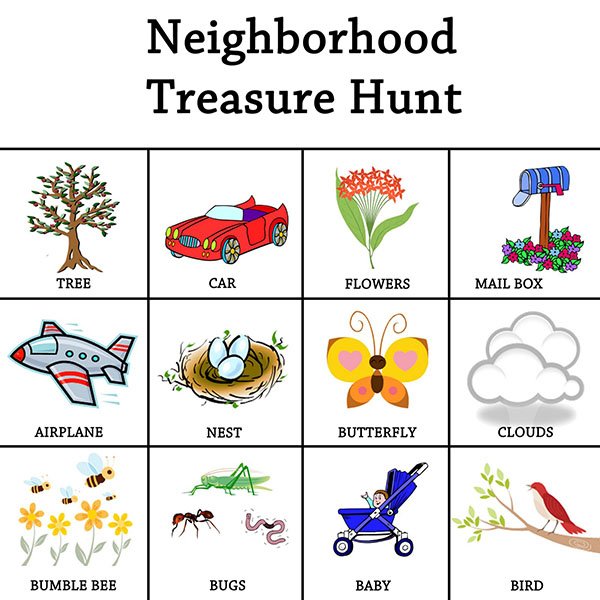 What you'll need:
This can be done in many different ways, with variations such as bugs, birds, plants, etc. This is also versatile and something you can easily create yourself and print out!
Once they're done, you can reward them with a favourite treat or a trip to the movies.
Source: While He Was Sleeping
Sponge Bullseye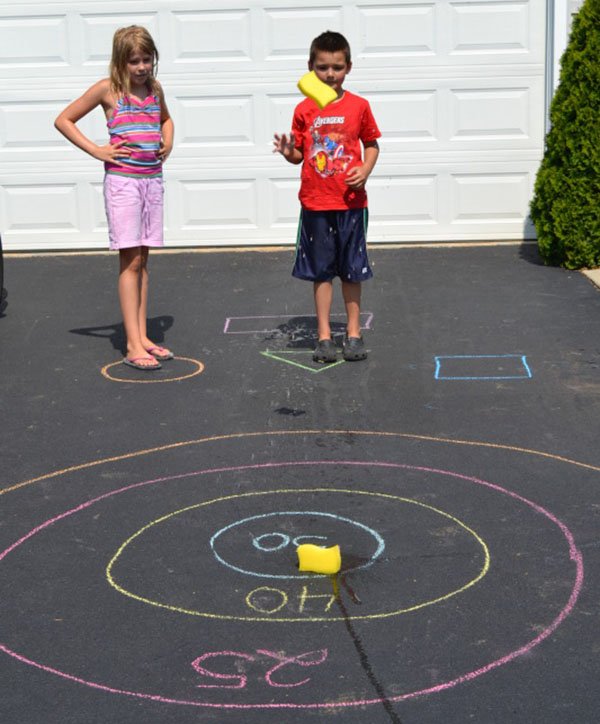 What you'll need:
Each circle can be assigned points, and the kids can tally up their points with some chalk on the side (you can even draw a custom tally table for them), and they take turns throwing the sponge to see who gets the most points.
You can determine how many rounds each game will have.
This will help the kids get outside and get some exercise while having fun!
Source: Mamas Like Me
Bucket Game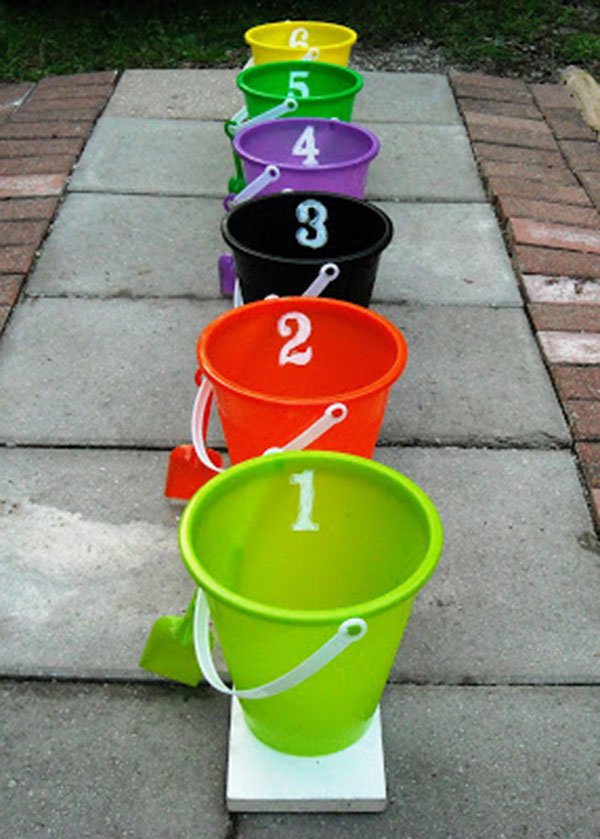 What you'll need:
beach buckets
if the buckets are the same colours, you may want to spray paint them different colours
board (long enough to fit all your buckets)
bolt and nuts
hole drilling device
markers or number stickers (something to label the buckets with)
Another variation of tallying points can be utilised in this bucket game, number each bucket 1 through 6 (or less, or more!) or follow in increments 10, 20, 30 and so on.
Kids can throw stones, balls, water balloons, coins, it can get really creative.
You can see how far each child throws in one turn, and see who reaches the highest number first. This can be stored and used year round, even indoors.
Source: Gets Bored Easily
Soap Clouds and Soap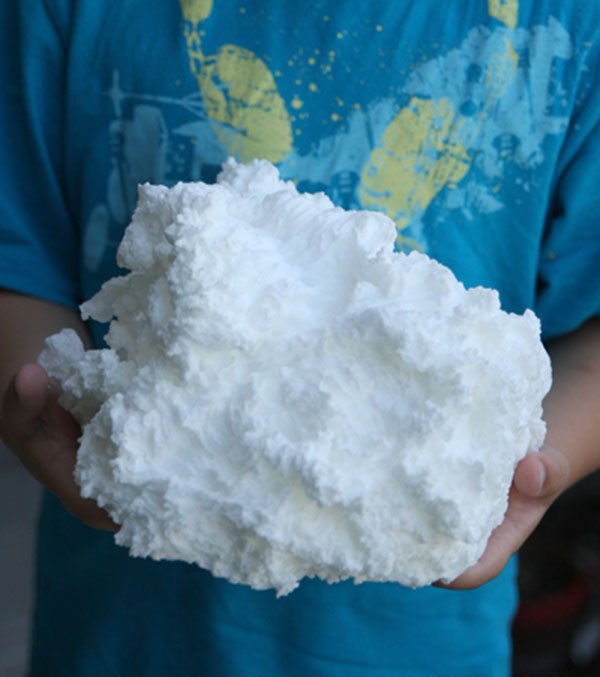 What you'll need:
soap – specifically Ivory brand
microwave
water
electric beater/mixer
cookie cutter shapes of choice
optional – food colouring
Your kids will LOVE this activity! When they see that soap expanding in the microwave, it will be exciting!
Also, the whole process of making their own variation of soap, may benefit them to wash their hands more and take baths, because they'll be using their own hand made soaps.
Source: Our Best Bites
Flower Box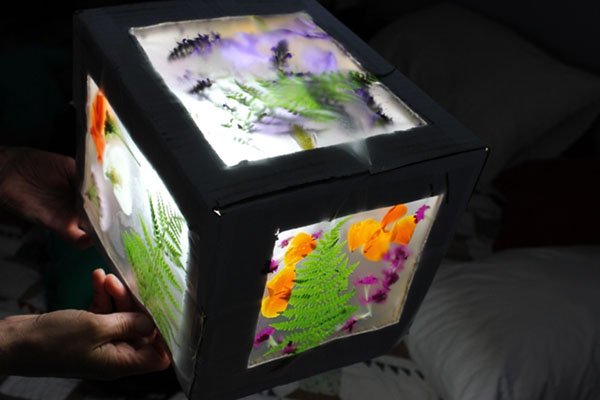 What you'll need:
scissors
cardboard box
selection of leaves and flowers
clear contact paper
While flowers bloom in their most loveliest colours this summer, and the leaves are their most vibrant shade of green, why not preserve some of that summer in this lovely box craft?
Kids get outdoors, to pick their favourite leaves and flowers, and create this lovely box, that can be displayed indoors or out (of course out of the rain!).
Source: The Artful Parent
Backyard Explorer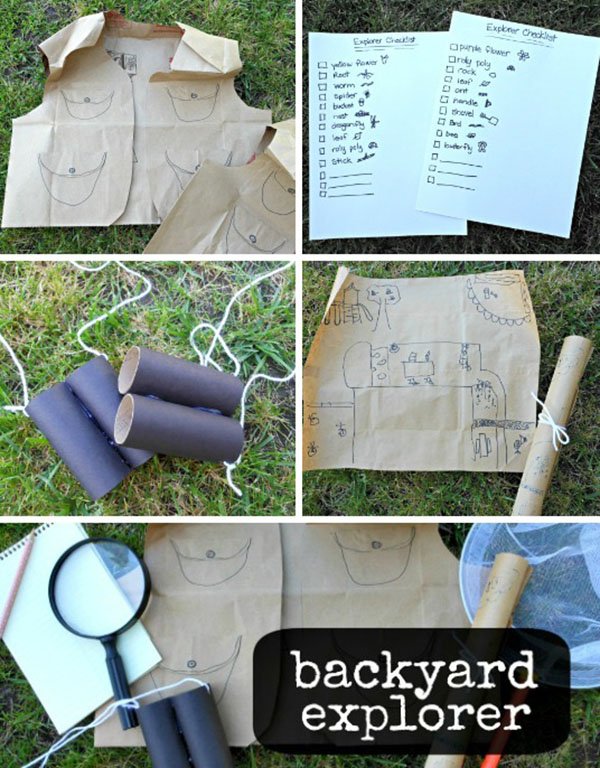 What you'll need:
paper
pens
toilet paper rolls
black construction paper
string
paper bag
This explorer activity is a fun pretend play activity for young children. Your kids can dress up in their favourite costumes or you can make them yourself (just as this example).
Depending on what stage of learning your kids are at, a checklist of words or pictures can be made, so as they explore and discover the backyard, they can tick off what they've seen.
Source: A Mom With a Lesson Plan
Backyard Safari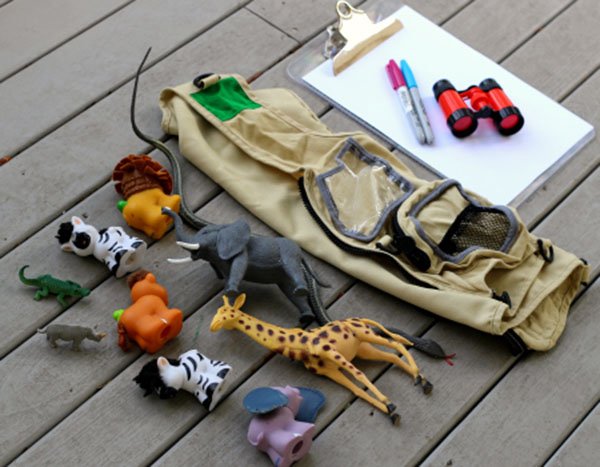 What you'll need:
DIY map of the garden, park or home
markers and pens
toy animals
clip board
safari dress up outfit
toy binoculars (or ones from the previous idea)
What a great way to teach your children map reading, an almost lost art, yet so very important. It's also some great pretend play that they can do with their siblings or friends!
Source: No Time for Flashcards
Nature Collage Suncatcher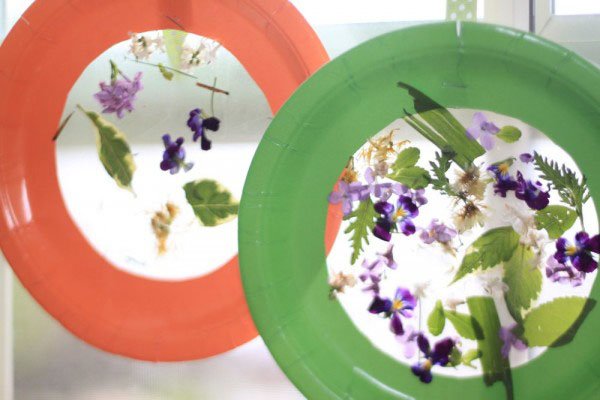 What you'll need:
frame – can be an actual frame or a paper plate, be creative!
clear contact paper
selection of leaves and flowers
This is another great use of contact paper that is mess free and lets your children express their creative side.
You can collect flowers now, dry them in books, and do this craft during autumn, with the addition of colourful leaves.
Source: Hands On As We Grow
Night Bowling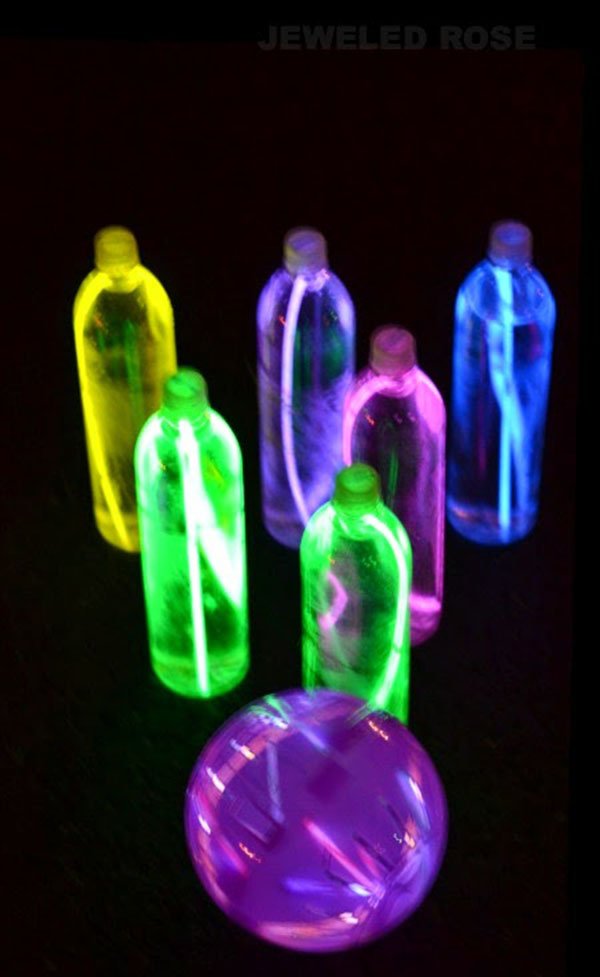 What you'll need:

6 empty plastic bottles (of the tall variety)
glow sticks
hollow ball (such as a hamster ball, so it can be stuffed with glow sticks)
Glow in the dark bowling! Exciting and fun for the children. A little exercise to help the kids burn off the extra energy and encourage a fuss free bedtime.
Source: Growing a Jeweled Rose
Grass Hair Head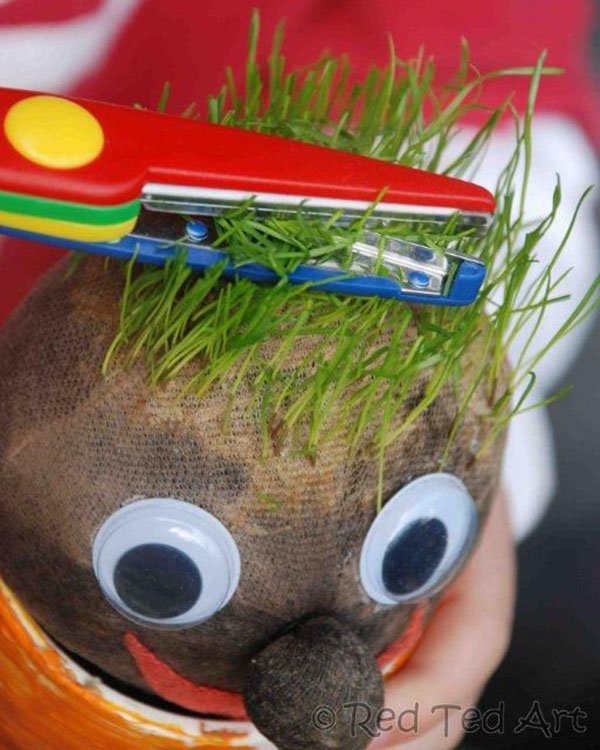 What you'll need:
old tights
grass seeds
soil or sawdust
decorative features (googly eyes, felt for mouth – get creative with your kids!)
glue
string/rubberband/fabric (to secure the "nose")
planter to fit your grass head
water
scissors
An extremely cute craft, that can be done year round, and teaches your kids about plants, and pruning!
Let them brainstorm on the features and once it's all put together, some light watering is all these heads will need, until their "hair" grows.
Source: Red Ted Art
Confetti Kite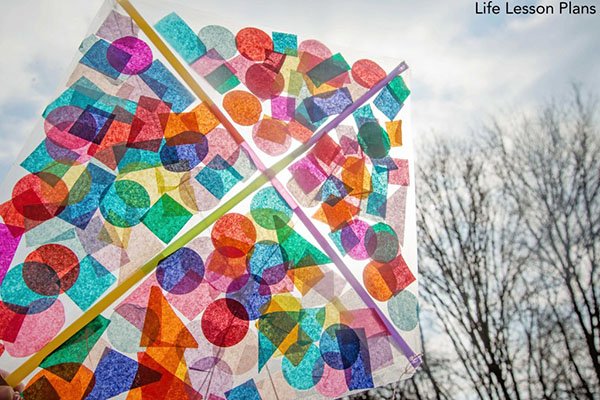 What you'll need:
clear contact paper
tissue paper in colours of your choice
wide straws
tape
string
scissors
hole punch
This activity can be broken up into two days: day one, building and decorating the kite, and day two, going out and flying the kite.
Kites are easy and fun to make, and not only help kids with their artistic side, but also helps then get outside with you and do some exercise!
Source: Life Lesson Plans
Decoupage Rock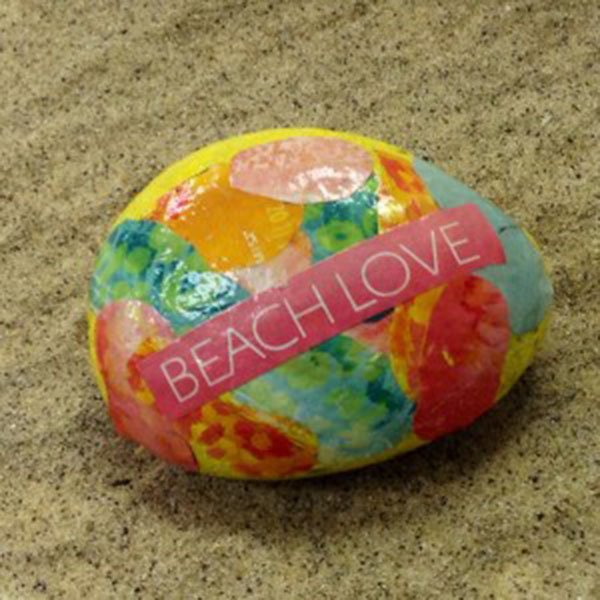 What you'll need:
smooth rocks of choice
paper materials (magazines, brochures, newspapers, etc…)
acrylic paint
paintbrush
Mod Podge
newspaper
If you and your kids were planning to go for a special day out this summer, a trip or a day at the beach, let them pick some rocks, with smooth surfaces, and create these wonderful souvenirs!
The materials are many of which you'll probably have at home, easy and fun.
Source: Free Kids Crafts
Dino Hat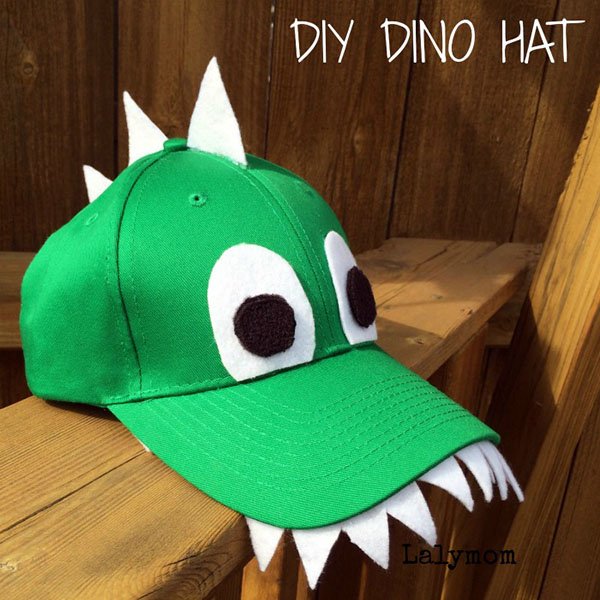 What you'll need:
blank adjustable baseball cap of your child's choice
felt (black, white, other colours)
hot glue gun
A super easy DIY activity with your kids, that they can wear out!
If your child doesn't like dinosaurs, you can try creating other animals to decorate their hats, such as owls, cats, fish, etc.
Source: Lalymom
Bike Decorating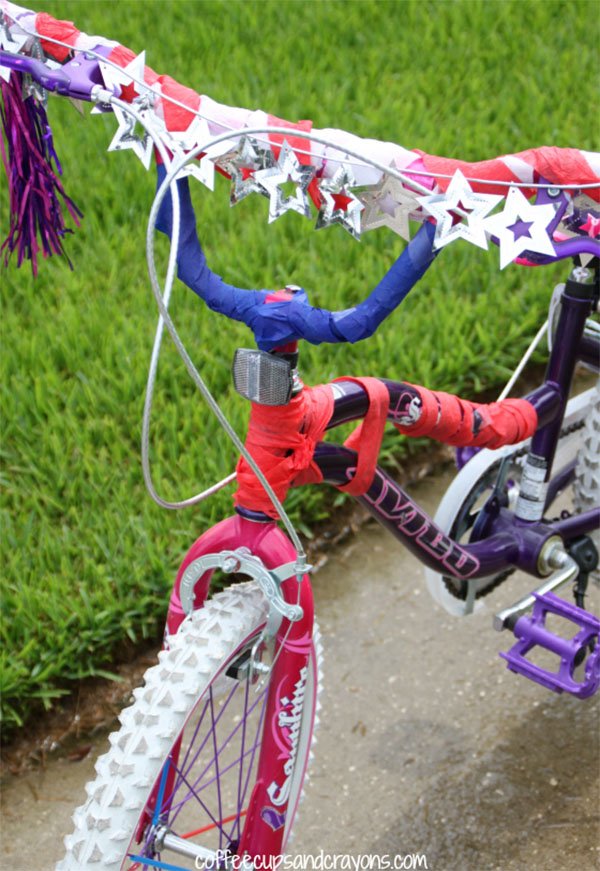 What you'll need:
bike
various decorating items (tissue paper, garlands, colourful straws, etc…)
A fun way to jazz up your child's bike, whether its just for fun, or for a special occasion, is to decorate it!
Using various decorating mediums, let your child make their bike as custom as they want it to be, and then go for a bike ride.
Source: Coffee Cups and Crayons
Terrarium with Kids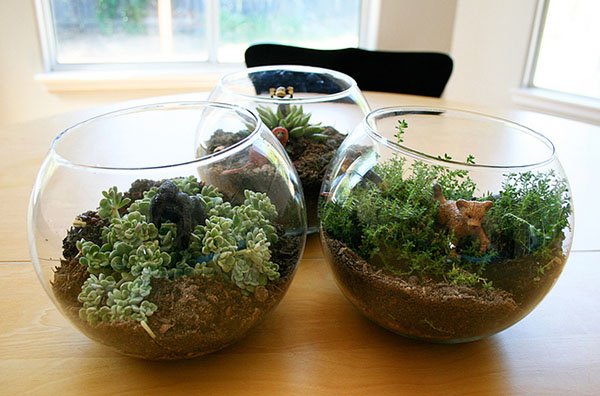 What you'll need:
containers (preferrably glass)
terrarium friendly plants
soil
gravel
small plastic animals and whatever else your child wants to use for decorating the terrarium
Creating something for display is always fun with your kids, and terrariums are a fairly low maintenance way to decorate your home, or if your kids want to make one to display at your work desk, why not?
Try thrifting the glass containers, many charity shops will have exactly what you need, and then it's time to get creative!
Source: Makes and Takes
Marshmallow Building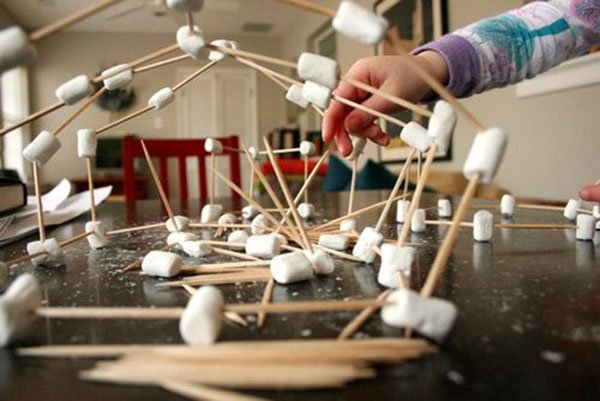 What you'll need:
A super easy and fun indoor activity, especially on those rainy days. If you opt in for non-stale marshmallows, you and your kids can snack on them too!
What your kids can construct is totally up to them.
Source: A Happy Nest
Melted Crayon Shells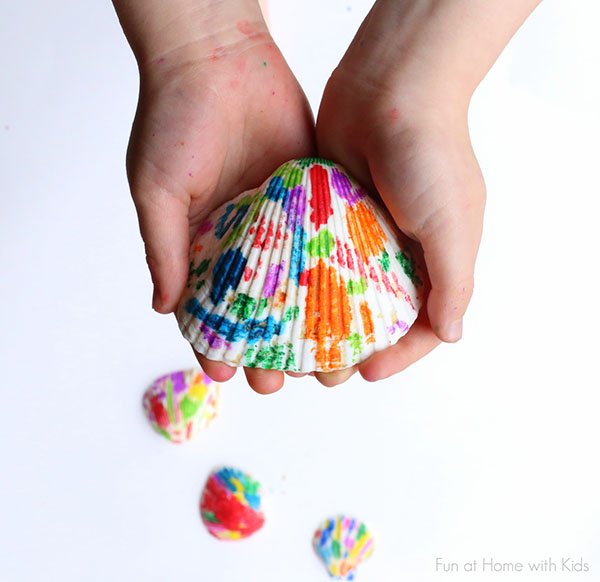 What you'll need:
crayons
shells
oven
tray protected by tin foil
A great way to express your child's artistic side is by painting some shells! Using crayons of choice (this blogger used glitter crayons) and a protective surface to create.
This is recommended for slightly older children, since they'll be handling melted crayons. A variation of this would be to use some stones from the beach or garden.
Source: Fun at Home with Kids
Colour Matching Garden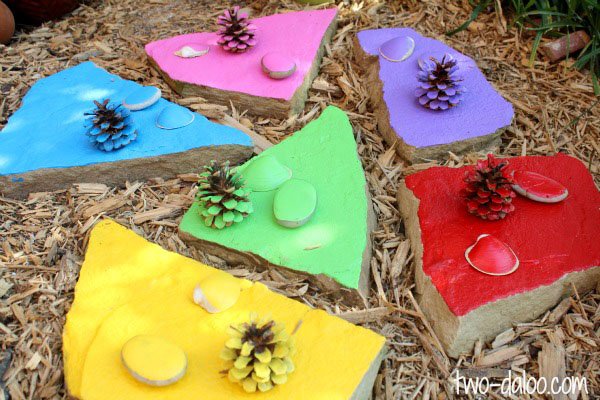 What you'll need:
patio paint
various garden bits (rocks, branches, pine cones, etc…)
paint brushes
Kids can learn about colour matching and spend some time outside. This is another great activity, that once set up, can be revisited during any season.
Source: Learn Play Imagine
Water Wall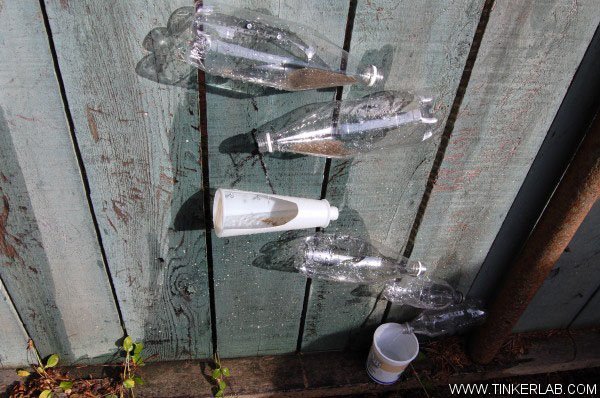 What you'll need:
empty plastic bottles
screws
scissors
water
play buckets
Once you've set up this water wall, it is good all year round. Test to make sure the bottles are aligned properly before your kids getting to it.
If it's a rainy day, your kids can put out a bucket to catch any rain water that gets through, and help you water the garden.
Source: Tinkerlab
Painted Rock Cacti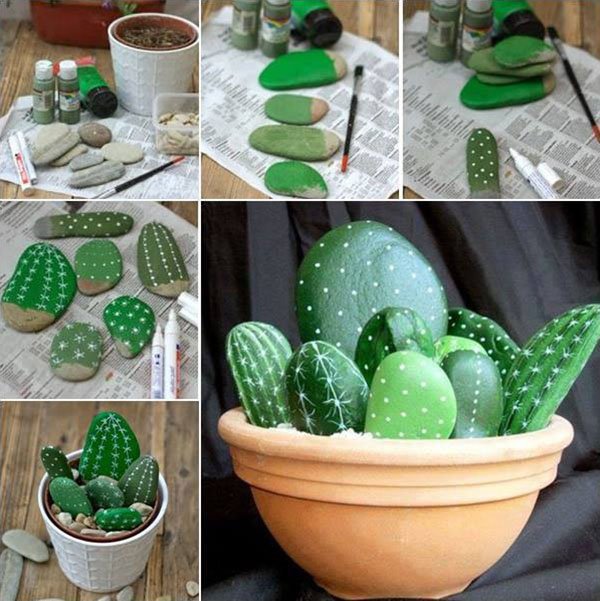 What you'll need:
rocks
paint of preference (one that will "stick" to the surface of the rocks)
paint brushes
"soil" (can be actual soil or can be sand)
small rocks to top off the "soil" (can get some from the beach)
No luck with keeping plants alive? What about planting cacti, a prickly experience?
This will be loads of fun to create with your kids and actually decorate your house, paint free! Get inspirations off the web to create some interesting types of cacti.
Source: Budget 101 of Facebook
Wizard's Brew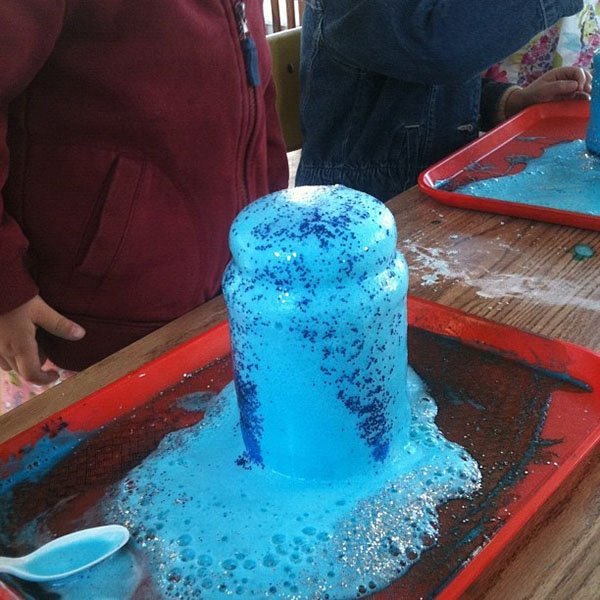 What you'll need:
baking soda
glitter
dish cleaning soap
vinegar
clear, large jar
food colouring of your choice
A little science experiment can be educational, fun and safe! Mixing everything in the jar except for the baking soda, once everything is mixed, have your child add the baking soda, and watch the "magic" happen.
Source: Babble Dabble Do
Popped Bubble Art
What you'll need:
Bubble Mix
Bubble Wands
Food Coloring
Paper
Pour 1 tablespoon of bubble mix into a small, shallow bowl.
Add a few drops of food coloring to the bubble mix and stir well
Place your bubble wand in the colored bubble mix, remove and blow bubbles towards your paper.
As the bubbles hit the paper and pop, they will leave interesting patterns. Repeat with other colors.
Source: Broogly