Creme Egg Cheesecake Recipe
This looks incredible!
Ingredients
For the base:
* 200 g digestive biscuits, crushed into very fine crumbs
* 100 g unsalted butter, melted
For the topping:
* 300 g full fat cream cheese
* 200 g mascarpone
* 4 tbsp icing sugar
* 100 ml double cream
* 2 tsp vanilla extract
* 4 large Creme eggs
* 3 mini Creme eggs to decorate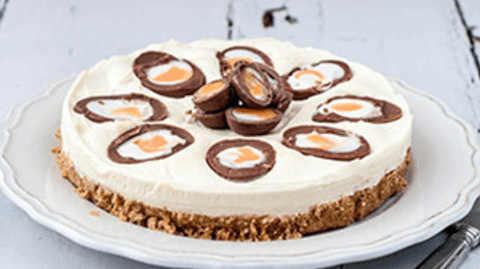 Method
1. Line a 20cm springform cake tin with a circle of baking parchment. In a mixing bowl, mix the biscuit crumbs with the melted butter until you have a sandy consistency. Tip the crumbs into the tin and press down firmly with the back of a metal spoon until your base is flat. Refrigerate while you make the topping.
2. For the topping: In a large mixing bowl, using a whisk, beat together the cream cheese, mascarpone and icing sugar until well combined. Add the double cream, along with the vanilla extract and whisk again.
3. Spoon the topping onto the biscuit base and smooth down with the back of a spoon or palette knife. Carefully slice the Creme eggs in half and arrange the eggs, pushing them into the cheesecake topping filling side up, so the tops are visible. Refrigerate for at least one hour.
4. To remove the cheesecake from the tin, sit the cheesecake in some hot water (make sure it does not reach the top of the tin) and then gently unlock the sides or ease it out. Before serving, decorate the centre of the cheesecake with mini Creme eggs.
(courtesy of goodfood)