If you're planning on dyeing quite a few eggs, you definitely want them to be safe to eat! Here are 25 Easter egg decorating ideas that are safe to eat after all the decorating is complete!
Naturally Dyed Eggs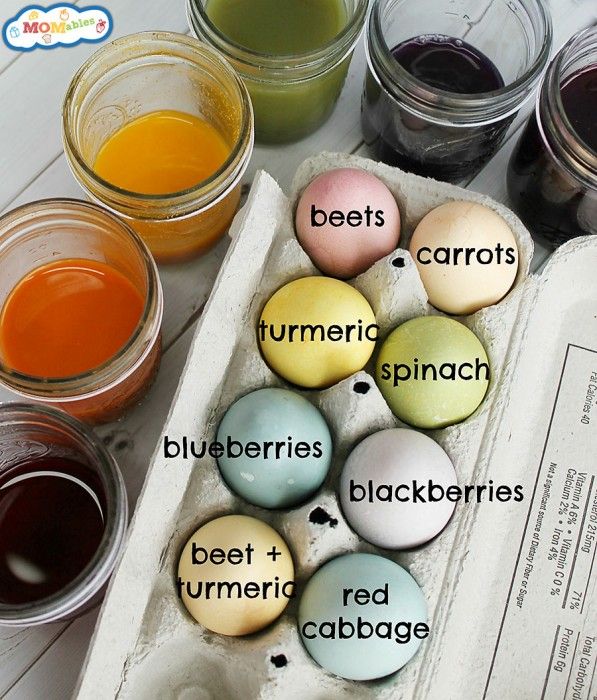 Instructions from MOMables HERE
Mixing natural ingredients from your pantry can create a great array of soft pastels.
Plant Neutrals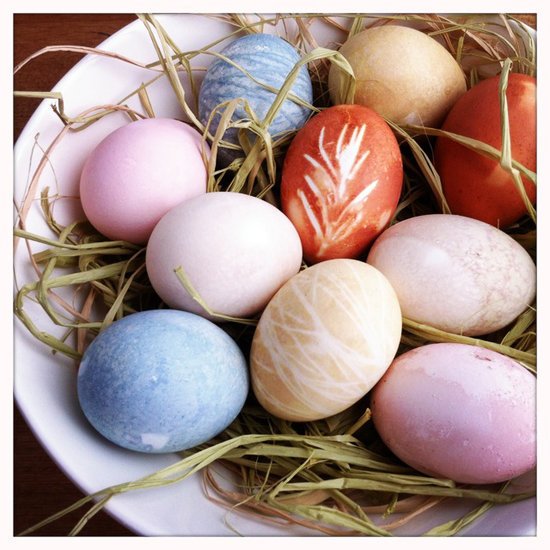 Instructions from savvysugar.com HERE
Attaching a leaf from any herbs you have can create some interesting patterns when dyeing the eggs.
Lace Eggs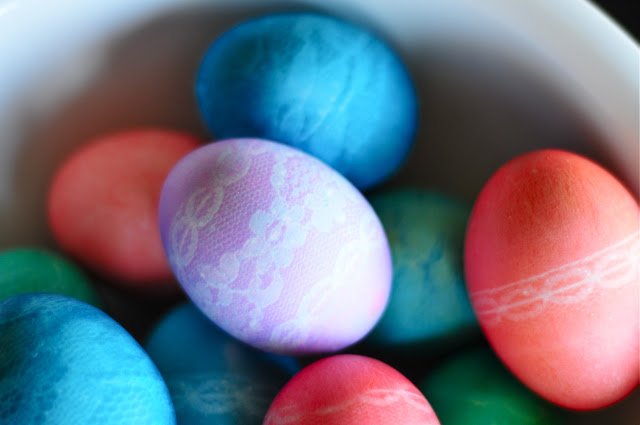 Instructions from diy til we die HERE
Another great way to create patterns is to use lace!
Decorative Tape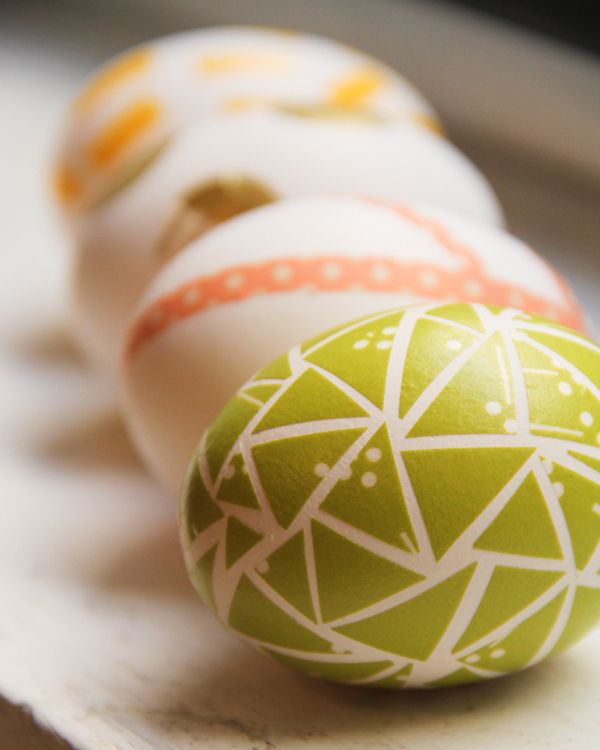 Instructions from Lovely Indeed HERE
Layering Colors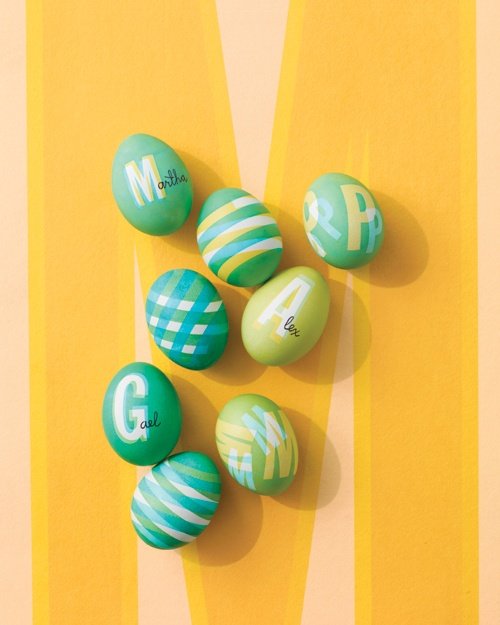 Instructions from Martha Stewart HERE
Another great way to use tape is to change the patterns and dye your egg multiple times and shifting the tape a bit, giving the design a peak of all the different colors. You can also attach letters and other types of stickers, to create neat silhouettes.
Ombre Eggs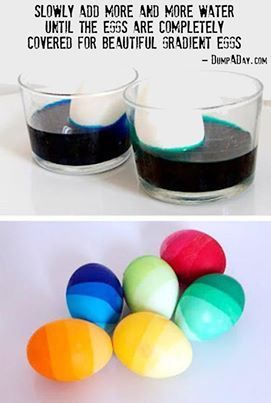 Photo Source: Carla Styles
Using food dyes, creating a colorful set of eggs is a breeze!
Fabric Trimmings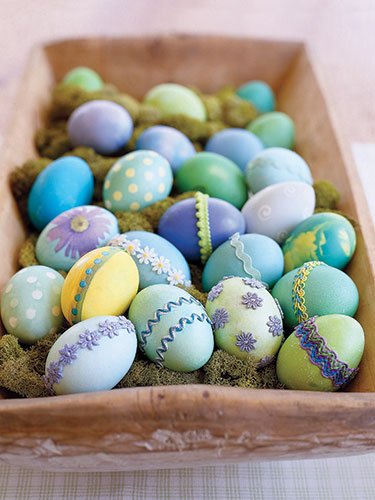 Directions from Good Housekeeping HERE
Possibilities of what kinds of trimmings you can use to decorate the eggs are vast.
Now on to the less edible but very fun crafty egg decorating ideas!
Bubble Packaging Technique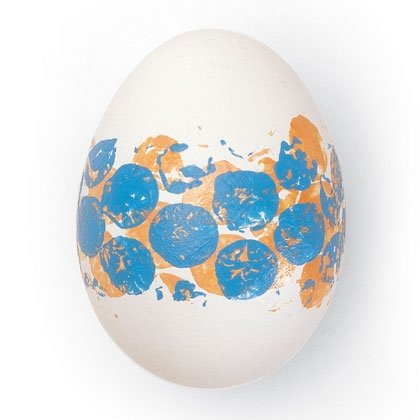 Directions from Spoonful HERE
If you have a bit of bubble wrap around, use it to dip in to paint and create some interesting patterns!
Napkin Stickers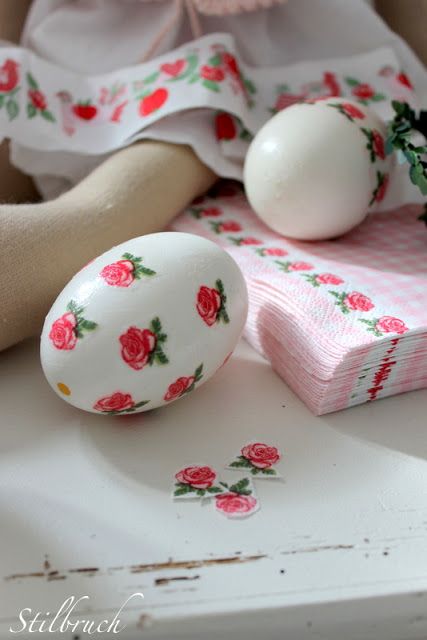 Photo Source: Hometalk
This is a great technique to use some of those gorgeous prints you get on decorative napkins. Cut out the design and with the help of some crafts glue, you've got a masterpiece!
Speckled Eggs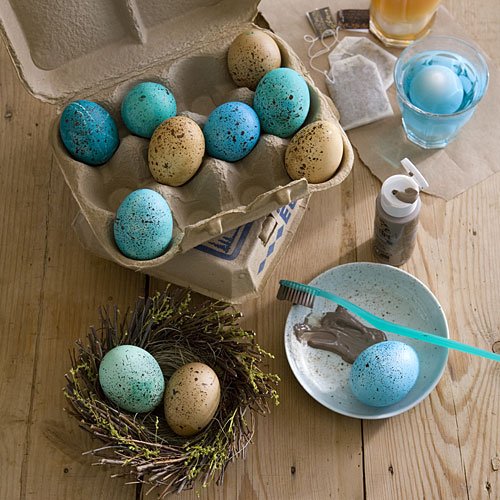 Instructions from Southern Living HERE

Eggs can be carefully drained beforehand, dyed any desired color, and then speckle them to perfection!
Onion Shell Marbled Dye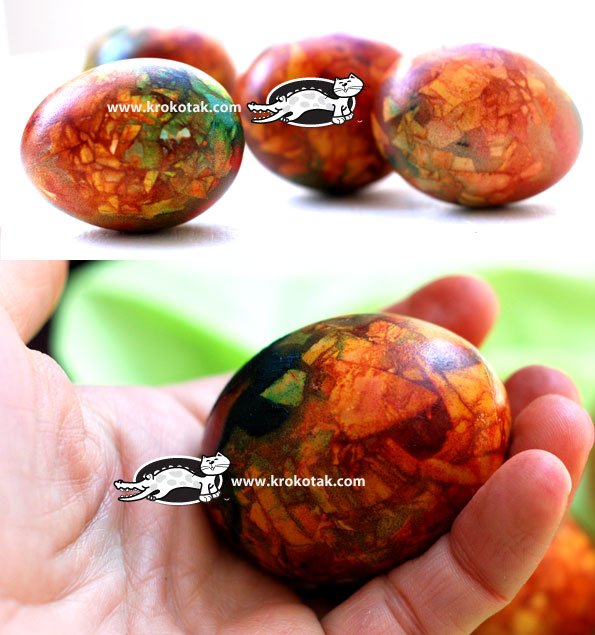 Instructions from krorotak HERE
Gorgeous and abstract patterns are created when you paint over the onion shells.
Watercolor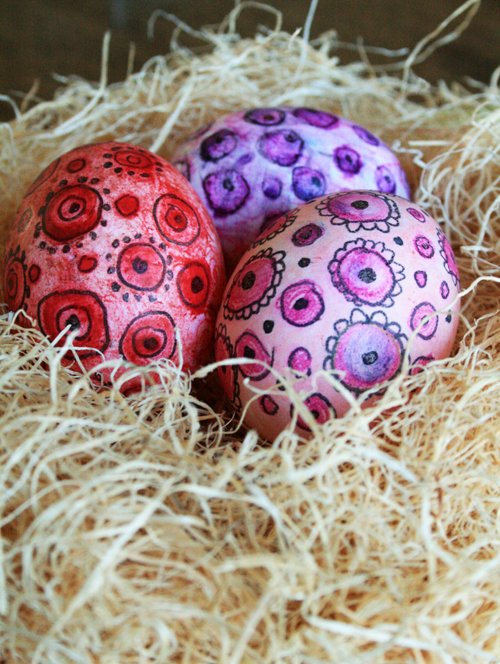 Instructions from Alisa Burke HERE
This would be fund for the kids to get creative and decorate the eggs after they've been dyed all the lovely colors.
Bunny Face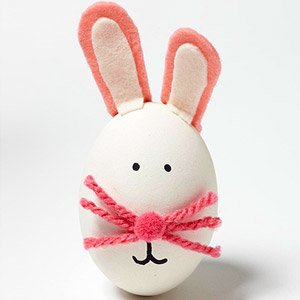 Instructions from Parents.com HERE
This cute bunny face is easily done with just a few materials.
Sparkle Polka Dots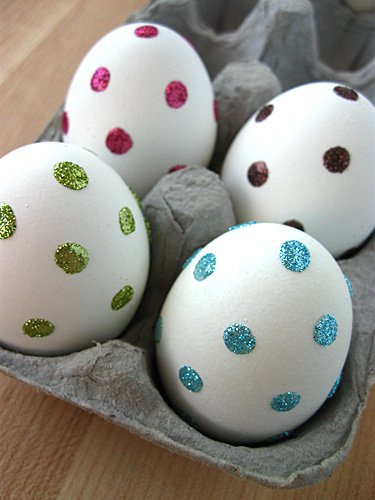 Instructions from domestifluff.com HERE
Clear adhesive dots or other shapes can be used all over the eggs and dipped in to some colorful glitter!
String Dyeing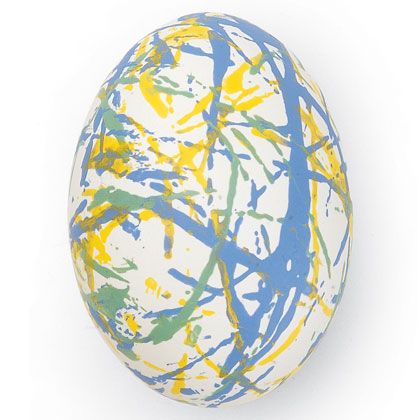 Photo Source: Spoonful
Dipping stings in to colorful paints and then gently pressing against the egg creates this very interesting design.
Cotton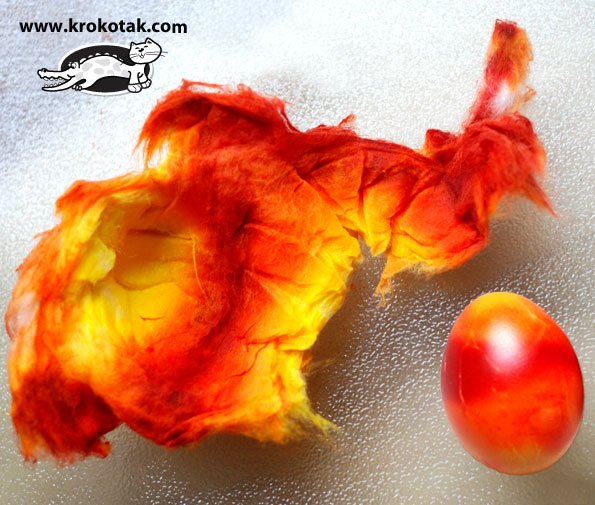 Instructions from krokonat HERE
Paint the strip of cotton as many colors as it fits, to create a subtle gradient effect on your eggs.
Animal Faces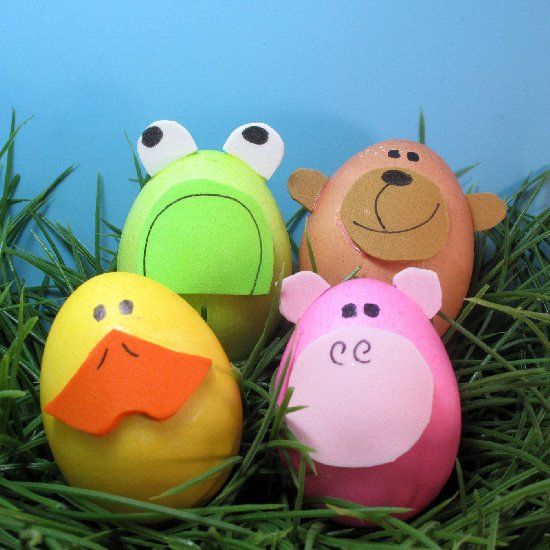 Photo Source: craftgawker.com
Move over Easter Bunny, here's a collection of other cute animals that can create a lovely addition to your Easter.
Dried Flowers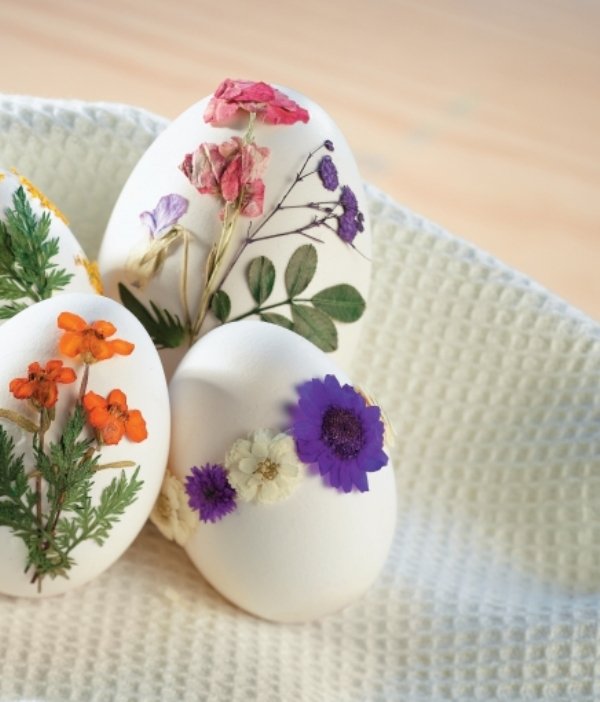 Photo Source: Modernmagazin.com
If you have some dried wildflowers on hand, why not glue then on to some eggs for a very rustic look.
Melted Crayon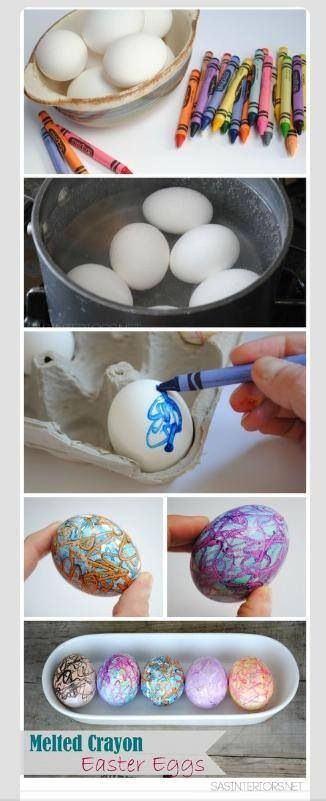 Photo Source: sasinteriors.net
Melted crayons never looked so good! This technique can create an array of abstract designs.
Paint and Toothpicks Art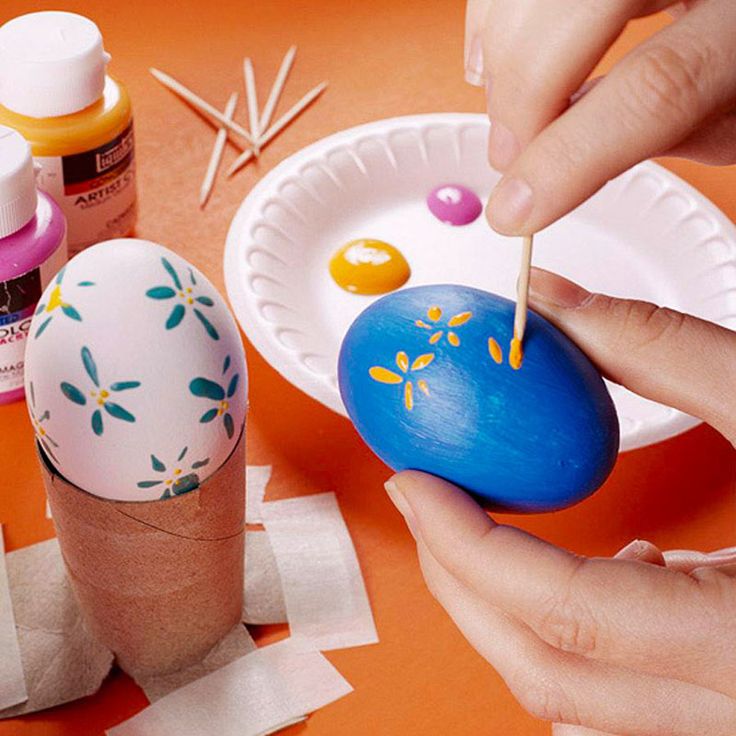 Photo Source: Beauty Harmony Life
Using a toothpick, you can create very lovely details on the eggs, such as flowers or even a mini scenery, if you're up to the challenge!
Marbleized with Nail Polish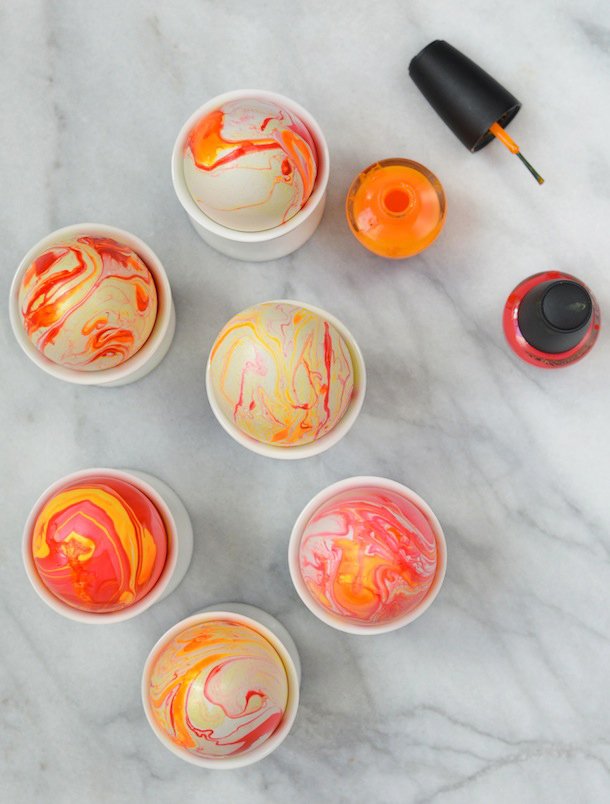 Instructions by Camille Styles HERE
If you have some bright nail polishes you may have purchased, and never ended up using, why not put them to use for this lovely, swirly designed egg art?
Dots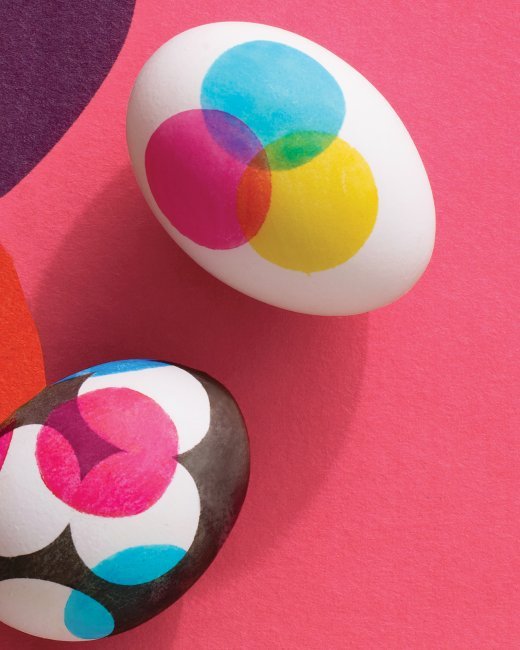 Instructions from Martha Stewart HERE
This would be a great activity for kids to learn a bit about the color wheel!
Glitterific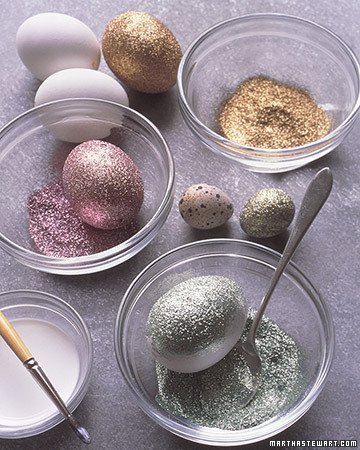 Intructions on Martha Stewart
Though glitter can get messy, its always great fun to use it for crafts, especially to glam up some Easter Eggs!
Mosaic Eggs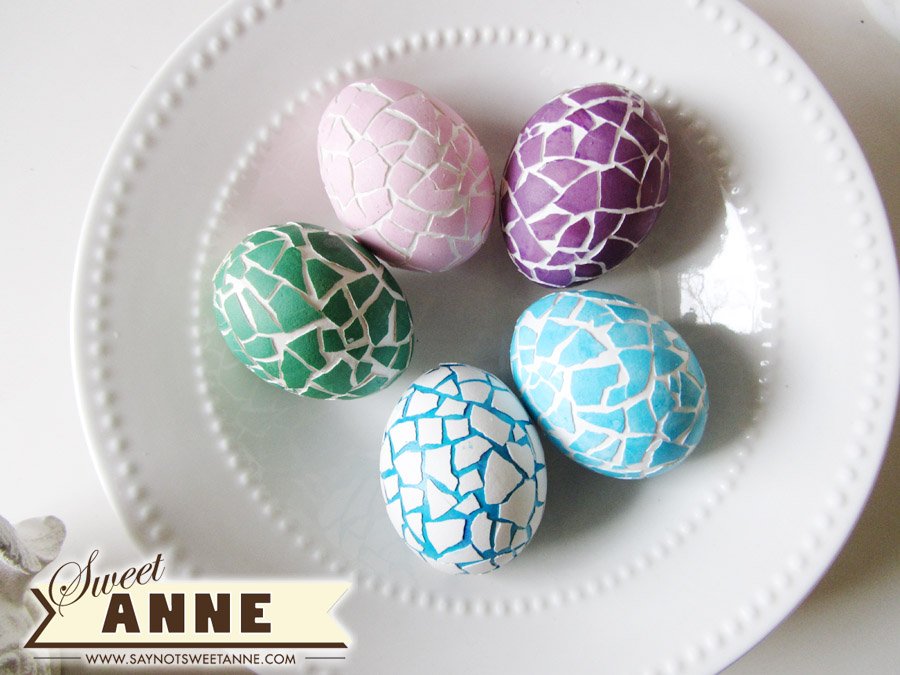 Instructions: Sweet Anne Designs
This it a great use of those cracked eggs you sometimes get when boiling eggs, you can paint them, and glue them on to other eggs for a very mosaic-like finish.
Permanent Marker Pysanky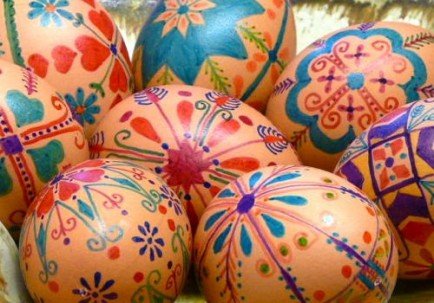 Photo Source: Babble
Permanent markers are a great way to decorate eggs, you can finds loads of inspirations for designs online.