This the most comprehensive guide to Peppa Pig World breaks (and ticket only options) on the web.

In a rush? Here's quick links to compare deals:
1. DIY (Book hotel & ticket separately)
Step 1 – Show hotel deals near to Peppa Pig World
Step 2 – Book cheapest park tickets direct
2. Package (hotel & ticket in one booking)
If you prefer a package and 2 days at the park book direct at Paultons Park Breaks.
If you have time, do read the whole guide for offers and top tips.
Let's get started
Peppa Pig World Current Offer
***Save Up To £50 On 2 Night Official Short Breaks Plus 2nd Day FREE Entry Into Theme Park***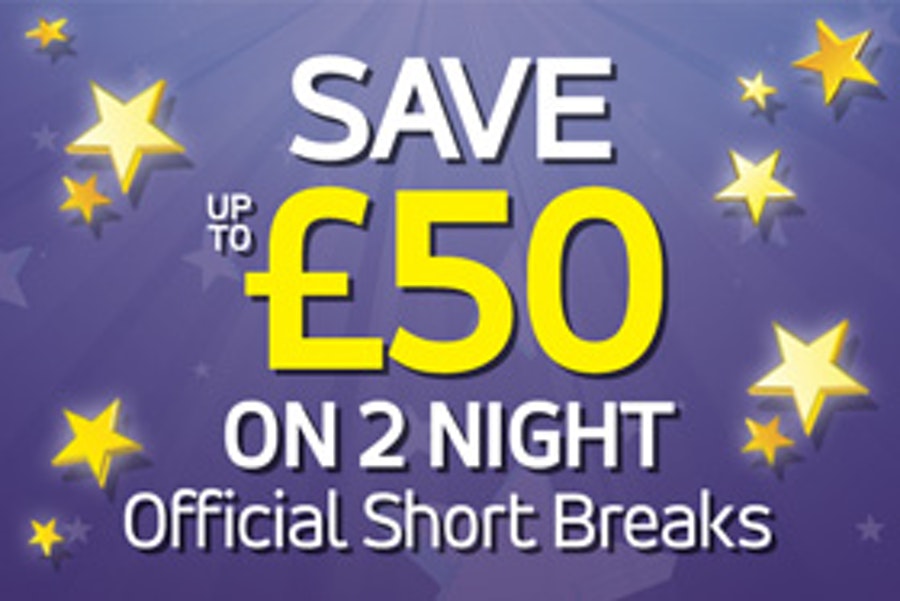 Book your official short break at one of the hand-picked hotels to make the most of this 2 night offer from just £75 per person >> Book now!
Peppa Pig World Hotel & Tickets Deal
Want a combined package staying at a partner hotel?

Get a combined package through Paultons Breaks staying at a partner hotel which is situated nearby the theme park, plus park tickets.
Example package from Paultons Breaks:-
Based on July 2019 Summer holiday dates
1 night stay (5 miles from Theme Park)
A delicious breakfast
Your 2nd Day FREE in the Theme Park
Based on 2 adults and 2 children sharing
Total price from £282
Price breakdown:
£282 / 4 = From £70.50pp
Book here!
DIY Peppa Pig World Package
Want to save £s and book your hotel and park tickets separately?
Step 1. Find a hotel to suit your budget and criteria.
Like saving money? We search up to 200 hotel sites to help you save up to 30% – show Hotels Near Peppa Pig World
Then once you've found a hotel, don't book it just yet, first check and see if Legoland has tickets available on the day you want to visit.
Step 2. Book Peppa Pig World Tickets direct
CLICK HERE TO BUY YOUR PEPPA PIG WORLD TICKETS

Once you've got your tickets go back and book your hotel.
Sample Booking With Travelodge

Example Package:-
Based on July school summer holiday dates 2019
Theme Park entry ticket 1 day!
1 night off-site hotel stay
Based on 2 adults and 2 children (Over 1m tall)
£28 (hotel- saver rate) + £ (tickets) = £118 / 4 = £36.50 per person
Book park tickets here!
What other Peppa Pig World Tour + Hotel options do I have?
If you're happy to do a DIY option (i.e. book hotel and ticket separately) but want a different option to Travelodge, check out these other hotel options:
About Peppa Pig
The Peppa Pig TV show is very popular with pre-schoolers, and her self-styled theme park is geared to them as well. But what some don't realise is that Peppa Pig World is situated within Hampshire's Paultons Park, an attraction that has appeal for families of all ages, and entrance is included
Peppa Pig World Opening Times
Paultons is only fully closed during January and is open throughout the rest of the year (selected dates).
Depending on when you visit, the park mainly opens between 10am and 10:30am and will close between 4:30pm and 5:30pm. For full information click here >>
Where is Peppa Pig World?
Peppa Pig World is situated within Hampshire's Paultons Park, an attraction that has appeal for families of all ages, and entrance is included
Peppa Pig World Post Code
Paultons is easy to reach being just off exit 2 of the M27, close to the edge of the New Forest National Park. Follow the brown tourist signs on the motorway.
Paultons Park
Ower Nr Romsey
The New Forest
Hampshire
SO51 6AL
Peppa Pig World Rides
From Windy Castle to George's Dinosaur Adventure and Daddy Pig's Car Ride and Peppa's Big Balloon there's tonnes to keep the little ones amused!
Take a look here for a full list of rides you can enjoy – click here >>
Peppa Pig World Ticket Prices
Adult or child (1 metre and above) is £30.50 (advance price) or £35.75 on the day. For further details on Peppa Pig World prices, click here >>
Whenever you decide to visit, whether it's for a special occasion or just a family getaway, we're sure you'll create some wonderful memories to cherish for years to come 🙂
Peppa Pig World Videos
Peppa Pig World Photos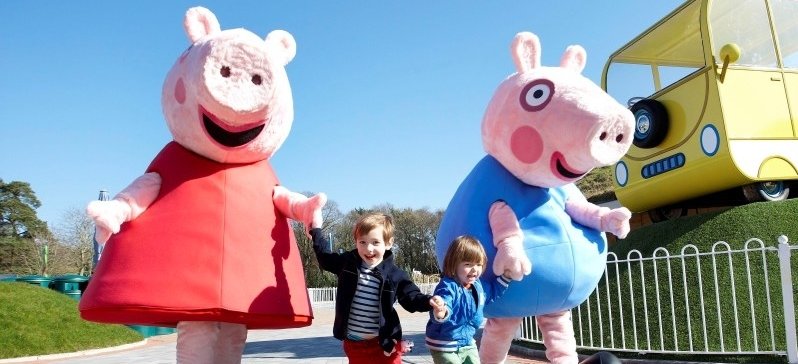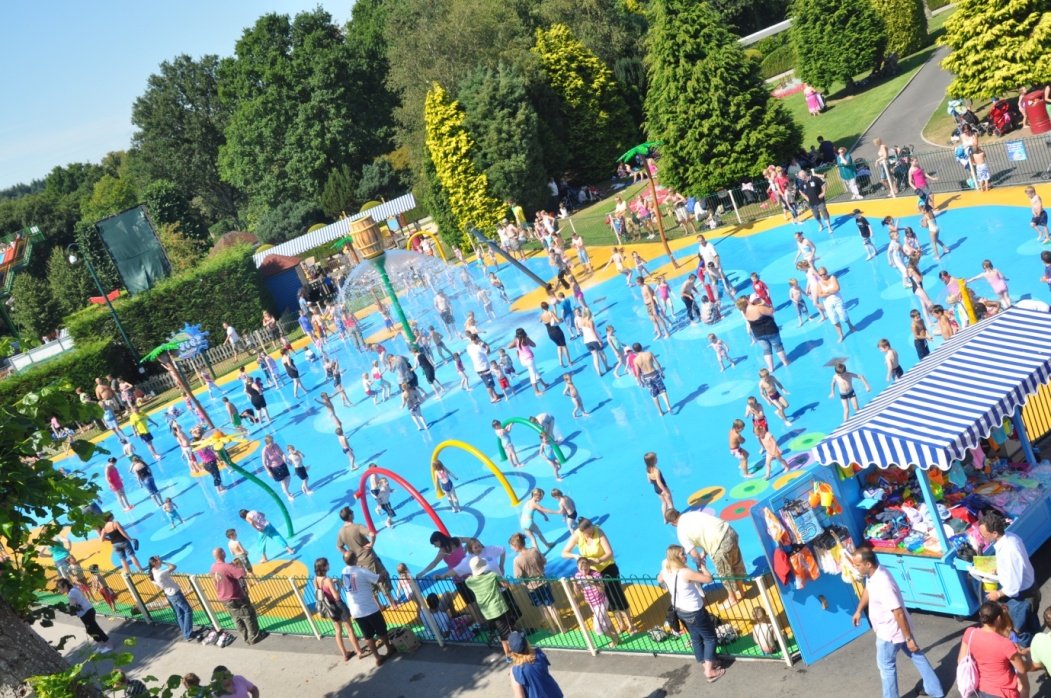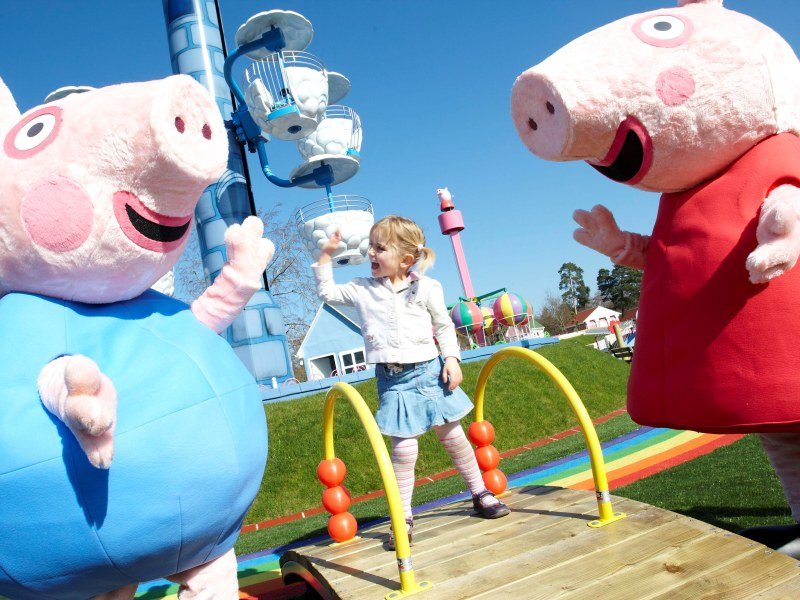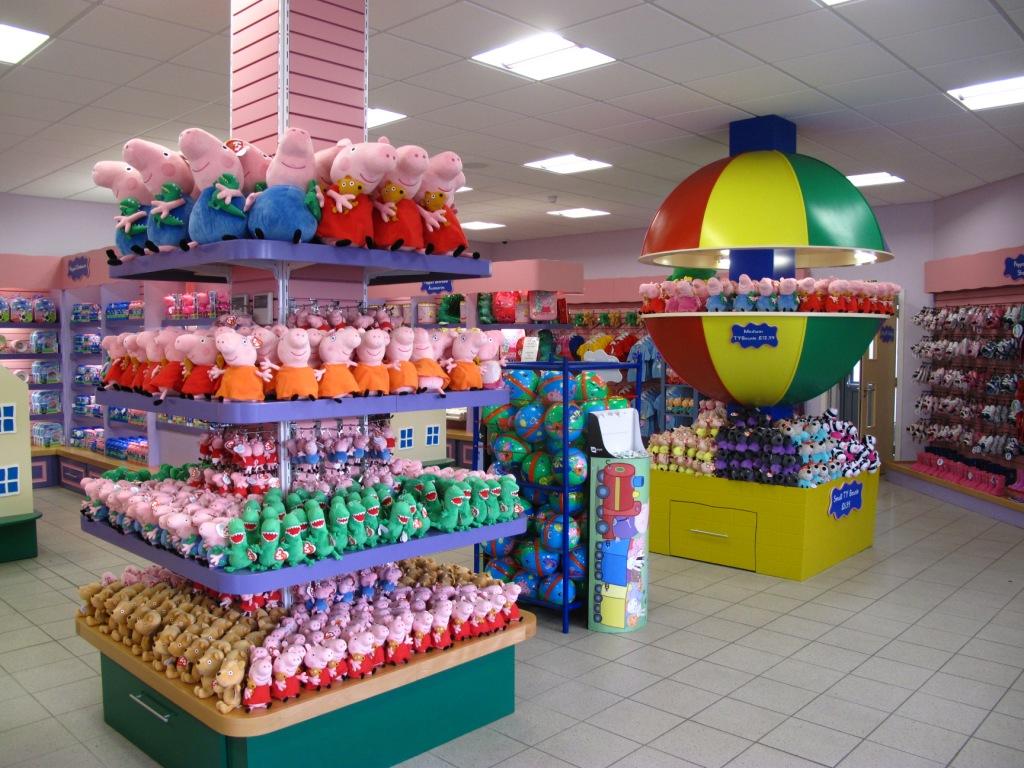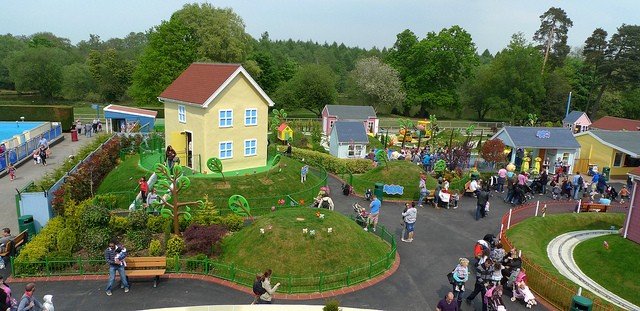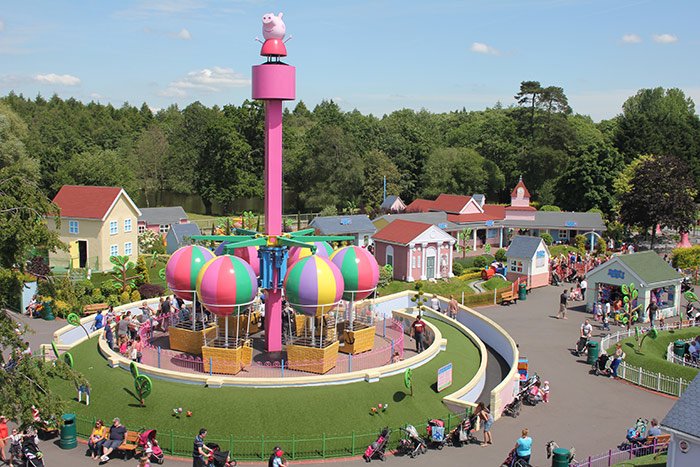 Our Peppa Pig Review
We finally decided our daughter was the perfect age (2.5 years old) to enjoy a trip to Peppa Pig World.
We knew she'd revel in the chance to meet Peppa and George 'for real' and was the ideal age for all the rides the theme park had in store for us!
So, we set off for the 3 hour journey with the iPad fully loaded and enough snacks to sink a battle ship and braced ourselves for the M25!
It turns out, luck was on our side… she slept the majority of the way and there was no traffic to write home about… winning!
If you have pre-school age kids, it's a bonus to visit during the week as the ques are a lot shorter and it's generally less manic.
We arrived late morning with one very excited little girl, we thought she'd practically hyperventilate at the sight of a world of Peppa Pig, and we weren't half wrong.
She raced ahead, leading the way, however it took us about 10 minutes to find the way in!
It's a little confusing (or maybe we were just in a Peppa frenzy!) as Peppa Pig World is hiding behind all the fairground type rides when you enter, a bit tricky to locate…
On entering, we made a beeline for the rides at the back of the park, as these were less busy than those located right at the entrance.
However, on spotting Peppa and George making an appearance outside 'The School' all the rides went out the window and we were pulled excitedly to the (rather long) que to have a photo opportunity!
Our daughter actually waited quite patiently in line to meet her idols, and she was not disappointed!
We had a few pics, a cuddle and high-five and she was set for a Peppa-filled day!
The rides were great fun, not only for our daughter, but admittedly for us too! My personal fave was George's Dinosaur Adventure Ride!
My husband jumped on the dinosaur in front and Sophia and I were bouncing along the track behind, we caught some great pics and video footage doing it this way.
We thoroughly enjoyed all 7 rides (with ques of around 20 mins each) and ended the day with a tasty treat from Miss Rabbit's Ice Cream Parlour.
Of course, no trip to Peppa Pig World would be complete without a souvenir…
The shop was bursting with goodies and Sophia pretty much picked up and cuddled nearly every soft toy in there before finally deciding on the lucky Peppa to take home.
A great way to end your trip is to explore The New Forest, right on the doorstep of Peppa Pig.
The kids will love seeing the ponies roam freely through the towns and villages, it's quite a sight! We enjoyed fish & chips in Lymington and a cream tea in Brockenhurst before heading home 🙂
My Top Tips:
Before entering, pick up a 'lost child sticker' from the kiosk and stick it in the middle of your child's back where they can't reach to take it off!
Head to the back of the park first and work your way forward – the rides at the back should be quieter to start with.
Bring a change of clothes and swim gear (if the weather's nice!) as the Muddy Puddle's Water Splash Park is great fun!
You can't que with pushchairs (they have to be left to the side) so make sure you have a separate bag with drinks/snacks/valuables in while you wait!
Bring socks if your little one wants to play in the indoor soft play!
What other families have said
"We have visited a few times and we have all had a brilliant time every time. Previously we visited for Peppa Pig World but this time we went to visit dinosaur land which is amazing. Very interactive and engaging. I always think they have a good choice of food on offer and it's always clean. My only problem with Paultons Park is the lack of shade, especially for young kids standing in queues so make sure you take hats and sun cream!" Verity Hope
"Paultons Park never fails to deliver. Excellent day had by all. 10/10 on all aspects, brilliant customer service, fabulous rides, immaculately clean, beautiful flowers, wonderful food!!! The list goes on! Will be back again soon." Hharky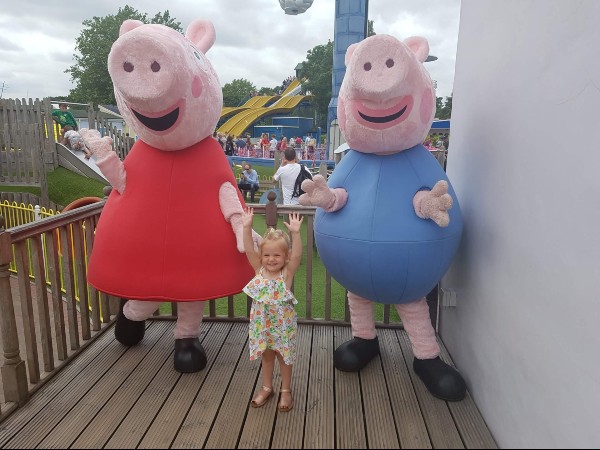 Other Theme Park Break Deals
If you're looking for an exciting short break at a top UK theme park or attraction, you've come to the right place! FamilyBreakFinder has plenty of deals for you to check out in our Attraction Breaks section! Click here>>