This is a guide to visiting Thorpe Park, including tickets, recommended hotels, package options, tips and much more.
In a rush? Here's quick links to compare deals:
1. DIY (Book hotel & ticket separately)
Step 1 – Show hotel deals near to Thorpe Park
Step 2 – Book cheapest park tickets direct
2. Package (hotel & ticket in one booking)
Your best option for a package is to book direct at Thorpe Breaks.
They often have offers on including 2 days at the park for the price of 1.
If you have time, do read the whole guide for offers and top tips.
Thorpe Park Breaks Black Friday Sale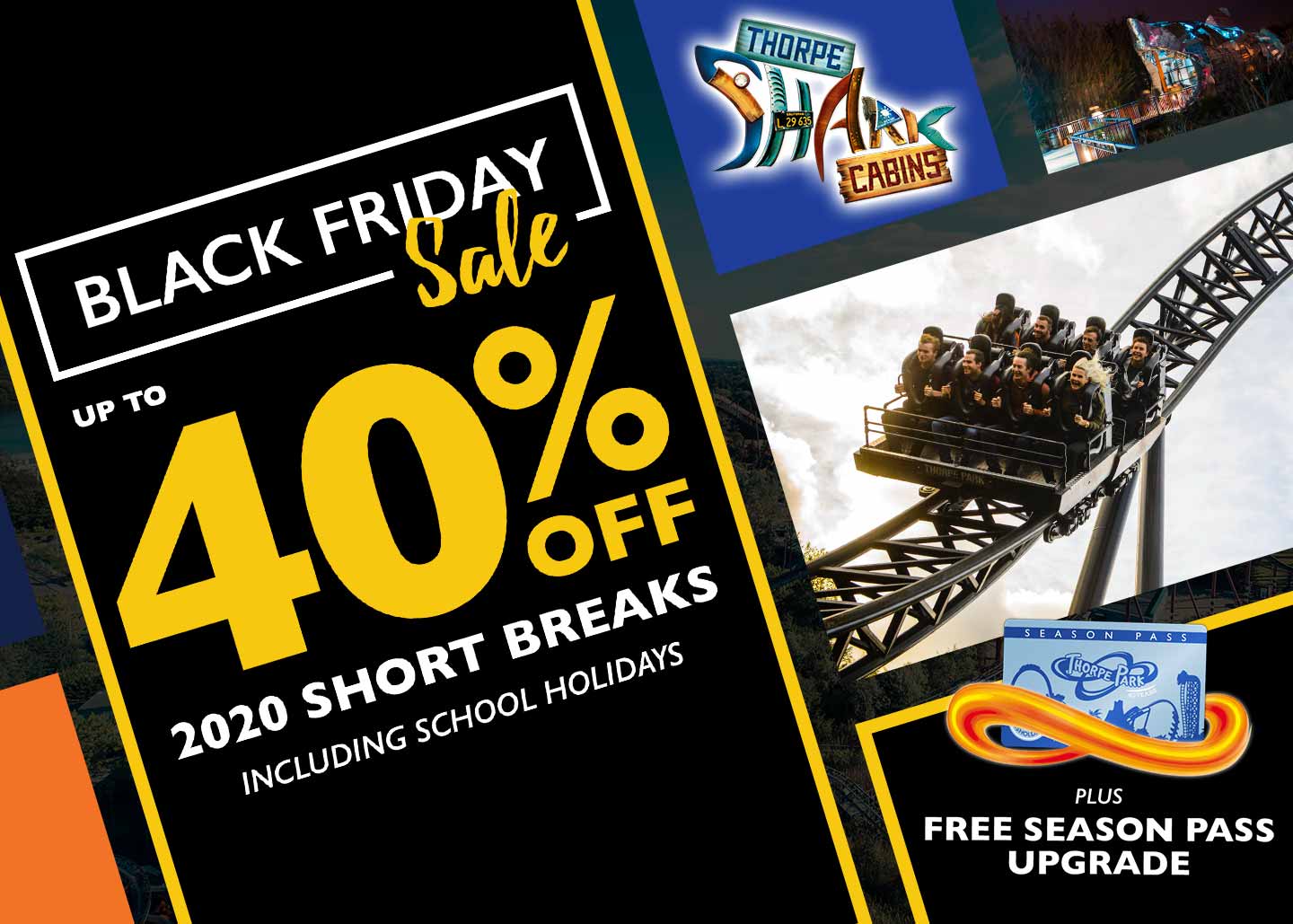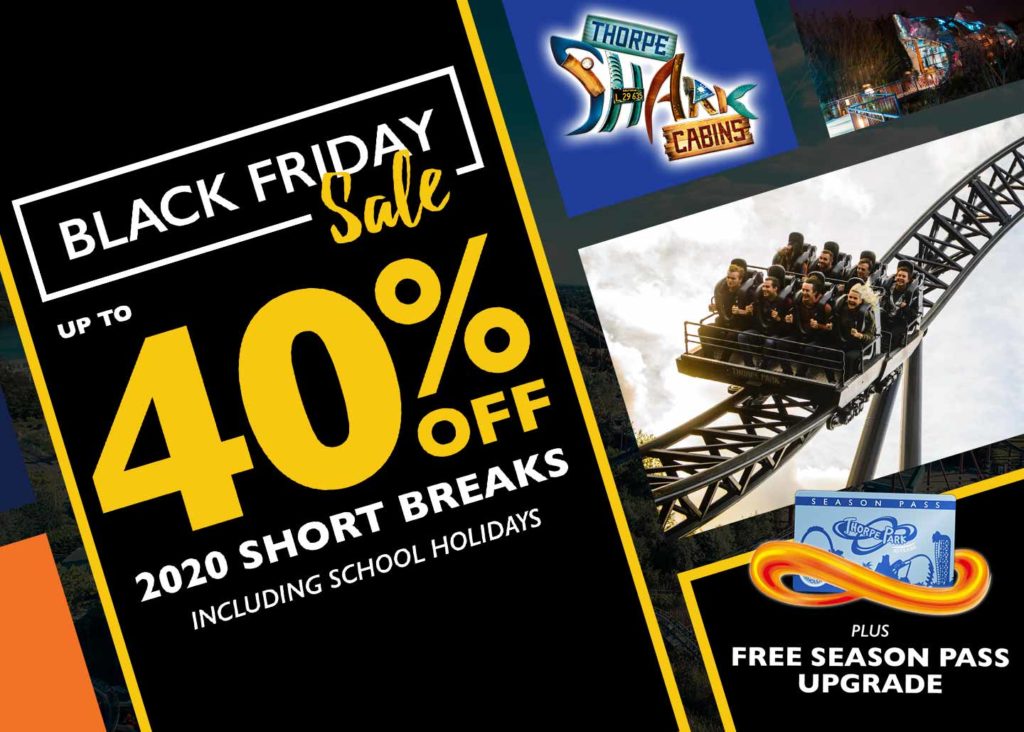 Up to 40% off your 2020 short break plus a Free Season Pass Upgrade
Breakdown of what is included with 40% off:
Overnight stay at either onsite Shark Cabins or one of their Nearby hotels
Delicious Breakfast Included
Enjoy over 30 rides and attractions in Thorpe Park with the Free Standard Season Pass Upgrade and return all Season
Benefits of your FREE Season Pass Upgrade:
Free access to Thorpe Park throughout the 2020 season*
Cheaper tickets for up to 5 of your friends on selected dates*
Up to 20% off future breaks in the Thorpe Shark Cabins and in Park discounts*
Book your Black Friday Sale Thorpe Break here >> http://bit.ly/2Kqrqgs
Lead Price and Dates
Onsite – Shark Cabins
Stay onsite in the heart of the action, breakfast included, FREE Parking and WIFI, One Hour Fast track from 10-11 to beat the queue the morning guests wake.
£142 (2 adults) £196 (2 adults, 2 children)
Apr 20/21/22/23/27/28/29/30, June 8/9/10/12/15/16/17/21/22/29, July 6/7/8/12, Sep 1/2/3/6/7/8
Holiday In Shepperton
5.5 miles from the theme Park, FREE parking at hotel and good transport links 4* Hotel set in 11 acres of grounds, Leisure facilities & breakfast included
£109 (2 adults) £158 (2 adults, 2 children)
Mar 29, Sep 27
£125 (2adults) £190 (2 adults, 2 children)
Mar 27, Apr 24/26, May 1/3/8/10/15/17, Jun 5/7/12/14/19/21/26/18 Jul 2/3/5/9/10/12/16/17/19, Sep 10/11/13/17/18/20/24/25
£139 (2 adults) £204 (2 adults, 2 children) the rest of the dates throughout Mar, Apr, May, Jun, Jul, Aug, Sept – INCLUDING SCHOOL HOLIDAYS AND WEEKEND STAY DATES!
Mercure London Staines-Upon-Thames Hotel
2.5 miles from the Theme Park and shuttle bus available, FREE parking at the hotel and shuttle bus available, riverside location, breakfast included and 20% Discount Happy Voucher
£142 (2 adults)
All dates throughout Mar, Apr, May, Jun, Jul, Aug, Sept – INCLUDING SCHOOL HOLIDAYS AND WEEKEND STAY DATES!
Ramada by Wyndham Cobham
Convenient location just off the motorway, FREE parking at hotel, child friendly including access to children's playground.
£142 (2 adults) £227 (2 adults, 2 children)
All dates throughout Mar, Apr, May, Jun, Jul, Aug, Sept – INCLUDING SCHOOL HOLIDAYS AND WEEKEND STAY DATES!
T&C's:
Please see website for full T&C's
* Once a short break offer is purchased which is inclusive of a standard Season Pass, the pass is non refundable/non cancellable.
* Season pass is valid from the date of your booked short break for the rest of the 2020 season, exclusion dates apply.
Book your Black Friday Sale Thorpe Break here >> http://bit.ly/2Kqrqgs
Fright Nights Tickets
FRIGHT NIGHTS awaits… Book your tickets and passes for the ultimate theme park Halloween event. Every FRIGHT NIGHTS day ticket includes the chance to enjoy 7 scare mazes and attractions. Or upgrade to a Halloween short break for an experience to remember, including the chance to take on our horrifying Halloween escape room!
Thorpe Park Supercharge Your Stay

On selected dates in March, May and September 2019, experience the ultimate adrenaline kick with THORPE Breaks! To help you make the most of your visit, you'll get unlimited Fastracks worth £50 per person! Beat the queues and enjoy your favourite coasters and rides all day long! To see T&Cs and to book click here!
Best Hotels Near Thorpe Park
Set in lovely landscaped grounds, the historic De Vere Beaumont Estate is a family-friendly hotel situated 4.1 miles away (10 minute drive) from Thorpe Park. Many of the rooms have scenic views across the grounds. Family rooms include double bed and sofa bed. The leisure club features a heated indoor swimming pool and a gym. Guests can enjoy seasonal British cuisine in the restaurant. This is the perfect place to relax and unwind. Plus free cancellation.
Less from a mile from Thorpe Park, this family- friendly hotel is in Chertsey and offers accommodation and a restaurant, free parking, bar and garden. Family rooms are available with double beds and 2 single beds.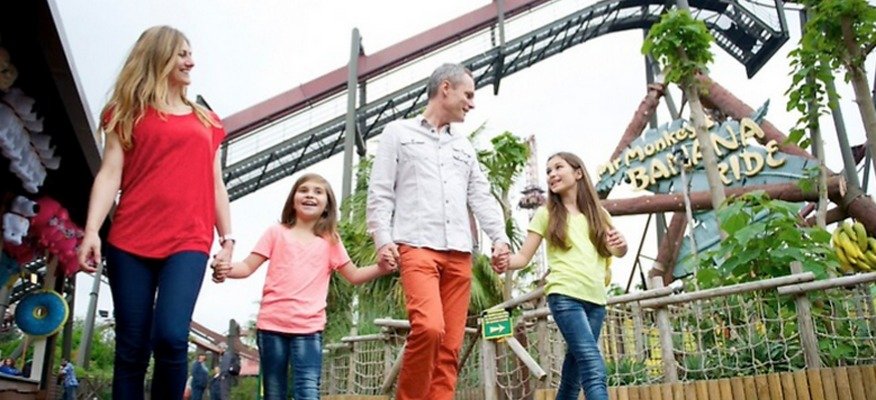 Next to Mercedes Benz World, Brooklands Hotel has a spa, free Wi-Fi and free parking. It has an Art Deco inspired décor and is located within Brooklands motor racing circuit. Kids eat free for every adult eating in the restaurant. 4 miles from Thorpe Park.
This private boutique hotel is just a 5 minute drive from Heathrow Airport and a 10 minute drive from Thorpe Park which is 3.8 miles away. Some rooms at The Stanwell Hotel lead onto a private patio or a balcony, and some are in the original Victorian house. Zamora's Restaurant is excellent.
Great value hotel on the river in Chertsey, just 3 miles from Thorpe Park. Also convenient for Kempton and Sandown racecourses, Brooklands Museum, Mercedes World.
Thorpe

Park Hotel & Tickets Deal
Want to stay at the resort hotel?

Get a combined package through Thorpebreaks.com staying at the quirky Thorpe Shark Hotel which is situated within the theme park, plus park tickets from £62pp.
Example package from Thorpebreaks.com:-
Based on July 2019 Summer holiday dates
1 night stay
2nd Day Free Park Entry
Breakfast
Unlimited Fastrack on your 2nd day (valid until 11am)
Based on 2 adults and 2 children sharing
Total price from £248
Price breakdown:
Book here!
Thorpe Park Off-Site Hotel & Tickets Deal
Want a cheaper combined package?
Get a combined package through Thorpebreaks.com staying at an off-site hotel which is situated near the theme park, plus park tickets from £38pp.
Example package from Thorpebreaks.com:-
Based on July 2019 Summer holiday dates
1 night stay
Off-site hotel (9 miles from theme park)
2nd Day Free Park Entry
Breakfast
Based on 2 adults and 2 children sharing
Total price from £152
Price breakdown:
Book here!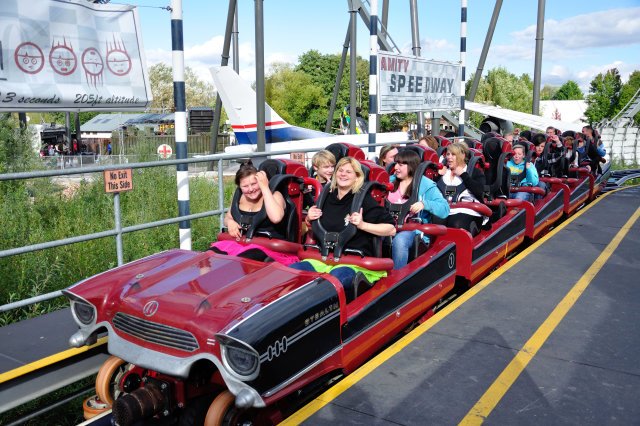 DIY Thorpe Park Package
Step 1. Find a hotel to suit your budget and criteria.
Like saving money? We search up to 200 hotel sites to help you save up to 30% – show Hotels Near Thorpe Park
Then once you've found a hotel, don't book it just yet, first check and see if Thorpe Park has tickets available on the day you want to visit.
Step 2. Book Thorpe Park tickets direct
CLICK HERE TO BUY YOUR THORPE PARK TICKETS
Once you've got your tickets go back and book your hotel.
About Thorpe Park
Alton Towers' southern sister (they are both owned by the same company, Merlin Entertainments) Thorpe Park is a bustling and relatively compact theme park with some hair-raising rides for adrenaline junkies.
This is definitely one for the big kids, with its emphasis on white knuckle thrills and the horror-themed SAW.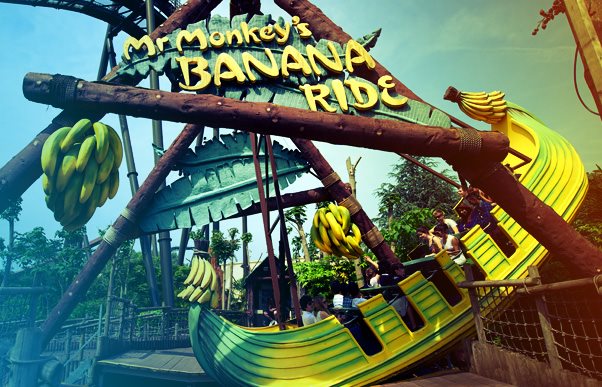 Thorpe Park Highlights
I'm a Celebrity jungle maze
Stealth – 0-80 mph in 2 secs
THE SWARM
SAW – Horror ride
Colossus rollercoaster
Nemesis Inferno
Tidal Wave water ride
Angry Birds 4D cinema
King Pig's dodgems
NEW: Derren Brown's Ghost Train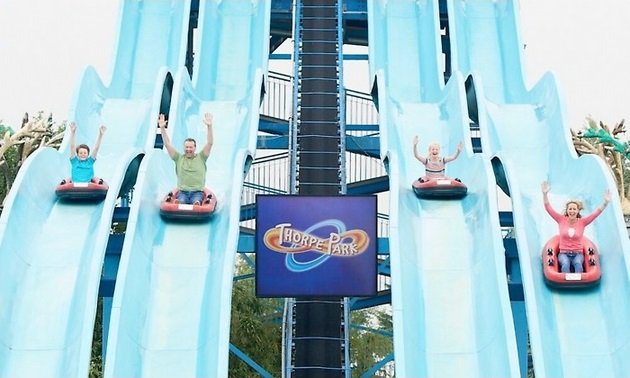 What is the Thorpe Park Address and Postcode?
Here's the address for working out your quickest route…
THORPE PARK Resort
Staines Road
Chertsey
Surrey
KT16 8PN
Note: Some Sat Navs aren't so savvy and may lead you to Norlands Lane so keep a lookout for the big coaster track over the main entrance on Staines Road.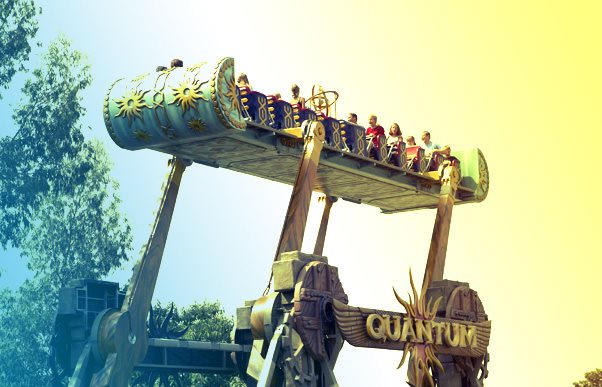 Where is Thorpe Park?
Just off the M25, close to the intersection with the M3 and 8 miles from Heathrow. Car parking costs £5. By rail you need to get to Staines station and then take the 950 bus which runs every 20 minutes.
What are the Thorpe Park Opening Times?
The these park opened this year on 23rd March 2019. The 2020 opening date is not out yet, but we will let you know when it is. The park will stay open until Sunday 3rd November for Fright Nights!
Thorpe Park opens daily at 10am (unless stated otherwise). You can find out the full Theme Park operating hours on their website.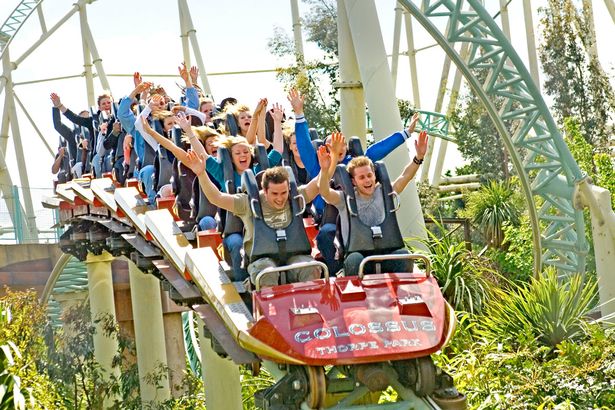 Top Tips For Visiting Thorpe Park
Take plastic waterproof sandwich bags for your electronics and whilst on water rides.
Choose a meeting point to meet up at in case one of you gets lost – especially if you have little ones with you!
Take spare clothes in case you get a bit too carried away riding Tidal Wave and change into flip flops when riding water rides – no need to worry about ruining your trainers!
It's great to know from the offset what rides you can and can't ride. Head to Guest Services and get measured to avoid any potential let downs.
Want to beat the queues? Head over to SAW and Nemesis Inferno first thing and work your way forwards. There are fewer queues at the back of the park at the start of the day and you'll find yourself working against the crowds all day!
Don't let a rainy day stop your visit. You will get less crowds and less queuing time.
Eat earlier or later rather than the lunchtime rush. Alternatively take a picnic.
Buy your ticket online BEFORE your visit. No queues when you arrive, just walk straight up to the gate and scan your printed ticket!
Arrive 15 mins before the gates open! Not only will you be one of the first in the park but for the first hour you'll be able to take advantage of the shortest queues of the day.
Take a picture of where you've parked. May help when you're looking for your car later on.
Pay for parking at the start of the day, so you don't need to on your way out.
Queue lines close at the advertised park closing time, not the park itself. Join the queue at the very last minute and sneak in one last ride!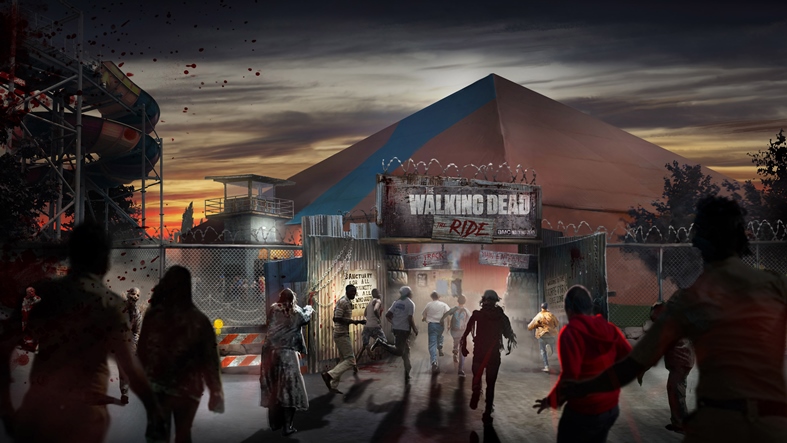 Reviews
"Went for a family day out with my cousin and kids, aged 15, 9, 8 and 5 for the first time. Had a great day out and got to go on loads, really good for all age groups. Would recommend Swarm, Rush an tidal wave (although u get very wet). Can't wait to go back next year when my son will be tall enough to go on everything." Luke W
"I have been to Thorpe Park several times and have enjoyed every visit! very good rides and a good selection of restaurants despite the long queuing time everywhere, which is to be expected at theme parks so cannot exactly explain, getting there early is a tip, quite pricey however, food and merchandise but also to be expected, always very busy." Joanna B
"As a family we have been many many times. As Merlin pass holders we could enter on our passes so can't really comment on current prices, however I can fully comment on how great the park is. We had access to many themes parks and attractions but this was by far our favourite. The queue times were ok, the park is clean and well organised, the rides are great for all ages. The park is easily navigated and the iPhone app aids your day with maps and queue times. The lockers are a great tip, saves carrying bags round all day. The park is constantly updated unlike some other local parks that haven't updated their rides since I was a kid! You will have a great day!" Andy G
Thorpe Park Videos
How to get the best prices on UK Attractions
Use our guides to save time and money:
Ticket price comparison

Recommended places to stay

Top tips and key information
See all our guides to UK Attractions.