Luxury camping has exploded in popularity around the world.
But as yurts, tipis, wood cabins and safari tents start popping up in fields and on hillsides globally, what are the best glamping experiences that lead the way?
Where are the glamping sites that set the standard for others, whether through the luxury of their accommodation, the originality of their idea or the sheer beauty of their setting?
Here FamilyBreakFinder presents an A-Z of the world's best in glamping. Marvel at this incredible list…
Antarctica – White Desert
Antarctica's first and only luxury camping site, White Desert features domed fibre-glass sleeping pods, sumptuously furnished, fully-heated and all with en-suite bathrooms.
Argentina – Ypora
Set inside the Delta del Paraná Biosphere Reserve, a UNESCO protected site, Ypora is a solar and wind powered eco camp with tents perched in the the trees.
Australia – Sal Salis
Sal Salis is a remote, beach-side safari camp nestled in the dunes of Western Australia's Cape Range National Park, with sixteen eco-luxe wilderness tents pitched close to the shores of Ningaloo Reef.
Australia – El Questro Wilderness Park
"Australia's last true frontier" is the location 0f El Questro, Kimberley WA, where across 700,000 acres you can experience barramundi fishing, horse trekking and croc spotting with a local Ranger.
Choose from five-star luxury at the Homestead or budget-friendly tented cabins nestled into the natural bushland.
Australia – Longitude 131°
Imagine waking to face majestic Uluru (aka Ayers Rock). That's what Longitude 131° offers, with its custom-designed luxury tents perfectly positioned for an unreal stay.
Rain-water showers, indigenous artwork and gourmet food are all part of the experience.
Australia – Mile End Glamping
Guests at idyllic Mile End Glamping stay in luxurious light-filled geodesic domes that include a private bathroom, kitchen, king bed and adjacent deck with private spa bath and BBQ.
Australia – Huon Bush Retreats, Tasmania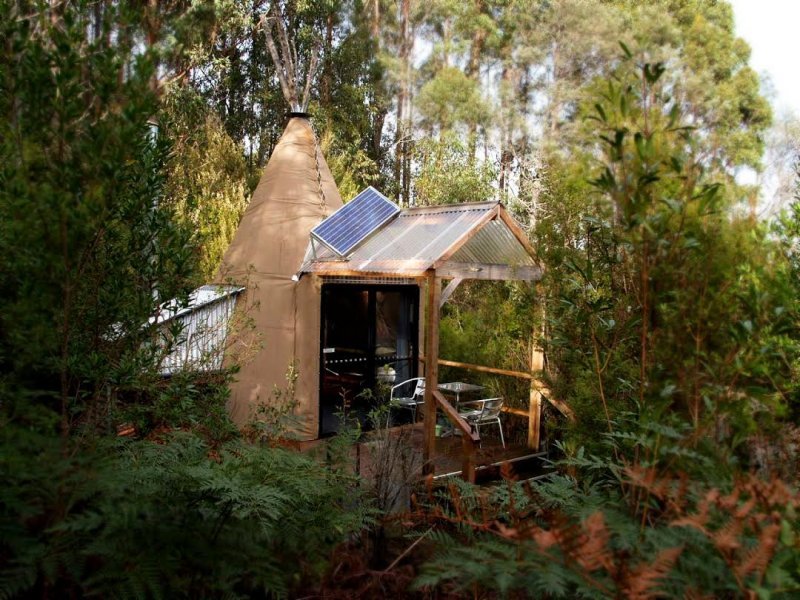 Found in an extensive private nature reserve, Huon Bush Retreat is an award-winning, carbon positive eco village that offers a choice of contemporary self contained cabins and deluxe tipees within the inspiring backdrop of Tasmanian native forest.
Austria – Igloo Village
Offering ski-to-door access in the Kühtai Ski Area, Igloo Village Kühtai's igloos have colourful, atmospheric LED lights and its camp beds come with sheep skin mattresses and winter sleeping bags.
Belize – Blancaneaux Lodge
Blancaneaux Lodge is a 20-room luxury resort owned by Francis Ford Coppola.
Waterfalls tumble into turquoise pools above the jungle canopy.
Guests explore the ancient civilization of the Maya and to return to their own thatched roof dwellings, rich with Guatemalan décor and nestled in the foliage of the Mountain Pine Ridge Reserve.
Bolivia – Berraco
5-star rated Berraco del Madidi is an EcoCamp located in the Bolivian rainforest offering a real, 'deep jungle' experience.
From your hammock you can lie back and watch your animal neighbours go about their day.
Botswana – Selinda Game Reserve
Set in one of the most pristine wilderness areas left on our planet, the Selinda Camp rests on the banks of the eastern Selinda Spillway in northern Botswana's startlingly beautiful and remote 320,000-acre Selinda Reserve.
There are 9 luxury tented villas, including a family villa.
Brazil – Pousada Paraiso
Set among the Serra dos Órgãos mountains, and overlooking a natural, spring-fed pool, Pousada Paraiso is a secluded resort 22 km from São Pedro.
Some of its lodges have private terraces with hammocks, whirlpool tubs and a separate lounge area. Outdoor activities including rock climbing, bird watching, mini-golf and hiking.
Canada – Clayoquot Wilderness Resort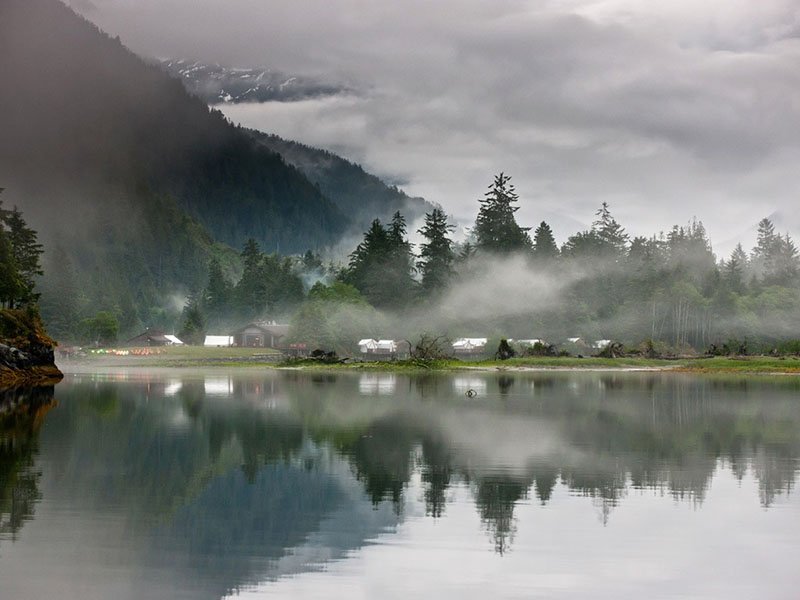 Clayoquot Wilderness Resort offers remote Canadian wilderness vacations.
Behind the five-star cuisine, the spa and the great white tents with their fluffy duvets and antiques, there is a deep and meaningful commitment to restoring the land.
Canada – Sundance Lodges
Located in the heart of the Canadian Rockies, Sundance Lodges offers adventure camping in beautiful Sioux canvas tipis, hand-painted with native-style designs.
Each tipi sits on its own site, surrounded by forest and connected by a winding road to other sites.
Canada – Tin Poppy Retreat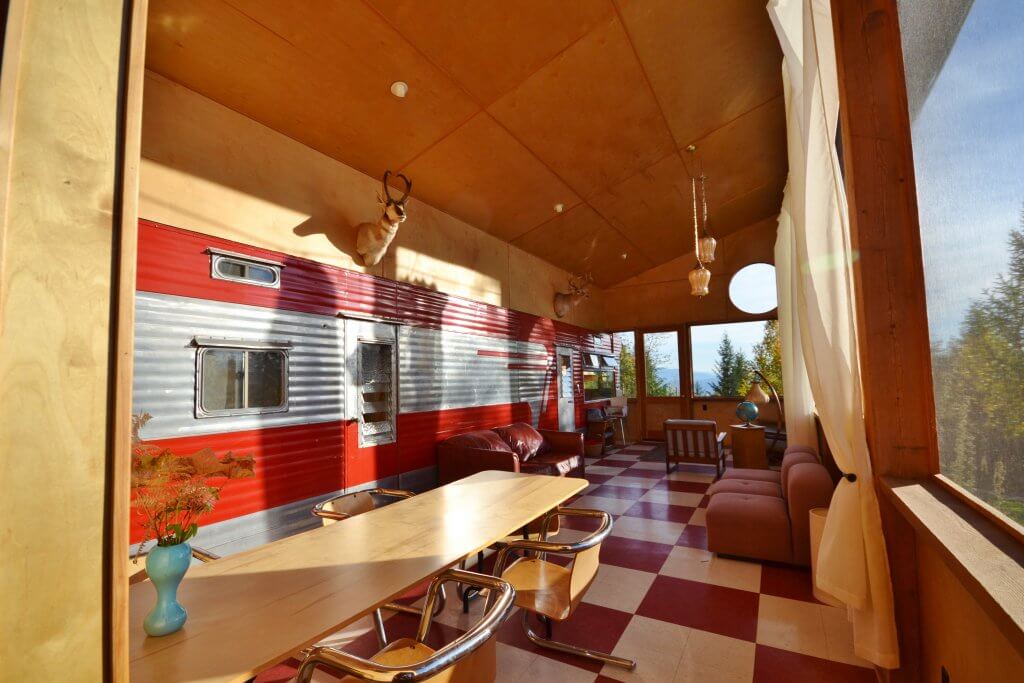 Tin Poppy is a remote, retro-inspired solar-powered vacation rental located in the Larch hills between the Shuswap and the North Okanagan valley.
It's a 1953 travel trailer encased in a modern screened-in post and beam structure bringing the space up to 1200 square feet in total.
Canada – Soule Creek Lodge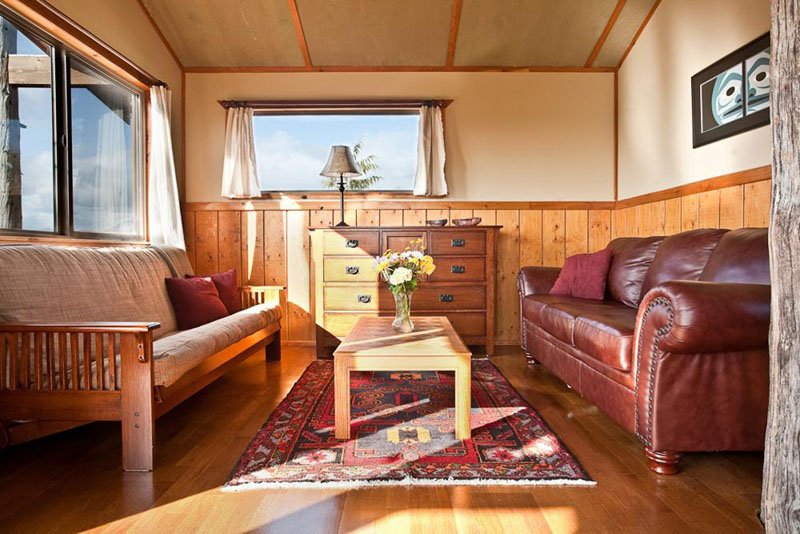 Soule Creek Lodge is perched high on the San Juan Ridge with 360 degree panoramic views of the Pacific Ocean, Olympic Peninsula, Juan de Fuca Strait, West Coast Trail, San Juan Inlet and Coastal Mountains.
It's giant yurts are beautifully finished and its peaceful scenic setting is heavenly.
Canada – Le Hobbit, Quebec
The first underground dwelling available to rent in Québec. Le Hobbit is inspired by the Tolkien fantasy world of the Lord of the Rings.
With its circular door and windows, green roof and interior decor of wood and stone, this ecolodge has everything needed to accommodate a small family.
Chile – Patagonia Eco Camp
The Kaweskars are an indigenous group of nomadic Patagonian inhabitants.
Families travellled together by canoe and when on land constructed igloo-shaped domes.
At the Ecocamp, guests can fall asleep looking up at the star-lit sky from their cozy bed and wonder at nature's immensity.
Chile – Tierra Patagonia
Tierra Patagonia is a 'glamping hotel' with a sublime location in the uttermost south of Chile.
The hotel architecture and interiors radiate an ambiance of Patagonian warmth and comfort.
Large windows provide excellent mountain and lake views, observing where the South American pampa meets Lake Sarmiento.
China – Geladan Tented Resort
Set in the heart of Liming Ge La Dan Prairie, the luxury Geladan Tented Resort is a serene retreat in the fabled city.
This seasonal resort offers stunning views of the azalea flower sea in spring, iris flowers in summer and white snow in winter.
Seven glamorous air-conditioned guest tents come with a minibar and a refrigerator, have wooden flooring and are dressed with decorative art works.
China – Yak Hair Nomadic Tents, Tibet
There are four yak-hair tents for rent at this Nomadic Glamping Site in China, all with wood floors, heated by wood furnaces and beautifully decorated with traditional accents and furniture.
The site is on a huge expanse of beautiful land that is home to gazelles, pheasants, and hares, as well as local nomads. Monastic Labrang is close by.
Costa Rica – Finca Bellavista
Disconnect from the outside world and reconnect with nature.
Finca Bellavista offers total rainforest immersion and a truly unique experience – the 'real' Costa Rica.
Perched 90 feet off the forest floor, its treehouses feature a kitchen, hot water shower, suspension bridge, queen-sized bed, balconies, electricity and refrigeration.
Costa Rica – Lapas Nest
Watch the canopy come alive with monkeys, toucans and parrots, while you sip organic Costa Rica coffee up in the 4 bedroom Lapa's Nest Treehouse.
Hang onto to your courage as you step off into the glass bottom shower 45 feet in the air.
Below the tree house you'll find 10 acres of tropical fruit, organic gardens and fun hiking.
Croatia – King Dome Otok Misjak
Just a few minutes from the Mali Misjak island coast, in a lush pine forest, geodesic King Dome offers 40 incredibly comfortable square meters of living space, including a fully-equipped kitchen, modern bathroom, bedroom with a king-size bed, and a gallery on the upper level with two additional beds.
Denmark – Viking Village
Land of Legends is a 106 acre archaeological open air museum located a few kilometers west of Roskilde, Denmark.
Each summer, every-day families spend a week of their holidays in the Iron Age village, the farm cottages and the Stone Age camp-site.
They dress in period costume and try to live by utilising the techniques of the past. A unique experience!
Egypt – Taziry Ecolodge Siwa
The construction of Taziry with "Karshif" (mud bricks, salt and other natural elements) eliminates the need for air conditioning, while doors and windows are ideally positioned to capture the desert breeze.
There are 30 rooms at Taziry, some carved out of the mountain, others are facing the natural swimming pool of flowing fresh fountain water.
England – Chewton Glen
Home to perhaps the world's most luxurious treehouses, Chewton Glen sleeps up to eight and offers forest views from a tree canopy suspended 35 feet above ground.
There's a large outside terrace with comfy seating and day beds, two outdoor hot tubs on the terrace deck and a marble bathroom with large free-standing bath and forest views.
England – The Roundhouse, Cornwall
The Roundhouse offers the unique romance of sleeping in an Iron Age Roundhouse.
Bodrifty Farm, Cornwall, is a wonderful place to escape the hustle and bustle of modern life and to capture the spirit of a distant time – and in significant comfort.
England – Hobbit House
This earthy cob roundhouse is set in a traditional West Country orchard where life drifts by at a peaceful pace.
Inside Hobbit House, glass diamonds made from gin bottles catch the light and apart from them and the sheepskins, all other materials are wholly natural.
There's a wood-burning stove and the portal in the ceiling is perfect for stargazing.
Fiji – Maqai Beach Eco Resort
These beachfront Bures are set amongst coconut palms with stunning views of the ocean – awaken to the sound of waves lapping on the beach at Macqai.
Located on picture perfect Qamea island in "off the beaten track" Northern Fiji.
Finland – Harriniva, Lapland
At winter time you can stay at the Torassieppi Winter Village snow igloos or amazing Aurora Domes of Harriniva.
Aurora Domes offer unforgettable memories under the midnight sun in summer.
Soft and warm reindeer skins, thick sleeping bags and hot juice ensures a warm and comfortable night.
France – Monbazillac Treehouse
A mystical, magical castle in the trees modelled after a traditional French château.
Superb cuisine, a pool, and total peace in the treetops.
At Monbazillac Treehouse you can luxuriate outdoors in the hot tub, with fantastic views.
France – Le Village des Monedieres
The Star Cube at Le Village des Monedieres is a romantic choice for couples or a quirky adventure for a small family.
Inside is a Queen sized loft bed and sofa bed.
A see-through dome in the roof and telescope allow you to see the stars above Limousin.
France – Défi Planet
Défi Planet offers a fun experience that's both enjoyable and educational for adults and children alike, The idea is to see how humans have changed the planet and how it's still possible to save it!
As well as a diverse array of crazily-themed accommodation, there's an adventure park in the trees, archery, mini golf, disc golf, spa with sauna, jacuzzi and chromotherapy.
France – Cap'Cabane Treehouse
Whether you think they look more like pine cones or butterfly cocoons, the unique treehouses at Cap'Cabane look right at home in their natural woodland surroundings, dotted amongst the ferns and heather of Gironde.
A special place to experience.
France – Cabane de Salagnac
Six minimalist treehouses with huge glass walls.
The low impact Cabane de Salagnac lets you escape to the peace of the green woodland while staying connected to the outside world; you can build campfires in the meadow and picnic by the stream, then head back to your chic contemporary suite complete with TV and Nespresso machine.
Germany – Tree Cocoons Saxony
Two people can fit in this unique and cozy "cocoon," surrounded by trees and plant life.
Hung up in the forest in heart of the Lausitz region on the Polish-German border, the Tree Cocoons glamping site is part of an adventure leisure park with lots more on offer.
Greece – Vasilikia Mountain Farm & Retreat
Set in a region of striking contrasts and spectacular landscapes, Vaxilikia Mountain Farm & Retreat is home to two of the country's oldest national parks and highest mountains.
Airstream Land Yacht is a shiny trailer, perfect for lovebirds, with a lounge area, dinette, queen size bed, hanging wardrobe and a bathroom with shower.
Guatemala – La Lancha
Set in the rainforest high above the shores of Lago Petén Itzá is La Lancha, a quaint, 10-room lodge decorated with furniture, fabrics, and carvings from Guatemala personally selected by the Coppola family of movie fame.
Nearby is Tikal, the epicenter of Maya spirituality.
Hungary – Mokus Valley
Mokus Valley is a small paradise in the beautiful south Hungarian Mecsek Mountains.
In the middlle of nature, they have three unique guesthouses, including an old truck from the legendary Hungarian brand Csepel.
India – Jaisalmer Luxury Desert Tents
The Serai Luxury Desert Tents are built on a base of Jaisalmer stone, set away from it all on 30 acres of Indian desert scrub.
Each tent is over a thousand square feet in size and has exterior relaxing area, covered sitting room, a spacious bedroom, and en suite bathroom.
Indonesia – Canopi Resort
Nestled amidst the lush greens and forestry of Bintan, The Canopi offers campers and adventure-seekers the best nature has to offer, yet with all the comforts and indulgence.
The 2-hectare Canopi resort boasts a 338-hectare adventure ground that includes a private mangrove river, the sea and a spectacular 6.3-hectare saltwater Crystal Lagoon.
There are 41 tents to choose from, all complete with modern luxuries and including 4-poster beds, LCD televisions, outdoor hot tubs, BBQ pits, sisal carpets and Wi-Fi.
Indonesia – Rice Paddy Bungalow, Bali
Uniquely crafted, timber eco bungalows that have been carefully constructed to blend into the mountain environment.
These Rice Paddy Bungalows in Bali have plush bedding and private en suites with hot water and modern flush toilets.
Indonesia – Firefly Bali
This bamboo cottage at secluded Firefly eco-retreat is found down a quiet footpath nestled in the rice fields.
It has an open-air basket weave bedroom with mini-loft, modern elegant bathroom and outdoor living area.
At night you will only see fireflies and hear the rushing river, crickets and the distant sounds of the temple.
Israel – Desert Days
Located in Israel's Desert of Paran, Desert Days offers eco-friendly huts built with hay bales and mud bricks, The lodge uses solar panels to provide electricity and all the water from the showers and the kitchen is drained back to the desert.
An outdoor swimming pool is available.
Italy – Glamping Canonici di San Marco
Immersed in the quiet Venetian countryside, the luxurious glamping lodges of Canonici di San Marco unbelievably plush.
Each luxury tent is a spacious 40 square metres and offers wonderful views over the wheat fields.
Stunningly furnished with private bathrooms.
Jordan – Bespoke Hideaways
As the sun's first rays peek over the golden sands, a promise of great adventure slowly reveals the undulating landscapes that will show the magic of nature's magnificence.
Bespoke Hideaways offers eco-friendly, luxurious accommodation in the Wadi Rum desert of Jordan.
Kenya – Samburu National Reserve
This luxurious tented lodge site is set in the Kenyan semiarid north and offers 28 modern and newly refurbished tents with private views over the wildlife-rich banks of the Ewaso Nyiro River.
Samburu is a lush oasis on the banks of the great Uaso Nyiro River in Samburu Game Reserve.
The camp sits on raised decks overlooking the river where wildlife often makes appearances.
Laos – Muang La Resort
Sat beside a shimmering river in the hills of northern Laos, Muang La Lodge is surrounded by a wild valley of jungle and hill tribes.
The area is refreshingly free of tourists, beside the odd visitors to Muang La.
Ten idyllic wood and bamboo rooms are available, all beautifully decorated and with hot showers.
Maldives – Banyan Tree Madivaru
Rarely has TripAdvisor seen such glowing reviews – over 1,000 of them contributing to a 5 star rating.
Banyan Tree's tented villas are perfectly cast away on a secluded atoll, providing the highest standard of facilities in a paradise waiting to be discovered.
Maldives – Huvafen Fushi
Located in the Maldives, Huvafen Fushi offers 43 naturally modern glamping bungalows.
Already named Best Beach Resort in the World by Harper's Bazaar Travel Guide, among the jaw-dropping sites at Huvafen is an underwater spa room where you can watch the tropical fish swim as you receive a massage.
Mongolia – Jalman Meadows
If you're going to stay in a yurt, why not do it properly and do it in Mongolia.
Jalman Meadows is located on the Upper Tuul River, which meanders gently through vast meadows of wildflowers and through the lush hills that holds larch forests and birch.
From here you can explore the area on horseback, or by rafting through the meadows on the river itself.
Morocco – Scarebo Camp
A charming bivouac of a dozen oriental-inspired tents, dotted amongst the Moroccan landscape.
Scarebo Camp's spacious and comfortable tents are decorated with locally crafted artwork, including African woven matting and Berber rugs, as well as atmospheric Moroccan lanterns.
Disconnected from the every day world, you can't help feeling you're on an expedition from another time.
Morocco – Kam Kam Dunes
Tranquillity, chic and friendly Berber hospitality in the middle of the desert is what you'll experience glamping at Kam Kam Dunes.
Clear skies, bright stars, amazing vistas, intense colors, huge dunes, and magical experiences are included.
Its 'Haimas' traditional tents are made of camel skin and other local materials used by the north African nomadic people.
Nepal – Tiger Tops
Tiger Tops have been paving the way for sustainable high-end tourism in Himalayan Nepal since the early sixties.
They have pioneered river rafting, established trekking routes and created jungle experiences, connect people to experiential travel.
Its atmospheric lodges offer chic contemporary rooms that encapsulate traditional Nepali design and feel.
Netherlands – Sleeping With van Gogh
'Sleeping with van Gogh' is seven unique tents across Brabant, the birthplace of Vincent van Gogh, all themed around his life and work.
Incorporating his great love for Japan and Provence, as well as acknowledging the different areas of Brabant he lived, sleeping in the tents is like being part of a van Gogh canvas.
New Zealand – Hapuku Lodge
Guests who aren't lingering over a delicious breakfast at Hapuku Lodge are out swimming with the dolphins, watching whales and albatross.
Nested 30 feet above the ground in the canopy of a native Manuka grove, each treehouse has spectacular views of Kaikoura's dramatic mountains and surf-washed Pacific coastline.
New Zealand – Explore Life
Explore Life's stunning glamping accommodation extends across some truly unique locations around Wanaka, New Zealand.
The beautifully attired canvas tents are situated on platforms, each with knock out views.
They come with flush toilets, hot showers, hammocks and natural lounging areas to sit back in and enjoy the views.
Oman – Desert Nights Camp
Desert Nights Camp is the only luxury desert camp in Oman, with spectacular craggy mountains in the distance, endless dunes and crystalline wadis.
A two hour drive away from Muscat, the camp is sprawled across 10-acres of silken sands, secluded 11km within the vast isolation of the Omani desert.
30 luxurious Bedouin style tents await.
Panama – Palmar Tent Lodge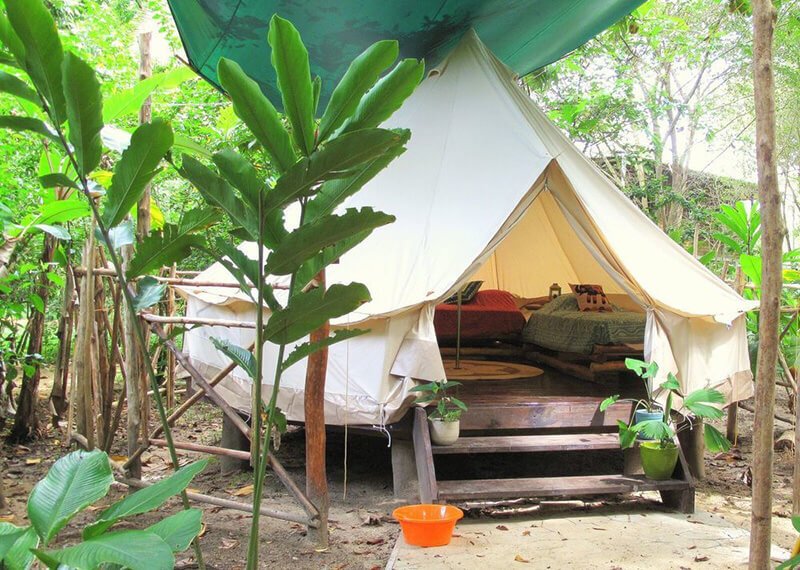 It's the lush tropical rainforest setting that sets Palmar Tent Lodge apart.
Experience raw nature as you spend your days lounging on the beautiful beach and your nights falling asleep to the sounds of the jungle and the rhythm of breaking waves.
This eco-friendly accommodation is at Red Frog Beach, from where you can access reef snorkeling, explore caves, visit organic cacao farms or perhaps practice some beachfront yoga.
Philippines – Cebu Island Tent Resort
Glamping is a new addition to Bluewater Sumilon Island Resort's incredible site, where breathtaking views and tranquil seas are complimented by luxurious facilities.
Cuddle up beside a warm campfire and fall asleep under the stars in the comfort of one of its pre-pitched tents with electricity and furnishings.
Portugal – Papaia Tipi, Madeira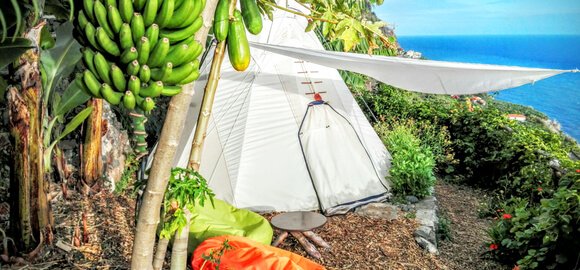 Inspired by banana-picking visits with his grandmother as a child, Roberto built Papaia Tipi – a glamping oasis where lush fruits hang from the trees and pure spring water cascades down a waterfall, feeding the natural pool.
The head chef at the local restaurant comes here to pick edible flowers, herbs and vegetables to serve with his fresh grilled seafood.
Imagine opening your tipi to an ocean view.
Russia – LeapRus 3912
A unique experience for climbers, skiers and mountain enthusiasts. LeapRus is located at 3912 metres up the southern slope of Mt. Elbrus.
This glamping 'eco-hotel' has a number of benefits over traditional mountain huts: solar power provides electricity for light, heat and hot water, modern construction materials ensure perfect thermal insulation and outstanding durability, and free Wi-Fi comes with the package.
The interior design makes you feel like you're in a futuristic movie.
Scotland – Isle of Skye Pod
The Isle of Skye Pod is located in Camustianavaig, a small township within a traditional crofting community.
With breathtaking views set in a private, picturesque and peaceful location, the Pod stands alone with no immediate neighbours except the abundant wildlife: white-tailed sea eagles, buzzards, seals and otters in the bay.
The pod can sleep 4 and includes a kitchen area, separate bedroom area, hot shower and a flushing toilet.
Scotland – Glampotel Dundas Castle
Glampotel Dundas Castle is located on the 400 acre estate of 15th Century Dundas Castle, one of Scotland's most beautiful and historic castles.
Its en-suite 'canvas cottages' sit on large wooden decks along the banks of the Castle's private loch.
Each feature hardwood floors, bespoke handmade wood furniture, romantic wood burning stoves and well-equipped kitchenette.
Slovenia – Gozdne Vile
Gozdne Vile huts are manufactured from organically grown, untreated larch wood and covered with larch shingles.
Offering accommodation in the heart of nature, remotely situated and near to Lake Bled, the huts come with an outdoor wooden hot tub to spice up even the coldest evenings.
The hot tubs are firewood fuelled.
South Africa – Tsala Treetop Lodge
Set amidst the treetops of an age-old indigenous forest, Tsala is "a lavish celebration of the spirit of Africa".
The elaborate afro-baroque décor's earthy colours, rich textures and handcrafted fittings are inspired by the diverse cultures of Africa.
The views are breathtaking; Tsala is a magical place, encircled by lush forests extending across rolling valleys, towards the distant hills.
South Africa – Zwartberg View Mountain Retreat
Three chalets set on a hillside overlooking valleys where 10 species of game roam freely.
At Zwartberg View you are surrounded by the famous Enon red hills and you look directly onto the magnificent Zwartberg Mountains.
Each of the chalets has a private deck with comfy armchairs and cushions. The chalets are set 300 metres from the main lodge buildings where you can eat dinner and breakfast and enjoy a nightly fire – this is where wild animals come close to guests, which makes for a really special experience.
Spain – Lanzarote Retreats
Lanzarote Retreats' ethos is to embrace guests with an alternative holiday experience, showing that you do not have to forsake modern facilities, rich comforts and luxury to have a responsible and sustainable tourist experience.
Environmentally friendly, all yurts are "off-grid" meaning they are powered by solar and wind energy.
Spain – Cabañas en los Árboles
Surrounded by nature, Cabañas en los Árboles are a set of wooden houses hanging magically in the trees.
Located in Zeanuri, Basque Country, the houses have mountain views and are uniquely decorated.
Each wooden house comes with a terrace, free WiFi and a seating area.
Spain – Hidden Valley Andulucia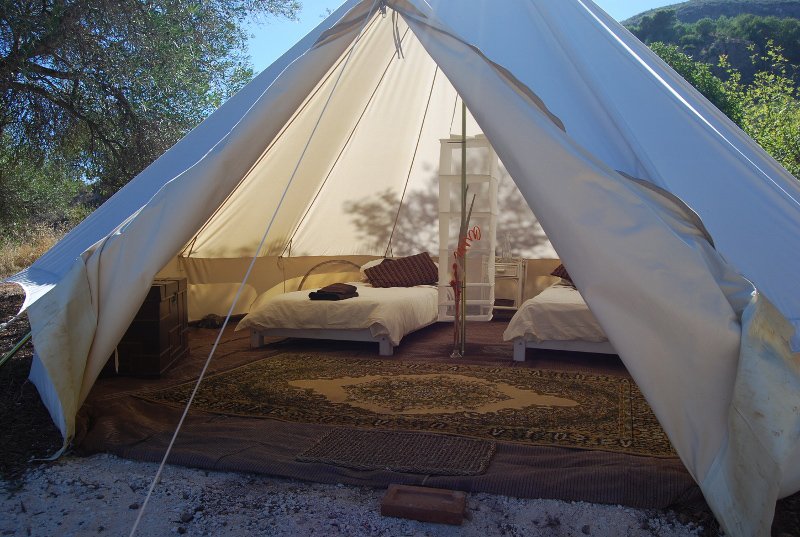 A 25 acre olive grove in the heart of the Costa del Sol homes Hidden Valley, the perfect location for exploring the beautiful Andalucian countryside with its abundance of flora and fauna whilst enjoying the peace of this award-winning glamping site.
There are five traditional bell tents each situated in its own secluded spot with an amazing view overlooking the Valley and National Park.
All come equipped with real beds, quilts, towels, rugs, eco friendly solar lighting and outside seating.
Spain – Casa de Laila
Casa de Laila offers an intimate and comfortable glamping experience in Spain, at affordable rates.
Imagine waking up to bird song, the air perfumed with the sweet scent of orange blossom, while you are lying in a comfortable bed in a white canvas bell tent, decorated with Moroccan details.
Then a delicious breakfast buffet is served with a smile in the warm morning sun.
There are 6 tents scattered around the orange orchard, lit with candles at night.
Each tent has a private tabled seating area and a hammock with stunning views over the valley.
Sri Lanka – Madukele Tea Lodge
Wake up to the sounds of birds chirping outside your room, then open your front door to see majestic mountains, lush green valleys and tea plantations, crystal clear streams and even the occasional deer or giant squirrel.
Madulkelle Tea and Eco Lodge is nestled on a picturesque tea plantation, on the Knuckles Mountain Range 1000 meters above sea level.
You're guaranteed top class facilities, friendly and courteous service and lots to see and do.
St Lucia – Ladera
A thousand feet below Ladera, an intensely blue Caribbean Sea dashes against the volcanic Piton Mountains.
Faintly scented tropical breezes cool your skin.
Your private plunge pool beckons. Each suite offers fine linens, luxurious amenities and four-poster beds made of polished tropical hardwood.
Sweden – Treehotel
This treeroom's location was based on the idea of creating a platform high up on a sharp hillside overlooking the Lule River valley.
The Cabin is like a capsule, a foreign body in the trees. The room is 24m² and accommodates two people, with a double bed, bathroom and terrace.
Treehotel's guests are served breakfast, lunch and dinner in an authentic 1930-1950's setting.
There's a restaurant, bar, sauna and relaxation area, TV and internet.
Sweden – Jumbo Stay
Yes: this IS a real jumbo jet and, yes, you can spend the night on it – on the ground.
It's an original jumbo 747 from 1976, with cool modern interior decoration, offering an exhilarating experience you'll never forget.
There are three different room categories and they can accommodate one to three adults in comfort, as well as a quad dormitory bed option.
Check out Jumbo Stay.
Switzerland – Les Giettes
Architecturally fascinating high-tech tents, these Les Giettes "pods" sit separately on wooden platforms.
Surrounded by nature at 1,400 metres above sea-level, with magnificent and unobstructed views of Lake Geneva and the surrounding mountains, each pod is luxuriously equipped with a wood-burning stove.
The eco-friendly resort comprises 25 km of marked trails, two chalets, restaurant, bar and Finnish sauna.
Tanzania – Kiba Nomad Tanzania
Kiba is an exclusive little retreat in the heart of one of the most game-rich areas of Tanzania.
Here you can safari with friends, family or strangers before returning to one of 4 impressively large and open-fronted rooms at the bush retreat.
Bathrooms are deluxe, with flush toilets, indoor and outdoor showers and hot and cold water as and when you want.
Each room has its own plunge pool set into the edge of the deck, and there is also a large pool at the main thatched mess, where you can also sink into comfortable sofas and chairs for an afternoon of general laziness.
Tanzania – Fundu Lagoon Zanzibar
Set on the secluded island of Pemba, to the north of Zanzibar, Fundu Lagoon really is an undiscovered gem.
A wide variety of thatched, luxurious rooms and, for the divers, there are some of the best reefs on the east African coast to explore.
Thailand – Hintok River Camp
Hintok River Camp was once a British Prisoners of War camp. Today's camp pays homage to its predecessor in name and theme, by using tents, reminiscent of the PoW's bell tents, motifs such as railway ties and a guard tower.
The spacious deluxe canvas tents consist of twin/queen-size/ triple beds, in-room private bathroom and bamboo wall shower with hot water, in-room adjustable air-conditioning, private veranda and rustic wooden furniture.
Thailand – Four Seasons Tented Camp
Escape to the natural wonders of Northern Thailand where, at Four Seasons, you can unwind in superb, luxury tented accommodations with stunning views and handcrafted furnishings.
Meals, elephant trekking and a spa treatments are part of the package.
Turkey – The Caves
Fourteen spacious cave rooms, each with a private, carved out terrace and views of Cappadocia, each with en suite, wood floors and central heating and direct dial telephone.
Double rooms with a private jacuzzi or a Turkish bath are also available.
The Caves are a unique way to experience an ancient tourist destination.
UAE – Ras Al Khaimah
Just a little over an hour's drive from Dubai Marina, this Bedouin-style camp in the Ras Al Khaimah desert is completely secluded.
With goat-hair tents, cushions for seating, a barbecue, an authentic underground oven and a camp fire, TimeOut described it as "streaks ahead of the usual desert experiences offered by some other tour operators".
Uruguay – Pueblo Barrancas
A rugged landscape of ocean-side hillsides and slopes is the setting for Pueblo Barrancas cabañas and en-suite tents on stilts.
Simple and with minimum environmental impact, the architecture harmoniously sits within a natural location with magnificent views.
USA – TreeBones Resort
Unique lodging and dining on California's breathtaking Big Sur Coast.
The 16 yurts of TreeBones have plush, comfortable queen sized beds with linens, cozy comforters and colourful quilts.
Each has a generous redwood view deck facing the ocean, where you'll experience some of the greatest sunsets in Big Sur.
USA – Montana Ranch House
The Resort at Paws Up is a hidden gem that combines luxurious amenities with stunning views to create the ultimate glamping experience in Montana.
Four two-bedroom tent suites feature plenty of room for families, while two one-bedroom honeymoon tents serve as the quintessential accommodations for romantic getaways.
Each tent features an ensuite bathroom and air conditioning.
Guests can relax in the grand dining pavilion and enjoy the camp chef's delectable cuisine while the camp butler prepares a roaring fire.
USA – A Frames At Far Meadow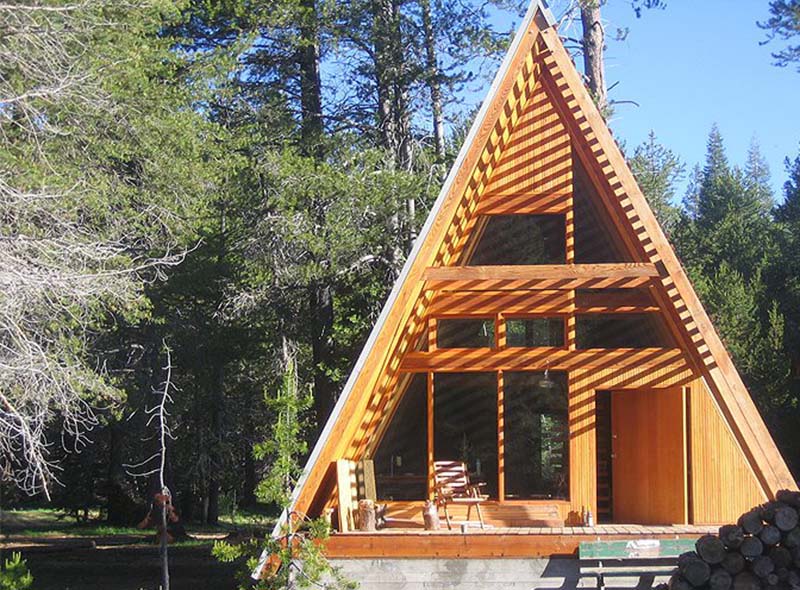 Stunning modern A-frames in a beautiful remote location of the Sierra National Forest, California, is what you get at Far Meadow.
At an elevation of 7000 feet, fourteen miles above Bass Lake on the Sierra Vista Scenic Byway, you're surrounded by meadows, secret swimming holes and miles of undiscovered hiking trails.
It's your own private Yosemite, without the crowds.
USA – Texas Eco Dome
A remote, off-grid adobe dome, powered by solar power, and near Big Bend National Park.
Two lucky guests can be accommodated in this unique Texas Eco Dome, designed to shelter from heat, cold, wind and rain.
The entire dome is solar powered.
The kitchen has a propane stove and oven, as well as a refrigerator, and the sink pumps rain water that is collected.
USA – Bush Creek Ranch
Welcome to the true spirit of the West. Wyoming's Bush Creek Ranch has a family-friendly community setting for its collection of lodge rooms, cabin suites and a spa.
Traveller magazine named it the USA's top resort.
Set on a working cattle ranch, the accommodation tastefully reflects refined Western personality yet well-being activities like yoga a spa are available.
USA – Mustang Monument
Mustang Monument is a sustainable resort and preserve for wild horses.
Surrounded by majestic mountain ranges, the resort encompasses over 900 square miles just south of Wells, Nevada, and provides guests with unforgettable, customised safari adventures.
Stretch out in 300 square feet of tipi living space with leather chairs, hardwood floors and custom-made beds.
USA – Treehouse Point
Each of TreeHouse Point's lodging options offers an opportunity for a restful night's sleep in a hand-hewn bed with forest views.
Open the window to the evening air and you might hear the sound of the river or even see a nest of baby birds.
Designer and owner Pete, and his wife, Judy, share a vision of connecting people through personal encounters with the trees and nature.
Their stewardship for the land and the trees that are growing on it is something they take very seriously.
USA – Trinity River Yurt
The pacific yurt at Trinity River is a place of tranquillity and fun in the round.
The clawfoot tub in particular invites you to relax while you enjoy classical or nature music in the background.
The yurt is outfitted with bamboo flooring, heating and air conditioning, tub and shower, a queen bed and a large deck area.
You have private river access.
USA – Grand Canyon Cave
Imagine spending the night in the oldest, darkest, deepest, quietest and largest suite room in the world.
220 feet below ground, in a cavern that took 65 million years to form, in a room that is 200 feet wide, 400 feet long with a 70 foot ceiling.
The Grand Canyon Cave is completely absent of any light.
And so quiet because it contains no life forms; nothing lives in the caverns, not a fly, not a mouse, a bat, bug or animal.
USA – Depot Lodge Wagon
A renovated Norfolk & Western Caboose, complete with its own bath and cosy, "railroad-style" queen bedroom, is just one of the railway-themed options at Paint Bank – the final stop of the Potts Valley Branch line of the Norfolk & Western Railway which expanded during mining boom of the early 1900s.
All the buildings at this atmospheric American rail depot have been converted for guests.
Venezuela – Glamping En Lara
This amazing and unique caboose in the mountains of Venezuela is a one bedroom accommodation inspired by the ancient caravans of the Wild West.
It has a double bed inside, closets, chairs, a table, and a small collection of books to kick back and relax with.
It has been decorated with careful thought and quality furniture and it has its own bathroom.
Glamping En Lara has won many accolades.
Vietnam – Nguyen Shack
Nguyen Shack's bungalows are situated in the middle of a valley surrounded by the multiform limestone pitons.
You get an amazing mountain valley view with a lake at the front of the bungalows.
Built from bamboo and leaves, the offer a true sense of Vietnam.
Each has a natural private terrace that allows guests to relax in a comfortable lounge chair or hammock with a good book and a calming cup of tea.
Wales – Red Kite Tree Tent
Have a luxury unique glamping experience in Wales at Red Kite Tree Tent.
The UK's first tree tent a lightweight, hybrid aluminium and steam-bent green ash static airframe.
Sounds complex but the important thing is it's beautiful inside & out.
The design of the tree tent enables you to live close to nature – within it almost.
It comfortably accommodates two adults and even has a log burning stove.
Wales – Huts In The Hills
In a woodland clearing in the Black Mountains, this collection of shepherd huts provide off-grid accommodation for small groups of adventurous travellers.
The Huts have been designed to have minimal environmental impact.
They offer warmth and comfort in a remote setting. Sleeping 4-8 they are arranged around a central stone firepit with BBQ grills.
Welsh blanket drapes, wood burning"hot pod" stove and solar powered lighting are included.
Wales – Wyldwoods Eco Retreat
Nestled in two separate corners of the Wyldwoods Eco Retreat site – one on the edge of it's own private lawn, the other it's own terrace with views across the Welsh valley – two wooden glamping lodges are found.
Both are kitted out for year-round glamping breaks, with a large double bed and wood burning stove that are perfect for bolting yourself away in the wilds of autumn, while outdoor furniture allow you to make the most of long, light summer evenings.
Each cabin even as its own potager of herbs and seasonal leaves to enliven your dinner.
Zambia – Tena Tena
Tena Tena means "temporary home" and this is the feeling emulated throughout the camp – but with a twist of luxury and comfort.
Its six tents are very private with plenty of space between them and each with its own window onto a magnificent stretch of the Luangwa River where the hippos wallow and the lions roam.
The main area is moulded around a large termite mound and mahogany tree, with an old hippo run adapted into a guest path.
Sit down to a beautiful dinner on the banks of the Luangwa, under the stars and enjoying the sounds of the African night.
Acknowledgements
We recommend the following excellent sites for finding glamping breaks across the world: Canopy&Stars, CoolCamping, Glamping.com, GlampingHub and Go Glamping.