For this post, I have put together a collection of the best Pokemon toys currently available.
We don't need to tell you that kids love Pokémon.
Pokémon mania spreads wide and far with toys from odd plush toys to building sets.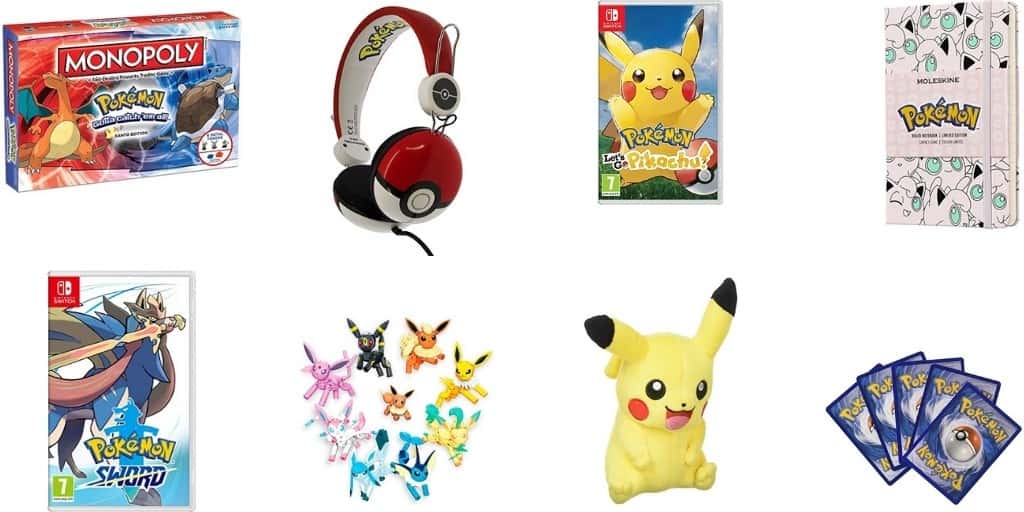 I've helped narrow your search for the perfect Pokemon purchase – here are 20 of the best Pokémon toys worth buying.
Let's get going!
Pokémon Monopoly Kanto Region Edition
Combine the best of both with this classic mashup comprising of six metal Pokémon pieces.
Purchase your favourite Pokémon as you roam around the Kanto region and avoid jail and Team Rocket.
Pokémon Moleskin notebook – Snorlax edition
Moleskin produce high quality journals and this Pokémon-themed notebook is no exception.
It includes a hardback cover, ruled pages and a ruled bookmark.
Pokémon Sword and Shield
Get ready for the next Pokémon game that has come to the Nintendo Switch.
There's new characters, a new region and new Pokémon.
Become a Pokemon Trainer and embark on a new journey in the new Galar region!
Pokémon Let's Go, Pikachu! and Let's Go, Eevee!
Addictive and fun game and return to a classic story.
With this edition you can travel around the most infamous location in the series with your chosen companion – Pikachu or Eevee and battle gym leaders.
Great multiplayer fun for the whole family!
Pokémon Earphones
These super cool headphones are based on the design from the iconic Pokeball game.
There's an adjustable headband so it will fit children of all ages.
Extremely well reviewed with top marks on comfort, build sturdiness and sound quality.
Pokémon 8-Inch Pikachu Plush Toy
What more could you want from a plush?
This little one is soft, cuddly, happy looking and well made.
He's 8 inches tall and will come with you wherever you go.
Charizard 12 Inch Plush
The best Charizard plush we've seen.
Well made and captures our fiery friend perfectly.
Pokemon Origami
No products found.
Get crafty and turn your favorite Pokemon into folded art with ten different models.
It comes with over 80 full colour pages plus 48 pages containing simple step-by-step instructions.
Great fun and absorbing for young and old fans.
Detective Pikachu Movie Interactive Talking Plush
Hot on the heels of the Detective Pikachu fearture film this smart talking plush says phrases from the film and his ears move as he speaks.
We love it because it's super soft, super cute and good quality.
Pokemon Deluxe Essential Handbook
For the Pokemon buffs – this has everything you ever wanted to know about every single 700 Pokemons – all in one place.
There are over 450 pages of knowledge within.
This book receives a whopping 5 stars from over 3,000 reviews.
Pokemon Nanoblock Diamond Blocks
No products found.
Does your child love building and tinkering?
Then check out these kits, each including 120 pieces that you have to put together.
There's instructions and the end result can be proudly displayed on a desk or night stand.
Lots to choose from, including Pikachu, Charmander, Squirttle and many more.
Pokemon Plush Pikachu
Super cute and cuddly plush Pikachu toy.
Lots of different ones available but the most recognisable one makes an excellent choice.
Pokemon Rare Grabbag – 20 Rare Pokemon Cards
Before Pokemon Go the original search was for rare cards.
Finding them has got a whole lot easier.
This pack includes a random selection of 20 cards.
Don't worry, they're all genuine and in the English language.
Zygarde Special Pack
Excellent Pokeman pack including four creatures, including a Core Zygarde, 10% Forme Zygarde, 50% Forme Zygarde, and a Complete Forme Zygarde.
Pokémon Clip N Go Belt Set
Want to be the best possible Pokemon trainer?
You're going to need the right gear and this should include a decent Pokeball belt.
This one has a Great ball, an Ultra ball and a 2″ Eevee figure – as seen in the Detective Pikachu movie.
The belt holds 6 so you can add more as you go.
Mega Construx Chespin Vs. Fennekin Pokemon Toy
Fire up the imagination with these as you can make pretty much whatever you want.
All the sets work together, just like LEGO.
This set includes Chespin and Fennekin figures.
Mega Construx Pokémon Every Eevee Evolution!
Bumper construction pack including Eevee, Vaporeon, Jolteon, Flareon, Espeon, Umbreon, Leafeon, Glaceon, Sylveon figures.
It comes with simple colour coded building instructions
My Partner Pikachu Pokemon Toy
Super adorable Pikachu with over 20 cute expressions.
Keep entertained with 2 modes of play – Discovery and Train along with 3 touch sensors.
Hand sized so a good size for the little ones to pop in their pocket to take out and about with them.
Gyarados Pokemon Toy
This Gyarados is a decent sized figure at 12 inches, robustly constructed, with good detail and looks the part.
It's articulated in 5 points so loads of fun to move him around and head into battle.
When not in use it sits in its own stand very nicely."
Psyduck Plush Pokemon Toy
In a Pokemon world full of weird creatures, Psyduck is special.
A sufferer of debilitating headaches they can sometimes lead to certain psychic qualities.
Good for 2 year olds and up it's soft, easy to clean and brightly coloured.
He's firmly made so perfect for a cuddle.
Pokemon Toy Deals & Today's Bestsellers