For this post, I have put together a collection of the best rocking horses currently available.
Our Top Pick
My preferred pick for best overall rocking horse is the floral print rocking horse from Mamas & Papas as it not only looks beautiful in it's pastel colour palette, but it is also soft and padded for toddlers and great value for money.
Show Today's Top Deals
These are today's top deals and bestsellers for rocking horses.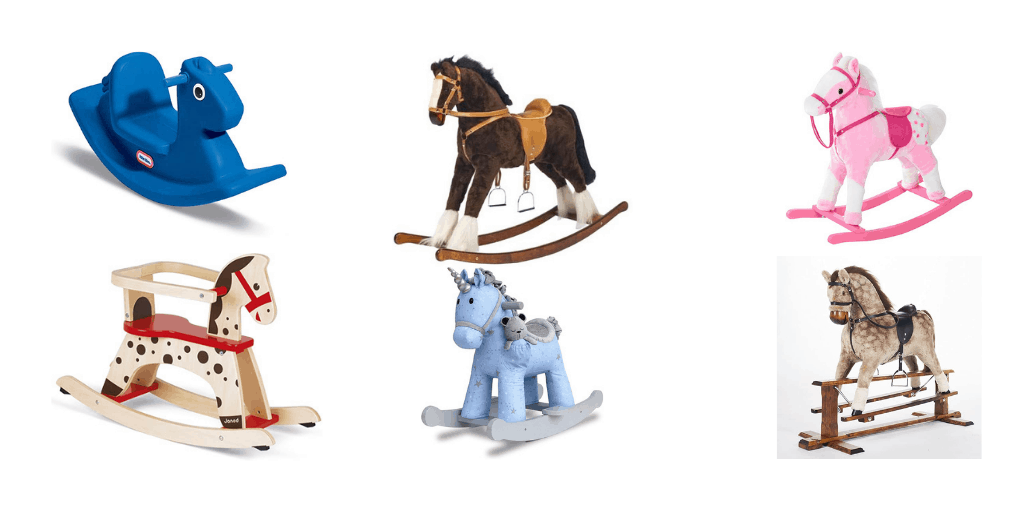 ---
All kids love a rocking horse! Some rocking horses can even double as a piece of home decor! We've selected the best rocking horses on the market from traditional wooden ones to soft fabric rocking horses, which are ideal for toddlers, we've got it covered.
So here is my list of the the best rocking horses.
Little Tikes Rocking Horse
Toddler rocking horse in primary blue.
With easy grip handles and easy mount low seat for safety.
Toddlers can rest their feet on wide runners.
Smoothly rounded high seat back.
Suitable for ages 12 months +.
Parents love this rocking horse – 87% of 5,742 buyers gave it 5 stars.
Janod Caramel Wooden Rocking Horse
Discount - Save £15.01
100% wooden rocking horse in traditional colours and design.
Anti-tip system and removable protective bars to keep little ones safe.
Bars can be removed as child gains confidence in balance.
Suitable from ages 1 to 3 years old.
Parents love this rocking horse – 71% of 230 buyers gave it 5 stars.
Homcom Kids Pink Plush Rocking Horse
Softly padded polyester plush pink rocking horse.
Traditional style rocking horse.
With features such as neighing sound when the ears are pressed.
Comfortable riding saddle.
Wooden rocker with soft plush horse on a steel frame, for durability.
Recommended for children age 36 months and up.
Parents love this rocking horse – 65% of 123 buyers gave it 5 stars.
Moonbeam & Rae Rocking Unicorn
Blue, starry printed fabric rocking horse with wooden frame.
With a silvery soft chenille mane, tail and saddle.
Included is an adorable Rae Bear that snuggles neatly in the unicorn's pocket.
With smartly painted rockers and handles.
Suitable from ages 9 months – 7 years.
Parents love this rocking horse – 80% of 40 buyers gave it 5 stars.
Titan Handmade Rocking Horse by MJ Mark
Beautifully traditional soft handmade rocking horse.
Traditional horse head and carved wooden nose.
Soft padded saddle with stirrups for your child's comfort and reins to hold onto.
Solid wooden base.
Suitable from ages 3+.
Parents love this rocking horse – 87% of 70 buyers gave it 5 stars.
Mars Pinto Handmade Rocking Horse by MJ Mark
State of the art handmade rocking horse.
Natural shaped horse's head with beautifully carved wooden nose.
Real leather soft padded saddle for your child's comfort, fitted with adjustable cast stirrups.
Solid wooden inner-base/structure of the horse, hand wrapped and shaped using long wooden shavings. This traditional method guarantee a long life and high weight resistance.
Suitable from ages 3 to 8 years.
Parents love this rocking horse – 86% of 75 buyers gave it 5 stars.
Floral Rocking Horse (Mamas & Papas)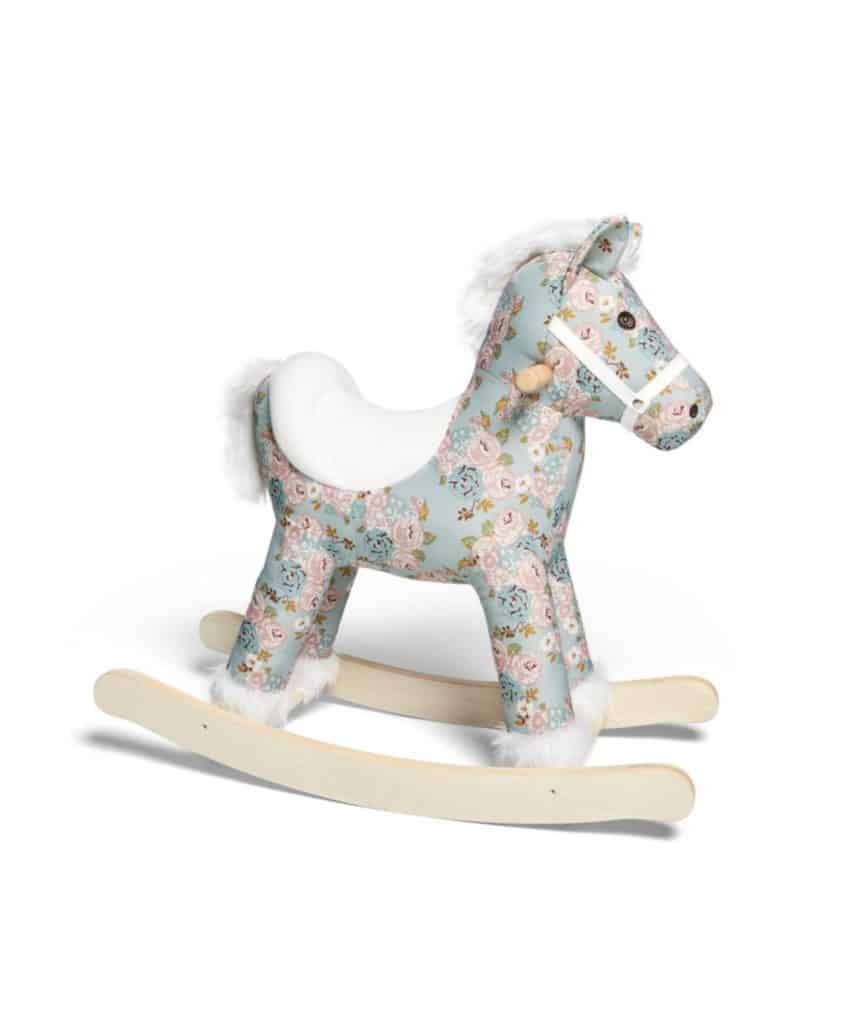 Blue and pink floral print toddler rocking horse.
Rocking horse for toddlers from Mamas & Papas.
Soft faux fur mane and tail detailing.
Robust and sturdy wooden rocking feet.
Featuring a pretty blue and pink floral design with wooden rocking feet,
Suitable from 24 months+.
Premium Rocking Horse (Hamleys)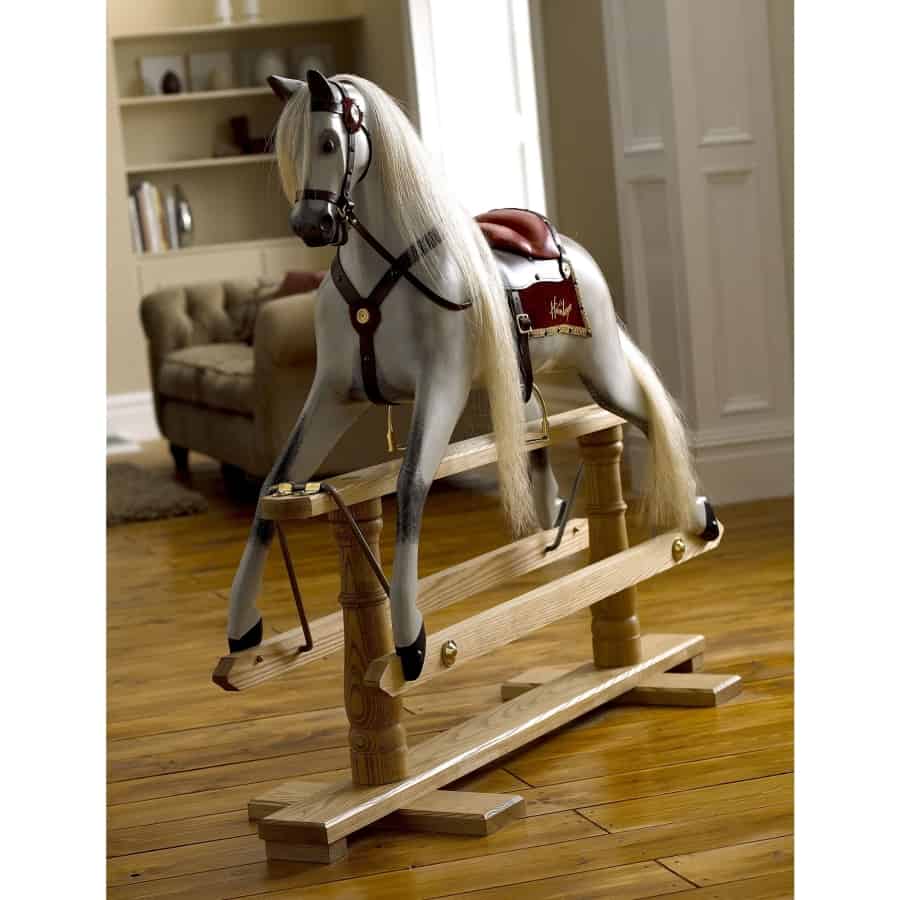 Modelled on the classic Victorian rocking horse is this beautiful and elegant Hamleys version.
Handmade in the traditional style and using the finest materials.
Made from birch hardwood and the stand from beech hardwood.
The saddlery is fine quality leather.
Rivelins mane and tail is real horse hair and all the brass fittings are solid brass.
It also comes with a personalised brass plaque and care bag with brush and body cloth.
This is a luxury item from Hamleys with a luxury price tag!
Suitable for children aged 4 – 7 years.
Today's Top Deals & Bestsellers
What To Consider When Buying A Rocking Horse
Child's Age
Most rocking horses are either made for toddlers from around 12 months up until 3 years old or made for kids from ages 3 until around 7 or 8 years old.
If you are buying one for an older toddler you may want to consider getting one which will last them for a few years.
Safety
Think about where your rocking horse is placed at home. Make sure there is nowhere hard your little one can hit their head if they were to tumble off it.
You may want to consider checking safety standards of the rocking horse you are purchasing and make sure it is suitable and safe for the age range of the child you're buying for.
Weight Limit
It's important not to exceed the weight limit on a rocking horse. You do not want it to break or collapse.
Make sure you get a rocking horse which is durable and will stand the test of time when it comes to your little one riding on it.
Size
Think about the space you have and where the rocking horse will go. You will want something that fits nicely within your home surroundings.
If it's for a nursery or playroom you may want to make it a feature.
I hope this list of the best rocking horses was helpful.
If you think I left any out that should be included or have a suggestion for a future article, let me know in the comments below.
Nicola