This guide rounds up the the 10 best winter sun destinations for families.
From a short hop to Portugal (in just 2 hrs 20 mins) with it's stunning coastline and warm winter climate to the action-packed adventure thrills of Orlando… we've got your family holiday covered.
Plus, don't be disappointed if you're pinned to the school holidays, as for a lot of these destinations, October is one of the best months to visit!
Tenerife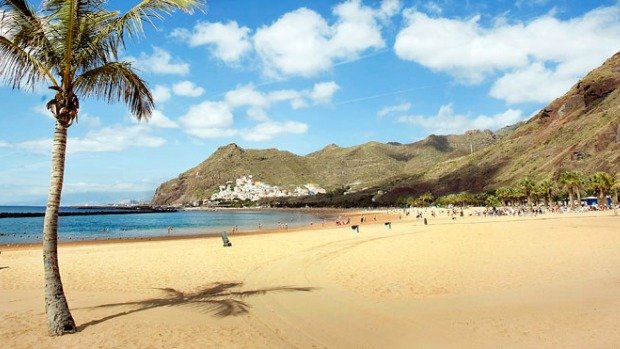 Why go: You don't have to endure a long haul flight to find winter sun and breathtaking scenery… Tenerife has it all.
The short flight time and year-round sunshine makes Tenerife a hot family favourite – south-western resorts such as Los Cristianos, Playa de las Americas and Costa Adeje are amongst the most visited.
We think in particular the Costa Adeje, the shiny new face of Tenerife, is a more upmarket choice. Its four and five-star hotels, chic boutiques and manicured beaches are a far cry from many people's idea of Tenerife.
When to go: Tenerife's all round spring/summer climate means there isn't really a bad time to visit! You are likely to see the most wet weather in the north in November/Feb/March – so it's perfect for the October and December school holidays.
For those with pre-schoolers, September is one of the nicest months to visit and prices have not yet hit their seasonal high.
Kids will love: Pretend you've landed on the moon in Teide National Park, exploring craters and enjoying a cable car ride.
Discover Loro Parque Tenerife's longest-established theme park, featuring the world's largest collection of parrots
Set within a Jurassic Park environment, enjoy shows featuring parrots, dolphins, orcas and sea lions!
Not to mention jeep safaris, countless watersports, Aqualand and Siam Park, there's so much family fun to be had in Tenerife!
Flight time: 4 hrs – 4 hrs 30 min from London
Average temperature:

Where to stay in Tenerife?
Lanzarote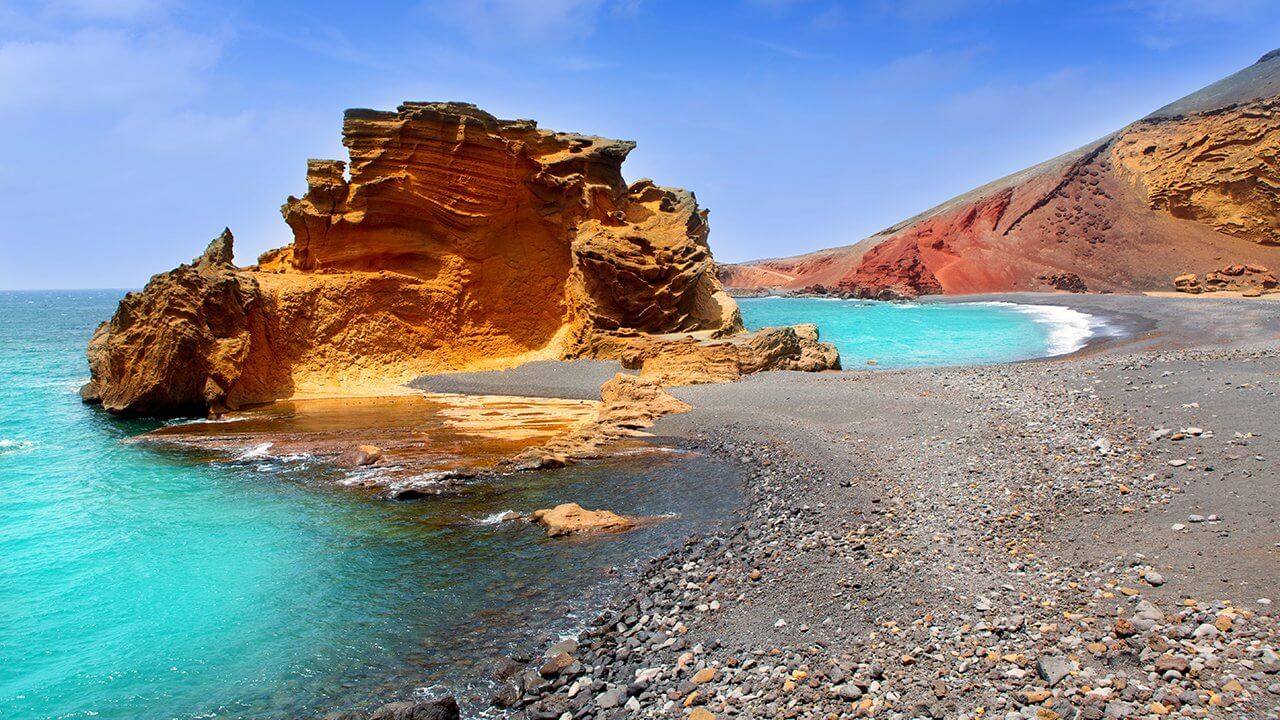 Why go: Lanzarote is turning into a rather upmarket destination… Don't expect anything glitzy or flashy though; this quiet turn-around is all about staying in chic, eco-friendly places and spending your days outdoors with the family!
While there are excellent family hotels in Playa Blanca, Puerto del Carmen and Costa Teguise, away from the resorts there is also a wide range of low-key places to stay.
You can choose from boutique hotels, apartments and bungalows built in the traditional style, village houses or even luxury yurts!
When to go: Much like Tenerife, you can go to Lanzarote at any time of year and have good weather more or less guaranteed.
It does get windy sometimes, but most of the time it is sunny – whenever you go, it is nearly always warm enough to swim and sunbathe.
Kids will love:
In Playa Blanca,
Aqualava Water Park
is well maintained, with a heated children's pool with slides, a water castle, an hourly wave pool, the Magma River ("lazy river") flume and five thrillingly high water slides for adults.
There are sunloungers and a good buffet restaurant, but it is expensive.
Eat before or after your visit! You can also visit the
Pirate Museum
, there's an
Aquarium
, or the popular theme park
Rancho Texas Park,
plus much more!
Flight time: 4 hrs from London
Average temperate:

Best family hotels in Lanzarote: View hotel deals and reviews
Orlando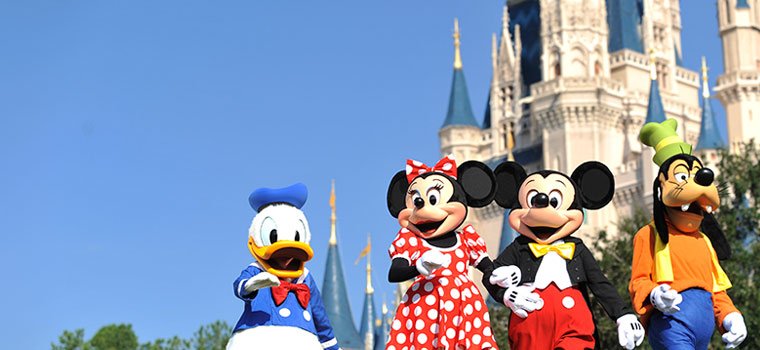 Why go: For many families, Orlando remains an exciting winter sun destination, and is all about non-stop, action-packed theme park fun.
Enjoy a thrilling itinerary of roller coasters, resorts, dinosaurs and Disney amusements.
Fantastic family fun plus shows and rides galore come courtesy of Walt Disney World, SeaWorld Orlando and Universal's Islands of Adventure and Universal Studios.
When to go: October is one of the best times of the year to visit as the weather is still warm but it's much less humid than in the tropical summer months – ideal for school holidays!
Kids will love: While Orlando may be synonymous with Disney (and of course, that's a huge part of it), there's stacks of other things to do as well – take a look here at the top things to do in Orlando for some inspiration!
Flight time: 9hrs 10 mins from London
Average temperature:

Best family hotels in Orlando: View hotel deals and reviews
Gran Canaria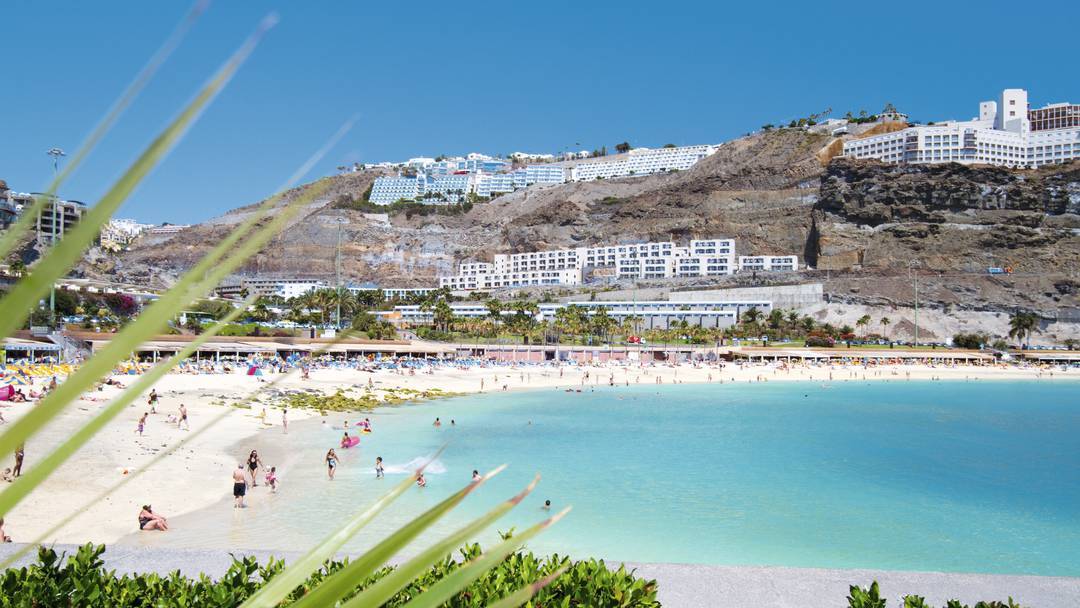 Why go: Gran Canaria is the third-largest island in the Canaries' archipelago, and it lives up to its cliché as a continent in miniature – you'll discover a dramatic variation of terrain, ranging from the green and leafy north to the mountainous interior and desert south.
Contrasting with these unspoiled peaks and valleys is a rugged coastline interspersed with lovely white sandy beaches the kids will love!
When to go: Often described as the 'island of eternal spring'… Gran Canaria is a year round destination and you can really come at any time without disappointment.
Of course during winter it does get a little cooler, but compared to central and northern Europe it is still pure paradise.
Not quite so busy, but certainly a high season are the months between May and October.
The cool sea breezes can be very refreshing compared to the 'scorchers' associated with mainland Spain, plus flights are most attractive between November and mid December!
Kids will love: Younger kids 12 and under will enjoy Angry Birds Activity Park in Puerto Rico – It is a great place to take kids to let them burn off any excess energy as there are plenty of places to jump and run around.
The park has 25 different activities from crazy golf to go carts. There's also, Aqualand, Holiday World and Palmitos Park (zoo) in Maspalomas, plus much more!
Flight time: 4hrs 25 mins from London
Average temperature:

Best family hotels in Gran Canaria: View hotel deals and reviews
Portugal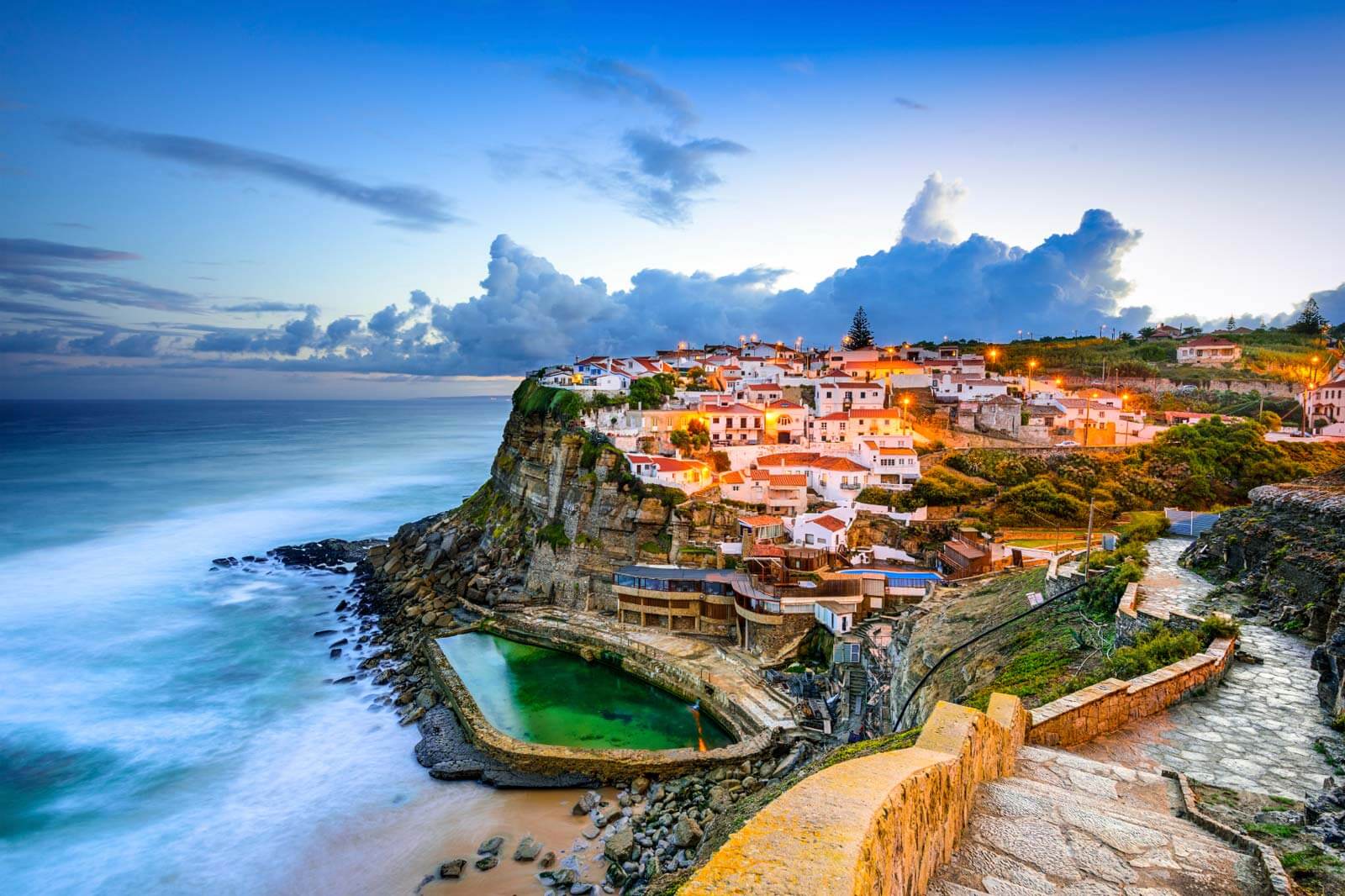 Why go: Perfect for family holidays, Portugal is blessed with a sunny climate, a beautiful coastline, friendly people and great food.
Among the best beach locations in Portugal is the Algarve, famous worldwide for its lovely beaches and craggy coastline.
Costa de la Luz, located on Andalucía's western coast is a gem known for its unspoilt, golden beaches.
Head inland just a little and you'll find pretty towns with imposing castles, and flower-studded countryside.
In Costa de la Luz, families will enjoy the endless stretches of beach, along with high-quality resorts and restaurants.
When to go: September and October often represent the best time to go to southern Portugal as sea temperatures are still warm and beaches are a lot less crowded as day to day life along the coast gets back to normal.
November and December signal the start of Portugal's rainy season although there's still plenty of space in between showers to make the most of the relative warmth and sporadic sunshine. There's nothing like a spot of Christmas shopping in Lisbon!
Kids will love: In the Algarve, you can get up close to dolphins at Zoomarine, spend a day on the fabulous waterslides at Aqualand and enjoy boat trips around the coast, taking in caves and secluded coves on the way.
For older kids, the Algarve offers go karting, or you can surf, sail, go horse riding or play mini golf. Visit the Fontes de Estombar natural springs or Pego do Inferno, with its lovely rock pools, picnic spots and a waterfall.
Flight time: 2hrs and 20 mins from London.
Average temperature:
Best family hotels in Portugal: View hotel deals and reviews
Cyprus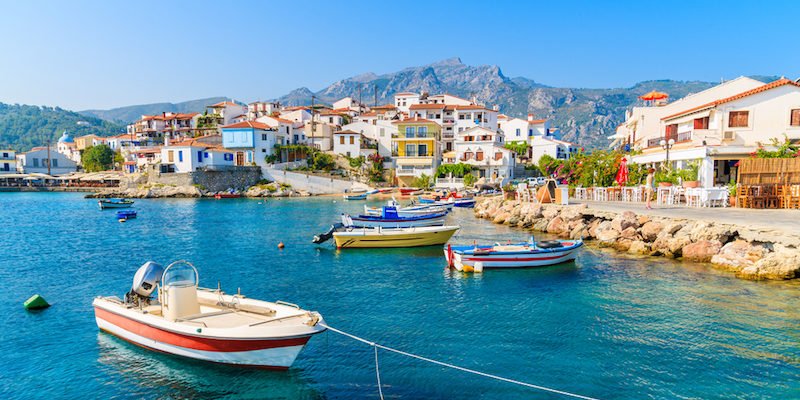 Why go: You'll warm to not just the climate but the familiar traces of home: cars driving on the left, red pillar boxes and even the comforting sight of Marks & Spencer amid the palms and searing heat – a legacy of decades of colonial rule.
Cyprus family holidays are perfect if you want to visit a destination that's drenched in natural beauty, great culture and rich history.
Take the family out for a meal in a traditional taverna, share a meze platter so you can all try a variety of tasty bites, then feast on a sweet treat of loukoumi for dessert.
When to go: If you want to enjoy warm sunny weather whilst avoiding the buzzing party crowds which summer attracts, October is a great month to visit… The landscape is fresh and green as opposed to dry and dusty, there are some great winter package holiday bargains to be had, whether you are looking for a hotel or villa/apartment package holiday, winter season rates in privately owned villas and apartments are half the price of the high season months and flights are much cheaper too!
Kids will love: For a fun-filled family day out, head to one of Cyprus' action-packed water parks.
Take your pick from Aiya Napa's WaterWorld, Fasouri Watermania in Limassol, or Paphos' Aphrodite Waterpark.
Or just settle down for a day in the sun at Fig Tree Bay Beach, which is perfect for children with its shallow waters.
Flight time: 4hrs 30 mins from London
Average temperature:

Best family hotels in Cyprus: View hotel deals and reviews
Cape Town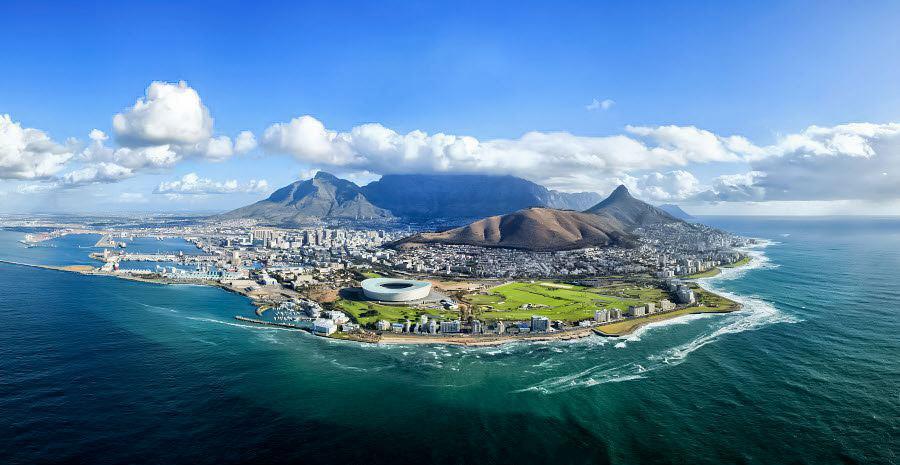 Why go: If your budget allows, and you fancy something a little different… then have you considered Cape Town? South Africa's summer is during our winter time, so our cold winter months are the ideal time to jet off here to sunnier climes!
Cape Town has it all, stunning beaches, soaring mountains, cosmopolitan harbours and beautiful, lush gardens.
There are reams of beautiful beach communities to explore, from Camps Bay to Clifton, each as idyllic as the next, there's even a beach filled with penguins at Boulders Beach – the kids will love this!
If you fancy something a bit less sandy the city has a massive seaside swimming pool – set overlooking the Atlantic Ocean, the Sea Point Swimming Pool is arguably one of the most scenic places to swim laps in the world!
And of course there's the opportunity to go on a safari – how many more reasons do you need to visit captivating Cape Town!?
When to go: As mentioned above, South Africa's seasons are opposite to ours, so travelling there in our winter will mean you make the most of their summer!
The best time for a Cape Town beach holiday is from late January to late April, the tail end of the city's dry summer months. Cape Town enjoys a temperate climate with warm, dry conditions from October to April.
Temperatures peak between December and February, which is the most popular time for a Cape Town beach holiday.
Kids will love: A safari to spot the Big Five will be an unforgettable memory for the whole family, swim with African penguins at Boulders Beach, Ride a Tobaggan at Cool Runnings, visit the Two Oceans Aquarium, explore the Whale Cave and see dinosaurs at the SA National Museum, plus so much more!
Flight time: Pack your activity packs and iPads for the kids as this ones just under 12hrs.
Average temperature:

Best family hotels in Cape Town: View hotel deals and reviews
Madeira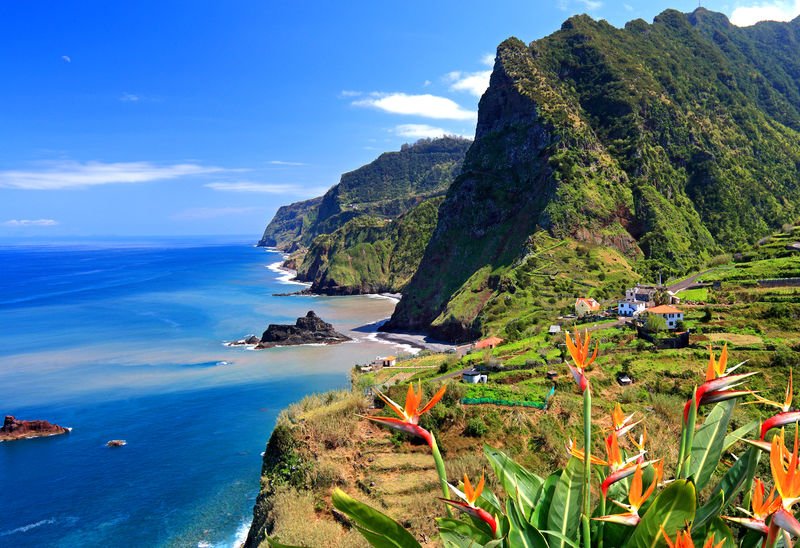 Why go: Rugged and dramatic scenery, rolling valleys covered in lush forests, a rich and fascinating history and picturesque Blue Flag awarded beaches – the majestic island of Madeira has it all!
Those on a family holiday in Madeira will find a beautiful, charismatic island packed with things to do for all ages from themes parks and aqua parks, to museums and dolphin spotting, via adventure sports and scuba diving.
The only thing Madeira lacks for perfect family holidays is sandy beaches, but at least pebbles can't get into all those awkward nooks and crannies!
When to go: Winter is a very popular time to visit Madeira. Families come for the temperatures (barely cooler than summer temperatures) and for the spectacular New Years fireworks.
Even though it marks the start of the autumn season, October is one of the hottest months of the year in Madeira, when the temperatures are warm and the sea retains its heat from summer – perfect for half term!
Kids will love: Madeira theme park is a wonderful day out for the entire family, young and old alike, and should be near the top of any list of attractions for a family holiday in Madeira.
From interactive exhibitions and arts and crafts workshops, to boat rides on the picturesque lake and train journeys around the lush gardens, and with exciting adventure activities such as rock climbing and zip-wires thrown in for good measure – there is truly something for everyone here!
Flight time: 3hrs 30 mins to 4hrs
Average temperature:

Best family hotels in Madeira: View hotel deals and reviews
Dominican Republic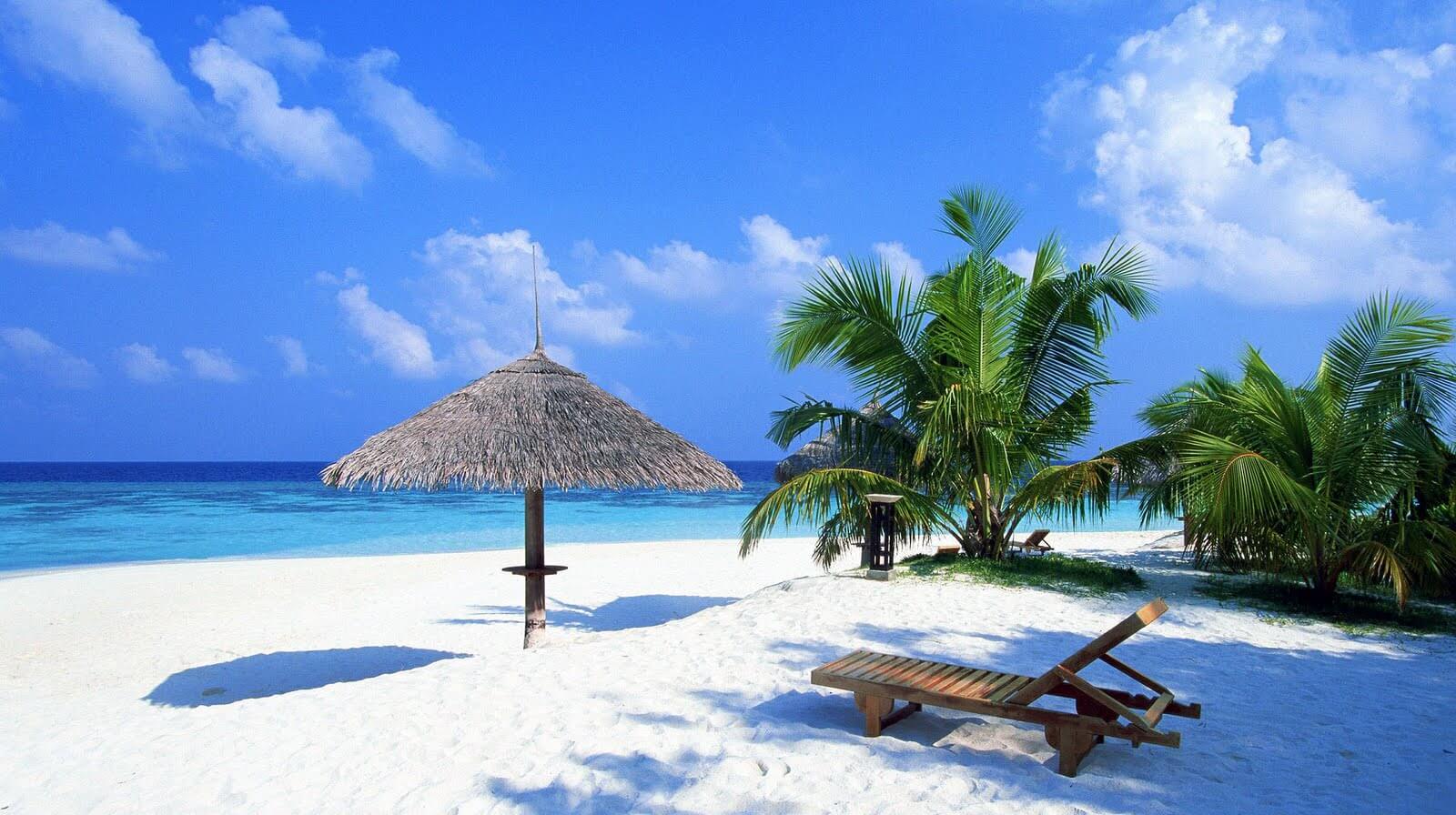 Why go: We know this may be budget-busting for many families, but we've scooped some fab deals to the Dominican Republic lately so thought it'd be worth a mention… With miles of gorgeous beaches with powdery white sand and brilliant, warm blue waters, you'll feel like you've stepped into a screensaver with this destination.
With many family friendly hotels and resorts, the Dominican Republic welcomes you with the warmth and love of the local people and the countless marvellous beaches and sights.
At the heart of the Cibao Valley is the Dominican Republic's second city, Santiago de los Caballeros, a large modern city. Leaving Santiago behind, the landscape becomes even more impressive as you climb the Cordillera Central.
Or should you prefer to have a day at the hotel, children will love the hotel run kids' and teens' clubs, playgrounds, games areas or late-night children's discos, while you can enjoy a spa massage, sauna, steam room, or whirlpool and relax, secure in the knowledge that your children are having fun in safe surroundings.
When to go: The winter season is between December and late February (we'd be lucky to get those temperatures in our peak summer!), when the Dominican climate is at its optimum, having cooled down a little from the summer.
You'll therefore save a bit of money – and have an easier time booking a hotel room. Keep in mind also that the Dominican Republic is in the centre of the Caribbean hurricane belt, and gets hit with a major storm every decade or so. August and September is prime hurricane season.
Kids will love: Ocean World in Puerto Plata is a great place to take the kids. Here, you can interact with the dolphins, sea lions, stingrays and if you dare, the sharks.
Other facilities at the park include a tropical bird sanctuary, a white tiger, and a snorkelling reef. There's also zip line adventures, dune buggy rides, jungle safari's, plus much more!
Flight time: From 9hrs 15 mins from London
Average temperature:

Best family hotels in Dominican Republic: View hotel deals and reviews
Marrakech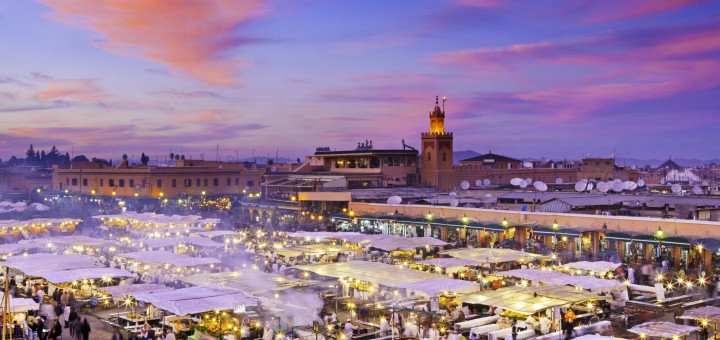 Why go: Are you ready to dip your children's tiny little toes into Africa… then Marrakech, just a short skip from Spain, is a great place to begin.
This may not be an obvious choice, but Marrakech is one of the nearest reliably warm destinations to the UK in winter, with some excellent boutique hotels and riads, Marrakech is also a fascinating and historic desert city to explore.
The setting lovely, even though you may be basking by the pool, or sweating in the souks, you may see snow capping the Atlas mountains in the distance.
When to go: Winter temperatures in this desert city rarely fall below a daily peak of 18 degress. They start to pass 21 degrees in February – a lovely time of year to visit.
Kids will love: Taking a horse and cart ride around the city, open-top bus tour of the city, touring the impressive mosques and beautiful gardens.
With the fragrant smell of exotic spices wafting through the air and the burst of colours throughout the bustling markets, there's so much to keep your little ones captivated in this magical city.
Flight time: 4 hrs from London
Average temperature:

Best family hotels in Marrakech: View hotel deals and reviews